One of the main factors that have allowed humans to thrive over the last several thousand years is our use of tools. While we may still be vulnerable to nature in many off-grid situations, having the right gear on hand can literally mean the difference between life and death. Without a shadow of a doubt, one of the most crucial pieces of kit to possess when outdoors is a survival knife, as these blades allow for the facilitation of many of our basic survival needs, from fire prep and starting to build shelters to basic first aid and self-defense to hunting, preparing, and cooking fish and game.
Considering their users often have to trust them with their lives, the overall quality and performance of a survival knife are extremely important. Knowing this firsthand, we've set out to shine a light on some of the trustiest and most capable options on the market in this guide to the best survival knives. In addition to counting down our picks for the latest and greatest survival knives available today. we'll also be delving into what makes for a good survival knife and what factors to consider when buying one.
What Is A Survival Knife?
Fixed-Blade Saviors
Unlike your average everyday carry knife which is primarily intended for basic cutting and slicing duties, survival knives need to lend themselves to an enormous range of applications — and stand up to just about anything nature can throw at them in the process. Below, we've pieced together a condensed guide on the 10 most important factors to consider when buying a survival knife.
Format: While folding knives are preferred for everyday carry — thanks to their discretion and compactness — the mechanisms that allow them to fold are comparatively delicate and can easily become jammed with debris. That's why, for the ideal survival knife, we'd certainly suggest picking out a fixed blade. They tend to be sturdier in the long run and, with fewer moving parts, they are less likely to fail in operation. That's not to say that there aren't good folding survival knives — just that they're not preferred.
Blade Steel: The steel of the blade you choose is going to vary depending upon a number of factors. For instance, if your budget is low, you're going to have to settle for what you can afford. However, if money is no object, you can set your sights on some pretty high-end options. The difference comes in the form of resistance and the trade-offs therein. For instance, high-carbon steel is extremely durable and long-lasting, but it doesn't hold up well to moisture exposure — meaning it can corrode. By contrast, stainless steels are a bit softer, but they won't rust like carbon steel — at least not as quickly. Even at the upper echelon of blade steels, there will always be a tradeoff between benefits and drawbacks. Over the last few years, we've also seen a growing number of survival knives that have been bestowed with "super steel" blade constructions such as CPM S90V, 20CV, and Bohler M390. What's more, how a particular steel has been heat-treated will also play a pivotal role in its long-term durability as well as its sharpness and overall performance.
Blade Shape: From drop points to clip points to spear points to tantos, survival knives are produced in a wide variety of blade profiles, each boasting its own respectively strengths and weaknesses — an area you can read up on in our ultimate guide to knife blade shapes. And, while it can often be tempting to opt for the more aggressive-looking tactically-inspired survival knives, the more simple, bushcraft-type blades actually tend to perform best in most survival applications, allowing for both robust work as well as more detail-oriented cutting tasks. When buying a survival knife, it's also imperative to opt for a full-tang model (i.e. a knife where the blade steel runs the entire length of the knife, providing far more strength and integrity).
Blade Edge: Likewise, survival knives are also offered with either straight-edged blades, serrated blades, or a combination of the two — the latter of which tends to offer the most utility and versatility, lending itself to the widest range of tasks.
Handle Material(s): While the steel is probably of the utmost importance in picking a survival blade, the handle — the part which you hold in order to operate your knife — is still extremely important. There are a few different schools of thought to consider, but we can boil things down to two factors: ergonomics and materials. In regards to survival, a comfortable-to-use knife handle is always going to suit you better, as a knife you can't hold for an extended period loses value quickly. Similarly, the material of your handle can alter the knife's longevity. Tougher handle materials that can stand up to hard use and don't suffer corrosion (like Micarta) can be more expensive, but they're also going to increase the lifespan of your survival knife.
Versatility: As previously mentioned above, survival knives are used for everything from making fires to building shelters to hunting and self-defense. Unsurprisingly, this requires a high degree of versatility — an area made all the more important by the fact these knives can also be used for camp kitchen duties, making clothing, and a myriad of other uses.
Durability: Used for some of the most demanding tasks involving knives, survival models need to be able to withstand incredible amounts of abuse. As a result, the materials used play an enormous role in this area, as does how a knife was pieced together. The thickness of the blade also plays an important role here — a factor we'll touch on more directly below.
Blade Thickness: When it comes to survival knives, the thickness of a blade is monumentally important as it not only plays an enormous role in determining their overall durability but is also a big part of what allows survival knives to stand up to hardwearing use such as hammer-splitting logs. While thicker tends to be better, we would recommend a thickness of no less than 0.14". There are a few exceptions, but generally speaking 0.14" is a solid minimum requirement.
Carrying: Unlike folding knives that can easily fit in your pocket, fixed-blade survival knives are markedly more cumbersome, and as such tend to require their own means of being carried — typically in the form of a sheath or case that can be carried on a belt or attached to a bag (with MOLLE systems being one of the most common means of attachment). More often than not made from leather — or more modern materials like KYDEX — the cases and sheaths of some survival knives also feature built-in sharpeners or storage for other essentials.
Extras: Though the handle and blade are undoubtedly the most important parts of a survival knife, these items can possess additional features that afford them supplementary utility when off-grid. This includes knives with paracord-wrapped handles that can be unwound and used in survival situations, as well as hollow handles that can house survival essentials like fishing line, hooks, matches, or a compass.
Buying The Right Backwoods Blade
How To Select The Survival Knife That's Best For You
Now that you're privy to which factors to keep an eye out for while shopping, let's move on to how to select the knife that's best for you personally. Below, we'll briefly touch on four of the most pivotal areas to think about to help find the model that's right for you.
Intended Use: The best way to start your search when buying a survival knife is to consider how you plan on using it. You'll also want to factor in the other items that you plan on including in your loadout. As an example, if you plan on also carrying a camp ax, you probably won't need a survival knife that's capable of splitting wood and can therefore go with a smaller, more compact option.
Size & Weight: When Overlanding or car camping, the size and heft of a knife admittedly aren't all that important, however, if you're traveling on foot and carrying your gear on your back, the dimensions and weight of a knife become substantially more important. As such, you'll want to once again consider how you plan on using the knife in order to make an educated decision. The good news here is that survival knives come in a wider variety of shapes and lengths.
Maintenance: With very few moving parts, fixed-blade survival knives tend to be incredibly easy to maintain, only requiring basic cleaning and occasional sharpening. It is worth pointing out, however. that some of the more high-end blade steels — while better at holding an edge — are typically harder to maintain and are markedly more difficult to sharpen when the time comes. For this reason, we'd recommend opting for a cheaper blade steel — especially if you have little to no experience sharpening a knife.
Price: Because they're often being trusted with our lives, it can be easy to simply opt for the most premium expensive model available, however, this won't always yield the best knife. A better approach to take is to think about the minimum requirements that you'll need for your intended use and use this as the jumping-off point in your search.
Ontario Knife Company 499 Air Force Survival Knife
Initially created by the Defense Department in the mid-1950s during the same era the C-130 debuted, the Ontario Knife Company's 499 Air Force Survival Knife has been trusted by pilots for generations as an essential piece of survival kit. A capable yet affordable entry-level survival knife option, the 499 is made in America and features a zinc phosphate-coated 1095 carbon steel blade with a full-tang construction and a stacked leather handle.
Blade Length: 5.0"
Blade Thickness: 0.17"
Blade Steel: 1095 Carbon Steel
Handle: Leather
Overall Length: 9.5"
Morakniv Bushcraft Knife
The Morakniv Bushcraft Knife is a tried-and-true survival blade with a brilliantly-simple design that draws inspiration from Scandanavian outdoor knives. Made in Sweden, the Morakniv boasts a full-tang Sandvik stainless steel blade with a back-cut spine and a 4.25-inch cutting surface. Also equipped with an ergonomically-shaped polymer handle, this knife is also sold with an included polymer sheath with a removable Ferro rod for starting fires.
Blade Length: 4.29"
Blade Thickness: 0.126"
Blade Steel: Sandvik Carbon Steel
Handle: Thermoplastic Elastomer
Overall Length: 10.15"
KA-BAR US Marine Corps Fighting Knife
Epitomizing the idea of "if it ain't broke, don't try and fix it," the KA-BAR United States Marine Corps Fighting Knife has been carried by Leathernecks for the last 80 years, receiving little to no updates since its debut in 1942. Touted as the "most famous fixed-blade knife in the world," this American-made knife sports a full-tang 1095 Cro-Van blade with a stacked leather handle and is sold with an included leather sheath with a USMC engraving and button-lock.
Blade Length: 7.0"
Blade Thickness: 0.17"
Blade Steel: 1095 Cro-Van Steel
Handle: Leather
Overall Length: 11.875"
Gerber LMF II Infantry
Benefitting from extensive field-testing by a slew of American military personnel, Gerber's LMF II Infantry knife is an American-made survival knife with a decidedly tactical influence. Lashing holes just below where the blade meets the handle allows the fixed-blade knife to be used as a spear while its wedge-shaped pommel is perfect for hammering and striking tasks. Weighing only 24oz, the second-gen LMF Infantry is backed by a lifetime warranty and comes with a pair of leg straps and a MOLLE-compatible sheath with an integrated sharpener.
Blade Length: 4.84″
Blade Thickness: 0.185"
Blade Steel: 420
Handle: TPV-Overmolded Glass-Filled Nylon
Overall Length: 10.59″
TOPS Brakimo
Designed by Bushcraft expert Joe Flowers to stand up to some of the harshest and most hostile conditions on the planet, the TOPS Brakimo is an ultra-rugged and utilitarian survival knife that packs a full-tang 1095 high carbon steel blade with a Scandi-ground edge and Micarta scales. Sold with a KYDEX sheath, the Brakimo also just happens to be the official knife of Bushcraft Global, an elite survivalist school taught in the jungles of Colombia.
Blade Length: 5.25"
Blade Thickness: 0.18"
Blade Steel: 1095 Carbon Steel
Handle: Micarta
Overall Length: 10"
ESEE Knives ESEE-5P
Made in America and backed by what's quite possibly the most thorough lifetime warranty in existance, ESEE Knive's ESEE-5P is a bonafide workhorse of a fixed-blade that features an ultra-beefy one-quarter-inch-thick 1095 carbon steel blade that's been mated to a set of Micarta scales with a bow-drill divot. Weighing in at just under 1lb, the 11-inch fixed-blade knife sports a 5.25" cutting edge and an HRC rating of between 55 and 57 on the Rockwell scale.
Blade Length: 5.25"
Blade Thickness: 0.25"
Blade Steel: 1095 Carbon Steel
Handle: Micarta
Overall Length: 11"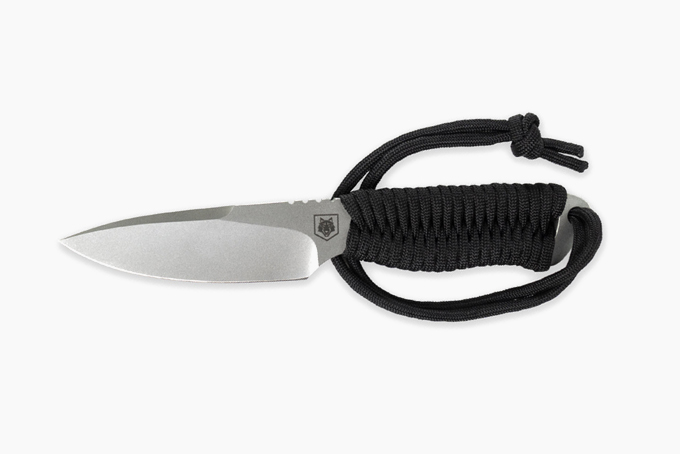 Terrain 365 SC X Michael Vagnino NK1
Born out of a collaboration between Terrain 365 and Michael Vagnino — an ABS Mastersmith and member of the American Bladesmith Society — this trusty fixed-blade model offers ample utility in a compact, 6.50-inch package. Part of Terrain 365's Special Collections label, the SC X Michael Vagnino NK1 is comprised of a full-tang Terravantium dendritic cobalt blade that's completely impervious to rust and corrosion. The handle of the knife has been wrapped in a 3-mm ALSE-type 95 paracord. Tipping the scales at just 2.2oz, this knife is also sold with a custom-fitted KYDEX sheath.
Blade Length: 3.25"
Blade Thickness: 0.14"
Blade Steel: Terravantium
Handle: 3mm ALSE-Type Cord-Wrapped
Overall Length: 6.50"
Benchmade Anonimus
The latest outdoor-specific fixed-blade model from legendary knifemaker Benchmade, the Anonimus is a lightweight yet thoroughly capable survival knife that's been engineered specifically for survival and bushcraft applications. Paired with a set of textured G-10 scales, the knife's blade consists of a 5.00-inch drop point item that's crafted from CPM CRU-WEAR and fortified via a gray Cerakote finish. Despite being on the thin side at only 0.11 inches thick, the use of this "super steel" allows the blade to stand up to tasks normally reserved for much thicker blades. Weighing only 2.56oz, this Benchmade knife also boasts a custom-fitted KYDEX sheath.
Blade Length: 5.00"
Blade Thickness: 0.114"
Blade Steel: CPM-CruWear
Handle: G-10
Overall Length: 9.83"
SOG Super Bowie
The Studies and Observation Group's Super SOG Bowie is a modernized take on the company's first-ever knife model from 1986. Protected by a lifetime warranty, the Super SOG Bowie features a 7.5-inch clip point blade that's crafted from AUS-8 steel before being fortified via a hard-cased black titanium nitride coating. Capped off with a steel crossguard pommel, the knife's handle consists of epoxied stacked leather washers — another contemporary twist on this tried-and-true design. The Super SOG Bowie also comes with a leather belt-loop sheath.
Blade Length: 7.5"
Blade Thickness: 0.25"
Blade Steel: AUS-8
Handle: Epoxied Leather
Overall Length: 12.88"
The James Brand The Hell Gap
Sold in four different finishes, The James Brand's Hell Gap knife is a thoroughly modern interpretation of an outdoor fixed-blade knife that's as utilitarian and rugged as it is beautifully designed. Taking its name from the Hell Gap arrowhead in Platte County, Wyoming, this knife is comprised of a modified drop point blade with a full-tang CPM S35VN construction and a Cerakote finish that's been adorned in a set of Micarta scales. Completing the package is a lanyard loop, a TJB logo handle inlay, and a custom-fitted KYDEX sheath.
Blade Length: 3.80"
Blade Thickness: 0.12"
Blade Steel: CPM S35VN
Handle: Micarta
Overall Length: 7.80"
Chris Reeve Knives Pacific
Made by what is unequivocally one of the most respected knifemakers on earth, Chris Reeve Knives' Pacific model is an extraordinarily hardwearing and capable fixed-blade survival knife that was co-designed by Reeve and Bill Harsey Jr. Created to celebrate the 50th Anniversary of 1st Special Forces Group (aka "Airborne"), the Pacific features a 6.0-inch clip point blade that's composed of CPM S35VN steel and protected by a Cerakote finish. Offered with a straight edge or with a double row of serrations, the blade on this award-winning knife is cloaked in a set of textured canvas Micarta handles. Measuring 11.50" overall, this knife is made by hand in Idaho and is sold with a canvas multi-cam sheath.
Blade Length: 6.0"
Blade Thickness: 0.22"
Blade Steel: CPM S35VN
Handle: Micarta
Overall Length: 11.50"
Toor Knives Field 2.0
Made by hand in America in small batches to ensure ultra-exacting levels of quality control, Toor Knives' Field 2.0 is an incredibly capable survival knife with an unmistakably tactical influence. Measuring 8.75" overall, Toor's second-gen Field knife boasts a 4.5-inch CPM 154 blade that's been mated to a set of ebony handles that have been sourced from Taylor Guitars before each being individually crafted by hand. Rated at between 59 and 61 on the HRC scale, this knife also features a 0.035-inch copper liner and is sold with a genuine Hermann Oak saddle leather sheath.
Blade Length: 4.50"
Blade Thickness: 0.1875″
Blade Steel: CPM 154
Handle: Ebony Wood
Overall Length: 8.75"
*Additional Contributions by Sean Tirman
The 10 Best Bushcraft Knives for the Outdoors
Want to check out an additional array of ultra-hardwearing fixed blades that are incredibly conducive to survival use? Then be sure to head over to our guide to the best bushcraft knives for ten more hand-selected blades that can stand up to just about anything you can throw at them.