If you're thinking of heading out for the adventure of a lifetime, you've got to be cognizant of all the different fates that might befall you, including, but not limited to, getting stranded after nightfall without a light source. It might not seem like the most pressing of matters, but preparing for any outcome, however slight, has been proven time and time again as a staple characteristic of history's most prolific adventurers. Fortunately, not everything is a life or death situation. Sometimes, you want to do sift through some firewood to find the perfect piece, head into the forest for a quick kindling search, or illuminate a book for better late-night reading while sitting around your newly-stoked campfire.
Whether you're an avid adventurer who's used to going all-out while off-grid, or a casual hiker/camper who enjoys a weekend away from the city to reset and reevaluate, you're going to need a headlamp to illuminate your path. Luckily, both the EDC and outdoor gear industries are filled to the brim with flashlight providers, including those that have found a way to make the traditional handheld device even more ergonomic through the use of head-bound elastics. Below, we'll dive into the wide world of illustrious lumen output, paying extra attention to the performance-focused variants that have been built with additional durability in mind.
Nite Ize Radiant 250
Nite Ize's Radiant 250 headlamp is a trusted and dependable companion built for adventure, making it a repeated best seller on reputable outdoor sites like REI and Backcountry. It features a 46-hour operation time and four separate LED modes to help you along, including a high-spot, low-spot, flood, and red LED that can be cycled depending on your needs. Thanks to the headlamp's push-button design, you'll be able to illuminate your surroundings with ease, draping the trail in up to 250 lumens of white light. The Radiant also features a tiltable, impact- and water-resistant IPX4 body, giving it even more prominence in an industry where durability under stress is the most important aspect.
Lumens: 250
Rechargeable: No
Weight: 5.6 ounces
UCO Air
UCO's Air headlamp is a step away from the simplicity of the Nite Ize Radiant, but instead of becoming more complex, it introduces some interesting features to make it more intuitive over the long term. The device's adjustable precision-fit strap provides wearers with comfortable, all-day use, while a hook-and-loop closure serves to keep things secure as you remain agile. A two-mode LED layout calls upon a bright 150-lumen white LED or red night vision mode to keep things simple, but capable. What sets the UCO Air apart from the first item on our list, however, is the implementation of an internal Li-Ion battery, allowing you to recharge the headlamp whenever you need it most, instead of swapping out a set of AAA or AA batteries.
Lumens: 150
Rechargeable: Yes
Weight: 1.6 ounces
Streamlight 61070 BuckMasters Trident
The Streamlight 61070 BuckMasters Trident headlamp was created by and for outdoorsmen. To illuminate camp setups, aid with an early-morning jaunt into the forest, or light the way for a hunting expedition off-grid, the company's IPX4-rated device offers a single green LED, three white LEDs, and a C4 Power LED for a wide range of different applications and uses. It's both shock- and water-resistant, can run continuously for up to 63 hours, and features an elastic and rubber head strap to make donning and doffing a simple affair, even in limited daylight. When you're drawing close to its final hours, the headlamp will notify you via its low-battery warning indicator, which is a notable quality-of-life improvement if you're hoping to make it home without being left stranded.
Lumens: 80
Rechargeable: No
Weight: 5.5 ounces
NITECORE NU25
NITECORE is, without a doubt, one of the most trusted names in the headlamp and flashlight industry. The company's EDC-approved NU25 is a perfect example of its design-focused approach toward illumination, offering wearers an ultra-powerful 360-lumen wide beam, over 88 yards of throw, and even auxiliary CRI and RED lights to ensure that you'll never be caught out without the ability to use night vision or preserve natural color. At only 1.9-ounces, you'll be able to light the trail for extended periods of time without fatiguing your neck or back, while also being able to remove/stow the device without being overly conscious about pack space. Better yet, it forgoes the use of traditional AAA or AA batteries for a built-in micro-USB battery, allowing you to charge the headlamp while on-the-go by using any USB-privy power source.
Lumens: 360
Rechargeable: Yes
Weight: 1.9 ounces
Petzl Actik
Petzl's athletically-focused headlamps are recognized as some of the finest examples for use while running, but if you ask us, they're just as formidable for casual trail and conventional home use. While the brand's Actik still falls a bit behind modernized offerings due to the inclusion of a triple AAA-battery power supply, you're able to upgrade the device with Petzl's proprietary Core rechargeable battery; although, you'll have to buy that separately. Either way, buyers will be able to utilize up to 300 lumens to illuminate their path, switching between wide or regular beams to navigate to their heart's content. You'll even be able to tap into five different lighting modes — low, regular, bright, red, and red strobe — to cover a wide breadth of different uses and applications.
Lumens: 300
Rechargeable: No
Weight: 3.2 ounces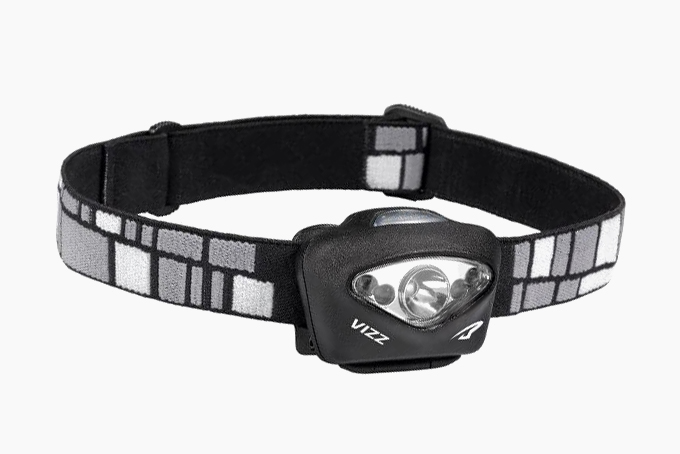 Princeton Tec Vizz
Princeton's Tec Vizz headlamp was crafted to take on the world's harshest environments, and while it might not be as durable as some of the other offerings on our list, the inclusion of full waterproofing is an attractive characteristic for those who are looking to spend their time in a more moist environment. Buyers will be able to access three different beam profiles by pressing, holding, or double-tapping the Tec Vizz's intuitive on-body button. After choosing which ultrabright LED profile or flood setup you'd like, everything in your path will be illuminated under the device's 205-lumen spot beam, thanks to Princeton's Maxbright LED technology. It's even lockable, meaning that you won't turn the light on accident if you're trying to be discreet.
Lumens: 205
Rechargeable: No
Weight: 3.2 ounces
BioLite Headlamp 330
BioLite is yet another household name when it comes to on-body illumination, but the company's refined catalog of headlamps is certainly its strong suite. The 330, for example, brings wearers an ergonomic, ultra-thin 3D-molded housing, moisture-wicking fabrics, and a performance-focused 330-lumen output that will keep everything in front of you supremely visible. The company's designers even went out of their way to create a form-fitting, sweat-wicking band that allows the device's integrated electronics to sit flush with your forehead, decreasing slippage and additional bounce brought forth by rapid movement. After pounding through the 330's 40-hour battery, you'll be able to utilize any micro-USB connector or power outlet for a quick recharge, instead of fumbling around while you look for alkaline replacements.
Lumens: 330
Rechargeable: Yes
Weight: 2.4 ounces
Fenix HM50R
Fenix's HM50R is one of the most formidable items on our list, but its overall design and architecture might not inspire you to think so. Despite its slim stature and drab appearance, this headlamp calls upon a high-quality Cree XM-L2 LED to supply over 500 lumens of illumination in its Turbo state. That's mind-boggling, sure, but if you're looking for something a bit tamer, you'll be able to dial things back with the device's 130-lumen, 30-lumen, and four-lumen modes. You'll be leaving the alkaline batteries behind thanks to the HM50R's 700mAh rechargeable battery, but if you need a backup, you can always grab the company's CR123A disposable variant, just in case. To round things out, an IPX8-rated construction provides adequate water-resistance, dust, and shock, thanks to the headlamp's aircraft-grade aluminum body.
Lumens: 500
Rechargeable: Yes
Weight: 2.8 ounces
Coast FL78R
COAST's FL78R is the quintessential headlamp for those who are looking to bridge the gap between great-looking design and adequate performance. It utilizes a super-wide flood beam, or spot beam, thanks to its pure beam focusing optic tech, allowing you to adapt your throw, distance, and brightness at the touch of a button. Wearers can choose a white, red, or green beam, depending on their preference, while the company's proprietary "hot spot" provides a consistent transition halo for consistent illumination. Aside from enhancing your effective viewing area, the FL78R also boasts an IPX4-rated design to help it stand up to inclement weather, general shock, and even one-meter drops. But if you find that your device is a bit worse for wear, don't worry — each example is backed by COAST's lifetime warranty, which protects against material defect and workmanship errors.
Lumens: 530
Rechargeable: Yes
Weight: 3.2 ounces
Black Diamond Icon700
Black Diamond's technical-looking Icon700 rounds out our list as one of the industry's most formidable models, and with over 700 lumens of output, it's safe to say that you won't be needing any additional light sources if you've got this lamp attached to your cranium. There's even a built-in "brightness memory" solution that allows you to keep your favorite illumination settings even after you've turned the device off, meaning that you won't waste precious battery life readjusting your beam and lumen output. To keep this beast at adequate operation levels, it's been outfitted with a removable battery pack, helping its dimming, strobe, RGB night vision, and lock modes to perform at their fullest potential. Heading into some questionable weather or an environment where traditional electronics/headlamps might not fare well? That's ok — the Icon700 features an IP67-rated construction, meaning that this high-end example is completely sealed, making it water- and dust-proof.
Lumens: 700
Rechargeable: No
Weight: 8.3 ounces
The 15 Best EDC Flashlights
While it might seem like head-worn illumination is vastly superior, there are times where a handheld flashlight might be preferable. Head over to our guide on the best EDC flashlights to complement your newly-acquired headlamp with a worthy backup.