Appearing independently on the written record in ancient China, Egypt, and Greece, lanterns have existed for millennia, though early mobile production models wouldn't emerge until the 1700s. And while lanterns are no longer the world's primary means of artificial lighting, they are still regarded today as bonafide pieces of essential camping gear. Over their several-hundred-year history, lanterns have been treated to various changes and updates, from the metallurgy used to the technology employed to provide light to the fuel or energy powering them.
This aforementioned host of changes has resulted in a buyer's market, with countless lantern options in all different shapes, sizes, and specs. And while that's great news, it can also make it difficult to hone in on the suitable model for you. So, to help shine a light on this topic, we've pieced together this guide on the market's ten best camping lanterns. Below we'll explore the various types of camping lanterns that exist, what differentiates many of these camping gadgets, what features to keep an eye out for, and of course our picks for the best camping lanterns currently out there.
Best Camping Lanterns
Best Overall

Fenix CL28R Stepless Lantern

Best Runner-Up

Goal Zero Lighthouse 600

Best Budget Pick

Coleman CPX 6 Rugged XL

Best Gas Option

Coleman Powerhouse Dual-Fuel

Best Compact Lantern

GEAR AID Carabiner Light Clip

Best for Backpackers

Goal Zero Crush

Best Rugged

Streamlight Super Siege

Best Lantern-Speaker Combo

MPOWERD Luci Explore
What To Look For
Illuminating Your Options
Type: While many different types of lanterns have come and gone over the years, today there are two main types: electric and gas-powered. Both categories have their own unique strengths and weaknesses, with batteries often being lighter, but harder to replenish while off-the-grid (without the help of solar panels). Different types can also be affected differently by factors such as temperature, with each type of gas being rated to work at its own point.
Power Source: The power — or fuel–source — plays another hugely important role when shopping for a lantern. Electric units either run off of store-bought batteries (like D and AAA) or a rechargeable internal Lithium-ion battery. Gas-powered lanterns — not unlike camping grills — typically use sources such as propane, butane, and white fuel (aka "Camp Fuel"). Whether gas or electric, different sources offer different lifespans and burn-times.
Size & Weight: Because camping lanterns are designed to be taken into nature, it's more than worth keeping an eye on overall size and weight when shopping around. This area should be guided by how you plan on getting to camp, as you'll want to opt for a much smaller and lighter unit if you're carrying your gear into the site on foot, rather than if you're planning on buying a lantern for future car camping trips.
Light Source: Different lanterns use different light sources to do their jobs. The quality of the light source from electric lanterns — which often use LED lights – largely comes down to the type of emitter being used. For gas lanterns, you want to focus on the burning or heating element (or "mantle"), as several different systems can be utilized, some of which can also act as a heat source in addition to providing light. This area will also ultimately determine how bright a given light is as well as how far it reaches.
Construction: Like any piece of outdoor gear, the quality of the materials and construction techniques used to create them plays an enormous role in overall quality, and camping lanterns are no different. You not only want to keep an eye out for solid materials, but also for reinforcements around fragile elements such as the light sources themselves.
Amenities: Many of today's camping lanterns are bestowed with supplementary features such as device-charging portable power banks and USB ports and various attachment points, and there are even a few lanterns that boast features like Bluetooth speakers and customizable RGB lighting that can be controlled through a mobile app.
Fenix CL28R Stepless Lantern
Pros
Stepless light adjustment
Multiple mounting options
Incredibly powerful
Cons
Only points in one direction
Best Overall: There are a lot of fantastic lantern options out there, but very few can do it all like Fenix's new CL28R model, a 2,000-lumen lantern with stepless light adjustment, a 191-foot range, and a 360-hour runtime on its lowest setting. It may shoot light in a singular direction, but it's so powerful it doesn't even matter. There's also a second knob that lets you adjust the light's color temperature, from white light to incandescent-like warm light to natural daylight. Other features include dual-device USB chargers, a tripod socket, and magnetic handle for hands-free mounting. You might have a more modest option as your go-to, but once you get to using this IP66 water-resistant lantern, it'll be hard to switch to anything else.
Output: 2,000 lumens
Weight: 13.26oz
Device Charging: Yes
Goal Zero Lighthouse 600
Pros
Collapsible
Solar charge-capable
Cons
Charging cable could be longer
Best Runner-Up: Named after this modern lantern's silhouette, the Lighthouse 600 is a travel-friendly camping light that offers ample utility in the field. Two LED lights produce up to 600 lumens, and a pair of collapsible stainless steel legs and carrying/hanging handle makes it easy to tuck this device away into a backpack while out on the trail. Its internal 5,200mAh Lithium-ion battery offers a burn time of up to 7.5 days on the light's lowest mode, though it can double as a charger to fully juice-up smartphones, tablets, or other mobile devices via its USB port. Made from a lightly-diffusing ABS plastic, this lantern can be recharged in the wild using Goal Zero's Nomad solar panel (sold separately) or even the built-in hand crank.
Output: 600 lumens
Weight: 1.1lbs
Device Charging: Yes
Coleman CPX 6 Rugged XL
Pros
Very durable
Low glare for reading or coversating
Cons
Some users may not like the plastic construction
Best Budget Pick: For those who don't want all the bells and whistles of many modern-day lanterns, opt for a traditional hanging light with a straightforward operation and a durable build to boot. Coleman has a ton of budget-friendly picks but this CPX 6 Rugged XL (make sure it's the Rugged version) balances price, durability, and performance better than most on this list. Putting out 700 lumens, the lantern is housed in high-impact polystyrene for the base and cover, with a IPX4 water-resistance rating, 60 hours of max runtime, and a textured tube to reduce glare when hanging out in the evenings.
Output: 700 lumens
Weight: 3.08lbs
Device Charging: No
Coleman Powerhouse Dual-Fuel
Pros
Works with unleaded gasoline if desperate
Cons
A little pricey
Gas is naturally more finnicky than electric
Best Gas Option: Talk about an old-school pick. We talk a lot about water resistance, but when it comes to gas-burners, those specs don't matter as much. This Powerhouse Dual-Fuel from Coleman is another example of the iconic brand's prowess when it comes to outdoor appliances. You can use Coleman's proprietary Liquid Fuel tank with a simple match strike to power the light, but when that fuel runs out you can just siphon some unleaded gas from your vehicle and use that as well. A great pick for overlanding off the grid, the Powerhouse shoots 800 lumens up to 22m (~72ft) for up to 5 hours (20 hours on its lowest setting).
Output: 800 lumens
Weight: 4.65lbs
Device Charging: No
GEAR AID Carabiner Light Clip
Pros
Incredibly affordable
Doubles as a 25-pound carabiner
Cons
It's easy to misplace all the separate components
Best Compact Lantern: A great pick for the more EDC-minded adventurers. If you don't want to lug around your main lantern on your night hike or need both hands while rummaging through the tent, this Carabiner Light Clip from GEAR AID is perfect. Doubling as a subtle night light for winding down before bed, it can also attach to your keys, belt loop, or backpack to illuminate your surroundings with 110 lumens and two brightness settings. There's also a red light and flashing red light for emergencies. Weighing just 4.5oz, this unit can convert to a camp carabiner with a 25-pound weight limit for dual purpose.
Output: 110 lumens
Weight: 4.5oz
Device Charging: No
Goal Zero Crush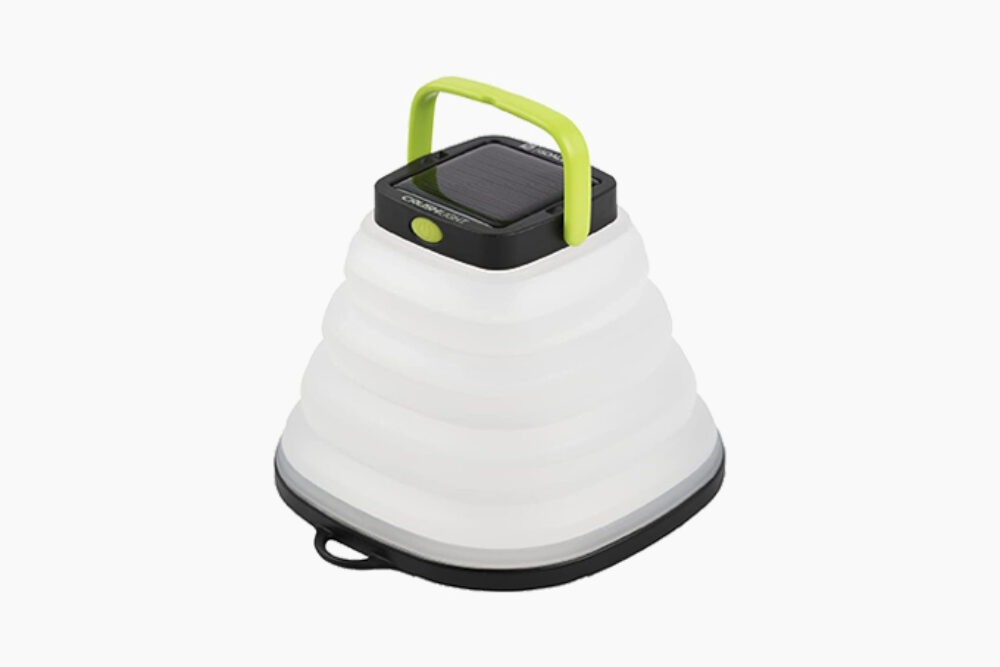 Pros
Very affordable
Compact and lightweight
Built-in solar panel
Durable
Best for Backpackers: When shedding weight and minimizing space in anticipation of your next backpacking excursion, you'll need a lantern that can keep your campsite illuminated without taking up much space in your bag. Opt for Goal Zero's Crush Light, a silicone-based lantern that weighs just 3.2oz and can be collapsed down to 5" x 5" x 0.6" for unnoticeable storage, whether in your backpack or even your pocket. It comes integrated with a solar panel but can be charged via USB as well. Also available in multicolored Chroma version, the IPX4-rated Crush Light has a handle up top for hanging. And despite the somewhat-low 60-lumen output, it's so affordable that you could buy two or three if you wanted to.
Output: 60 lumens
Weight: 3.2oz
Device Charging: No
Streamlight Super Siege
Pros
Insanely durable
Powerful
Cool tactical aesthetic
Cons
Green power indicator is too bright on low light modes
Best Rugged: Some of us may need a lantern as tough as we are. Not only does the Super Siege from Streamlight put out 1,100 lumens but it sports a super rugged polymer construction that gives it IPX7 waterproof resistance down to 1m and impact resistance up to 2m. Weighing just under 2lbs, it also floats and has a rubber base to preclude slippage in wetter conditions. There's even a red light setting to preserve night vision and a power light indicator to inform you of the battery life. This thing may look like it aided Master Chief in Halo but in reality it would serve you perfectly well no matter what you have to endure on your next camping trip.
Output: 1,100 lumens
Weight: 1.88lbs
Device Charging: Yes
MPOWERD Luci Explore
Pros
Doubles as Bluetooth speaker
Has an alarm clock function
Built-in solar charger
Cons
Speaker quality could be better
Best Lantern-Speaker Combo: Great for glamping, this modern-day take on a camping lantern bestows the traditional off-grid light-source with a host of "smart" amenities. For starters, its 18 LEDs produce 220 lumens and can be customized to any color using an app that the Luci Explore pairs with, which lets you control the brightness or program alarm clocks that give the option of waking up to one of multiple preprogrammed nature sounds like birds chirping or waves breaking. Also able to play music via a Bluetooth connection and charge your mobile devices, the Luci Explore can operate in temperatures as low as 32°F and is IPX4-rated for splash protection. Made with a water-resistant textile material built atop an ABS base, this light can be recharged via a USB port in as little as 5 hours or using its integrated solar panels in just over a day — that offers 24 hours of burn time on its lowest setting or 4.5 hours of music playback.
Output: 220 lumens
Weight: 9oz
Device Charging: Yes
Best of the Rest
Honorable Mentions
Black Diamond Apollo
Pros
Great for solo camping
Lighter than the Goal Zero Lighthouse
Cons
Might be slightly too heavy for some backpackers
Slightly worse than the similarly-priced Lighthouse
Because of its compact size and relatively impressive lumen output, the Black Diamond Apollo lantern is conducive to solo camping. Tipping the scales at just over 12oz, the Apollo gives off up to 250 lumens from its QuadPower LED unit. Comparable to Goal Zero's Lighthouse, this lantern bests its main competitor by being lighter, although it falls behind due to the lack of USB device charging and solar-power options. It does, however, sport a power meter that displays the remaining battery level throughout the duration of its 24-hour max burn time. This potent little lantern is fairly durable, with rubber-backed construction and folding rubber-based stainless steel legs that act as something of an exoskeleton when folded up. And, in addition to being IPX4-rated for splash protection, the device is protected by a three-year manufacturer warranty.
Output: 250 lumens
Weight: 12.1oz
Device Charging: No
BioLite AlpenGlow 500
Pros
Multiple light settings
Fun to use
Cons
No handle makes it bad for hiking
Providing brilliant ambient light up to 500 lumens, the AlpenGlow from BioLite is emblematic of the brand's ability to think outside the box while remaining refreshingly functional. The lack of a handle makes this a no-go when venturing out on foot but it's one of the best options to have when relaxing at the campsite at night. The focus here is on the light itself, which can be accessed in interesting ways such as tapping or literally shaking the device, which "unlocks" special modes. The AlpenGlow is really fun to use and a solid option for more casual camping trips.
Output: 500 lumens
Weight: 13.4oz
Device Charging: Yes
The Best Rooftop Camping Tents
If you're looking to switch up your car camping experience, get yourself a sleeper from our guide to the best rooftop tents for your vehicle.