Oct 11, 2019
Category: Style
In spite of their ubiquitousness, wristwatches have only really been around for a century to a century-and-a-half at most. And most of the modern styles are much younger than that. However, most wristwatches as we know them today can be traced back to battlefield usage. That's because men's wristwatches really didn't exist until soldiers in the field started wrapping pocket watches around their arms to keep track of time-sensitive missions.
For those who are paying attention, yes, that means that the field watch — at least in regards to menswear — was the first style of fully-realized wristwatches. The thing is, even though it's a historical style, it's still just as relevant today as it was back in WWI. And there are far more available options today than there ever have been before. But we've pared down the daunting possibilities down to our twenty favorites. These are the best field watches that money can buy.
Timex Archive Acadia NATO Field Watch
Originally produced in the 1990s, Timex has revived their Acadia NATO Field watch — which hinged on three specific tenets: a lightweight construction, impressive durability, and excellent visibility. As such, it's built from durable and lightweight resin, boasts a reliable quartz movement, and comes equipped with an INDIGLO built-in nightlight. For the price, you're not going to find a better, more handsome field watch anywhere.
Case: Resin
Case Size: 40mm
Movement: Quartz
Seiko SNE331 Sport Solar Field Watch
If we had to pick one thing about Seiko's SNE331 field watch that we liked the best, it might just be that it comes equipped with a solar-powered movement, as that means (so long as we spend enough time in the light) we never have to replace the battery, wind it, or plug it in. Of course, it's also handsome, durable, water-resistant to 100m, boasts a day/date window, and so much more.
Case: Stainless Steel
Case Size: 43mm
Movement: Solar
Orient Defender Field Watch
Astoundingly, it is actually possible to wrap an automatic field watch around your wrist for just $150, so long as it's Orient's Defender you're considering. And while its baseline appearance is right in line with other field watches, it also boasts a few extra features you might not find amongst its brethren. That includes a 24-hour dial, a unique day sub-dial, a date window, and high-contrast markings. A modern take on a military-styled classic, this is another hit from Orient.
Case: Stainless Steel
Case Size: 42mm
Movement: Automatic
Jack Mason F401 Camp Watch
A relatively young brand, Jack Mason has mastered the art of creating watches that honor tradition but also manage to offer something new and fresh. And that's exactly what they've offered up in their F401 Camp Watch. Handsome, iconic, and interesting, this timepiece boasts a reliable quartz movement, an interesting 60-second sub-dial (as opposed to a second hand), a stainless steel case, and a nylon strap. Honestly, it's a lot more than we'd expect given the low price.
Case: Stainless Steel
Case Size: 38mm
Movement: Quartz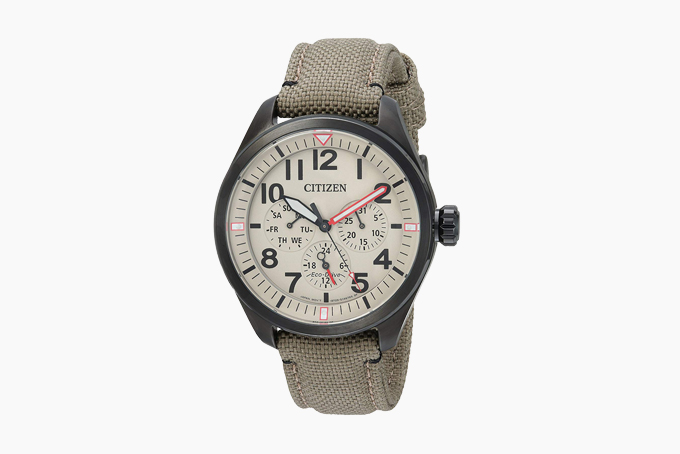 Citizen BU2055-08X Eco-Drive Field Watch
As far as budget-friendly watchmaking brands are concerned, Citizen is one of our favorites. And if you're ever curious as to why just have a look-see at the field watch here. It's undoubtedly handsome — with its tan dial that beautifully matches its strap — but it's also unique and clever. Unlike many other field watches, this one boasts chronograph functionality. It also has a solar-powered movement for more convenience to the wearer. And it has a remarkable battery life of up to six months between charges.
Case: Stainless Steel
Case Size: 43mm
Movement: Solar
MWC GG-W-113 Vietnam Military Watch
In October of 1962, the United States military rolled out new expectations for their standard issue field watches — resulting in the creation of a legendary timepiece known by its alphanumerical designation, GG-W-113. Now, MWC has recreated that watch with some modern conveniences for civilian consumption. Paired with its iconic styling, it now has an automatic movement, a more durable stainless steel case, and it comes with two stylish straps. If you like actual military styling in your timepieces, go no further.
Case: Stainless Steel
Case Size: 36mm
Movement: Automatic
Marathon WW194015 Military Field Watch
Another take on renovating the GG-W-113 for the modern day, Marathon's interpretation varies enough from the MWC above and is well-done enough to earn its own spot on our list. While this version is not an automatic, its quartz movement is Swiss-made — offering plenty of reliability still. But what sets this one apart is that it features a non-metallic fibershell case and tritium illumination — meaning it self-illuminates in low light with no need to "charge" it using light.
Case: Composite Fibershell
Case Size: 34mm
Movement: Quartz
Victorinox Fieldforce Swiss Army Watch
It shouldn't come as too much of a surprise to discover that the brand behind the lauded Swiss Army Knife also makes watches. However, their Fieldforce isn't simply a redux of an old model or something that's been in production for a long time; it's a relatively new take on the classic field watch style. Available in a wide variety of case colors, bracelets, and dial colorways — they all have a few things in common: a 42mm case, SuperLuminova markings, 100m water-resistance, and a reliable Swiss quartz movement.
Case: Stainless Steel
Case Size: 42mm
Movement: Quartz
Filson Field Watch
For more than a century, Filson has been manufacturing heritage-level gear with a focus on the outdoors. So it should come as no surprise that, when it came time to unleash a lineup of watches, they'd start with a classic field watch. It should also come as no surprise that the brand nailed it — from its reliable quartz movement to its beefy oversized crown and everything in-between. Best of all, this one comes in a variety of available colorways, so you can get the one(s) that suits you best.
Case: Stainless Steel
Case Size: 41.5mm
Movement: Quartz
Lum-Tec Combat B40 Field Watch
Lum-Tec isn't as well-known as some of the other brands on this list and we think that's a crying shame because they make some truly spectacular timepieces. For instance, their take on a classic field watch, the Combat B40, boasts all the classic style points you'd expect, but also looks unique and has unheard-of levels of toughness and durability. It's powered by a reliable Miyota movement, has a titanium carbide PVD coated stainless steel case, is water-resistant to 200 meters, and much more. It also comes with a lifetime of service, but it's limited to just 200 examples total.
Case: Stainless Steel
Case Size: 43mm
Movement: Quartz
Hamilton H70555533 Khaki Field Watch
Hamilton's Khaki is about as iconic and legendary as field watches come and producing it is one of the things the watchmaking brand does best. We're fond of this particular example, amongst its thrawls of brethren, for its clean, contrasting styling — like white 24-hour markings on a black dial against a stainless steel case on a brown leather strap. But the big hero here is its automatic movement — a Swiss-made mechanism that will keep right on ticking for decades.
Case: Stainless Steel
Case Size: 42mm
Movement: Automatic
Luminox Atacama Adventurer 1767 Field Watch
Luminox is a watch brand that specializes most frequently in mil-spec timepieces and watches for extreme environmental usage. In fact, they've made watches for both the Navy SEALs and Iceland's SAR personnel. But they're also adept at making stuff that's perhaps a bit more classic, like their take on the field watch, the Atacama Adventurer. Of course, it still has plenty to offer in regards to toughness thanks to a stainless steel case and sapphire crystal. It's also water-resistant to 200m, comes with a durable textile strap, and proprietary Luminox illumination.
Case: Stainless Steel
Case Size: 42mm
Movement: Quartz
Stowa Partitio Klassik Field Watch
Most of the field watches on this list are modern takes on the iconic style. But Stowa took it a step further and recreated a design from the 1930s. Of course, outside of the styling, this is a modern watch through and through. It's available with your choice of movements — either hand-wound or automatic, both Swiss-made — has a stainless steel case, and is waterproof to 5ATM. The Partitio is about as classic as field watches come.
Case: Stainless Steel
Case Size: 37mm
Movement: Automatic or Manual
Weiss Standard Issue Field Watch
It's extremely rare to find a watchmaker that crafts their movements on American soil, but the folks at Weiss can count themselves amongst those elite few. And that would be reason enough to consider them as a worthy brand from which to pick up a timepiece. It definitely doesn't hurt, either, that they have a stupendous take on the classic field watch — boasting an automatic movement, a stainless steel case, and ultra-clean iconic styling. If USA-made craftsmanship is high on your list of importance, go no further than this watch.
Case: Stainless Steel
Case Size: 38mm
Movement: Manual
Sinn 856 The Pilot Watch
If you're looking at the name of this watch and wondering what gives, don't fret. We're not entirely sure why Sinn calls this a pilot's watch, as it actually bears all the hallmarks of a field watch and has virtually none shared with its airborne counterparts — most notable the 12 o'clock marking where a triangular one should be. All that aside, this is still a spectacular watch with an automatic movement, stainless steel case, and a handsome calfskin band.
Case: Stainless Steel
Case Size: 40mm
Movement: Automatic
Tudor Heritage Ranger Field Watch
For those whose tastes tend to lean toward the more unique, Tudor's Heritage Ranger may very well rank amongst your favorite field watches. And that's because, while it has a classic field-oriented case and dial markings, it comes with a stand-out bund leather strap. It's a nice touch that helps elevate an already superb Swiss automatic watch into the upper echelon.
Case: Stainless Steel
Case Size: 41mm
Movement: Automatic
Bell & Ross BR V2-92 Military Field Watch
Those familiar with Bell & Ross know that the brand specializes in pilot watches — with much of their inspiration coming from the instrument gauges found in the cockpits of aircraft. Well let us assure you that that's not nearly their only realm of expertise, as can be seen in their BR V2-92 Military Field Watch. Back to front, this gorgeous watch with its automatic movement, stainless steel case, 60-minute scale bezel, and dual strap options (elastic canvas strap or satin-polished steel bracelet) is a real winner.
Case: Stainless Steel
Case Size: 42mm
Movement: Automatic
Bremont Broadsword Field Watch
In February of 2019, Bremont became the first brand to sign the United Kingdom's Armed Forces Covenant — just another step illustrating their commitment to honor and serve the military and its members. This watch is another — a contemporary take on the three-handed 'Dirty Dozen' watch design used by actual British armed forces. It's got an automatic movement, luminous markings, a 40mm hardened steel case, and even comes with specs that outline the original British field watch upon which it is based. Best of all, if you're active in the military or a veteran, you can get it for 15% off the ticket price with a valid ID.
Case: Stainless Steel
Case Size: 42mm
Movement: Automatic
Omega Railmaster Field Watch
While we wouldn't go so far as to say that Omega's Railmaster is our favorite on this whole list, it's definitely the most unique of the whole bunch thanks to its denim-style nylon strap and matching dial (amongst a slew of other details). It's also a throwback to the brand's original Railmaster from 1957, giving it some heritage points. Of course, even without that, it would still rank by virtue of an Omega automatic movement, stainless steel case, and unique almost Art Deco markings.
Case: Stainless Steel
Case Size: 40mm
Movement: Automatic
Rolex Explorer Field Watch
A Rolex is a Rolex is a Rolex. But this one also happens to be a field watch. Sure, it's not as scrappy as some of its mil-spec counterparts, but the styling and pedigree do somewhat speak for themselves. That includes a construction of the brand's signature Oystersteel — including the link band — an in-house 3132 automatic movement, a clean and smooth bezel, and pared-down markings. For those who appreciate the craftsmanship of this legendary brand, no other field watch will likely do.
Case: Oystersteel
Case Size: 39mm
Movement: Automatic
The Complete History Of The Field Watch
Just about all modern watch styles can be traced back to the field watch — arguably the first fully-realized style of wristwatch ever invented. And they're still one of the best around today. Learn all about their origins in our complete history of the field watch.
HiConsumption is reader-supported. When you buy through links on our site, we may earn an affiliate commission. Learn more