Let's get one thing clear: there are few pieces of attire more integral to any wardrobe than the hoodie. Whether it's simple or clad with graphics, there is practically no extra layer more capable of taking on the day than an easy-wearing garment that offers a bit of elemental protection. Some hoodies from certain brands may go for dubious amounts on the resale market and others boast a parallel price tag on the shelves, and these are merely signs of just how coveted these pieces can be. Some pricey may offer superior composition, but there are certain elements that they don't feature — like a zipper.
No matter how chic your favorite hoodie might be, it's bound to get a little suffocating. Ergo, there aren't many garments more that have proven to be as ideal and convenient as a zip-up hoodie. While there is an abundance of other jackets that can be classified into this particular bracket, there is a countless number of brands that take immense pride in the fact that their zipped hoodies are debatably the best you can find, bridging that gap between comfy sweatshirt and protective outer layer. With that in mind, we've put together the following list to narrow down the absolute best zip-up hoodies from across the fashion world.
Uniqlo Sweat Long-Sleeve Full-Zip
Anything from Uniqlo tends to serve as an ideal entry-level piece, and this is no exception. The brand's full-zip hoodie is crafted from French terry and looks to be more wrinkle-resistant than ever, ensuring long-time wear without the added look of it. Its exterior is crafted from nothing but cotton, which even seeps its way into a snug hybrid lining of cotton and polyester. You always know what to expect from the Japanese giant, and it offers more of the same here.
Los Angeles Apparel 14oz. Heavy Fleece Zip Up
Los Angeles Apparel is a current-day SoCal staple, and in case you didn't know, now you do. This heavyweight fleece hoodie is practically built for a mild California winter, as it is intended to combat weather as low as 50 degrees. While the humble brand's quintessential garment is great on its own, its backstory makes it an even more formidable option. The 14-ounce piece was meticulously crafted in the heart of South Central L.A. by top-notch seamstresses who receive fair wages, making this a brand you'll feel proud to wear on your back.
Buck Mason Brushed Loopback Full-Zip
Buck Mason is yet another brand that got its humble beginnings in sunny Southern California, and it hasn't looked back since. The label's signature Brushed Loopback goes to show just how comfortable simplicity can be, and that is owed to Buck Mason's immaculate use of brushed French terry. For added convenience, the hoodie is equipped with a pair of pockets and rounded out with durable side seams, the latter of which are guaranteed to keep this jacket intact one hundred zips down the line.
Flint and Tinder 10-Year Hoodie
Flint and Tinder's 10-Year Hoodie is intended to last, you guessed it, one whole decade, and you can even tack on a couple more years if you play your cards right. Thanks to the Huckberry house brand's 10-Year Guarantee, any signs of wear and tear can be repaired if you're looking to rid the hoodie of its presumably distressed look. Plus, as a result of its intercontinental composition, the 10-Year Hoodie is composed of elements from all around the country, featuring zippers from Georgia, twill tape from Philadelphia, and a heavyset 23-ounce fleece from South Carolina, practically deeming it a wearable traveler's guide.
American Giant Classic Full-Zip Hoodie
American Giant touts its simple zip-up hoodie as the "greatest hoodie of all time," which shouldn't come as much of a surprise from a brand with such a grandiose name. Be that as it may, we can't blame the Carolinas-based band of traditionalists for their lofty claim because this lowkey piece serves as a durable, quintessential layer. It's composed of a custom heavyweight fleece and rounded out with a pair of reinforced elbow pads. Indeed, there's no need to go around searching for other hoodies once this one's in your closet.
Saturdays NYC Canal International Full-Zip
Saturdays NYC is a brand based around delivering practical streetwear that isn't clad with graphics. Be that as it may, the designers still manage to pull off a bit of adolescent whimsy in each of the brand's pieces, and the Canal International hoodie is a great example. The heavyweight hoodie is made from a brush-back fleece and is then finished off with sophisticated herringbone neck tape. The white embroidery on the chest reads "USA JPN AUS — EST. 2009," paying homage to the brand's stomping grounds and worldwide acclaim. Available in a trio of chic colors, it serves as a seamless layer to your favorite outfit.
Reigning Champ Midweight Terry Hoodie
One would be remiss to overlook the prominence of performance brands that make their way from the Great North, with Reigning Champ serving as an ideal example to pick from a surfeit of them. Its Midweight Terry Hoodie is made by hand in Canada and makes for an excellent choice, which shouldn't come as a surprise knowing that the brand is tailored to crafting top-notch essentials. The fully cotton-crafted piece comes equipped with a pair of semi-raglan sleeves for additional warmth and style, and on top of that, it is rounded out with durable flatlock seams, resulting in a lack of abrasions.
J.Crew Cashmere Full-Zip Hoodie
It's hard to stumble upon something so luxuriously soft and elevated from a mall staple, but then again, J.Crew is far superior to the average store you find in your local shopping center. This sleek full-zip is so luxurious that you can't even buy it in-store, as it serves the Crew as an online exclusive. As if an affordable 100% cashmere hoodie didn't sound worthy enough, it is also responsibly made as a result of J.Crew's partnership with Aid by Trade Foundation. This goes to show that the hoodie is not only in your best interests but in that of cashmere goats, too.
Taylor Stitch The Portola Hoodie
Taylor Stitch's slight twist on American classics often makes you reminisce on a simpler time, back when the majority of clothes weren't clad with a variety of branding. The slim-fitting Portola Hoodie's standout element is its zipper composed of antique nickel — at the end of the day, zippers are the main theme here. As simple as they come, that is only from a cosmetic approach, as this hoodie's merino wool and nylon composition combine to make for an ideal everyday garment that boasts a bevy of natural performance properties.
James Perse Loopback Supima Cotton-Jersey Zip-Up
Supima cotton is one of the most coveted textiles around, revered for its softness, and James Perse is a West Coast-centric brand that makes immaculate use of it. This loopback hoodie is pre-washed for an enviously soft feel, so there's no need to worry about having to break this piece in. It also comes available in a trio of subdued colors, ensuring the flashiest asset it has to offer is its optimized comfort.
C.P. Company Light Fleece Zipped Hoodie
C.P. Company has been around for quite some time, so we trust the brand with anything it crafts. The Italian brand's lightweight hoodie is so easy to throw on that it may as well be considered a windbreaker, but don't get it mistaken, as this piece is far more lush. Composed of flexible cotton fleece, each of the hoodies is garment-dyed for the sake of a robust look, and it comes available in nine distinct colors to make the most of this process. Of course, it wouldn't be C.P. Company if it wasn't embellished with a patented Lens sleeve pocket.
John Elliott Flash 2 Fullzip
John Elliott's claim to fame is as impressive as anything his brand sells, but this sleek subtlety may be one of the few exceptions. The Flash 2 Fullzip from the Los Angeles-bred designer genuinely might be one of its best products, equipped with a top-of-the-line Riri zipper closure and a handy kangaroo pocket to hold any of your gear. Lastly, the hoodie's custom knit French terry makeup only makes it all the more worth discussing, as each piece might as well be labeled one-of-a-kind.

Polo Ralph Lauren Checked Merino Wool Hoodie
There are not many names more ubiquitous with American fashion than Ralph Lauren — after all, the man's threads have represented the U.S. in every Olympic Ceremony dating back to 2008. Polo's holiday-inspired jacket is built for any time of year, regardless of what the design may insist on. The green-and-blue checkered hoodie is composed of 100% merino wool, so it's as plush as it is stylish. This is the perfect choice for flannel fans and Americana fashion heads alike.
A-COLD-WALL* Essential Hoodie
The English streetwear-tech hybrid brand's piece is simple, but it speaks volumes — the same of which can be said for practically any of its garments. A-COLD-WALL*'s sleek hoodie traps warmth in as a result of its ribbed cuffs and neck. Then, it's finished off with high build embroidery for added embellishment, ensuring that you and everyone else will be well aware of who crafted this comfortable piece. For fans of streetwear, there's no better place to look than Samuel Ross's fashion house.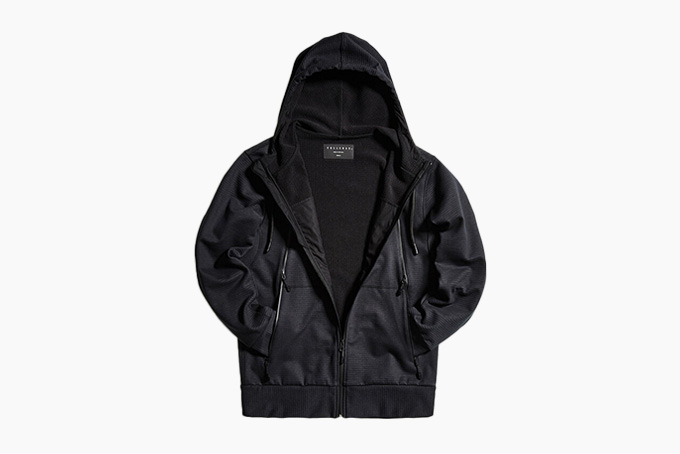 Vollebak 100 Year Hoodie
Vollebak's 100 Year Hoodie is meant to stay intact for as long as its name claims. Such a high feat would be hard to believe coming from any other brand, but the British band of innovators is well ahead of its time. Built for the most unpredictable scenarios, the abrasion-resistant 100 Year Hoodie is composed of three distinct layers: a snug fleece lining, a water repellent membrane, and, most impressively, a flexible fireproof — yes, fireproof — soft-shell courtesy of Polartec. Elemental protection is one thing, but the ability to endure all four of them is a marvel unto itself, and this indestructible piece pulls it off with flying colors.
Stone Island Fleece Hooded Sweatshirt
Everyone deserves to feel a little fuzzy here and there, which is where Stone Island's fleece-crafted sweatshirt comes perfectly into play. For an ideal fit, it comes equipped with an adjustable hood and a pair of ribbed cuffs. Plus, there is an absolute profusion of pockets, including a pair of buttonable chest flap pockets to hold any of your valuables. Lastly, it's made by Stone Island, and there's really no way to go wrong with anything you choose to buy from the Italian techwear legends.
Aztech Mountain Matterhorn Paneled 1900 Wool Ski Hoodie
Aztech Mountain's Matterhorn hoodie is ideal if you find yourself at a ski resort this year. It is made from first-class water-repellent wool courtesy of Tollegno 1900, an Italian company that is renowned for its use of coveted textiles. The paneled hoodie also boasts a pair of wool elbow patches for added durability. On top of that, it is equipped with an insulated hood and a pair of hand-warming pockets, then finished off with a convenient zippered chest pocket. Simply put, this jacket is as cool as the low-degree climate it is intended for.
Todd Snyder Italian Luxe Cashmere Hoodie
As made clear by J.Crew's offering, there is no shortage of cashmere hoodies on the market — however, there is a solid handful of them that outweigh the rest, with Todd Snyder's high-end entry at the top of the list. The New York designer's hoodie is uncannily cozy and crafted from nothing but the finest cashmere. Plus, if that doesn't sound luxurious enough, it is rounded out with suede elbow patches and a flattering tailored fit. The brand labels this one of its "luxe essentials," going to show that even the simple things in life are warranted a high-end makeover now and again.
20 Best Hoodies for Men
As we said, no matter what type of hoodie you have, they are always incredibly convenient and essential. As a matter of fact, they are so essential that having another one could never hurt. Therefore, we scoured the web to compile the best overall hoodies — with zippers and without — in our helpful guide.