Sure, the average windbreaker is often considered a sleek, sporty touch to any outfit, but there is far more to it than that. Many of the premier offerings of its kind that you may find nowadays boast optimized insulation and meticulous composition, both of which are intended to provide the perfect wind-resistant jacket for whenever you find yourself on the trails, on an early morning jog, or simply meandering through the city. Needless to say, there are few pieces more versatile than the quintessential nylon garment, so we rounded up a steady collection in our best men's windbreaker jackets guide.
The Best Windbreakers Rundown
The Starter

K-Way Le Rai 3.0 Leon

The Best Hiking Windbreaker

The North Face Men's Summit Series Superior Wind Jacket

The All-Arounder

Arc'teryx Squamish Hoody

The Best Rain Windbreaker

Outdoor Research Men's Helium Rain Jacket

The Best Windbreaker Overall

Patagonia Men's Houdini Air Jacket

The Best Running Windbreaker

lululemon Fast and Free Windbreaker

The Premium Pick

Vollebak Race to Zero Jacket
What is a windbreaker?
While windbreakers have been a prominent fashion choice dating back to the '70s, a decade ironically connoted with both emerging environmental cognizance and figuratively washing the hippie movement away, the lightweight protective jacket style can trace its roots back centuries. They're traditionally made with lightweight synthetic material and have an elastic waistband and/or arms. And with new advancements, many windbreakers are now extremely lightweight and can be easily packed away.
When should you wear a windbreaker?
Though primarily crafted to take on chilly winds and a light drizzle (on its own during warmer seasons and as a layer for colder conditions), the modern market dictates that the ubiquitous garment can offer much more than mere wind protection. What's often been referred to as the quintessential layer for spring doesn't need to be worn only through the warmer months these days, as countless notable brands are manufacturing top-notch windbreakers for the sake of annual wear and elemental protection. And with all the options available today, you can find a windbreaker for hiking, running, climbing, and everything in between. So the question isn't really about when you should wear one, but about which one suits your needs.
Windbreakers vs. Rain Jackets
Windbreakers are not waterproof like rain jackets, as they often only use a water-repellent finish on the outer layer. But keep in mind that not every jacket will, so look out for DWR (Durable Water Repellent) in the material breakdown if you want extra protection.
what to look for
Function: First off, you need to decide when and where you'll be wearing a windbreaker. If you plan on doing outdoor activities like hiking or climbing (and depending on the weather), you may want something thicker or abrasion-resistant. But if you're going to be running in urban environments or just wearing it casually, then something thin and simple is best (unless you're running in cold weather, then you might want something insulated).
Material: Ideally, windbreakers should be made with a mainly synthetic blend of material (usually nylon or polyester). For cold weather variants, look for a lining made with a warmer fabric.
Weight: This has a large part to do with the function of the jacket – for cold weather outdoor jackets, spring for something heavier. And for running and casual windbreakers, you generally want something lighter and thinner.
Packability: This is another consideration that has a large part to do with how you'll be using the jacket. More often than not, windbreakers will already be light and easy to pack, but many variants include extra storage options, like packs or being able to stuff into the hood.
Stretch: Some variants will include a bit of stretch with added material like elastane or through a weaving technique. So pay attention to the material breakdown if that's something you do (or don't) want.
K-Way Le Rai 3.0 Leon
Pros
Fully waterproof
Ventilated back
Heat-taped seams
Cons
Not as many features as premium windbreakers
The Starter: K-Way has been known for doing things its own way, and the brand's sleek French-named anorak serves as an optimal entry-level piece that's easily packable and waterproof. The Leon falls in line with the brand's Le Vrai 3.0 collection, and it's cut from a branch of water-resistant nylon that is so lightweight you can barely tell it's there. For added convenience, K-Way's garment is rounded out with an adjustable hood, as well as the brand's signature striped detail along the zipper for some added flair.
Material: 100% nylon
Weight: Not listed
Function: Rain, multi-use
The North Face Men's Summit Series Superior Wind Jacket
Pros
Non-PFC DWR finish
Zipper designed for minimal movement
Perforations on the back for ventilation
Cons
Can be a little baggy on some
The Best Hiking Windbreaker: It's impossible to go wrong with anything from the renowned Northern California label — and we mean anything. Built to battle winds and provide an unencumbered experience, this jacket makes good use of the brand's patented WindWall fabric (designed to reduce wind chill), all the while remaining lightweight. The jacket also has a ventilated back and a semi-locking slider for the zipper, so it's also a great option for trail running (or just running in general).
Material: 94% recycled nylon and 6% recycled polyester
Weight: 39 g/m2
Function: Hiking, running
Arc'teryx Squamish Hoody
Pros
DWR treatment
Lightweight but offers great weather resistance
Perfect for alpine sports like climbing
Cons
Specific care instructions
The All-Arounder: While Arc'Teryx has earned insurmountable credit for assisting in the new-age 'Gorpcore' trend, the brand has been around for much longer than many even know. Dating back to 1989, the Canadian designers have managed to do no wrong, and its Squamish Hoody is an encapsulation of the brand's prowess. Serving as one of Arc'teryx's more accessible pieces from a sheer price perspective, the jacket still boasts many of the features that make the brand's pricier ones so highly coveted nowadays, like Tyono 30 nylon (a lightweight and highly wind-resistant fabric), effortless portability, and a variety of colorways to fit your wardrobe.
Material: 100% nylon with DWR
Weight: 4.9 oz
Function: Alpine
Outdoor Research Men's Helium Rain Jacket
Pros
Waterproof
Easily packed away
Adjustable hood
Cons
On the heavier side compared to other picks
The Best Rain Windbreaker: Outdoor Research was started by nuclear physicist and outdoorsman Ron Gregg in 1981, after malfunctioning gear caused his friend to tragically pass in Denali. Gregg would go on to design durable gear backed by research, American manufacturing, and environmental consciousness. So you can trust that this jacket is made with care, along with Pertex Shield Diamond Fuse 2.5-layer fabric, making it fully waterproof. It's breathable, has an elastic drawcord and wrist cuffs, and it can be easily packed away into the chest pocket.
Material: 100% Pertex Shield Diamond Fuse nylon
Weight: 6.3 oz
Function: Rain, multi-use
Patagonia Men's Houdini Air Jacket
Pros
DWR coating
Made with recycled nylon
Lightweight, easily packed away, and versatile
Cons
Slim fit might not be for everyone
The Best Windbreaker Overall: Patagonia's Houdini is one of the more ubiquitous windbreakers around, but the brand's upgraded iteration is a bit more noteworthy due to its Pertex double weave construction that makes way for increased airflow next to the skin, preventing you from overheating or getting uncomfortable during strenuous activities. That takes care of the "Air" moniker, and as far as the "Houdini" section of the name is concerned, well, the jacket also features a zippered chest pocket that converts to a stuff sack, allowing it to perform quite the disappearing act.
Material: 90% Pertex Equilibrium nylon and 10% polyester double weave with DWR
Weight: 4.1 oz
Function: Running, casual
Lululemon Fast and Free Windbreaker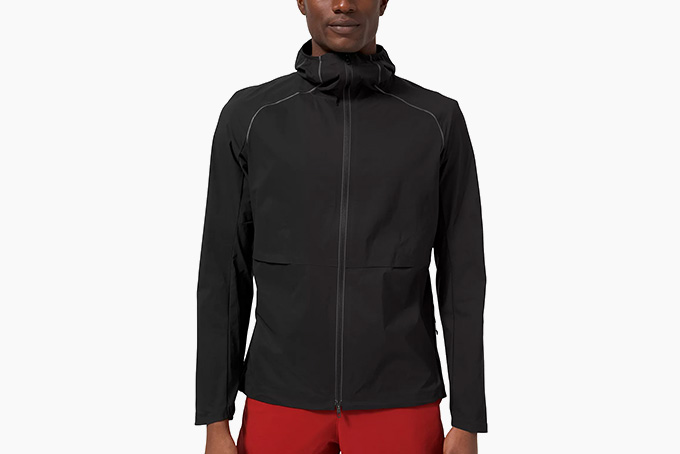 Pros
Designed for running
360-degree ventilation
Hood is designed for visibility and protection
Cons
May be too stretchy for some
The Best Running Windbreaker: lululemon is one of the more renowned athleisure brands around, so it only makes sense for a garment that practically defines the branch of fashion to appear on this list. The Canadian performance label's Fast and Free Windbreaker is a remarkable piece of outerwear, as it boasts a 360-degree ventilation system that allows air to go move around your body as you run across whatever trail you're on — which comes as no surprise, as it is very much intended for running. Lastly, the windbreaker is rounded out by its cozy high neck, handy back pockets, and sleek reflective details, all of which come together to make this jacket an ideal piece for any athlete.
Material: 84% recycled nylon and 16% elastane
Weight: Not listed
Function: Running, casual
Vollebak Race to Zero Jacket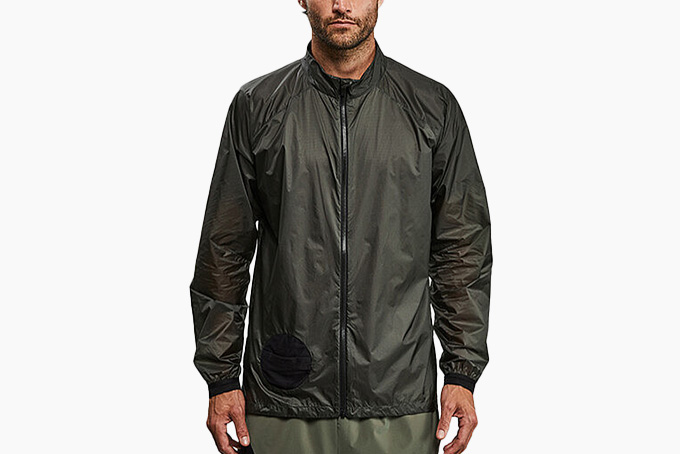 Pros
Very lightweight
Material is made in Japan
Great for long runs
The Premium Pick: Bar none, Vollebak is one of the more innovative brands on the market. The British band of adventurers' Race to Zero jacket serves as a fitting piece to fully display what makes them so special. For starters, it is the brand's lightest jacket by a mile and is built to endure lots of them — miles, that is. The remarkably light 85-gram jacket was crafted with ultramarathon runners in mind and features 27 laser-cut vents for optimized breathability while still managing to remain water-repellent and impressively windproof — it is a windbreaker, at the end of the day.
Material: 100$ nylon
Weight: ~3 oz
Function: Running
The Best Waterproof Sneakers for Any Season
Waterproof sneakers are just as versatile as windbreakers, because you can rock them during most seasons with some added peace of mind. So check out our best waterproof sneakers guide to grab a pair.