When it comes to modernized footwear, we've come to expect far more than our 20th-century compatriots. After all, with companies like Nike, Adidas, and Vans leading the charge for functional, purposeful, and stylish shoes, the development of genre-defining apparel has become a veritable rat-race — full of innovative fabrics, textiles, and designs. Of all the interesting inclusions that manufacturers have made over the past decade, perhaps the most interesting addition has been that of durable, functional fabrics — many of which have seen an increasingly vast presence in brand's technical outdoor offerings.
But these days, the heightened call for a series of urbanized footwear that boasts many of the same purposeful qualities has been met with resounding interest. The same companies that had established themselves at the head of the athletic sneaker world have deviated from the path of cost-efficient, midrange platforms to bring consumers what they've asked for — innovative shoes that can stand up to a number of environmental inhibitors such as rain, dirt, wind, and wear. These enhanced abilities often come at the hands of renowned fabrics like ripstop nylon and GORE-TEX, two industry-leading developments that have helped to redefine footwear. Below, we'll outline a handful of the best waterproof sneakers for everyday wear.
Nike Classic Cortez Nylon OG
Nike's extensive outdoor-oriented catalog is full of waterproof (and water-resistant) offerings, but the inclusion of the brand's Classic Cortez shoe had us chomping at the bit when it was first announced. The company brings its vintage sneaker into the realm of technical outerwear with the addition of water-resistant uppers, lightweight nylon, and traditional lacing and overlays — making it perfect for rainy afternoons, puddle jumping during your daily commute, or common, everyday walking. The low cut silhouette of the Cortez Nylon OG gives the wearer an enhanced range of motion, while underfoot, EVA wedge midsoles, a durable rubber outsole, and a multi-directional, herringbone pattern offer unbeatable traction during your outdoor excursions.
Vessi Cityscape
Vessi has built its entire catalog around the waterproofing qualities that made its footwear famous, and the brand's leading urban shoe, the Cityscape, doesn't stray from the company's defined path. Offering wearers an aesthetically pleasant sneaker for everyday wear was an easy goal to meet for the Vessi, but the integration of a comfortable, lightweight fabric that's breathable, eco-conscious, and entirely waterproof quickly became the company's primary focus. After years of research and development surrounding waterproof materials, the company took its first step into the sneaker realm with its watertight and lightweight Cityscape. There are three different layers that give the shoe its cunning qualities: a proprietary adaptive stretch knit on the outer layer, a nano filtering and moisture-wicking core layer, and a lined inner layer that promotes soft, long-wearing comfort. Better yet — the Cityscape shoes are 100% Vegan-friendly — utilizing ethical, capture-free materials to create the innovative sneaker.
Adidas Ultraboost All Terrain
Adidas prides itself on the creation of adaptive outdoor footwear, calling upon years of experience within competitive running, marathon, and sport to create its genre-defining line of shoes. The brand's Ultraboost All Terrain is the product of extensive knowledge surrounding the company's tried-and-true lineage — and if they've learned anything over the years, its that inclement weather is always right around the corner. To prepare for the inevitable presence of moisture during your daily commute, Adidas has imbued the All Terrain with a water-repellent Primeknit upper that's been tested in nature's harshest environments, providing adequate defense against wet conditions, and securing your foot and ankle in the process. The shoe's high collar gives you extra reinforcement where you need it most, pairing well with the company's patented Boost midsole to absorb power and propel you forward as you start to run. A flexible outsole provides adequate grip whether the terrain is slick or sticky, giving you peace of mind regardless of the elements on your route.
Forsake Range Low
Forsake has helped to stoke the fire for heritage footwear companies as of late, and with a small but purpose-built catalog focusing on outdoor endeavors, it was a no-brainer for the company to take on the waterproofing market as well. As part of the company's "Range" series, the retro-looking Range Low looks to set a new standard in the weather-resistant sneaker-boot realm. The footwear boasts a breathable, waterproof membrane that offers wearers the ultimate in all-weather protection, while a uniquely crafted, seam-sealed leather upper provides a stylish presence, as well as technical moisture resistance capabilities. To ensure adequate grip on extra-slick surfaces, the Range Low incorporates Vibram's legendary Megagrip outsole, as well as a large, dominating footprint, and a composite shank for surefire stability over a variety of terrain types.
Carhartt WIP x Converse Chuck 70's HI GORE-TEX
When you see a collaboration between two of the industry's leading clothing manufacturers, it's safe to say the product in question is going to exceed expectations — especially those set forth by footwear's harshest critics. Carhartt WIP and Converse are no strangers to the outdoor sneaker game, and with their most recent GORE-TEX endowed offering, the retro shoe maker's iconic "Chuck" has been outfitted with the best breathable, waterproof fabric around. Of course, it stays true to Converse's authentic silhouette, utilizing the same vulcanized rubber outsole, toecap, and branding, but with the addition of Carhartt's innovative canvas/GORE-TEX upper. Reflective branding and glossed print adorn the lower half of the shoe, while a contrasting apron stripe, laces, and eyelets round out the stylish, weather-ready footwear.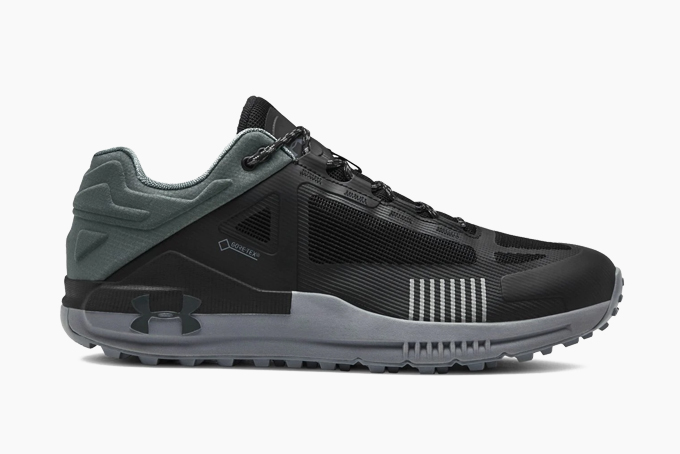 Under Armour UA Verge 2.0 GORE-TEX
Under Armour has spent the better part of the past year redefining their brand with a slew of technical athletic offerings, and with the UA Verge 2.0 GORE-TEX, the sport-oriented manufacturer is taking a step into the realm of weather-ready footwear. After imbuing the shoe with a 100% waterproof GORE-TEX upper to keep you moisture-free for the majority of your outdoor excursions, these breathable variants were outfitted with a number of interesting alternatives, from quick-drying textile uppers that are both lightweight and durable, all the way to welded overlays that bring enhanced reinforcement and support to the shoe. Charged foam pucks in the heel and forefoot provide adequate comfort and cushioning for outdoor traversal, while an ESS rock plate, feather-light EVA foam midsole, and Michelin outsole (with a Wild Gripper lug pattern) give you all of the support, responsiveness, and traction you'll need to navigate slippery surfaces.
Nike ISPA React Low WR
Nike hasn't shied away from the creation of industry-defining footwear, and, as with a number of their most recent offerings, their water-resistant ISPA React Low sets the standard for great looking accessories that also achieve a purpose. Staying true to the company's motto of "Improvise, Scavenge, Protect, and Adapt," the React Low implement a number of Nike's latest innovations, amidst a definitive textile and synthetic upper, React technology, and proprietary rubber pods that provide adequate grip on nearly any terrain. To bring the adaptive footwear even further into the outdoor realm, the entire upper has been reevaluated to mirror the brand's technical hiking boot, the ACG, providing wearers with support, durability, and resistance to the elements, no matter where they are.
Vans Vault UltraRange Hi GORE-TEX MTE
Vans has become wildly successful through its use of pop culture marketing, innovative (but somehow, unchanging) shoe styles, and presence within a vast majority of the action sports world. While the company has learned to thrive in the urban environment, its recent foray into the outdoor realm came as a surprise to many — fortunately, the brand's UltraRange Hi GORE-TEX MTE delivered every ounce of quality, comfort, and style for which the Southern California company has become known. Aside from the shoe's superior durability, performance, and breathability, the inclusion of GORE-TEX fabric has allowed them to remain moisture-free, protecting the wearer from inclement weather. Non-wicking nylon webbing and an UltraCush sock liner provide adequate comfort, as well as ease-of-use, alongside the brand's famous reverse lug rubber outsole for essential traction over a variety of terrain.
SeaVees Mariners
The SeaVees Mariners are, without a doubt, one of the most aesthetically pleasing pairs of water-resistant shoes we've ever seen, and thanks to their outstanding success during the initial launch, the company has revised them for a second release. The Mariners are a CVO boot hybrid that utilizes Ventile duck canvas, which means that your feet will remain comfortable, dry, and healthy, even if you're stuck in a sudden downpour. A gusseted tongue, sealed seam construction, and rubber foxing join forces to provide the wearer adequate protection from the elements, while a custom contoured footbed and herringbone-molded rubber outsole give you peace-of-mind while traversing slick surfaces. A soft, cotton canvas lining has also been implemented to ensure exceptional comfort and airflow, which can be a godsend on long distance treks, journeys, and commutes.
Adidas x Livestock Ultra-Tech GORE-TEX
Adidas has quickly regained its reputation as one of the premier athletic-wear companies in the modern market, and amidst an endless stream of deals, appearances, and collaborations, it seems that the brand is looking to take over the outdoor space. After teaming up with the premium boutique company, Livestock, Adidas' Ultra-Tech GORE-TEX shoe was introduced to the masses, bringing with it a number of attractive characteristics aimed toward the technical consumer. Synthetic Nubuck uppers, speed laces, webbed 3-stripes, and Trefoil branding make up the primary portions of the flashy shoe, while an ultra-durable EVA midsole, rubber outsole, and waterproof GORE-TEX lining give it all of the dependable outdoor-ready traits we like to see. The retro trainer is the perfect offering for urban runners, walkers, and explorers who are looking to bring the company's trail-borne aesthetic to a pair of sporty, everyday footwear — and with the added comfort of waterproofing, it seems like a no-brainer to round out your arsenal with these retro renegades.
Arc'teryx Acrux SL Approach GTX
Arc'teryx has made a name for itself in the outerwear world, offering a range of the industry's most innovative apparel, as well as fostering some of the community's up-and-coming styles. Although the majority of the company's footwear lineup is comprised of strict, purposeful hiking variants, the Acrux SL Approach GTX brings a much more adaptable silhouette to the table. The Approach is a durable, responsive pair of sneakers that are aimed at the brand's urban audience, bringing an alpine-approved design orientation to the table for those who spend the majority of their time traversing the wet concrete avenues of the city. A waterproof GORE-TEX upper gives the shoes a breathable, lightweight orientation, while "Adaptive Fit Lite" technology provides wearers with a sock-like feel that's both cushioned and supportive. An Ortholite lining has been integrated to provide additional comfort, alongside a treaded Vibram rubber sole that ensures adequate traction on flat, incline, and multi-elevation terrain.
New Balance Tokyo Design Studio R_C2
New Balance has found a way to balance the blocky, retro styles of old with the sleek, rounded variants of the modern day, and the company's Tokyo Design Studio R_C2 sneaker has certainly inherited all of the best attributes of the company's extensive lineup. As the second project in the brand's Reveal series, the collision of American and Japanese shoe styles is certainly prevalent — utilizing strict attention to detail, quality, and craftsmanship — all in a durable and dependable silhouette. A reinforced, ripstop nylon upper and GORE-TEX lining give the R_C2's a technical, waterproof orientation, while a translucent TPU lacing saddle and ENCAP REVEAL cushioning provide the ultimate in comfort, support, and functional wear.
10 Best Waterproof Running Shoes
Now that you've established an understanding of some of today's most prominent sneaker brands, head over to our guide on the best waterproof running shoes if you're looking for a sport-oriented approach.