With the warm embrace of summer fast approaching, it's almost time to transition your wardrobe into something a little cooler. The departure from heavy fabrics, heat-retaining garments, and full-body coverage is a quick one — and trust us, it's better to be prepared prior to the coming of the season, than left scrambling during the most adventurous time of year.
In an effort to simplify your mid-summer clothing acquisition, we've decided to break down one of the most comfortable, dependable, and stylistic choices for temperate wear — the tank-top. Below, we'll outline a number of the garment's top qualities, along with a list of the companies that are offering the best iterations of the classic style. So step into a pair of boardshorts and throw on your sandals, it's time to dive headfirst into summer.
PrAna Basic
PrAna has quickly become one of the world's premier "basic" brands, offering consumers a niche alternative to retailers like Urban Outfitters, H&M, and Uniqlo. Staying true to the company's long-running mission, the summer-styled Basic tank offers a comfortable, lightweight fit thanks to its premium organic cotton blend, without breaking the bank. It pairs perfectly with a number of summers go-to outfits and looks just as great when styled with a jacket or zip-up for winter.
Hurley Dri-FIT Harvey Blocked
Hurley has always been a constant in the summertime menswear game, and to make the warmest months of the year even more enticing, the brand's Dri-FIT Harvey tank has arrived. A subtle, blocked design and lightweight, sweat-wicking fabric keep things ventilated no matter the occasion, while the tank's cotton and polyester blend ensures exceptional comfort for those sand-filled days on your favorite beach chair.
Alternative Apparel Marine Printed Eco
Alternative Apparel stays true to its name with the Marine Printed Eco tank, combining organic and recycled materials to create a fashionable, patterned garment for summertime wear. The Marine boasts a throwback style that lends itself to the sporty variants of old, helping you to stand apart from the crowd — visually, and consciously. Polyester, cotton, and rayon provide adaptable comfort for those toasty days when comfort is key.
The North Face Beyond The Wall
The North Face is well known for their cold-climate outerwear, but with things warming up (even in the less temperate areas of the world), you'll want something like their Beyond The Wall tank. Built to withstand grueling training days in the climbing gym, the Beyond The Wall boasts a comfortable cotton and polyester blend that remains lightweight for all-day wear. A specially-shaped hem implemented to clear your harness, as well as customized underarm gussets for a wide range of motion, provide TNF's garment with a plethora of purposeful attributes. Better yet, reinforced stitching ensures that you'll be going "beyond the wall" for years to come.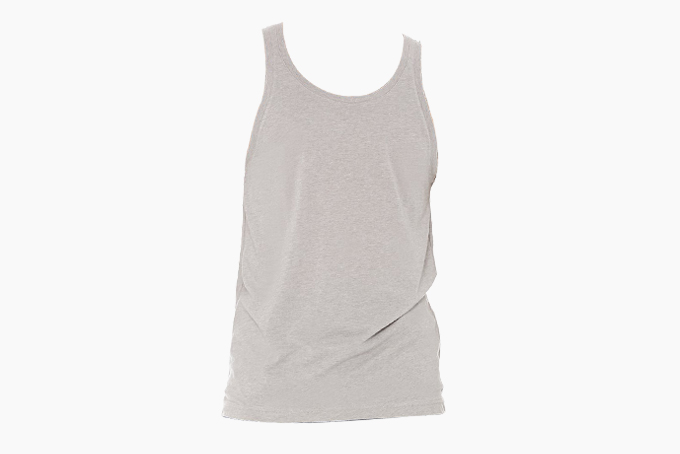 Alo Triumph
As with most tailored tank-top styles, Alo's Triumph garment combines stylish looks with a purposeful background. It's been fabricated to defeat even the sweatiest yoga sessions with ease, all while providing a comfortable, durable fit thanks to the implementation of a sueded, tri-blend material. The Triumph even sports large neck and arm openings, making it a go-to garment for athletic movements that demand a high range of motion. But if you're not in the market for a sport-oriented tank-top, don't fret — Alo's adaptable garment looks just as good paired with a diverse range of summer styles.
Tracksmith Twilight
The designers at Tracksmith have dedicated their lives to one of the athletic community's favorite pastimes: running. In order to make the cardio-oriented experience better for everybody, the brand has introduced the Twilight tank — honoring the time-tested tradition of the Twilight Meet. The ultra-lightweight, micro mesh garment embodies the aura that surrounds race day spirit, providing competitors with the perfect moisture-wicking tank for those aspirational runs. A polyester and elastane construction keeps you in the running, while the tank's subtle details and minimalist trim give you a perfect companion for summertime athletic endeavors.
Lululemon 5-Year Basic
Lululemon is a trademark within the yoga world, and recently, they've been diving further into the casual and athleticwear space. Their basic lineup pays tribute to the brand's high-end clothing, implementing the same ethos in minimalist pieces like the 5-Year tank-top. The summertime style is made using the company's Vitasea fabric, which blends Pima cotton and an adaptable Lycra for exceptional softness and shape retention. As an added bonus, the garment is also sweat-wicking, meaning that you'll be able to face the heat without worrying about unsightly blotchiness.
Jungmaven Hemp
Jungmaven's Hemp tank-top is made with the summer in mind, utilizing an attractively draped, mid-weight silhouette that lends itself to diverse wear. A shirt-tail hem and relaxed fit through the chest and waist ensure a handsome pairing with a number of outfits and an even greater partnership with boardshorts. The garment is already pre-washed and pre-shrunk, so you'll never have to worry about dimensional changes, and since it's made from a durable hemp/organic cotton blend, you can rest assured knowing that this American-made attire will provide a summer full of comfortable wear.
Saturdays NYC Rosen Pima
Saturdays NYC has quickly become one of the go-to companies for impeccably produced basics, and the Rosen Pima tank-top stays true to the brand's intrinsic values. Aside from its minimalist design, the Rosen boasts a 100% Pima cotton construction, making it exceptionally soft, lightweight, and ready for anything. A ribbed collar and durable construction are secondary to the tank's adaptability and stylish colors, but we'll settle for a few years of dependable wear.
Reigning Champ Scalloped
Reigning Champ has made a name for itself as one of the most hardcore athletic brands to have ever graced the industry, and amidst their extensive boxing-inspired catalog, they've introduced the Scalloped tank — a garment that's been refined for summertime use. If you're looking for the perfect piece of lightweight outerwear for your mid-summer training sessions, the Scalloped tank brings a premium cotton construction and low-profile flatlock seams to the table, pairing with a stylish scooped hem that'll keep you looking good while leveling everything in your path.
Iffley Road Lancaster
Iffley Road brings a more tasteful tank-top to market with the Lancaster — a classic, slimline garment that implements precision-shaped armholes for a wide range of movement, without looking sloppy. It's been crafted to perform flawlessly in warmer conditions, providing adequate ventilation and an intensely low overall weight. Better yet, the boutique running brand's bespoke drirelease micro-blend piqué offers exceptional moisture wicking qualities, giving you peace of mind during those sweaty summer workouts.
BILLY Colton Ribbed
BILLY's Colton Ribbed tank-top is a tasteful jersey that's both lightweight and dependable, introducing a stylish ribbed texture to help it hold its shape over time. A 100% Stone cotton construction and minimalist silhouette pair perfectly with a number of the summer's most popular styles — but don't worry, if you're looking for an athletic-oriented tank-top, the Colton can handle that too.
20 Best Beach Towns In America
Now that you've secured your very own summertime attire, find the perfect locale to flaunt it with our guide to the best beach towns in America.