Sep 18, 2019
Category: Style
There are some harsh truths associated with men's fashion, and when it comes to footwear, there are even more essential guidelines that you need to adhere to in order to maintain a respectable facade. While there's certainly a time and a place for everything, wearing lavishly-tailored brogues, or wingtips, to a casually-inclined function is surely a recipe for disaster. But don't fret, the stylish, but subtle Chelsea boot is here to save the day.
While the first iteration of the Chelsea boot was revealed all the way back in 1851, the stylish silhouette has persevered through thick and thin, becoming a piece of iconic footwear in the process. It boasts a simplistic exterior, defined solely by an elastic gore, a sleek suede/leather upper, and a one to three-inch heel, offering wearers an awe-inspiring boot that pays homage to Britain's illustrious styles. Below, we'll outline some of the best variants in the industry, and dive a bit deeper into what makes each so special.
H&M Chelsea Boot
H&M is a juggernaut within the fashion space, and thanks to a catalog that boasts some of the most stylish, affordable options around, it doesn't seem like they're going anywhere soon. To keep their selection up-to-date with the latest offerings, the company has introduced the Chelsea — a great-looking rendition of the iconic Chelsea Boot. They feature a comfortable elasticated panel on the boot's lateral sides, alongside fabric-lined insoles and uppers. At one-inch of heel-height, they keep things tasteful, without an exaggerated silhouette that delves into the realm of high-fashion footwear.
Urban Outfitters Dress Chelsea
Urban Outfitters is another mainstay within the affordable clothing space, and the company's Dress Chelsea covers may of the same bases as H&M's similarly-named offering. Admittedly, the UO boot is a bit more refined, thanks to a classic elastic gore, pullable heel tab, and stacked heel, pairing perfectly with the shoe's illustrious-looking suede exterior.
Dune Mandel Chelsea Boot
Dune's Mandel is the perfect middle ground for buyers who are looking for a refined Chelsea boot, without all of the unwarranted fabrics, expensive peripherals, or unneeded attributes. Here, you're paying for what matters: a dapper suede boot that will look good alongside everything from casual-wear, all the way to professional attire. Each side of the boot is adorned with a comfortable elasticated panel for easy donning and doffing, while a contrasting sole, durable pull tab, and elaborate stitch detailing give the shoe a decidedly attractive look, overall.
Dr. Martens 2976 Yellow Stitch Chelsea
Dr. Martens is known far and wide for its established boot lineup, so it makes sense that the company would channel its generational expertise to create the 2976 Yellow Stitch Chelsea. This beautifully-imagined boot was revealed all the way back in the 1970s, and since, it's become one of the brand's best-selling variants. It features an easy-on elastic ankle gusset, a sleek leather exterior, and a textured aesthetic to set it apart from its competition. You'll find Dr. Martens famous yellow stitching, air-cushioned soles, and script-covered heel loops on the exterior of the 2976, serving up a heaping helping of nostalgic style for those who decide to brave the boot.
Clarks Clarkdale Gobi Chelsea Boot
Clarks Clarkdale Gobi Chelsea boot is a play on the company's established design terminology, giving it an err of timeless taste. It incorporates a hybrid sole made from leather, crepe, and rubber, giving it a comfortable composition that's hard to beat. Fortunately, this also allows the boot to foster a unique look — which, when paired with a premium leather pull tab, sock liner, and removable footbed — enhances the shoes attractive nature.
Oliver Cabell Cappuccino Chelsea Boot
Oliver Cabell is a household name when it comes to footwear, and now, you'll be able to take your look to the next level thanks to the designer's renowned Cappuccino Chelsea boot. The boot doesn't sell itself short when it comes to high-end implementations, calling upon a luscious Italian crepe outsole, soft-split suede sourced directly from Venice, Italy, and a vegetable-tanned leather footbed that's become the epitome of luxurious craftsmanship. Once all of the shoe's refined components have been acquired, they're hand-stitched by master shoemakers in Albacete, Spain, giving them a one-of-a-kind look that varies from shoe to shoe.
Frye Johnny Chelsea Boot
Frye's Johnny boot is a true artisanal wonder, calling upon the shoemaker's elaborate expertise in gentlemanly footwear to create the quintessential style boot. The exterior of the shoe boasts a spectacular patina, Goodyear welt construction, and elasticated gores for an easy on and off process. On the interior, they boast a silky-smooth leather lining, further complemented by the Johnny's durable exterior sole system. Staying true to the company's regarded image, the implementation of a premium leather upper offers wearers a one-of-a-kind look that isn't easily replicated by alternative proprietors.
AllSaints Marcel Chelsea Boot
AllSaints' Marcel Chelsea boot is the perfect offering for fashion-minded guys who are looking to accent both their casual, and professional wardrobe. From the beginning, the shoe's attractive silhouette was tailored to fit well within any situation, and for any occasion, thanks to a smooth suede exterior, comfortable round toe, and elastic gusset. Like most of the boots on this list, the Marcel features a leather pull tab on the rear of the shoe, an established heel, and a stylish look that's sure to turn heads at your next get-together.
Red Wing Rancher Chelsea Boot
Red Wing is no stranger to the creation of iconic leather footwear, and with the Rancher Chelsea boot, they've found a way to delve deeper into the realm of purposeful style. The boot boasts a wide range of premium textiles, attributes, and intricacies, including a Briar Oil Slick leather upper, Roccia outsole, and a durable, Goodyear welt that's been accented by the company's famed red stitching. As fashionable as they might seem, these Chelseas were made to appease mid-century sheep ranchers, and harken back to the boots of old, thanks to a capable, hard-wearing silhouette devoid of complex buckles, lacing systems, or the like.
Cheaney Threadneedle Chelsea Boot
Cheaney's Threadneedle Chelsea boot is an eye-catching variant that's as aesthetically pleasing as they come. On the exterior, you'll find a great-looking black calf leather upper, tailored elastic gussets, and a subtle pull tab to help with donning and doffing. To enhance the boot's timeless appeal, each handsome pair is hand-crafted at the brand's Northamptonshire factory, ensuring a lifetime of attractive wear.
Paul Evans Dean Chelsea Boot
Paul Evans' Dean Chelsea boot is an homage to the essential style piece, offering the perfect silhouette for those who are looking to utilize a cold-weather shoe in the warmer months. This year-round staple features a full-grain Italian calfskin leather upper, a closed-channel leather sole, and an interior leather lining that's as comfortable as any you'll find in a modern boot. Each pair is hand-painted by a master craftsman in Italy, and thanks to the Dean's highly-refined look, it comes as no surprise that they're at the top-end of our list regarding the world's finest Chelseas.
Common Projects Chelsea Boot
Common Projects has a knack for making some of the most understated, but attractive footwear on the market, and with the company's Chelsea boot, that's become all-the-more apparent. On their exterior, you'll find a premium black suede, subtle pull tab, and hard-wearing rubber sole, complementing the boot's elasticated gores. Like most of the company's offerings, these attractive variants are also adorned by Common Projects' signature detailing and almond toe, making them immediately recognizable whether you're in a crowded city, or at a tight-knit gathering.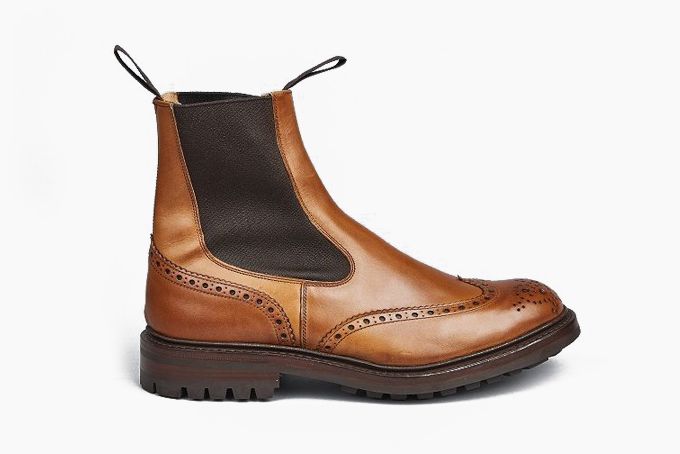 Tricker's Henry Country Dealer Chelsea
Tricker's Henry Country Dealer Chelsea boot is the definition of slip-on style, offering wearers a comfortable, elasticated brogue that takes refined architecture to heart. They boast a dependable storm welt construction, leather upper, and liner that provide the wearer with an endless amount of solidarity throughout the life of the boot, while a Commando rubber stitched sole offers unrivaled grip on a variety of urban surfaces.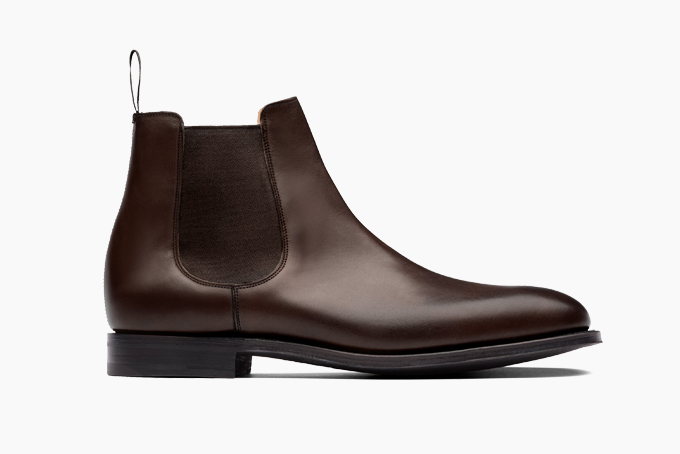 Church's Amberley R Chelsea Boot
Church's Amberley R is the gentleman's Chelsea boot, offering wearers a balanced mixture of high-class taste, style, and composition. They feature a hearty, natural Nevada leather, cotton pull, and a strong 173 last, helping to maintain the shoe's composure over years of tested wear. On the boot's exterior, you'll find a dependable diamond rubber sole, leather heel, and Goodyear welt construction, providing the utmost protection and comfort to those who don't want to sacrifice fashionable attributes for reinforced components.
Saint Laurent Wyatt
To round out our list, we're taking a look at the Saint Laurent Wyatt Chelsea boot. With a name like Saint Laurent, there's no disputing the fact that these are overtly lavish. They boast a supple 100% calfskin leather upper, an illustrious leather sole, and grosgrain pull tab for easy donning and doffing. A grooved heel complements the boot's artisanal stylings, offering wearers a subtle, but prolific silhouette that's been hand-crafted by some of Italy's finest footwear designers.
How To Take Care Of Leather Boots In Winter
Cold and snowy weather can wreak havoc on even the most well-made footwear, but there are steps you can take to limit the impact. Learn all you need to know on our guide covering leather boot care in the winter.
HiConsumption is reader-supported. When you buy through links on our site, we may earn an affiliate commission. Learn more