Throughout the history of workwear, mankind has attempted to create the most durable, hard-wearing garments to protect us from a variety of outside influences. It's only natural that footwear would follow suit, with a number of traditional styles that we know today finding inspiration from both rugged and formal offerings that were popularized in the past. It would be an understatement to say that the reality of our world was built on the backs of blue collar workers — most notably, those who spent countless hours and days honing and perfecting a craft that contributes to the livelihood of our communities and the betterment of mankind.
While there are a number of iconic pieces of footwear that reveal themselves as the obvious choice for classic workmen, the Engineer boot has proven time and again that the 1930s were, among many things, an era of change. And amidst the hardship that defined America's Great Depression, there was also prosperous growth, especially in the area of tailored shoemaking. To this day, the Engineer boot remains one of the most aesthetically pleasing and refined articles of clothing to ever be conceived — an established footwear category that would seamlessly blend style, purpose, passion, and poise alongside an unrelenting thirst for progress in the face of adversity.
The History Of The Engineer Boot
Working Class
In the 1930s, America's working-class was coerced into demanding trade work thanks to a number of external (and internal) factors, but that didn't stop heritage Americana brands Wesco and Chippewa from creating workwear for the masses. In fact, it was because of this hardship that the first iteration of the Engineer boot was born. Originally crafted as an alternative to less-than-exemplary footwear during the era, the Engineer was developed primarily for railway workers who needed a durable, hard-wearing boot for everyday use. The tall shaft and smooth exterior of the boot protected laborer's legs from coal abrasion, hot embers being emitted from metalwork, and the occasional sharp-edged tool falling or grazing the wearer's feet.
As the go-to article of footwear among riders who preferred a simple, durable boot for riding and working, the Engineer provided the perfect middle-ground between form and function.Although the Engineer boot saw significant use during the expansion of North America's railway system, it fell out of favor during WWII when national manufacturers collectively decided to shift toward military and combat-oriented offerings to assist in the war effort. Throughout the 1940s, the boots would remain a commonly utilized workman's boot but were far less popular than they were in the coming decade. The 1950s were a new frontier for the style — seeing a remarkable rise in popularity and a dramatic resurgence thanks to veterans who had returned from the war looking for their nostalgic pre-war boot. With significant demand for a more refined offering, the Engineer was once again introduced to the mainstream consumer and popularized among automotive and motorcycle enthusiasts alike. As the go-to article of footwear among riders who preferred a simple, durable boot for riding and working, the Engineer provided the perfect middle-ground between form and function. Eventually, the boot became synonymous with the motorcycle culture and was often illustrated alongside a pair of raw denim jeans, leather peripherals, and the iconic white t-shirts of the era.
Today, the resurgence of Americana style has helped to reinvigorate this transcendental boot category — and alongside modern introductions like Horween leather, Vibram outsoles, and various other fabric/construction practices, the Engineer has continued to solidify its well-earned position within the fashion-forward man's wardrobe. Below, we'll outline the finest manufacturers and offerings around — whether you're a tradesman, creative, mover, or shaker, the Engineer boot is surely a must-have piece of footwear for any style-oriented man.
Chippewa Unser Boots
Chippewa's Unser Boots are built for a life on the open road, featuring non-tarnishable nickel buckle accents that adorn the vamp and collar of the shoe alongside a steel toe that's built to exceed ASTM F2413-11 standards for impact and compression. Apart from the shoe's undeniable attention to detail and exceptional protective qualities, Chippewa has also included Texon insoles for the ultimate in cushion and support. But that's not all — a renowned Vibram outsole is also included for exceptional traction and slip-resistance when compared to similar styles of boot.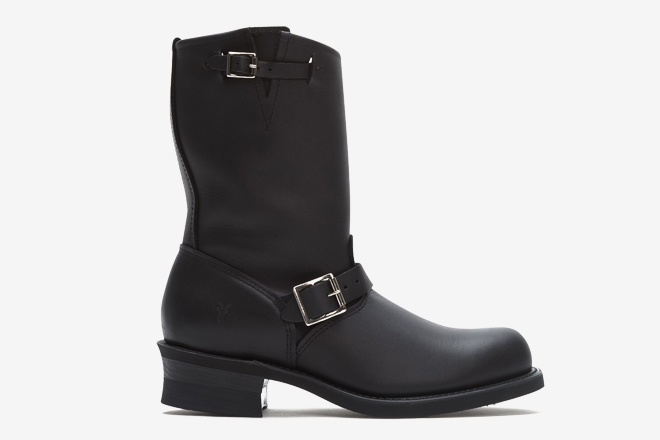 FRYE Men's Engineer 12R Boots
FRYE is a well-known name in the world of engineer boots, and their 12R Men's Engineer is a testament to their dominance. Utilizing a smooth, full-grain heritage leather and "made-in-the-USA" construction, these well-tailored boots have been sourced from domestic and imported products for the utmost build quality. An unlined rubber outsole and stacked leather heel come together for a comfortable gait, while the boot's premium leather ensures a refined aesthetic that will only get better with age.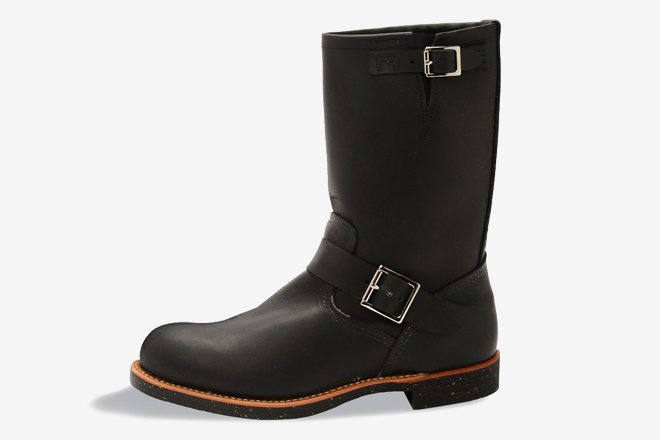 Red Wing Men's 2990 Engineer Boots
Red Wing's 2990 Engineer Boots are one of the best offerings in the space, utilizing an immaculate oil-tanned leather that's been used to build a variety of the brand's iconic styles and variants. This leather is water, stain, and perspiration resistant on top of being incredibly durable. During Red Wing's 108+ year history, the construction of these boots has remained the same, utilizing a Black Harness leather, nitrile cork, antique brass, a Goodyear welt, and a durable steel shank.
Wesco Knuckle Dragger Engineer Boots
Wesco's 11-inch Knuckle Dragger boot is a collaborative effort that utilizes some of the best design principles in the industry — featuring an unlined Horween olive waxed flesh leather, a stitch down construction, and a brown Vibram 705 sole with half-slip. Triple needle stitching on the upper of the boot, vee backstay stitching, nickel roller buckles, and a custom dye job are only a few notable aspects of these Japanese-styled boots — working alongside a firm double leather midsole that ensures a stiff, durable fit for the life of the footwear.
Viberg Engineer Boots
Viberg's 8-inch Engineer Boots are a great looking pair of vintage-inspired boots, influenced by the brand's classic motorcycle boot. Although they feature a shorter height, deeper side gussets, and thicker straps than the original pair, these updated variants utilize a great looking (and durable) Black Horween Chromexcel, Cat's Paw heel, Vibram sole, and unstructured toe. As with most Viberg products, the boots have been produced under the most stringent guidelines through their Victoria, Canada location, and feature a stitch-down construction that will stand up to whatever you decide to put them through.
The Flat Head Goodyear Welted Engineer Boots
The Flat Head Goodyear Welted Engineer Boots are exactly what they sound like — a pair of well-made work boots that will stand the test of time. They're made with a natural pull-up Chromexcel leather, which boasts an increased amount of natural oil thanks to a unique aniline dying process — giving the boots a vintage look that ages better than a number of competitive offerings. They also come complete with custom made brass and iron buckles, a combination of Vibram's 700 and 705 heel and sole, and a meticulously stitched shaft seam to keep the boots alive through exceedingly tough conditions. A Japanese-made steel shank has also been included for enhanced sole stability, while tanned leather Horween stacks and British storm welting give the boot a dependable silhouette that won't leave you wet and stranded.
John Lofgren Devil's Causeway Horsehide Engineer Boots
John Lofgren's Devil's Causeway Horsehide Engineer Boots are based on an iconic 1950s silhouette that excludes a modern toe bump, opting instead for a more refined, tapered style. Featuring a Japanese Shinki Hikaku horsehide leather upper and all of the character that comes along with it, the Causeway boots are a prime example of heritage craftsmanship. They utilize a fully lined interior construction alongside custom shuttle loomed labels, brass-coated steel buckles, customized John Lofgren lasts, and a durable USA-made Vibram 705 sole. Japanese steel shanks, British Goodyear storm welting, and a handsome 12.5″ height ensure that these boots will fit into your wardrobe for years to come.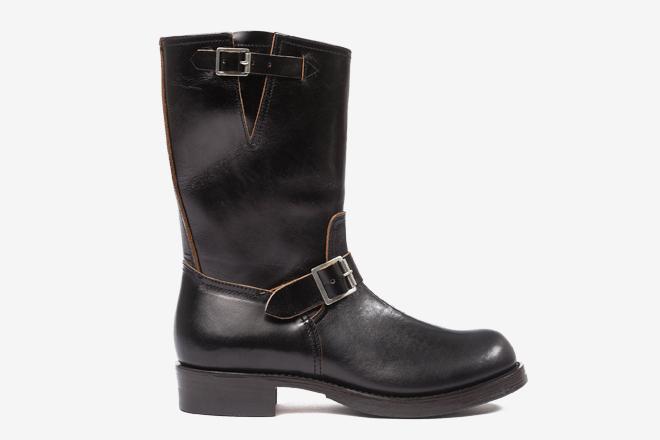 The Real McCoy's Buco Horsehide Engineer Boots
These boots are the Real McCoy, utilizing a made-to-order silhouette that's constructed with the finest vegetable-tanned horse buttock, copper-riveted steel shank, and a Cat's Paw reproduction sole and heel. The Buco brand was originally conceptualized in the late 1940s and would become one of the premier, one-stop shops for leather motorcycle gear, whether it be jackets, bags, gloves, or boots. Sticking close to the company's traditional offerings, the Horsehide Engineer boots feature well-built iron buckles, toe tracks, and a bump toe last that's recognized for its beautiful vintage patina. The Horsehide boots are a perfect reproduction of the brand's original 1950 Buco engineer boots — and with a long-running lineage as one of the best boot makers in the industry, it's no wonder their offerings are so difficult to obtain.
30 Best Men's Boots For Every Occasion
If you still haven't found the perfect boot, don't give up hope just yet. Expand your search by diving into the definitive list of the best men's boots for every occasion to find the perfect fit.