Life in the great outdoors is amazing, but Mother Nature unleashes her anger from time to time. If you enjoy hiking, backpacking, or live an active lifestyle and use nature as your gym, a Gore-Tex jacket should be a part of your hall of armors. Gore-Tex is windproof, waterproof, and breathable, adapting to life beyond the city bubble with ease. It provides you with ample protection from the elements so you can get your sweat session going no matter what kind of weather Mother Nature is cooking up.
Gore-Tex has become a popular material to utilize in sports and activewear because of its durability. The material is best in jacket form, as it makes a perfect protective shell against nature's wrath. Browse through the enormous collection of Gore-Tex jackets online and you'll be exhausted by the options at your fingertips. Fortunately, we took the time to sift through the selection and filter out the premier Gore-Tex jackets, considering the different activities they can be used for, their comfort, and the unique features they offer.
Safety First
A Short Disclaimer
Before we jump into the list, let's take a look at how Gore-Tex was born. Gore & Associates was launched by Bill and Genevieve Gore in 1959 in Newark, Delaware. Ten years later, Bob, Bill's son, created ePTFE (polytetrafluoroethylene) by stretching PTFE to the extreme under particular conditions, creating an amazingly strong microporous material which would later become Gore-Tex. The amazing material is used in everything from jackets to shoes and even spacesuits. It's a material that lends itself well to outdoor apparel brands, allowing adventurers to brave the backcountry with ample protection. The Gore-Tex journey is far from over, as it continues to evolve and give the world advanced gear for endless adventures.
REI Co-op Drypoint GTX Jacket
Designed for those who move fast in the outdoors, the REI Co-op GTX is a minimalist jacket made to keep you light on your toes. It's built with a '3-layer Gore-Tex Active Laminate,' making it breathable, waterproof, and lightweight. The jacket features 'Drypoint' hip belt-ready mesh pockets doing double-duty as core vents when you warm up on a hike. It has ergonomic hook-and-loop cuff tabs, keeping wind and rain out, along with a three-point adjustable hood with a built-in visor. This super light 10.5-ounce jacket is also 'bluesign' approved, contributing to the well-being of the environment.
Weight: 10.5 oz
Best Use: hiking
Marmot Minimalist Jacket
Equipped with Gore-Tex protection, this rain jacket is perfect for hiking and trail running. Don't let a little rain keep you indoors, as this jacket comes with 'Paclite' technology for optimal waterproofing and superior breathability. It's packing plenty of admirable features, including an adjustable hood, 'PitZips' to help regulate internal body temperature, and a drawstring hem for a secure fit. To keep your small essentials close, it also has a chest pocket with a water-resistant zipper. Marmot stands by their product with a lifetime manufacturer warranty.
Weight: 15 oz
Best Use: climbing, hiking
Dynafit Radical GTX Jacket
With a slick, two-toned design, Dynafit's Radical Gore-Tex outerwear is perfect for running or cycling. This jacket is immune to liquid and does well on windy days. It makes cycling easier with a helmet compatible hood, a reflector stripe, taped seams, and adjustable elastic sleeve cuffs. Along with Gore-Tex, the jacket is also made with polyamide, which is moisture-resistant, ensuring you stay dry on your bike ride.
Weight: 13 oz
Best Use: bicycle touring, skiing
Montane Alpine Pro Jacket
Using lightweight, resilient 40 denier three-layer Gore-Tex material, this Alpine Pro Jacket is able to give you the best coverage no matter what adventure you land in. Its design is made for winter layering, as there's extra room in the chest and bicep areas. If you enjoy scaling some peaks, it has a fully adjustable climbing helmet-compatible hood. It also comes with what you would expect from a quality Gore-Tex jacket, including YKK matte 'Aquaguard' zipped exterior pockets, two A-line hand-warmer pockets, and an 'Aquaguard VISLON' front zip chest pocket for quick access to climbing gear.
Weight: 16 oz
Best Use: climbing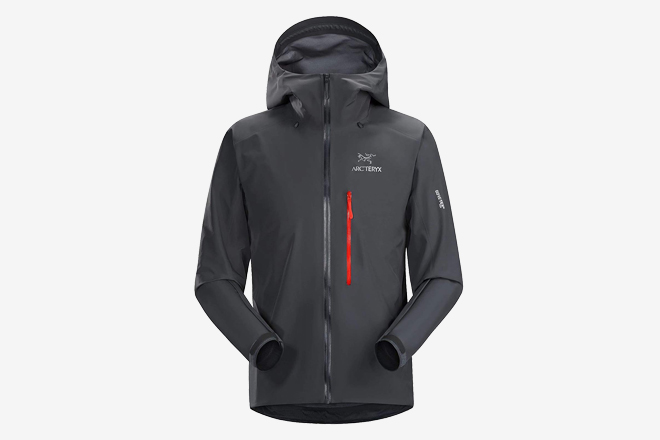 Arc'Teryx Alpha FL Jacket
Arc'Teryx is a trusted name for outdoor apparel and they've presented another reliable piece of gear with their Alpha FL Gore-Tex jacket. Designed with careful consideration for the active outdoor thrill seeker, Arc'Teryx built the Alpha FL with a Gore-Tex Pro three-layer construction to make it a reliable, weatherproof piece of clothing. Making sure heat is kept inside is a 'WaterTight Vislon' front zip, along with a helmet-compatible 'StormHood' for those moments of downpour you don't expect. It also has a 1.6 mm micro-seam allowance to reduce bulk and weight for increased mobility and energy.
Weight: 11.1 oz
Best Use: alpine, expedition, iced and mixed climbing
Outdoor Research Axiom Jacket
This 100% nylon woven jacket with a waterproof, porous Gore-Tex active shell is built for trekking through the backcountry. Fully seam-taped with 'Movement-Mirroring' stretchability, this activewear moves with your flow. The lightweight jacket also has an adjustable, wire-brimmed halo hood, which is also helmet-ready. Outside Magazine and Men's Journal awarded it with "Gear of the Year." What more could you ask for?
Weight: 13.6 oz
Best Use: alpine climbing
The North Face Flex GTX Jacket
The North Face Gore-Tex jacket is the layer you need for any backcountry missions, as it protects you from torrential showers and windy weather. The resilient, flexible shell is a reliable shield and the soft knit interior is completely weatherproof and breathable. The polyester jacket reduces air penetration to dilute windchill and guarantees you stay dry while you're out in the wild. And, since this jacket is super light, you can maneuver through nature's obstacles with ease.
Weight: 28.2 oz
Best Use: hiking
Adidas NMD Karkaj Gore-Tex Jacket
The all-star duo of Adidas and Gore-Tex isn't anything new, but this NMD Karkaj jacket might be their best work yet. Made with the help of Conroy Nachtigall, this jacket is able to pack into itself so you can wear it like a sling when it's not needed. When you do, this strong, weather-ready jacket with a drawcord adjustable hood and relaxed fit is outerwear you can rely on.
Weight: 16 oz
Best Use: running
Burton AK 2L Gore-Tex Cyclic Jacket
Featuring a two-layer Gore-Tex face fabric, this jacket is capable of helping you cut through the pillowy powder of some gnarly snowboarding slopes. There's a 'StormForm' contour hood capable of fitting over helmets and shielding you from snowfall, as well as a soft taffeta and closed cell mesh lining. The performance-aligned fit of the jacket makes it comfortable when you're on the move. In addition, it comes with plenty of convenient features, including a zippered chest pocket, a water-repellent zip-out stretch gaiter, powder gasket cuffs, and YKK matte water-resistant zippers.
Weight: 16 oz
Best Use: snowboarding
Black Diamond Sharp End Jacket
Placing their focus on packability and functionality, Black Diamond's Sharp End Gore-Tex Jacket will fit your adventure-filled lifestyle with no issues. It features a rushed microsuede collar lining, two harness-compatible expanding chest pockets, YKK 'Vislon AquaGuard' zippers, and an interior stretchable media pocket complete with a cord port. For a stable fit, it has 'Integrated Cohaesive' cord-lock technology and also comes with an adjustable, helmet-friendly hood, in case you want to go for a spin.
Weight: 17.6 oz
Best Use: biking, hiking
Patagonia Pluma Jacket
Without the right gear, the great outdoors can leave you stuck in your cabin or camping tent when there are high winds or snow. However, with Patagonia's Pluma Jacket, you'll have excellent protection from the elements trying to slow you down. It's made with Gore-Tex Pro material that defends well against alpine wind, spindrift, and snow. The jacket also features sturdy face fabric made from recycled nylon, two-way zippers under each arm for breezy ventilation, and a 'Cohaesive' system to eradicate annoying cords for an aerodynamic fit. Lastly, it has 'Micro Grid Backer Technology,' which enhances breathability for your climb.
Weight: 14.6 oz
Best Use: alpine climbing, mountaineering
The North Face Summit L5 Jacket
Designed for extreme conditions, the Summit L5 Jacket by The North Face has your back in the great outdoors. This Gore-Tex sportswear is light and cool with its breathable 'DryVent' 3L fabric and ready for action with localized 'FuseForm' construction, needing less seam tape, making for a more comfortable fit than other hiking jackets. It's also packing a fully adjustable helmet-compatible hood with convenient cord locks, pit zip venting, harness-friendly pockets, and Velcro adjustable cuff tabs.
Weight: 19.75 oz
Best Use: alpine climbing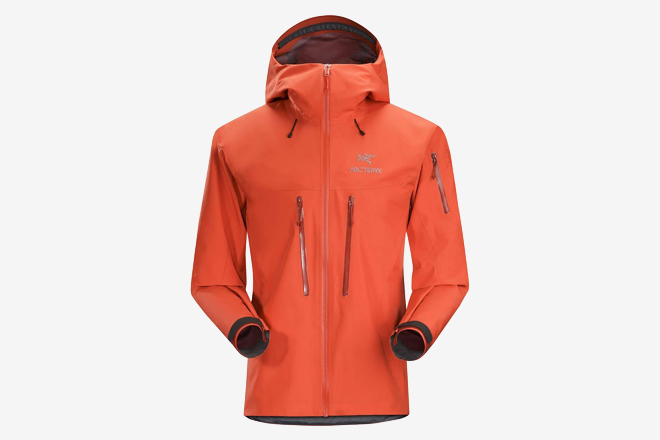 Arc'teryx Alpha SV Jacket
Boasting an ergonomic fit, this Gore-Tex jacket is completely waterproof and has strategically placed 8mm seams to reduce the weight of the jacket and increase breathability. This adventure jacket comes with everything you need, such as a storm hood with 'Cohaesive' adjustments, multiple harness-friendly pockets, and Arc'teryx's 'Hemlock' technology which prevents your hem from slipping under your harness.
Weight: 17.3 oz
Best Use: hiking, alpine climbing
Norrona Trollveggen Gore-Tex Pro Jacket
With an athletic fit and fully taped seams to prevent seeping, Norrona's Gore-Tex jacket is built for life on the peaks. Constructed with three-layer Gore-Tex Pro fabric, this activewear guarantees protection from wind and water, allowing you to stay dry and comfortable on your ascent. Rounding out the jacket, it has 'Aquaseal' zippers, X-open underarm vents, and asymmetric cuffs with hook-and-loop closures.
Weight: 20.5 oz
Best Use: mountaineering
Black Yak Gore-Tex C-Knit Jacket
Black Yak made a completely weatherproof jacket capable of shielding you from wind and water. Made with 'Gore C-Knit,' the stretchable jacket gives you free range of motion and the ventilation zippers provide a pleasant flow of air when you hit high gear. For those on the move carrying a solid amount of gear, this jacket has plenty of storage space. There are two zipper chest pockets, a sleeve pocket, and four interior pockets. Also, this is one of the more fashionable Gore-Tex jackets out there with its sharp, futuristic vibe.
Weight: 15 oz
Best Use: skiing, hiking, trekking
8 Best Outdoor Smartwatches For Hiking & Camping
Getting a durable Gore-Tex jacket is only the beginning of your outdoor wardrobe upgrade. Acquiring a reliable GPS watch is a must as well. Check out our picks for the 8 best outdoor smartwatches for hiking and camping on the market.