Feb 7, 2022
Category: Style
Although it is true that watch collecting can be a very expensive hobby, it's a lie that you can't find a good quality watch without spending a ton of money. The fact is, there are loads of great affordable watches out there from mid-tier luxury brands, acclaimed microbrands, and even some of the most iconic watchmakers in the world — you just need to know where to look. So to help you out, we've compiled a list of the best men's watches under $2,000.
Now, it deserves to be said that for most people, $2,000 is a lot of money to spend on a watch. Heck, you may be more comfortable building out an entire ten-watch collection of $200 watches with that kind of budget. But if you are looking to get your hands on a seriously high-quality timepiece, then you're going to be laying out a good chunk of that $2K. That's why almost all of the watches on our list are over the $1,000 mark, and many are close to approaching that $2,000 ceiling. We're only showing you the best of the best so that when you decide to plunk down two Gs on a timepiece, you'll be confident that you made the right decision. So take a look below to see our picks for the best men's watches under $2,000.
Halios Universa
It may sound like hyperbole, but Halios is in many ways the "Rolex of Microbrands." The Vancouver-based outfit's watches are of the highest quality, they're extremely hard to get, and they have a highly dedicated fanbase. That explains why their latest watch, priced at just $735, is hanging out in a list of far more expensive watches. The Universa could cost $1,500 and no one would bat an eye thanks to its flawless finishing, attractive design, hand-wound Sellita SW210-1 movement, and showstopping bracelet with a push-button quick-adjustment clasp.
Case Size: 38mm
Movement: Manual-Wind
Water Resistance: 100m
Tissot Gentleman Powermatic 80 Silicium
Speaking of Rolex, it's hard to not think of the Crown when looking at this stunner from Tissot — a Swiss heritage brand that, for what it's worth, was already over 50 years old when Rolex was founded. The Gentleman's design certainly recalls the modern Datejust 41 with its three-link center polished bracelet, high-polished bezel, and classic dial layout. The Gentleman also has a great movement with the Powermatic 80, which boasts an 80-hour power reserve and an antimagnetic silicon hairspring. The Gentleman in stainless steel is often cited as the best Swiss watch available under a grand, and you can even get one with a solid gold bezel for under $2K.
Case Size: 40mm
Movement: Automatic
Water Resistance: 100m
Seiko Prospex SBDC105/SPB147J1
Seiko's divers are the stuff of legend, and realistically, the brand has plenty in this price range that are worth your time. But the SBDC105 (also known as the SPB147J1 — don't get us started on Seiko's naming conventions) is especially appealing with its sunburst cappuccino dial and gilt accents. The retro diver is based on the iconic 62MAS, Seiko's first diver from 1965, and unlike many of Seiko's divers, the size of this watch has been kept in check, measuring just 40.5mm across the case and 47.6mm lug-to-lug. It also has seriously premium specs, with a sapphire crystal, an in-house 6R35 automatic movement with 70-hour power reserve, and a luxe-looking blue-toned Lumibrite lume treatment on the hands and indices.
Case Size: 40.5mm
Movement: Automatic
Water Resistance: 200m
Mido Ocean Star Tribute
As Mido's modern dive watch, the Ocean Star is one of the brand's flagship models, and they are readily available for less than $2,000. But for our selection, we went with the Tribute version, which was released in 2019 to honor the Ocean Star's 75th anniversary and pays homage to the models of the 1960s. The vintage-style diver offers funky fun styling to go with Mido's trusted quality and features a box sapphire crystal, a fantastic optional beads of rice-inspired bracelet, and an ETA 2836-2-based movement with 80 hours of power on tap.
Case Size: 40.5mm
Movement: Automatic
Water Resistance: 200m
Autodromo Intereuropa
The watches made by New York-based microbrand Autodromo are exclusively automotive-inspired, with each new model being based on a particular style or genre of motoring. The Intereuropa draws inspiration from Monza's Coppa Intereuropa race that saw beautiful Italian berlinettas duke it out in the '50s and '60s. While the watch's hand-wound ETA 7001 movement and handmade Italian Saffiano leather strap are both noteworthy, the real standout is the unique multi-layered dial featuring a K1 glass chapter ring with 3D numbering that mimics the look of 1950s gauges.
Case Size: 39mm
Movement: Manual-Wind
Water Resistance: 50m
Squale T-183
Vintage-style dive watches are all the rage these days, and Squale makes some great ones. But if you're in the mood for something a little more contemporary, the family-owned dive watch experts at Squale have something for you, too. The T-183 is a thoroughly modern diver, with a case made up of alternate layers of black carbon and colored fiberglass, a brushed ceramic bezel, and a wear-resistant microfiber strap. But just because the watch looks like it's from the future, that doesn't mean you'll be sacrificing any of Squale's classic Swiss made diver bona fides. You're still getting 600m water resistance and a Sellita SW 200 automatic movement.
Case Size: 42mm
Movement: Automatic
Water Resistance: 600m
Sinn 104
The Sinn 104 is perhaps one of the most difficult to classify watches on the market. Ostensibly, it's a pilot's watch with its high readability dial and syringe hands. But it also has 200m water resistance, a unidirectional countdown bezel, and a day-date complication. It's kind of a mashup, but whatever you want to call it, the Sinn 104 is dynamite. Long a favorite on watch forums, the 104 is a legendary daily driver thanks to its combination of outstanding build quality, good looks, and crowd-pleasing size.
Case Size: 41mm
Movement: Automatic
Water Resistance: 200m
Farer Lander GMT
British-based microbrand Farer has only been around for a handful of years, but they already have a clear flagship watch, and this is it. Now in its third iteration, the Lander GMT is hopelessly attractive thanks to its one-of-a-kind triple-step sea green sunray dial. No other dial on Earth looks quite like this one — it is an absolute stunner in any light. And only Farer, with their knack for working magic with colors, could manage to pair such a flamboyant dial with bright orange and red hands and have it come out looking this good.
Case Size: 39.5mm
Movement: Automatic GMT
Water Resistance: 100m
Ball Fireman Victory
As a legitimate Swiss luxury brand, Ball doesn't offer many watches under the $2,000 mark. As a result, this entry here basically acts as a low-cost entry point to the brand, and it's quite a tempting offering. With versatile styling that can be dressed up or down, multiple dial finish options, and 100m water resistance, the Fireman Victory makes for a great everyday watch. And since it's a Ball, that means you're also getting above-average magnetic resistance and the brand's trademark tritium gas tube illumination.
Case Size: 40mm
Movement: Automatic
Water Resistance: 100m
NOMOS Club
Another luxury brand that generally plays in the above-$2K sandbox, German-based NOMOS Glashütte also has a pretty compelling entry-level watch. The Club is a dressy casual watch with a silver-plated dial, Shell cordovan strap, and classic minimalist styling that's in line with NOMOS' Bauhaus-inspired design ethos. It also, like all watches from the brand, has a high-quality and beautifully finished in-house movement, which you can even opt to have exhibited behind a sapphire caseback while still keeping the price below that dreaded $2,000 limit.
Case Size: 36mm
Movement: Manual-Wind
Water Resistance: 100m
Hamilton Khaki Aviation X Wind Chrono
Finding a Swiss made mechanical chronograph for under $2,000 is exceedingly difficult, and finding one that's also an icon is downright impossible. Or else, it would be were it not for this Hamilton. The X Wind Chrono is a beloved pilot's chronograph that goes far beyond what one would expect to find for this kind of money. In addition to the extremely useful chronograph function, the X Wind also features the first-ever drift angle calculator to appear on a watch, which helps pilots accurately calculate how crosswinds will affect their flight. And you thought they called it X Wind because it sounds cool (it does sound cool).
Case Size: 44mm
Movement: Automatic Chronograph
Water Resistance: 100m
Oris ChronOris Date
Among all of the outstanding watches in Oris' catalog, the ChronOris Date stands out. Not because it's the best, per se, but simply because of its uniqueness. The watch is based on the brand's automotive-inspired chronographs from the '70s, which explains the funky coloring and dramatic barrel case. But despite the watch's name and inspiration, the ChronOris Date is not a chronograph. It's a simple three-hander with a chrono-looking seconds hand and a second crown that's used to rotate the inner bezel. It's super strange and we're not sure why it exists, but we sure do love it.
Case Size: 39mm
Movement: Automatic
Water Resistance: 100m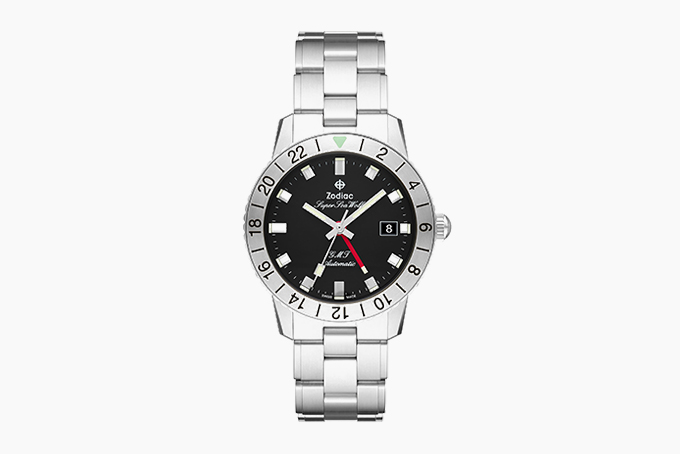 Zodiac Super Sea Wolf GMT
While there are a number of worthwhile mechanical GMTs to be had under $2,000, finding one with actual heritage behind it is next to impossible. But heritage is one thing that Zodiac has in spades. The brand first released their Aerospace GMT back in the early 1960s when they fitted a 24-hour bezel and four-hand GMT movement into their Sea Wolf diver. This watch is the modern descendent of those mid-century travel buddies, and it looks almost exactly as it did during air travel's golden age, but has of course been updated with modern materials and a contemporary movement.
Case Size: 40mm
Movement: Automatic GMT
Water Resistance: 200m
Doxa Sub 300T
If there is one thing that Doxa knows, it's dive watches. The Swiss brand's iconic bright-orange professional-spec divers have been exploring the depths for over half a century, but most of their collection goes for luxury prices. But not the entry-priced 300T. Despite costing less than the rest of the brand's catalog, this is a true professional Doxa and not some budget compromise. You're getting Doxa's no-decompression dive time calculator bezel, an obscene 1,500m water resistance, and you can even get one with an orange dial.
Case Size: 42mm
Movement: Automatic
Water Resistance: 1,500m
Frederique Constant Highlife COSC
Frederique Constant's entire brand is pretty much based on doing the same things that much more expensive Swiss Maisons do for a lot less money. The brand offers in-house perpetual calendars for under ten grand, in-house flyback chronographs for under five, and this, a COSC-certified chronometer in an on-trend integrated bracelet design. The watch is well-finished, reliable, and good-looking, and is yet another feather in FC's cap — which by this point probably looks like a peacock.
Case Size: 41mm
Movement: Automatic
Water Resistance: 50m
Rado Captain Cook
As a member of the mammoth Swatch Group that also includes brands like Omega, Longines, Hamilton, and Tissot, mid-priced Rado sometimes gets lost in the shuffle. But that's happening a lot less these days thanks to this watch. Released in 2017 as a recreation of the 1962 watch of the same name, the Captain Cook has since reinvigorated the brand. Seen here in a mid-century appropriate 37mm case size, the retro diver adds some sly modernity thanks to its generously domed sapphire crystal, concave ceramic bezel, and 80-hour-power reserve movement.
Case Size: 37mm
Movement: Automatic
Water Resistance: 100m
Maurice Lacroix Aikon Automatic
Integrated bracelet steel sports watches are the look of today, but the trouble is that most of the watches associated with the style — like the Audemars Piguet Royal Oak and the Patek Philippe Nautilus — are astronomically expensive. Enter the Aikon. The watch has the luxury integrated bracelet look that collectors crave, but at a price that won't break the bank. It also manages to avoid homage territory by making enough of its own tweaks to the formula, and is arguably the best-finished watch in this price bracket.
Case Size: 39mm or 41mm
Movement: Automatic
Water Resistance: 200m
Christopher Ward C1 Moonglow
Generally speaking, mechanical moonphase watches are very hard to find under $2,000 due to the difficulty involved in crafting their movements — especially one with such a breathtaking and original design as this. But like a few other brands on this list, British-based CW earns their keep by offering tremendous value for money, and none of their watches exemplifies this strategy more than the C1 Moonglow. Utilizing their heavily-reworked Calibre JJ04 movement, the watch accurately tracks the current lunar phases via two highly intricate luminous 3D moons on the dial for 128 years… provided you keep it wound.
Case Size: 41.5mm
Movement: Automatic Moonphase
Water Resistance: 30m
Longines Heritage Military Marine Nationale
As one of the five best-selling Swiss watch brands, Longines is the market leader in the $1,500 to $4,000 price range. Naturally, they have a large catalog that's filled with great options, but their real bread and butter is their Heritage line that pulls inspiration from Longines' early-twentieth-century heyday. That's where this stunner comes in. Based on the Longines ref. 5774 that was worn by the French Navy in the late 1940s, the Military Marine Nationale lovingly recreates its forebearer with a tastefully aged and simple dial, blued steel hands, and oversized crown while adding true luxury-level finishing.
Case Size: 38.5mm
Movement: Automatic
Water Resistance: 30m
Pre-Owned Omega Speedmaster
OK, before you get too excited, you're not getting an Omega Moonwatch for under two grand. But there are plenty of non-Moonwatch Speedys out there that regularly trade in the $1,500 to $2,000 range. These will largely consist of automatic Speedmasters from the '80s, '90s, and '00s, and there are a ton of cool references to choose from like Speedmaster Dates, Triple Calendars, and various special editions. If you get lucky, you might even find a ref. 3510.50 — the original Speedy Reduced that boasts classic Moonwatch styling and a hesalite crystal. It's a great chance to own a piece from one of the world's most iconic series of watches.
Case Size: Varies
Movement: Automatic or Manual-Wind Chronograph
Water Resistance: Not reliable due to age
The 30 Best Men's Watches Under $1,000
In the high-priced world of luxury watches, $2,000 is not a lot of money. But in the real world, it certainly is. So if you're not quite ready to drop that kind of coin on a timepiece, don't worry. We've got you covered with our guide to the best watches under $1,000, offering 30 stellar timepieces that you can call your own for less than a grand.
HiConsumption is reader-supported. When you buy through links on our site, we may earn an affiliate commission. Learn more