When it comes to the watch industry, it's pretty well-established that Switzerland rules the roost, with the landlocked European nation's "Swiss made" label on its watches' dials serving as a government-backed sign of quality and craftsmanship. Japan and Germany also have highly respected watchmaking traditions, but what about the good ol' U.S. of A.? While American-made goods have long held a reputation for dependability and ingenuity, American-made watches are often left out of the equation. And it's not hard to understand why. After all, the industry abandoned the U.S. decades ago. But U.S.-made watches are making a big comeback, and today there are a number of stellar brands you should know about that are bringing the art of watchmaking back to the States.
The best American-made watch brands cover a wide spectrum of the industry today. From the plethora of watch enthusiast-driven microbrands that have cropped up over the last decade, to American heritage brands bringing some of their manufacturing back home from overseas, to a new generation of American horologists trying their hand at haute horlogerie, there's actually a lot to be excited about when it comes to U.S. watchmaking these days. So have a look below at the best American-made watches on the market today.
What Is An American-Made Watch?
The Definition Varies
For the first half of the twentieth century, it wasn't hard to define what an American-made watch was. They were timepieces made in the U.S., and there were a lot of them. Good ones, too. Brands like Hamilton, Waltham, Gruen, and Elgin had sterling reputations and were extremely popular among American consumers. But a number of factors including increased competition from Swiss brands and, eventually, the quartz crisis, led to a rapid decline in U.S. manufacturing beginning in the mid-twentieth century. By the time the '80s rolled around, all of the aforementioned brands had either moved their manufacturing operations to Switzerland or gone out of business entirely.
Now, 40 years later, American watchmaking is staging a comeback — but things look a lot different than they did 100 years ago. There aren't very many big factories churning out American-made watches from soup to nuts. In most cases, companies are careful to label their watches as being assembled in America from foreign-made parts, rather than using the more legally risky "American-made" term. It's not exactly the same as manufacturing watches here, but beggars can't be choosers, and it's still providing American jobs by bringing some of the work from Switzerland or Asia stateside. A handful of brands are going a step further though, manufacturing components like dials, cases, bracelets, and even mechanical movements right here in the U.S. So while watchmaking in America still has a ways to go before getting back to the way things were during its heyday, the 17 brands below are all doing their best to make that happen in their own unique ways.
Astor + Banks
Founded a decade ago by U.S. Military Veteran Andrew Perez, Astor+Banks has firmly entrenched itself as one of the top American microbrands, thanks largely to the success of its modern and playful sports watches like the Sea Ranger and Fortitude. The brand assembles all of its watches in-house at its Chicago headquarters, and while it currently does so using Asian- and European-made parts, the brand plans to incorporate more U.S.-made components in the future.
Brew
Based in New York City and founded by product designer Jonathan Ferrer, Brew is a unique brand, to put it mildly. Boasting a design-driven mentality that results in some of the most interesting-looking watches around, the brand is (loosely) based around coffee culture and the concept of savoring little moments in time. Brew made a name for itself on the back of its funky chronographs, and the brand does the final assembly of its watches in NY. Like Astor+Banks, Brew also has plans to bring more manufacturing stateside in the near future.
Haven
Haven only released its first watch in 2019, but it has wasted no time in becoming a darling of the watch enthusiast community. Founded by English professor Weston Cutter, son of retired watchmaker Wes Cutter, Haven churns out vintage-inspired mechanical watches using premium components. Based in Fort Wayne, Indiana, the brand's identity is closely tied to its midwestern setting, and it prides itself on building as much of its watches in flyover country as possible. That includes the straps, which are cut in Indiana and stitched in Minnesota, the recyclable packaging, which comes from Indiana, and the assembly, regulating, and pressure-testing of the watches themselves, which is done by the brand's in-house watchmaker, Donovan Paradise.
J.N. Shapiro
While the bulk of American watch brands aren't able to go much further than performing final assembly at home, J.N. Shapiro is an exception. Josh Shapiro is a former high school teacher who spent years training in the art of engine turning. The practice has been used to create guilloché patterns on watch dials for centuries, and Shapiro is keeping the tradition alive… in Los Angeles. Using a hand-operated rose engine machine, Shapiro finishes his dials himself — with each taking over 150 hours to complete. He also decorates his movements himself, and even created his own style of guilloché — called Infinity — that's the calling card of his brand. He's gotten even more daring with his latest release, crafting his own cases out of tantalum — a material that's rare, expensive, and notoriously difficult to work with.
Kobold
If it's adventure you're after, then Kobold is the American brand for you. The brand's slogan is "Embrace Adventure," and its own watchmakers have reached the summit of Mount Everest over 20 times. In other words, they walk the walk. Kobold was founded back in 1998 by 19-year-old German entrepreneur Michael Kobold, and it's come a long way since then. The brand manufactures its own cases at its Merry Oaks Farm facility outside of Pittsburgh, and its watches have been featured in a pair of Mission Impossible films. Perhaps most famously, Kobold partnered with Sir Ranulph Fiennes — AKA the world's greatest living explorer — to create the now-iconic (and American-made) Polar Surveyor Chronograph.
Lum-Tec
Lum-Tec has perhaps the greatest American manufacturing claim of any brand today. Lum-Tec is the in-house brand of Wiegand Custom Watch, an Ohio factory that produces OEM watch parts for over 100 brands worldwide; including some that it produces from design to finished product. Naturally, Lum-Tec watches are made at the Mentor-based facility, and the brand's watches lean hard into a tactical and military aesthetic. At the heart of Lum-Tec watches is the lume used on the watches: an in-house formula called MDV MAXLÜM that's extremely bright and glows for 24 hours.
Mk II
Mk II was founded 20 years ago as the first company to make third-party parts and customization services for other brands' watches. After helping to kick off the modder movement, the Pennsylvania-based brand — founded by watchmaker/enthusiast Bill Yao — evolved to become one of the original microbrands. Today, Mk II crafts vintage-inspired tool watches in two distinct product lines: its (mostly) original Ready To Wear designs, and its high-end homage Benchrafted series, with the latter being carefully hand-assembled and tested at Mk II's own workshop.
Nodus
Founded in 2017 by a pair of twenty-something watch enthusiast friends in Wes Kwok and Cullen Chen, L.A.-based Nodus is bringing a young, fresh perspective to one of the world's oldest industries. The brand has a clear focus on tool and sports watches, cranking out divers, pilot's watches, and field watches with imaginative designs, fun colors, and a refreshing burst of originality. Nodus designs and prototypes its watches in California, outsources the parts that need to be machined, and then performs final inspection, assembly, and regulation themselves. It's a fast-growing brand that's committed to American craftsmanship, so expect Nodus to make a lot more noise in the near future.
Oak & Oscar
One of the better-known American watch brands to pop up within the last decade, Oak & Oscar is the second brand on this list to hail from Chicago. Positioned as more of an entry-level luxury brand with prices in the $1.5K – $2K range, Oak & Oscar is known for performing as much of its production in and around the Second City as possible. The brand, which was founded in 2015 by Chase Fancher, partners with companies in Chicago and Fort Wayne to produce its straps and watch wallets, and it boasts an in-house, classically-trained Director of Watchmaking in Nathan Bobinchak. More recently, the brand got more into local manufacturing, producing hand-cut bezels and hand-finished dials for its limited-edition Humbolt Seven Year watch.
Orion
Orion is one American microbrand that's serious about the craft of watchmaking. So serious, in fact, that its founder, Nick Harris, founded the brand in 2016 in part to fund the watchmaking program in which he was enrolled at the time. The stated goal of the brand is to bring horology back to the U.S., and the Pennsylvania-based brand sure is doing a pretty good job of it. Harris has always assembled Orion's watches in-house and produced his own parts when possible, but for the recently-released Tesseract, he went a step further by partnering with other local watchmakers to machine and hand-finish their own extremely intricate dials right here in the U.S.
Pelton
Speaking of brands intent on manufacturing their own components, we have Pelton. Founded in Detroit by Deni Mesanovic in 2016, Pelton CNC machines its cases and bracelets in-house starting from a block of bare metal, with Mesanovic — who also founded Detroit-made audio company Mesanovic Microphones — assembling and hand-finishing all watches himself. The bracelet on the brand's Perseus, a Gérald Genta-inspired sports watch akin to the Patek Philippe Nautilus and Audemars Piguet Royal Oak, actually boasts the only metal watch bracelet currently manufactured in the U.S.
RGM
Until this point, we've focused on U.S.-based watch assembly and finishing, with a handful of manufacturing thrown in. But RGM is taking things to a whole other level by crafting its own in-house mechanical movements. Celebrating its 30th year in business in 2022, the Lancaster County, PA-based brand describes itself as "America's Premier Watchmaker" — and it's tough to argue with that sentiment. Founded by WOSTEP-trained watchmaker Roland G. Murphy, RGM makes its own cases and components, in addition to movements, combining state-of-the-art watchmaking technology with traditional methods like hand-bluing their own screws. But RGM's greatest claim to fame is undoubtedly its in-house calibers, and it has produced four to date, including movements featuring complications like a moonphase and even a tourbillon.
Shinola
Ask many watch enthusiasts about Shinola and they'll bristle, in part due to the brand losing a class-action lawsuit in 2016 related to false advertising for claiming its watches were "built in Detroit." While final assembly occurred at the lifestyle brand's Detroit facility, it was done so using foreign parts, which the FTC deemed did not meet the threshold to match Shinola's patriotic claims. But Shinola has come a long way since those dark days. The brand has ditched the old slogan and is not claiming to be anything it isn't — it's still hand-assembling its watches in Detroit, providing loads of jobs to the area in doing so. It's also stepped up its game as far as its product is concerned, recently releasing its first automatic GMT and chronograph watches to much critical acclaim.
Timex
Easily the oldest and most famous brand in this guide, Timex traces its roots back to the Waterbury Clock Company in 1854. Going by its current name since 1941, Timex is headquartered in Middlebury, Connecticut, and is known for producing reliable, affordable watches that "take a licking and keep on ticking." The brand's affordability is accomplished largely through overseas manufacturing, mainly in Asia, but more recently Timex has reconnected with its American heritage through its American Documents line of watches. The most expensive watches currently sold by the brand (still a reasonable $495), the American Documents watches are hand-assembled at the brand's Connecticut facility and feature double-layered dials made of U.S.-sourced brass.
Vero
Vero's path has almost been the reverse of many other U.S.-based microbrands. Based in Portland, Oregon and founded by watch-enthusiast friends Chris Boudreaux and Danny Recordon, the brand got its start manufacturing most of its watches' components itself, including cases. But in 2020, Vero pivoted to move production to a partner in Switzerland. While that move may have been a blow to fans of American manufacturing, the brand did so for a good reason: sustainability. By partnering with a more established manufacturer, Vero can cut back on waste, which benefits everybody — America included. And before you start firing off any angry emails, know that Vero still assembles, regulates, and services all of its watches right in Portland. The brand also offers an extremely generous 10-year warranty on its watches that's among the best in the industry.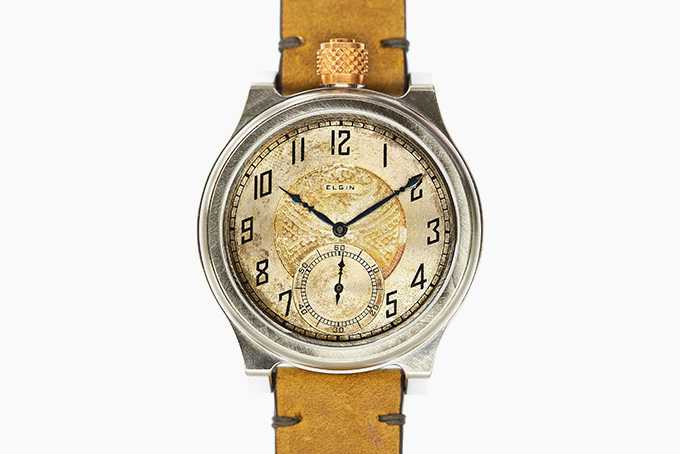 Vortic
Vortic is keeping America's watchmaking tradition alive in more ways than one. Not only does the Colorado-based brand — founded by Penn State classmates Tyler Wolfe and R.T. Custer in 2013 — manufacture as many components as it can in-house, but it's also literally reviving American watch history by restoring vintage U.S.-made pocket watch movements, dials, and hands for use in all of its watches. The end result is a unique blend of historical and modern American manufacturing that's unlike anything else on the market.
Weiss
USC grad Cameron Weiss decided to become a watchmaker after college, receiving training from two members of Swiss watchmaking's Holy Trinity in Audemars Piguet and Vacheron Constantin. In 2013, he founded his eponymous watch brand, which was formerly based in L.A. and now hangs its hat in Nashville. Weiss handcrafts every watch to order, and the brand makes a number of its components in-house, including its in-house Weiss Caliber 1003 manual-wind movement, its machined and hand-painted dials, and its cases. The brand has also recently announced that it will soon begin manufacturing its own bracelets (all of its current watches are sold on straps), so look out for that in the near future.
The 10 Best Watches That Have Been to Space
One area where the U.S. continues to lead the way is space exploration, a subject that also figures pretty heavily in the history of some of the coolest watches of all time — including, naturally, some American-made timepieces. Head on over to our guide to the best watches that have been to space for the full rundown.