Sep 24, 2019
Category: Gear
For those who do strenuous work or spend their days in dangerous environments, a pair of blue jeans simply won't cut it. Standard pants are too restricting and susceptible to tears for people with jobs that demand heavy-duty everyday wear. Whether you're in the military, law enforcement, or spend ample time outdoors, tactical pants are the way to go. You can only put your best foot forward if you're wearing the right type of bottoms.
Tactical pants are built to within harsh environments and can even protect the wearer from harmful materials. You can choose minimalist designs or go all out with versions that have pockets for all your EDC. Sure, the tactical designation might throw you off, but these type of pants are more practical than you might expect. Even if you're not running and gunning like a super-soldier, they come in handy during a hike or rock climbing. If you're looking for a solid pair of tactical pants, we're here to help. We've gathered the best tactical pants on the market, saving you from painstakingly scouring the web. All you have to do now is peruse the choices.
Construction Matters
Strive For A Quality Pair
There are a few aspects you should look for in a quality pair of tactical pants. Make sure they're made of lightweight, durable material, which is typically a mix of poly cotton ripstop and polyester. They should also have an ample amount of zippered pockets, so you can keep your important gear organized and easily accessible in case you need to act quickly. Next, the tactical pants you choose should have reinforcements in high-stress areas, so they can go the distance and last you plenty of missions. Last, but certainly not least, they should be comfortable, which is determined by your preferences. Keep these factors in mind in your search for the ideal pair of tactical pants.
Tru Spec Original 24-7 Tactical Pants
According to Tru Spec, their Original 24-7 Tactical pants are the most comfortable of their kind on the market. They're designed with an engineered dimensional fit, deep cargo pockets to accommodate concealed weapons, and reinforced knees that can take knee pads. Not to mention they're made from polyester cotton rip-stop fabrics that coated with DWR.
Dickies Tactical Ripstop Cargo Pants
Ready for just about anything, Dickies' Tactical Cargo Pants are made from DuPont Teflon fabric. They feature an L-shaped front pocket to clip your favorite EDC knife, cargo pocket with a built-in magazine pouch, and reinforced double knees with vents for knee pads. These water-repellent pants look professional but are ready for action at the drop of a dime.
Propper HLX Pant
These pants are built for performance, as they're made from flexible action-stretch fabric, working with the integrated stretch panels in critical areas, allowing you to move naturally through the field. They also feature magazine/cell pockets, back pockets, and concealed side access, so you can carry all of your gear for hiking or the battlefield.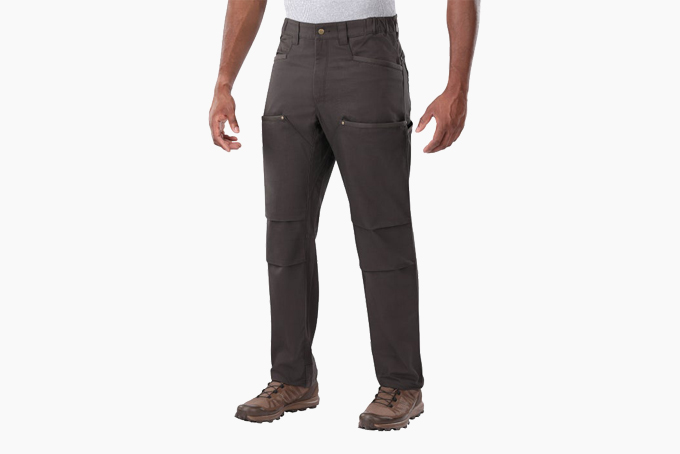 Vertx Travail Tactical Pants
Combining style, comfort, and performance, Vertx created the perfect all-around tactical pants with the Travail. These rugged trousers boast 16 pockets to accommodate all of your gear, drop-in quick-access thigh pockets, 500D Cordura reinforcements, and double-stitched heavy-wear seams. For a full range of motion, the pants have articulated knees and a fully gusseted crotch.
5.11 Taclite Pro Pant
Wear the 5.11 Tactile Pro pants and move naturally in the field thanks to poly/cotton TACLITE ripstop fabric, gusseted construction, and an action waistband. It has eight pockets, including strap-and-slash pockets, a hip-mounted D-ring, triple-stitching, and YKK zippers. And it has a Teflon finish, making it dirt, stain, and water-resistant for longevity.
Blackhawk Tac Life Pant
The Blackhawk Tac Life pants are made using 100% Nylon Ottoman with Teflon Shield+ to repel oil, stains, and water. To maximize your movement on the field, they have articulated knees and reinforced multi-purpose pockets, keeping your gear secure while you're maneuvering through the field. And they have specialized knife pockets for easy carry and deployment of your cutting tool.
Kuhl Renegade Cargo Conv Recco Pant
Whether you're exploring new places in the wild or clearing corners with your squad, Kuhl's Renegade tactical pants are ideal for the job. They're consorted from two-way stretch DURALUX material, consisting of nylon and spandex, with a DWR finish, making them ready for action. You can also go from pants to shorts in no time thanks to the STEALTH zip-off system.
Under Armour Storm Tactical Pant
Under Armour makes more than gear for sports athletes, as you can see with their Storm Tactical pants. They're built for high-performance scenarios in the backcountry, as the feature a stretch-engineered waistband, ultra-durable ripstop fabric, and water-repelling properties. And they have reinforced knees and crotch area for supreme durability.
Triple Aught Design Force 10 RS Cargo Pant
Triple Aught Design always produces tough-as-nails apparel and their Design Force 10 RS Cargo pants are no exception. They're made from cotton and nylon with a DWR finish and have two thigh cargo flap pockets with hidden dual button close and knee reinforcements that accommodate T-Pro Knee Armor. Whether you're going off-roading or scaling a mountain, these tactical pants will hold up.
Prometheus Design Werx Odyssey Cargo Pant ATC
Inspired by utility pants built for American WWII Paratroopers, the Odyssey Cargo pants are made for those with a fighting spirit. They're constructed from Prometheus Design Werx's All Terrain Cloth, making them ideal for year-round use. And the American-made pants have everything you need to conquer the mission, including a three-point flap closure system, custom no-twist D-rings, and a diamond gusset.
GORUCK Challenge Pants
GORUCK's Challenge pants can handle difficult scenarios with ease. They're built from super fast-drying two-way stretch ToughDry fabric and feature articulated knees, cargo pockets with drain holes, a diamond gusset, and a curved waistband for a flexible fit. Not to mention, they're made in the USA.
UF Pro Striker HT Combat Pants
UF Pro's Striker HT Combat Pants are ready for the battlefield. Constructed from 100% CORDURA fabric and an ergonomic 3-layer protection system, these pants are built for challenging missions. They also feature an advanced circulation system with mesh-lined openings in key areas for unmatched breathability.
Beyond Clothing A5 Brokk MS Pant
These lightweight tactics pants are designed for active use in warm weather. They feature a protective four-way stretch nylon shell that's wind- and rain-resistant, two-way stretch Cordura in the crotch gusset, and articulated knees. Wear these water-resistant, flexible pants to complete difficult tasks in the great outdoors.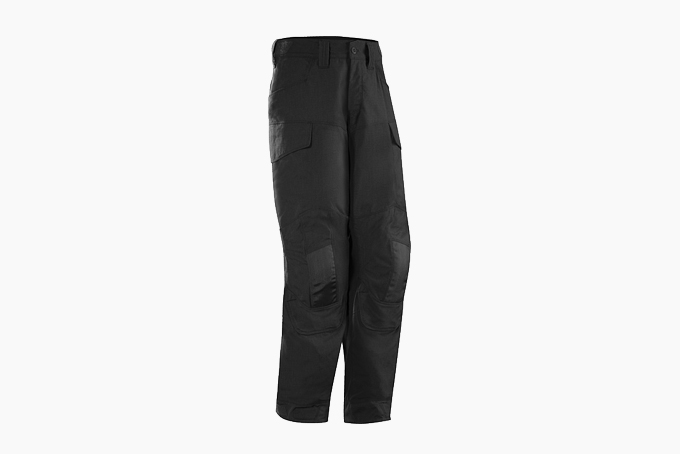 Arc'Teryx Leaf Assault Pant AR
Suitable for combat, Arc'Teryx's Leaf Assault pants fear no terrain. They're made from no melt or drip materials and are meant for Direct Action or Special Reconnaissance missions. Additionally, they have advanced belt loops for the LEAF Rigger system, reinforced knees, Velcro flap pockets, and ankle cuff closure seals.
Vollebak 100 Year Pants
If you want pants to outlast you, accept no substitutions for Vollebak's 100 Year pants. They're highly abrasion-resistant, rip-proof, and fireproof, which means they'll survive anything you throw at it. The stretchy pants also have large zippered leg vents, stainless steel detailing, five pockets to fill with all of your sturdy EDC.
The 10 Best Tactical Combat Boots
Now that you have a pair of action-ready tactical pants, it's time to get the appropriate footwear. Check out our picks for the best tactical combat boots and protect your soles on the battlefield.
HiConsumption is reader-supported. When you buy through links on our site, we may earn an affiliate commission. Learn more