As garments that are purpose-engineered for military personnel operating in some of the world's most hostile and unforgiving conditions, tactical pants represent a unique style of bottom that combines the immense durability of workwear items with the unrestricted mobility and storage of modern hiking trousers. And while this space was once largely dominated by only a handful of brands, the tactical pant segment has hugely expanded in recent years with an ever-growing selection of mission-ready, mil-spec bottoms designed to meet the uncompromising needs of the world's most elite contractors and operators.
So, while there are now more options to pick from than ever before, the reality is that all tac-pants are not created equal, and as such there's a small selection of pairs that objectively stand above the rest, constituting the best tactical pants that money can currently buy.
Tactical Trouser Traits
The 9 Most Important Areas To Factor In When Buying Tactical Pants
As they are extremely technical, purpose-engineered garments, buying tactical trousers is a fairly unique experience that differs pretty greatly from shopping for your average pair of jeans or slacks. Below, we'll quickly touch on nine of the most crucial areas to consider before pulling the trigger on your purchase.
Construction & Materials: Almost certainly the biggest factor that determines a pair of tactical pants' overall quality is the primary materials used to make it, as well as the construction techniques used to piece it together. As such, you'll want to review the main constructions used, as well as if that material is reinforced with items like overlays in key areas. A great many of today's best tactical pants are also outfitted with membranes.
Armor & Padding: Because these pants are engineered from the ground up for combat duties, quite a few models are equipped with integrated armor or padding to protect its wearer from impacts. Many of these pads are removable, and several can be upgraded.
Mobility, Fit, & Adjustability: For tactical pants to properly do their job, they need to precisely fit their wearer. As a result, most of today's best tactical pants will offer ample adjustment points to fine-tune their fit. In terms of mobility, fit is important, though you'll also want to factor in elements like articulated knees and diamond gusset crotches.
Storage: The uses, missions, and applications that call for tactical pants almost always necessitate a decent amount of gear. Consequently, the manufacturers behind today's most capable tactical pants tend to outfit pairs with a plethora of standard and cargo-style pockets to accommodate all the equipment typically carried by operators.
Attachment & Gear Support: Above and beyond being outfitted with a myriad of regular and cargo pockets, many of today's best tactical pants also feature systems for accomodating weapons and accessories. This includes systems for securely holding ammo magazines, dedicated knife pockets, pockets with built-in stabilizers, and belts and waists for securing sidearm holsters.
Weather-Resistance: The type of climate in which you plan on wearing these pants should also play a role in your decision-making process here. Warmer, more tropical regions will call for cooler, breathable constructions — which are often supplemented via quick-drying, moisture-wicking, and/or antimicrobial properties — while colder or more precipitous locales will require waterproof materials and possibly insulation, depending on the severity of the cold.
Price: Tactical pants can hugely vary in price, though the reality is, in 95% of cases, more money will get you a better, higher-quality pair. We also recommend factoring in your intended use into your decision, as this will help determine how rugged — and high-end — of a pair you'll need, as private contractors will obviously require a markedly more reliable pair than your casual airsoft player. And, while some pairs of tactical pants may seem wildly expensive, it's worth mentioning that most operators wearing these are trusting their pants — and the rest of their gear — with their lives, and as such the equipment has been designed accordingly.
Color & Camouflage: Tactical pants almost exclusively come in two general color options: earth tones and camo. Both of these groups come in a wide variety of shades and tones, though some pairs are offered in markedly more options than others. More causal uses will obviously allow for almost any color, as where more specific missions and applications will necessitate a much more specific color to match the wearer's environment.
Brand: When it comes to producing garments or gear for military personnel and private operators, a brand's reputation means everything. As such, you can typically trust that a brand known for producing quality products will likely deliver an equally quality pair of tactical pants. It also never hurts to look and see what some of today's most elite fighting forces are wearing, as these outfits do immense researching and field-testing before inking a contract with a supplier.
Under Armour UA Storm Tactical Patrol Pants
A solid and highly-capable pair of tactical pants available at a surprisingly accessible price, Under Armour's UA Storm Tactical Patrol Pants are made from an ultra-durable ripstop polyester fabric that benefits from the use of the activewear brand's UA Storm technology to repel water without compromising breathability. Additionally, these pants also boast a special antimicrobial treatment, along with offset belt loops that allow for proper holster placement, reinforced knees and crotch, a multi-way stretch waistband, and dual cargo pockets with dedicated internal magazine holders.
5.11 Tactical Stryke PDU Class B Pants
Aiming to offer the unrestricted mobility, technical nature, and durability of tactical pants in a slightly more sophisticated and professional-looking package, 5.11 Tactical's Stryke PDU Class B Pants are crafted from a Teflon-treated FlexTac ripstop material and feature a diamond gusseted crotch, a self-adjusting tunnel waistband, Melamine buttons, and a set of cargo pockets supplemented via an integrated pocket for a tactical flashlight, and dual covert storage pockets. Despite the pair's suite of technically-focused features, these pants' flat-front design and permanent creases allow them to seamlessly blend into more formal settings.
KÜHL Above The Law Pant
While many of today's finest tactical pants sport extremely modern and technical designs, KÜHL's Above The Law Pant takes a more old-school approach, using a primary construction that's crafted from KNOCKABOUT KLOTH before being heavily reinforced with waxed fabrics and then dyed using a "made to fade" vintage patina dying process. Hardwearing enough to double as work pants, these tactical trousers also feature articulated knees, zippered outer thigh vents, double rear belt loops, a suede-lined Free Ryde waistband, a bar button at the waistband closure, and a total of nine pockets including a dedicated cellphone pocket, cargo pockets, and a 3D gusseted zippered pocket.
Vertx Recon Pants
The Vertx Recon Pants were engineered from the ground up to address the specific needs of today's most elite operators, including the ability to comfortably organize and carry an ample gear loadout without throwing off the wearer's balance or restricting mobility. Made from a poly-cotton mini-ripstop blend, these pants have been outfitted with a relaxed waistband, tool pockets on each hip, double reinforced knees with VELCRO-secured knee armor pockets, a fully gusseted crotch, inverted pleat calf pockets with VELCRO closure, drawcord eyelets inside the bottom hem of each leg, thigh possible pockets with inverted pleats, triple-bellowed cargo pocket with VELCRO closures, and elastic band-equipped cargo pockets that prevent gear from moving around.
Prometheus Design Werx Raider Field Pant GC T-Fit
Designed, crafted, cut, and sewn entirely in California, Prometheus Design Werx's Raider Field Pant GC T-Fit model is a feature-laden pair of tactical pants with an understated outward appearance. Boasting double, triple-needle, and bar-tack reinforcement construction throughout, these pants feature a primary 5.75oz spandex-infused poly-nylon construction with a C6 DWR-coating, plus a wealth of features and amenities including rugged T40 threading dedicated EDC tool pockets, a dedicated folding knife pocket located inside the main hand pockets, custom no-twist Delta-ring hardware, a pair of front accessory welt pockets, two side accessory welt pockets, custom no-loss Parasmock-type slotted buttons, a main YKK nylon coil zipper with a locking slider, a diamond double-seat reinforcement, a diamond-shaped gusset panel, double reinforced rear cuffs, and shaped double-reinforced knees with articulated darts.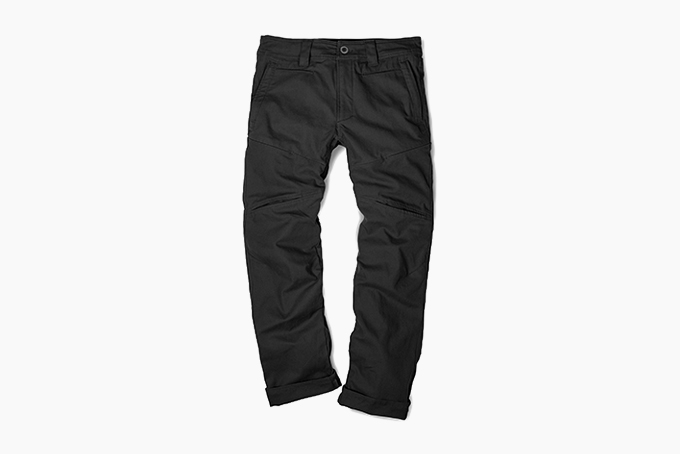 Viktos Contractor AF Pant
Designed and developed by U.S. military veterans, the Viktos Contractor AF Pant is designed specifically for soldiers and private contractors that trust their gear with their lives. Backed by a one-year warranty, these pants are made from an ultra-rugged proprietary material known as "Combatgrade" — a Teflon-coated stretch cotton-spandex material — and have been outfitted with oversized belt loops for tactical belt use, knee expansion panels, a gusseted crotch, a padded waistband with a hidden pocket, large exterior carry magazine pockets, and YKK zippers securing the pair's thigh, front, and rear pockets.
GORUCK Indestructible Challenge Pant
Another highly-technical and over-engineered pair of American-made tactical pants, GORUCK's Indestructible Challenge Pant features a primary construction composed of super fast-drying, abrasion-resistant, two-way stretch ToughDry fabric — a spandex-infused nylon blend that's also found on GORUCK's Simple Pants and Challenge Shorts. Designed to allow for a completely unencumbered range of motion, these pants — which are produced in three color options — have been bestowed with a curved waistband, articulated knees, a diamond gusset crotch, horizontal front pockets, and anchored cargo pockets with interior drain holes.
Nike ACG "Smith Summit" Cargo Pants
Though the Nike ACG "Smith Summit" Cargo Pants were technically developed as a rugged pair of hiking pants, the pair's unrestricted range of motion, immense durability, and overall technical nature actually make them a great option as a tactical trouser. Manufactured in half-a-dozen color options, the ACG "Smith Summit" Cargo Pants feature an open hem, a tapered leg, and removable lower leg pieces that transform the pants into a pair of shorts. In addition to being sold with an integrated low-profile belt, these pants are also crafted from no less than 75% recycled nylon fibers.
Triple Aught Design Aspect RS Pant
A thoroughly capable, ultra-durable, and high-performance pair of tactical pants that's equally at home on the hiking trails, city streets, or spec-ops missions, Triple Aught Design's Aspect RS Pant manages to cram a host of features into an unassuming-looking package. Cut from a DWR-coated 6.5oz cotton-nylon blend, the Aspect RS Pant sports custom TAD slotted buttons, TAD's signature diamond knife guard, a TAD logo leather patch, YKK snaps and fly zipper, double-needle inseams and triple-needle back rise and side seams, knee darts, a gusseted crotch, and a calculated belt loop placement that helps to evenly balance and distribute the weight of belt-mounted gear around the wearer's entire waistline. Made in America, these pants also feature internal pocket organizers designed to help organize and store essential pieces of gear and EDC items like pens, magazines, and flashlights.
Crye Precision G3 Combat Pant
Engineered specifically for combat use in ultra-hostile and unforgiving locales and conditions, Crye Precision's mighty G3 Combat Pant is the result of developing tactical trousers using a spare-no-expense approach. Produced in nine different solid color and camo options and compatible with the company's AIRFLEX Combat Knee Pads, these pants are crafted from a Mil-Spec 50/50 NYCO ripstop with durable four-way stretch-woven accents and equipped with a unique low-profile waist adjustment system, a double-layer seat, zipper-secured rear pockets, a stretch diamond gusseted crotch, flap-covered adjustable knee armor pockets, a dedicated knife holder, and cargo pockets that each feature stabilizers for water bottles, magazines, and other heavier pieces of kit.
Vollebak 100 Year Pants
Vollebak's 100 Year Pants are another pair that wasn't explicitly designed as a set of tactical trousers, though as arguably the most rugged pants on the planet, this model is more than deserving of a spot on this list. Boasting a name that's far from hyperbolic, these pants are composed of a bluesign-approved, Swiss-made elastane-infused polyamide, aramid, and polyurethane blend produced by Schoeller that's not only highly breathable and ridiculously resistant to water, tearing, and abrasions, but is also nearly impervious to fire. This remarkable construction is supplemented via twin-needle stitching and heavy-duty thread reinforcing all critical stress areas, as well as a dedicated watch pocket with a nylon paracord, lower leg vents with fully bonded, waterproof zippers, a reinforced seat, and a custom engineered waistband constructed from two layers that have been bonded together.
Arc'teryx LEAF Alpha Pant Gen 2
Garments from Arc'teryx LEAF have long been the go-to choice for a great many of today's most elite fighting forces, as these items legitimately and objectively constitute the finest military clothing that money can buy — with the outfit's second-generation Alpha Pant being no exception. Sporting a classic military fit, Arc LEAF's Alpha Pant Gen 2 features a reinforced instep, an elasticized and adjustable nylon web high rise waist, and full-length ventilation side zips. These ultra-premium tactical pants are also made from a combination of GORE–TEX BD450 ripstop nylon and Schoeller Keprotec — the latter of which is an insanely-rugged, high-tensile construction composed of Kevlar and aramid fibers that was originally developed for use in motorcycle racing.
The Best Tactical Jackets On The Market
Now that you've found a proper pair of tactical pants, why not complement them with an equally technical and hardwearing tactical jacket? You'll find the finest examples highlighted in our guide to the best tactical jackets.