Benefitting from a slew of advancements over the last decade, tactical flashlights are engineered from the ground up to meet the needs of military personnel operating in some of the world's harshest conditions. As this segment has grown more popular, however, it's been inundated with dozens and dozens of new models. And while this gives buyers more options to pick from than ever before, it also makes it exceedingly difficult to sort through the seemingly endless sea of available options in order to hone in on the standout tac torches that stand above the rest — the latest and greatest of which we've rounded up for this guide to the best tactical flashlights.
Defining The Segment
What Exactly Is A Tactical Flashlight
As the name suggests, tactical flashlights are flashlights that are developed specifically for tactical use. This means that these torches need to be rugged and hardwearing enough to survive combat and warfare, as well as bright and powerful enough to provide ample lumens in complete dark and in low-light settings. Though sometimes designed to also mount to a rifle, tac lights are primarily engineered for hand-held use, and as such tend to measure in at around 5" to 6" in length and around 1" to 1.5" in diameter — dimensions that allow these lights to perfectly fit in the hand.
One of the biggest areas that separate tactical flashlights from their camping and EDC-focused counterparts is tac light's striking bezels. Often made from different, even more, rugged materials than a flashlight's body, these items sit at the business end of a flashlight and encompass the lens. Bestowed with a ridged, crown-like shape, this feature on a tactical flashlight is designed to maximize striking forces when being used as a hand-held weapon. Some tactical flashlights are even sold with optional (and typically removable) Karambit-like finger holes that turn a tac light and its striking bezel into an even more effective CQC weapon.
Another area that's unique to tac lights is their operational setup, with tactical lights typically being turned on and off using what's called a tail switch (I.e. a button on the bottom of the light opposite the lens) — a design that's sometimes supplemented via a secondary switch on the body like a regular camping flashlight. In addition to boasting numerous power/brightness settings, tactical flashlights also often come loaded with several light modes including S.O.S. patterns and attacker-disorienting strobe modes. Lastly, there also happens to be markedly more quick-draw-ready (often KYDEX) holsters produced for tactical flashlights compared to regular torches.
Tactical Torch Traits
The 10 Areas To Consider When Buying A Tactical Flashlight
While there are a great many similarities between regular and tactical torches, there are some properties that are largely unique to the latter segment. Below, we'll briefly shine a light on the ten most pivotal factors to take into account before pulling the trigger on your purchase.
Output: Whether guiding your own way or blinding an attacker, a flashlight's overall light output plays an enormous role in determining its overall performance — and usefulness. The amount of light that a torch emits is measured in what are called lumens. Typically anything north of 600 lumens will be sufficient for a tactical flashlight (as a point of reference, an iPhone's flashlight boasts around 40 to 50 lumens). Additionally, you'll also want to look into a flashlight's distance — or "throw" — as this is another key metric that plays a pivotal role in a tac light's overall performance. 
Emitter(s): Metrics such as lumen output and throw are largely owed to the emitter (or emitters) that a flashlight is loaded with. For this reason, it's very much worth reviewing both the number of emitters a flashlight features, and the types of emitter(s) being used. With that said, CREE has developed of a bit of a stranglehold in this area, though there are also other key brands in the space. 
Materials: A tactical flashlight's overall strength and durability primarily boil down to the materials used to construct it — more specifically the flashlight's body, lens, and any other exterior components or covers. For the body of a tac light, aluminum alloys — often of the aerospace-grade variety — are by far the most popular construction, though there are also polymer, steel, brass, copper, and titanium lights, as well. On top of looking into the material used to craft a tactical flashlight's lens, you'll also want to check out whether or not the light's body has been fortified via a coating or treatment process such as anodization. 
Bezel: As one of the key elements that separate tac lights from regular flashlights, the striking bezel is a crucial area to review when shopping for a new torch. Not only should you look at the shape of the close-quarters striking weapon, but also if said bezel is crafted from a different material than the body. 
Battery: Just like with any other modern LED flashlight, a tactical light's battery is also of extreme importance as it will ultimately determine the amount of a runtime that a light offers. The type of battery used — and its potency — will also play a role in the overall size of the flashlight itself, too. Additionally, some tactical flashlights feature batteries with magnetic-coupling charging systems.
Settings & Modes: Like regular flashlights, it's become commonplace for tac lights to feature multiple brightness/power settings — with the lower power modes boasting less lumens but offering greater battery life. A great many tactical flashlights also offer strobe functions. There are also tactical lights that come loaded with the ability to emit different light spectrums. 
Water Resistance: As items that need to be immensely durable, tactical flashlights unsurprisingly often boast robust levels of water resistance. This is another area that's crucial to review when buying a tac light — and one that's typically measured using in Ingress Protection (or IP) rating such as IPX7. 
Size & Weight: A proper tactical flashlight is typically a handheld item that can easily be carried on the body and readily deployed as needed. Tac lights also need to be able to function as an effective close-range weapon. For these reasons, most individuals opt for a tactical flashlight that comfortably fits in the hand — typically about 5" to 6" in length and 1" to 1.5" I diameter. 
Operation: This area refers to the number of buttons and switches present on a tac light. This includes basic side switches and buttons, as well as the more common tail switch. 
Weapon Mounting: Though they are typically carried by hand, some tactical flashlights manage to offer even greater levels of value and versatility by coming with — or being sold with an optional — kit that allows the flashlight to be mounted to a firearm. These kits typically come with accompanying remote switches that mount to the gun and allow the light to be easily turned on or off (or have its different modes run through). 
The Best Tactical Flashlights You Can Buy
ThruNite BSS V5
The ThruNite BSS V5 is an affordable yet immensely-capable tactical flashlight with an impressive 2,676-lumen output and an 826' throw. Constructed around a type III hard-anodized 6061-T6 aluminum body, the light features a 3,100-mAh IMR 18650 battery, side and tail switches, a Luminus SST70 LED emitter, a removable strike bezel, and a color-coded battery level indicator light. And, on top of being drop-rated to 4.9', the BSS V5 is also IPX8-rated for water resistance, meaning it can be submerged down to 3.2'.
Length: 5.63″
Body: Aluminum
Max Lumens: 2,676
MecArmy SPX10
Utilizing a patented 360 degrees operating tail tactical switch that can be operated at any angle, the MecArmy SPX10 is a high-performance tactical flashlight that's equipped with a CREE XM-L2 LED emitter delivering a 735' throw and up to 1,100 lumens. IPX-8-rated, this tac light boasts a body that's crafted from HAIII hard-anodized aerospace-grade aluminum alloy and equipped with an anti-roll and anti-skid design. Sold with a detachable tactical ring and pocket clip, the light also sports a USB rechargeable 18650 battery, a trio of power modes, and a head and tail designed to be drop and impact-resistant.
Length: 5.28"
Body: Aluminum
Max Lumens: 1,100
Fenix PD36 TAC
Engineered to take on some of the planet's least forgiving locales, the Fenix PD36 TAC is an incredibly rugged tac light that features a type HAIII hard-anodized 6061-T6 aluminum alloy body and an IP68-rating that together allow it to be submerged in up to 6.5' of water for half-an-hour and be able to survive a 4.9' drop. Armed with a Luminus SST70 LED emitter, this torch packs an 898' throw and a 3,000-lumen output. Capable of receiving a complete recharge in four hours, the PD36 TAC's battery affords up to 160 hour of burn time. Other noteworthy elements on the PD36 TAC include two different Tactical Modes and five different Duty Modes, a patented Dual-function tactical switch, reverse polarity protection, a lockout function, and Fenix's Advanced Pulse-frequency Transmission System.
Length: 5.50"
Body: Aluminum
Max Lumens: 3,000
Olight Warrior 3S
Designed from the ground up for tactical use, the Olight Warrior 3S is a compact but potent tac light that boasts an impressive slew of functionality and tech. IPX8-rated, the Warrior 3S features a built-in proximity sensor, a lockout function, a battery with up to 55 days of runtime, a snag-resistant low-profile striking bezel, a TIR optic lens, a quick-action two-stage tactical tail switch, an anodized aluminum body, a whopping 984' throw, and a maximum output of 2,300 lumens. Sold with a nylon holster, Olight's Warrior 3S is also compatible with some of the company's firearm mounts and remote pressure switches, allowing the tac light to pull double duty as a handheld or rifle-mounted torch.
Length: 5.47"
Body: Aluminum
Max Lumens: 2,300
Acebeam DEFENDER P17 Gray
Punching well above its weight relative to its price, the Acebeam DEFENDER P17 Gray is a high-performance tac light that packs some seriously impressive specs in the form of a 1,460' throw and an equally robust 4,900-max-lumen output. Capable of being fitted with an optional red lens filter, the front-end of the torch has also been capped off with a stainless steel striking bezel embedded with three silicon nitride ceramic beads for breaking glass. IP68-rated and drop-rated to 4.9', the light also features a dual tail switch button setup, a CREE XHP70.3 HI LED emitter, five brightness levels plus strobe and S.O.S. modes, and up to 22 days of runtime on the light's lowest power setting.
Length: 5.79"
Body: Aluminum
Max Lumens: 4,900
Olight Warrior X 3
Engineered to be the ultimate tactical flashlight, the Olight Warrior X 3 is a 2,500-lumen torch with a 1,837' throw. Constructed around a type III hard-anodized aluminum body, the Warrior X3 features a dual-stage tactical tail switch and a removable Karambit-style steel Warrior ring with a striking tip, plus a purpose-designed striking bezel embedded with a trio of zirconium beads for glass-breaking duties. Capable of being mounted to a rifle and compatible with Olight's remote pressure switches, the Warrior X 3 also comes outfitted with low-battery-level vibration alerts, a 6.5' drop rating, an IPX8 water rating, a 3mm tempered glass lens, and a custom 5,000-mAh Li-ion battery that affords up to eight hours of burn time per charge.
Length: 5.89"
Body: Aluminum
Max Lumens: 2,500
NITECORE TM9K LTP
If lumen output is your primary concern, then the most logical tac light option is undoubtedly the NITECORE TM9K LTP. Spanning less than 5" in length and only 1.6" in diameter, the TM9K LTP is armed with a total of nine CREE XP-L2 HD LED emitters that collectively afford a 918' throw and a maximum output of no less than 9,800 lumens. IP68-rated and cold-resistant down to -40°F, the TM9K LTP also features a lockout mode, a 7.71oz weight, five light settings plus a strobe mode, a dual-switch tail cap, and a built-in 4,000-mAh rechargeable battery that offers up to 58 hours of burn time on the light's lowest setting — and 2.5 hours of life while emitting 2,000 lumens.
Length: 4.92"
Body: Aluminum
Max Lumens: 9,800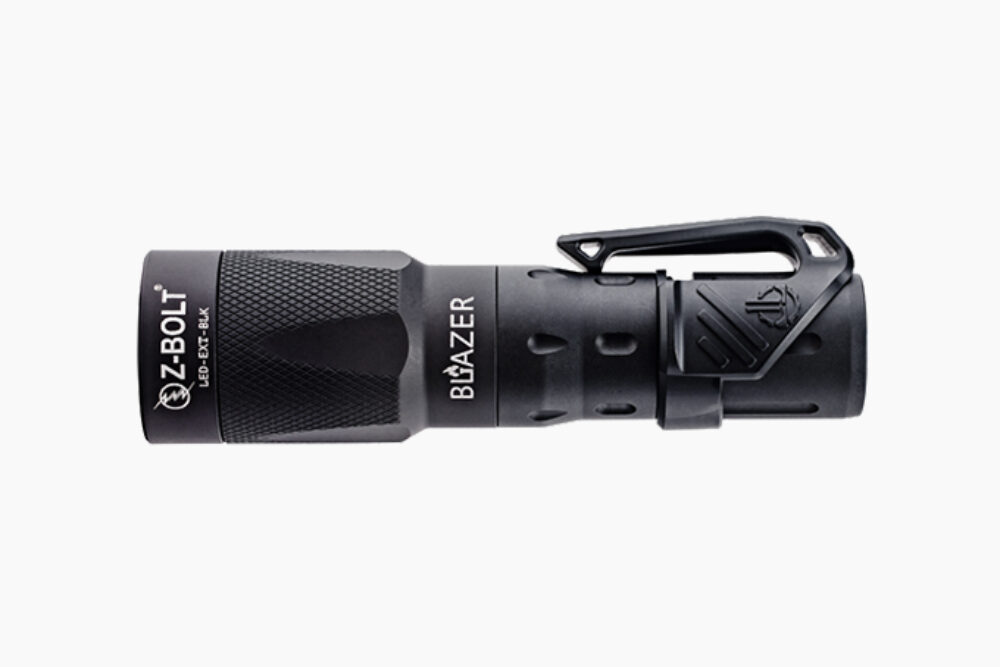 Z-Bolt Hand Carry LED Light
Developed specifically for military and law enforcement, the Z-Bolt Hand Carry LED Light is a 610-lumen tactical torch that features a 656' throw, a rempovable Karambit-style finger ring, and a smooth striking bezel. The light is constructed around a T6061 aluminum alloy body that's been fortified via a Mil-Spec matte black hard anodized coating. Sold with an included THYRM pocket clip, the Z-Bolt Hand Carry LED Light is also compatible with a wide range of holsters and other accessories made specifically for this flashlight. And, in addition to being offered in black and coyote color options, the company also sells a slightly larger long-barrel version of this tac light for the same price.
Length: 4.80"
Body: Aluminum
Max Lumens: 610
Mechtorch Gen2 Titanium Torch
Designed and made in the USA using a trio of Japanese Nichia natural white 219CT 5700K LED emitters, the Mechtorch Gen2 Titanium Torch is a top-shelf tac light with a premium titanium body construction. Also offered in a raw titanium finish, this model boasts a hardened dual AR-coated Japanese Nikon lens, an IPX7 rating, and a CNC-machined titanium pocket clip. On top of a healthy 1,300-lumen output, this light also features an integrated set of springs that help to achieve a shockproof suspension design. Sold with an included green glow-in-the-dark gasket, this light also comes loaded with 16 tritium vial slots (though the actual tritium vials are sold separately).
Length: 3.38"
Body: Titanium
Max Lumens: 1,300
Surefire E2D Defender Ultra
Made by a veteran-owned and operated brand that primarily deals in silencers and weapon lights, the Surefire E2D Defender Ultra is a premium and thoroughly rugged take on a modern tac light. Equipped with a 656' throw and an output of up to 1,000 lumens, the E2D Defender Ultra is pieced together around a Mil-Spec hard-anodized aerospace-grade aluminum alloy body that's been fitted with Surefire's patended Crenellated Strike Bezel and a scalloped tailcap. Spanning 5.6", the E2D Defender Ultra can also operate on its maximum brightness setting for 2.75 hours on a single charge — or 63 hours on its low mode. Weighing in at just 4.2oz, this light also sports an IPX7 rating, a TIR optic lens, and a dual-function stainless steel clip for bezel-up or bezel-down carrying.
Length: 5.60"
Body: Aluminum
Max Lumens: 1,000
The Best Tactical Combat Knives You Can Buy
If you're interested in tactical flashlights, there's a good chance you'll also want to take a look at our guide to the best tactical combat knives for a curated list of the best CQC backup weapon options.