While one does have the option of hitting the trails year-round — assuming they're armed with the appropriate attire and gear — it's still hard to beat hiking during the summertime. With the year's warmest temperatures, summer makes for an ideal time for camping, hiking, and/or backpacking, though, just like winter, a successful trip requires a few specific pieces of kit.
And with the summer just a few short months away, now is something of the perfect time to start assembling your warm-weather hiking gear loadout. So, with this in mind, we've thoroughly scoured the hiking and outdoor gear segments, hand-selecting some of the latest and greatest products on the market along with some existing tried and true classics in this guide to the best summer hiking gear essentials.
LifeStraw Peak Series Water Filter
LifeStraw's latest survival water filter model, the Peak Series Straw is a stellar piece of kit that can eliminate some 99.999999% of bacteria, parasites, and microplastics from a whopping 1,000 gallons before needing its 0.2-micron filter replaced. Weighing just 2.3oz, this new LifeStraw is not only more effective but is also markedly more durable, having been crafted from a premium array of materials. A removable threaded bottom cap also allows the Peak Series straw to be connected to gravity hoses or water bottles.
Swiftwick Aspire 7
Produced in four sizes and seven different color options, Swiftwick's Aspire 7 was technically engineered as a pair of purpose-built cycling socks. However, its moisture-wicking, quick-drying spandex-infused nylon-Olefin blend, minimum compression fit, fatigue-mitigating arch support, and ability to prevent blisters collectively make it a great choice for hiking trails. Made in America, these plush socks also sport channeled uppers, a seamless toe-box, a ventilated mesh footbed, a Y-shaped heel, and midfoot arch-band support.
MyMedic Hiker Medic
Weighing only 5.4oz and coming in an ultra-compact package, MyMedic's Hiker Medic kit is an American-made first aid kit that was built out by experts specifically to address the needs of hikers and backpackers. As such, the kit features ten different bandages, water disinfection tablets, alcohol prep pads, two packs of antibiotic ointment, a set of SuperSkin blister tape, two packs of ibuprofen, two packs of burn gel, a thermal insulation Space Blanket, an emergency whistle, two packs of KOKOS drink mix, two insect sting and bite relief packs, two packs of lip balm, two Diphen packs, and 25' of paracord.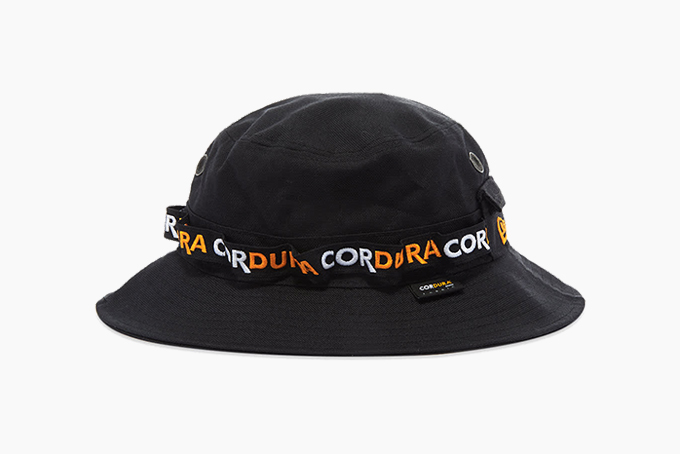 New Era Adventure CORDURA Bucket Hat
Capable of withstanding just about anything one might encounter while out on the trails, this New Era bucket hat is insanely durable, having been crafted from ballistic-grade CORDURA fabric. In addition to its ultra-hardwearing construction, this classic Boonie-style design has also been supplemented with CORDURA-branded webbing, an adjustable chin-strap, and metal mesh drainage and ventilation points.
Patagonia Quandary Shorts
A fantastic pair of warm weather hiking shorts, Patagonia's Quandary model packs just about every feature and amenity one could hope for from a set of trail shorts. Sporting a relaxed fit with a 10" inseam, the Quandary Shorts are made from a lightweight, stretch-woven, spandex-infused nylon blend that's derived from recycled content and equipped with a durable water-repellent finish and 50+ UPF sun protection. On top of a secure zippered pocket, these shorts also boast a curved waistband and a gusseted crotch that allows for an unrestricted range of motion.
Proof 72-Hour Merino Tee
Produced in a whopping 18 different color options, Proof's 72-Hour Merino Tee may look like your average shirt, however, this tee is cut from an advanced construction comprised of a 16.5-micron merino wool and nylon blend with absolutely remarkable moisture-wicking, quick-drying, temperature regulating, and antimicrobial properties. Not only does this material make for a supremely comfortable garment, but it was also designed to be worn for up to three days at a time between washes — hence the genuinely apt "72-Hour" name.
Fenix HM65R-T Headlamp
A new and improved version of Fenix's best-selling HM65R Headlamp, the T-spec is a rugged and robust headlight that's constructed around a hardwearing magnesium housing. Impact-resistant to 6.6', this LED headlamp boasts an independently controlled spotlight and a floodlight that are backed by Luminus SST40 white and Cree XP-G2 S3 neutral white LED emitters that are collectively good for a maximum output of 1,500 lumens. Other details include a battery level indicator, a constant current circuit, reverse polarity protection, a USB Type-C rechargeable 3,400mAh battery, and Fenix's patented rotary press-pull clasp headband which can easily be adjusted using just one hand.
Snow Peak X-Pac Nylon Waist Bag
Originally developed for sails on racing yachts, X-Pac sailcloth is a remarkable next-gen composite that's insanely rugged and resistant to tears and completely impervious to the elements while weighing practically nothing. These properties make it an excellent choice for use in outdoor gear such as Snow Peak's X-Pac Nylon Waist Bag. Built around an X-Pac shell with a polyester lining, this 3.2oz hip pack features a buckle-top closure, internal organizer pockets, and a long adjustable strap that allows it to be worn on the waist like a fanny pack or across the body like a sling bag.
VSSL Camp Supplies Mini SUUNTO Edition
Backed by a lifetime warranty, this limited edition kit from VSSL contains more than three-dozen pieces of essential outdoor and camping items that all neatly stow away in an ultra-compact and rugged military-grade aluminum housing. This includes a first aid kit, a razor, needles and thread, 10 waterproof matches and a striker, five waterproof Tinder Quick-fire starters, and 25' of marine-grade rope — all in a cylinder that's capped off with a four-mode LED flashlight on one end and a best-in-class SUUNTO KB-14 mechanical compass on the other.
Matador Beast18 Ultralight
Made from a durable UTS-coated 210D Robic nylon that's wrapped around a flexible frame suspension with an innovative spring steel chassis, Matador's Beast18 Ultralight is an 18-liter backpack that was designed specifically for use on the trails. Its main clamshell-style compartment has been outfitted with an asymmetrical zipper closure and a bevy of internal pockets and organizers, as well as a sleeve to accommodate a hydration bladder of up to three liters. Outfitted with a padded back panel and breathable mesh shoulder straps, this entire bag is also packable and can be broken down and stored in a tiny included stuff-sack.
Vargo Titanium Para-Bottle
The Vargo Titanium Para-Bottle is an incredibly lightweight yet rugged water bottle that boasts a 34-oz (1-liter) capacity while tipping the scales at just 9.8oz. Compatible with standard filters, the bottle — which measures 8.5" H x 3.3" D — also sports a unique geometric cap design that's machined from titanium and linked to the bottle via 7' of braided paracord.
66 North Reykjavík Hiking Pants
Engineered from the ground up to be something of the ultimate pair of hiking pants, the 66 North Reykjavík Hiking Pants are made from an advanced technical material known as Air TECH fabric — a lycra-infused polyamide stretch construction that's simultaneously breathable and wind- and waterproof. A classic five-pocket setup on the pants has also been supplemented via a pair of low-profile cargo pockets, affording a surprising amount of secure storage space.
Benchmade 15017-1 Hidden Canyon Hunter
Benchmade's 15017-1 Hidden Canyon Hunter is a 6.42" fixed blade knife with a full-tang CPM-S90V drop point blade that's equipped with handles made from a combination of Richlite and orange G-10. Despite its somewhat diminutive dimensions, the Hidden Canyon Hunter punches well above its weight, offering the utility and performance of blades twice its size in a compact and well-calculated package. This knife also comes with an included custom Kydex sheath that weighs less than an ounce.
Julbo Explorer 2.0 Glasses
Another hardwearing item that's backed by a lifetime warranty, the Julbo Explorer 2.0 Glasses were designed specifically for adventure, and as such were built to be as durable as possible. The high-end hiking glasses are constructed around a polycarbonate frame that houses a set of UV-protected ZEBRA Lenses that are crafted from ultra-shatterproof NXT — a construction that's typically used to craft the windshields of helicopters. Sold with an included neck cord, these glasses also feature adjustable temples and removable side shields.
Naglev Combat WP
A truly remarkable piece of footwear, Naglev's Combat WP boots are crafted from a single sheet of Kevlar that's pieced together using stitching and seams that are sealed with gaskets and tape, thereby eliminating weak points found on traditional hiking boots. Lined with a breathable and waterproof membrane made from wool, these Italian-made boots also feature a tanned leather and coconut fiber footbed, an integrated speed lacing system, a TPU rand, a dual-density EVA midsole, elastic ankle bands, and a natural rubber outsole — the latter of which, along with the footbed and inner boot, are replaceable.
YETI Hopper M20 Soft Cooler Backpack
Offered in a trio of color choices, the YETI Hopper M20 is a soft backpack-style cooler that was designed for off-grid exploration and adventure. The cooler features a UV-resistant DryHide high-density fabric shell and is insulated using closed-cell ColdCell insulation. Additional thermal retention is afforded through the use of the Hopper M20's innovative and magnet-equipped MagShield Access opening and closure system. Using a 2:1 can-to-ice ratio, this cooler can also accommodate 18 full-size 12oz cans of your favorite beer or beverage.
Aclim8 COMBAR FoldaXe Pro
A streamlined version of Aclim8's Red Dot Design Award-winning outdoor survivalist multi-tool, the COMBAR FoldaXe Pro offers the immense durability and utility of its predecessor in a more compact form. Protected by an international lifetime warranty, this multi-item tool is comprised of an ultra-rugged glass-reinforced polymer hollow handle that's mated to a folding hardened 420J2 stainless steel blade ax head that's reinforced via 7075T6 aircraft hard-anodized aluminum. Stored in a rail-guided magazine inside the handle is also a folding saw and fixed blade knife.
On Waterproof Anorak
A more technical and high-end take on a traditional anorak, this jacket from On lacks insulation, making it a great choice for those rare summer days where the sky opens up. Weighing only 7.62oz, this anorak jacket massively benefits from the use of a premium three-layer membrane that's windproof, waterproof, and fully breathable, as well as an environmentally-friendly DWR treatment. By using hydrophilic elements in the jacket's lining, moisture from the body is wicked away and pulled to the outside of its triple-layer membrane.
Garmin fēnix 5 Plus Smartwatch
Unequivocally one of the world's most advanced outdoor-specific smartwatches, the Garmin fēnix 5 Plus offers a host of functionality right from your wrist including GPS capabilities, health and fitness tracking, weather reports, music storage, smart notifications, Garmin Pay contactless payment, and texting, just to name a few. The watch is constructed around a 47mm fiber-reinforced polymer case that packs a 1.2" display set under sapphire glass and a bezel made from either stainless steel or titanium. Also armed with a three-axis compass, gyroscope, barometric altimeter, and multi-satellite GPS, this watch boasts a battery that offers up to 12 days of life in smartwatch mode, or roughly 8 hours of life using GPS.
Garmin Inreach Explorer+
A literal lifeline to the outside world, Garmin's Inreach Explorer+ is a cutting-edge satellite communicator that comes armed with PS functionality and a host of supplementary features. This includes preloaded DeLorme TOPO maps with onscreen GPS routing, live weather reports, an interactive SOS function, and an onboard digital compass, barometric altimeter, and accelerometer. Capable of being paired with a smartphone or mobile device, this IPX7-rated sat comm also offers two-way messaging via the global Iridium satellite network, meaning you don't need a cell signal to contact civilization.
The Best Hiking Boots for Men
Every quality hiking loadout starts with a good pair of boots, so if you haven't already armed yourself with a decent pair, we urge you to head over to our guide to the best hiking boots for the latest and greatest pieces of trail-specific footwear currently on the market.