Even when only on the trail for a few hours, hiking still takes a major toll on your feet, putting them through abuse for extended durations. Hiking boots obviously play a pivotal role in fortifying your feet— providing the necessary protection from abrasions, impacts, and the elements while still affording the necessary agility needed for hiking — though socks undoubtedly also play a key part in protecting your feet and keeping them comfortable, preventing blisters and providing cushioning that functions similarly to a vehicle's suspension system, soaking up bumps and impacts and softening forces before they reach the bottom of your feet.
Despite admittedly being one of the less-exciting segments in the outdoor gear space, hiking socks offer such a vital function and can legitimately be the difference between a comfortable day on the trail and an afternoon of blisters, foot sores, and general agony. For this reason, a growing number of reputable outdoor brands have dedicated time and resources to engineering cutting-edge high-performance hiking socks that are developed specifically for prolonged use on the trail. And it's this crop of footwear that we'll be highlighting today in this guide to the best hiking socks.
Hiking Boot Base Layers
Unpacking The Finer Points Of Performance Hiking Socks
Whether you're out for an afternoon on your local footpaths or you're taking on all 2,190 miles of the Appalachian Trail, being armed with a quality pair of hiking socks is a must. In order to get a quality pair, it helps to have a general understanding of what makes hiking-specific socks unique, as well as what factors to take into consideration when shopping.
Construction: When hiking, you take exponentially more steps than in normal everyday life in town or the city. This, coupled with the fact that hiking trails are markedly more rugged and unforgiving than paved urban areas, makes it easy to understand why hiking socks need to boast thicker, more durable constructions that can stand up to literally thousands of miles of use. Because of this reality, most premium hiking socks sport thick and robust constructions, often with reinforced stitching and/or supplementary padding. Being such an important area, manufacturers will very seldom fail to list the primary material their respective socks are crafted from, making it pretty easy to check into this particular aspect.
Moisture-Wicking & Quick-Drying: It probably won't come as a shock to learn that spending prolonged hours trekking up and down trails and switchbacks tends to result in sweaty feet. Because keeping your feet dry when hiking is of such tremendous importance, it's become increasingly common to see hiking-specific socks bestowed with quick-drying and moisture-wicking properties that afford better breathing and airflow while hastening drying times when perspiration does occur.
Antimicrobial Properties: Quick-drying socks are a game-changer, though when sweat dries — no matter how fast — it leaves behind unpleasant odor-causing microbes and bacteria. The solution to this problem lies in constructions that have been infused with materials or technologies with antimicrobial properties that naturally destroy bacteria and odor. It really is hard to overstate just how much of a difference socks with antimicrobial properties can make.
Cushioning: Most of today's more high-end hiking socks sport a construction that's been supplemented with extra cushioning, affording the socks with numerous benefits. When bestowed with cushioning, socks can better absorb impacts, prevent blister-causing "rub-up areas," and generally bolster comfort. The thicker nature of well-cushioned hiking socks also prevents them from being eaten through and worn down over time from extended use, making them wonderfully conducive to trail use. What's more, the thicker, cushioned socks can actually improve the form of your gate and step.
Fit & Cut: Another area in which hiking socks differ is fit, with some models employing a more traditional style of construction while others opt for a smaller-sized sock infused with amounts of lycra or spandex that afford stretch properties. This mainly comes down to personal opinion on which is more comfortable. In terms of cut, you want to make sure the sock extends up your foot beyond the top of the boot's collar (i.e. don't pair a high-top set of boots with crew or ankle-length socks).
Thickness: Aside from cushioning, hiking socks are crafted in a range of different thicknesses in order to suit an equally wide range of hiking applications and climates. Obviously, the thicker more robust hiking socks will afford better warmth and comfort, though the extra material mitigates breathing. On the flip side of the coin, there are thinner socks designed for use in warmer settings. There are also middle-weight items that fall in between the two.
Brand: Even with different colors, cuts, and patterns, a lot of today's hiking socks are pretty similar, making it difficult to distinguish the more premium pairs for the cheaper budget offerings. One fairly surefire way of ensuring you get your hands on a quality pair is to buy from one of the more elite, high-end brands in the space. Even a company makes hand-crafted $300 European hiking boots, you can generally assume the same level of quality and craftsmanship will be on display with the same brand's hiking socks.
First-Rate Footwear
The Dozen Best Hiking Socks Currently On The Market
Now that you've got a better sense of what makes for a quality pair of trail socks and what elements to take into consideration when shopping, let's go ahead and dive into our picks for the 12 best hiking socks currently out there.
REI Co-op COOLMAX EcoMade Lightweight Tech Hiking Quarter Socks
These performance hiking socks from REI Co-op are made from COOLMAX EcoMade Fabric, which is a poly-nylon blend where the polyester content is derived from recycled plastic water bottles. Made in America, this pair sport a seamless toe construction that prevents chafing, spandex yarn encompassing the foot that provides additional arch support, and nylon stretch and reinforcement at the heels, toes, footbed, and achilles that collectively afford the socks ample durability.
Construction: COOLMAX EcoMade Fabric & Polyester
Antimicrobial: No
Cushioned: Light
Cut: Quarter
Hoka One One Performance Crew Socks
As the makers of some of the most innovative, high-performance shoes on the planet, it's frankly unsurprising that the envelope-pushing team at Hoka One One would also know a thing or two about how to craft some equally high-performance socks. The brand's Performance Crew Socks are anatomically designed and feature a seamless toe construction and ample arch support. Manufactured in a trio of color options, these lightweight socks' poly-nylon material has been infused with both elastane to add four-way stretch and odor-neutralizing antimicrobial properties.
Construction: Elastane-Infused Nylon & Polyester
Antimicrobial: Yes
Cushioned: No
Cut: Crew
Bombas Performance Hiking Calf Socks
When Bombas first entered the hiking sock space it came out swinging with a high-performance, lightweight, and overly-engineered pair of trail-specific socks that are brimming with features and technology. This includes thermoregulating technology, a combination of rubber and spandex added to the cotton-poly-nylon blend, a seamless toe construction, full-length cushioning along the entire foot and leg, and Bomba's proprietary honeycomb arch support system and Y-stitched heel. Also, for every pair sold, Bombas donates a pair of socks to a homeless shelter.
Construction: Nylon, Rubber & Spandex-Infused Poly-Cotton Blend
Antimicrobial: No
Cushioned: Heavy
Cut: Calf
Smartwool Hike Medium Crew Socks
Smart wool has long been one of the most revered brands in the outdoor socks space and is always well-worth considering when shopping for a new pair. The brand's Hike Medium Crew Socks are made in America and bestowed with medium-density cushioning across the bottom of the foot. Natural moisture-wicking properties are also afforded by the Merino wool construction while its one-third nylon blend adds extra durability.
Construction: Elastane-Infused Wool & Nylon Blend
Antimicrobial: No
Cushioned: Medium
Cut: Crew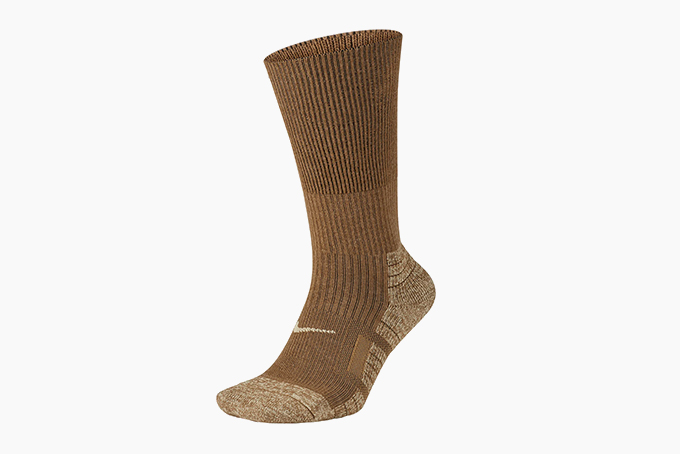 Nike Special Field Socks
Not unlike Nike's ACG lineup, the activewear brand's Special Field Training Crew Socks represent a thoroughly modern and tech-laden take on a rugged pair of performance outdoor socks. Offered in OD green, coyote, or black, these socks sport strategically-placed zonal cushioning, along with temperature-adapting and sweat-wicking yarns, reinforced heels and toes, elastic ribbing at the cuff, and anatomical toe seams. In addition to boasting ample comfort and performance, these performance socks were built to last.
Construction: Spandex-Infused Poly-Nylon, & Wool Blend
Antimicrobial: No
Cushioned: Medium
Cut: Calf
Injinji 2.0 Outdoor Midweight Crew Nuwool Socks
While not everyone enjoys rocking toe socks, they do undeniably offer the benefit of preventing skin-to-skin contact between the toes, hugely mitigating the likelihood of blister and sore formation. What's more, the toes tend to be the sweatiest and most odor-prone part of the foot, and spacing them out with each toe's own slot affords better sweat-wicking, amplifying the naturally-occurring properties of the Merino wool that comprises 43% of these sock's construction.
Construction: Lycra-Infused Wool, Acrylic, & Nylon Blend
Antimicrobial: No
Cushioned: Medium
Cut: Crew
Patagonia Lightweight Merino Performance Crew Socks
A sustainable yet no less high-performance take on a pair of hiking-specific outdoor socks, Patagonia's Merino Performance Crew Socks are made in America using Responsible Wool Standard-certified Merino. The socks feature mesh arch braces that help to optimize fit, soft terry-loop footbeds that provide a generous layer of cushioning, and an engineered pattern across the top of the foot for added stretch and airflow. Patagonia also produces this exact same cut and construction in a variety of different colors, patterns and designs. including multiple vintage-inspired items.
Construction: Lycra-Infused Merino Wool & Nylon Blend
Antimicrobial: No
Cushioned: Light
Cut: Crew
Darn Tough Hiker Micro Crew Midweight Socks
Darn Tough is another highly trusted name in the outdoor sock space, offering just the right blend of performance, comfort, and durability. Manufactured in Vermont in more than half-a-dozen color options, these socks are designed for real-round use and are protected by a generous unconditional lifetime warranty. Other noteworthy details include a "True Seamless" toe construction and a nylon and lycra-infused Merino construction that packs natural moisture-wicking and antimicrobial properties.
Construction: Lycra-Infused Merino Wool & Nylon Blend
Antimicrobial: Yes
Cushioned: Medium
Cut: Crew
Danner Midweight Trail 2650 Socks
Danner Boots' 2650 is one of the American boot brand's most popular product ranges, comprised of more than three dozen model variants — including a new all-weather GORE-TEX Campo-spec released last week. Fittingly, Danner offers a sock counterpart to its 2650 boot, that's made in America from a spandex-infused and nylon-reinforced non-mulesed Merino wool blend. In addition to fatigue-mitigating arch support, ample cushioning and ventilation, and a seamless toe design, the 2650 socks also boast Danner's silver-based HeiQ Antimicrobial compound to eliminate bacteria and odor.
Construction: Spandex-Infused Merino Wool & Nylon Blend
Antimicrobial: Yes
Cushioned: Medium
Cut: Crew
adidas Terrex Techfit Primegreen Traxion Crew Socks
Since entering the trail-running and hiking spaces with its Terrex product line, adidas has consistently delivered a range of high-performance, cutting-edge items backed by ample science and real-world field testing — including from some of the most elite runners and athletes on the planet. And such is the case with the brand's Terrex Techfit Primegreen Traxion Crew Socks, which are composed of adidas' Primegreen material ( a recycled poly-nylon blend) and feature a flat toe seam and unrivaled amounts of arch and ankle support.
Construction: Elastane-Infused Recycled Poly-Nylon Blend
Antimicrobial: No
Cushioned: Light
Cut: Crew
Zamberlan Hiking Path Merino Socks
Zamberland is a boutique Italian company that produces ultra-exacting footwear and outdoor gear that's designed for use in alpine conditions and is characterized by its immense quality and attention to detail — all traits that are readily apparent on the company's Hiking Path Merino Socks. Made in Italy, these socks offer varying levels of circulation0improving compression at different points across the foot and are crafted from a super high-end extra-fine Merino wool that affords better temperature regulation than regular blends.
Construction: Elastane-Infused Extra-Fine Merino Wool & Nylon Blend
Antimicrobial: No
Cushioned: Heavy
Cut: Crew
La Sportiva Hiking Socks
Here we have yet another objectively premium pair of Italian-made socks from a highly-regarded boutique outdoor brand. Just like with the Zamberland socks above, La Sportiva's Hiking Socks are made from an extra-fine Merino wool blend that's infused with elastane and rugged nylon. Though the pair does cost a bit more than the others, these socks really do a wonderful job at standing up to heavy use over long periods without deteriorating or losing their elasticity. This calf-length sock is also produced in three color choices, making it easy to color-identity which pair is which when packing or unpacking at camp.
Construction: Elastane-Infused Fine Merino Wool & Nylon Blend
Antimicrobial: No
Cushioned: Light
Cut: Calf
The 25 Best Hiking Boots For Men
As crucial as socks are to a proper hiking loadout, the reality is footwear performance ultimately starts at the shoe. So, with this in mind, if your trail stompers are a bit long in the tooth, you may want to consider checking out a new pair from our guide to the best hiking boots for men for more than two dozen of the finest and most cutting-edge pairs that money can currently buy.