Aug 13, 2018
Category: Gear
Perhaps the oldest tool known to mankind, knives are still one of the most important things anyone can have on them – whether that's for everyday carry, in the great outdoors, or as an emergency contingency plan. And while there is an increasing amount of popularity with folding knives, sometimes a knife with no moving parts is more reliable, durable, and useful.
Fixed blades have been a part of human culture since the dawn of time, and their importance has not waned a bit. In fact, there are more options on the market today than there ever have been over the course of recorded history. And while that's great news for anyone who wants to carry one, it also means the market is pretty flooded. So, how does one determine which fixed blade deserves their time and money? Well, you can start here with our list of the 20 best fixed-blade knives.
Smith & Wesson SWHRT9B Fixed Blade
Simple and sleek in its construction, this might be the ultimate budget fixed-blade ever built. It features a high-carbon 7Cr17MoV blade mated to a sturdy and easy-to-grip rubberized handle. It's not an apocalypse survival knife, but for the price you can't argue with the value. It also comes with a sheath for easy carrying, whether you attach it to your boot or your belt.
Morakniv Companion Fixed Blade Knife
The price versus value proposition of Morakniv's Companion fixed blade knife is practically laughable – meaning you get way more than you pay for out of this simple and stylish outdoor-focused cutting tool. With its Sandvik stainless steel blade mated to a grippy rubberized handle, this tough little titan is an excellent companion to keep at your side whether you're field dressing small game or just cutting up kindling before you build a campfire.
CRKT x Burnley Obake Fixed Blade Knife
Lucas Burnley is one of our all-time favorite knife designers, and with collaborations like the CRKT Obake fixed blade, it's easy to understand why. With its Japanese-inspired design, comfortable cord-wrapped handle, and small stature (it's only 7.63″ overall), this unique and stylish little cutting tool is as perfect for everyday carry as it is an excellent hideaway contingency plan in the great outdoors.
Ontario 499 Air Force Survival Knife
The American military is a pretty extensive organization, which means they need to rely on many makers to build some of their most trusted tools. One such maker is the Ontario Knife Company out of New York State. As you might imagine from its name, this knife was built for the Air Force as a survival contingency tool – meaning it is an excellent outdoor survival blade, as well as a combat knife. From its saw-back blade to the sturdy leather handle, this is a fixed blade you can bet your life on – literally.
Cold Steel 17T Kobun Tanto Fixed Blade
Another Japanese-style fixed blade, Cold Steel's 17T Kobun Tanto looks like something you might find on the belt of a samurai, but it's also built from modern materials that make it an excellent contender for the contemporary knife enthusiast. Its AUS-8A steel blade is sturdy and dependable, while the Kraton handle is as durable as they come. Striking the perfect balance between style and substance, this fixed blade has got you covered.
Ka-Bar USMC Fighting Knife
Few knives in the world are as legendary as the Ka-Bar USMC Fighting Knife. Truly, there's not much to be said about this superb blade that hasn't already been etched into the annals of history. As intimidating in its appearance as it is sturdy and functional, this might be the ultimate survival combat knife ever made – which is only bolstered by its partially-serrated 1095 Cro-Van steel blade and comfortable leather handle. A considerable value, there's a reason the USMC has continued to use this particular knife since the 1940s.
Gerber StrongArm Fixed Blade Knife
Considerably more modern and tactical in its design than some of the other knives on this list, Gerber's StrongArm fixed blade certainly has an edge (no pun intended) when it comes to contemporary style. But don't think that this blade is just looks, because that style is backed up by some excellent materials – including a ceramic-coated 420HC blade, a glass-filled nylon handle, and a rubber overmold. It even has a glass-breaker pommel for emergency responder applications.
Boker Plus Rold Scout Fixed Blade
There's no denying Boker's prowess when it comes to folding knives, but they also make a mean fixed blade. On the smaller end of the spectrum, their Rold Scout is no less a sturdy and reliable cutting tool perfect both for EDC and outdoor applications. And while its materials are quite impressive – notably its D2 steel blade – the whole package is bolstered by the fact that it comes with the brand's lifetime warranty. This knife won't let you down.
Buck Knives 119 Special Fixed Blade
Gorgeous in its classic bowie knife silhouette and with materials to match – we're looking at you, cocobolo wood handle – this definitely ranks amongst our favorite Buck Knives offerings ever created. And that's a pretty elite list to make, considering how excellent the American-made brand's catalog is. As beautiful as it is functional, this knife is an heirloom piece you can be proud to pass down to future generations.
Helle Saga Siglar Knife
We've seen an uptick in Scandinavian-styled blades lately – both folding and fixed blade. But you can still count on the folks that hail from the actual European north to make the best ones on the market. One such offering is the Helle Saga Siglar – a carbon steel and curly birch wood small-scale knife that's modeled after the classic Viking knives of old. Striking in its appearance and with the materials to match, this is a blade for the ages.
Tops Al Mar Mini SERE Operator Knife
Short for Survival, Evasion, Resistance, and Escape – the Air Force's SERE specialists are some of the most elite soldiers in the world. And that means they need ultra-tough tools to pair with their elite training. The Tops Knives x Al Mar Mini SERE Operator fixed blade is built specifically to suit the needs of this exclusive class of soldier, but you don't have to be a member to have one of your own. Truly one of the most impressive knives on our list, this one holds a special place for us.
Civilware Striker Fixed Blade Knife
It seems insane that a professional skateboarder could spearhead one of the most stylishly-sound, everyday carry and outdoor brands out there, but that's exactly what happened when Geoff Rowley formed Civilware. And while we're clearly enamored with the brand's designs, that's helped tremendously by the soundness of their construction materials. Take, for instance, their Striker fixed blade: this knife looks stellar but is also made from elite-level materials, like AEB-L steel, Micarta, and full-grain leather (for the sheath).
ESEE Knives 5P Fixed Blade Knife
If you have even the faintest grip on which brands matter to blade and outdoor enthusiasts, then you should have already heard about ESEE Knives. If not, then now is your chance. Their 5P fixed blade is a superb bushcraft-ready blade built from black-finished 1095 steel and Micarta. Sturdy and no-nonsense, this knife will do right by you for as long as you own it – which is true even in an emergency survival situation, as it also features a glass-breaker pommel.
GiantMouse GMF2 Fixed Blade Knife
In case you're not familiar, the GiantMouse brand is the brainchild of two of the best knife designers currently working – Jens Anso and Jesper Voxnaes. Even if you're not familiar with their names, you can just take a look at their work to see how superb it is – like the GMF2 fixed blade you see before you. A bit sleeker than some of the other outdoor-ready fixed blades on our list, this knife is no less tough as nails and built to last through a lifetime of hard usage.
SOG Super Bowie Fixed Blade
Another brand that has been making gear for the military's elite for decades now, SOG definitely has their finger on the pulse of the tactical community. Their Super SOG Bowie is one of their most impressive offerings to date, with a beefy 7.5″ AUS-8 clip-point blade mated to a leather handle. It also comes with a sturdy leather sheath and is backed by the brand's lifetime warranty – so you never have to worry about whether it can hack it in even the worst of situations.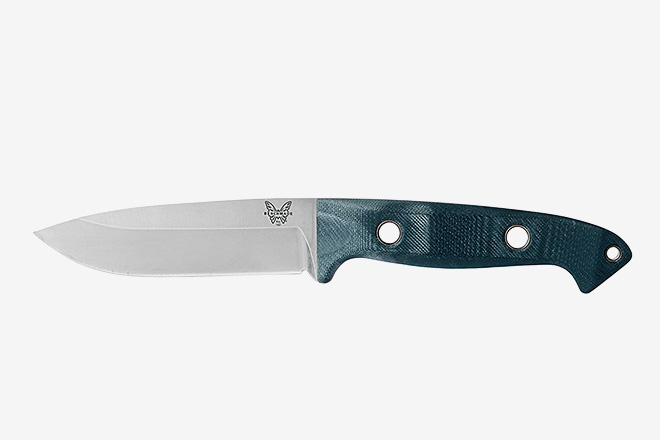 Benchmade Bushcrafter 162 Fixed Blade
One of the most important knife-making brands around today, Benchmade builds some of the most technically sound blades in the world – regardless of whether you're talking about folders or fixed blades. Built for the backcountry, their Bushcrafter 162 is a stylish and incredibly tough knife that even the most hardcore outdoorsman can depend upon day-in and day-out. From its sturdy and lightweight G10 handle to the tip of its drop-point S30V steel blade, this knife is one of the all-time best.
JHO Knives Blanka Fixed Blade
Stout and iconic, JHO Knives' Blanka is definitely one of the most unique fixed blade knives we've ever come across. And while style is not enough to earn it a spot on this list, it's also backed up by its construction of G10 and VG10 steel. Weighing in at only 3.4 ounces and measuring 5.1 inches in total, this tiny titan is one of the ultimate EDC fixed blades ever made.
Spyderco Bradley Bowie Fixed Blade
Certainly known best for their folding knives, Spyderco also offers up one of our all-time favorite fixed blade knives in the Bradley Bowie. A bit more traditionally styled than most of their other offerings (we're looking at you, leaf blade shape), this is an absurdly tough 9.93″ combat knife-inspired blade built from Psf27 steel (similar to D2) and featuring a contoured G10 handle. This is, hands-down, one of our favorite modern takes on the classic bowie knife.
RMJ Tactical Combat Africa Fixed Blade
Designed with a silhouette similar to the fighting knives of WWII, but with all-modern materials, RMJ Tactical's Combat Africa fixed blade knife is one of the most intimidatingly sturdy knives we've ever had the pleasure to gaze upon. And, of course, it isn't just looks – as the tungsten cerakote-finished 7″ 80CRV2 steel blade is as tough as they come, as is its 3D-machined G10 handle.
Best Made Nyala Microsilk Knife
Leave it to Best Made to pair up with Chris Reeve, one of the most legendary knifemakers of all time, and create a knife that is equal parts a gorgeous tool and one of the most technologically-advanced offerings to hit the market. The blade is crafted from S35VN steel – an impressive material in itself – but the star of the show, in this particular case, is the handle. You see, it's built from something called Microsilk – a bio-engineered spider silk that's completely sustainable, beautiful, and all-too-rare. We imagine that Best made has just set the tone for a long line of future blade materials.
The Complete History Of Fighting Knives
Many fixed blade knives have their roots inextricably entwined with combat. Learn everything you need to know in our guide to the complete history of fighting knives.
HiConsumption is reader-supported. When you buy through links on our site, we may earn an affiliate commission. Learn more