Feb 7, 2022
Category: Gear
As is the case with so many gear categories, different formats are typically made to serve vastly different purposes. For instance, everyday carry knives are typically made for medium-duty day-to-day usage — best suited to the kinds of cutting tasks an urbanite might be faced with, like opening packages, removing staples, or trimming lengths of string or rope. However, these folders are not usually built robust enough to handle outdoor usage, and even those made with trail and/or camping usage in mind have a habit of getting gunked up with dirt and grime — requiring them to be disassembled and cleaned frequently in order to continue performing well.
For harder, off-the-beaten-path usage, fixed blades are usually a better alternative. They're sturdier, easier to maintain, and are often actually made for hardcore usage that folders simply cannot manage. However, even amongst the many available fixed blade knives, there are those that stand out for their specialization, overall styling, construction, and more. While it's hard to whittle down a true best-of list of fixed blades, we're pretty confident that we've managed it with the following collection of 20 exceptional non-folding knives you can buy right now.
Morakniv Companion
Don't let the ultra-low-budget price fool you, the Morakniv Companion is a tried-and-true fixed blade designed for true outdoorsmen. It has a simple, albeit sturdy and reliable high-carbon steel blade mated to a grippy rubber handle, and the whole package comes with its own plastic sheath. Ideal as both an entry-level blade and one you can put through its paces without worrying too much, the Morakniv Companion is a champion-level fixed blade at a bargain-bin price.
Steel: Sandvik
Handle: Friction Grip Rubber
Blade Length: 4.1″
Total Length: 8.8″
CRKT Folts Neck Knife
If the idea of carrying a full-sized fixed blade seems a bit too intimidating or perhaps unnecessary, but you still want a tough, durable fixed blade for all your adventures, you might fall in love with the CRKT Folts Neck Knife. Yes, this 5.13″ fixed blade is light and compact enough to carry in its included thermoplastic neck sheath (complete with a length of adjustable cable). But it's formatted to fit your grip perfectly and still feels substantial in your hand. This is proof positive that there is such a thing as compact, discreet carry even when it comes to fixed blades.
Steel: 5Cr15MoV
Handle: Resin-Infused Fiber
Blade Length: 2.125″
Total Length: 5.13″
Cold Steel Safe Maker I Push Dagger
Designed for self-defense, push daggers are about as compact and discreet as fixed blades get, and the Cold Steel Safe Maker I is one of the hands-down best around at any price. It measures up at 6.5″ overall, but a whopping 4.5″ of it is dedicated exclusively to its AUS-8A dagger-style blade. The rest is made up by its Kraton handle — designed to be held in your fist with the blade sneaking between your middle fingers. Of course, for easier hauling, it also comes with its own sturdy Secure-Ex sheath — which can be worn on your belt, boot, or can be attached to a tactical pack.
Steel: AUS-8A
Handle: Kraton
Blade Length: 4.5″
Total Length: 6.5″
Ontario Knife Company 8666 RAT-3
The OKC RAT series is one of the most lauded collections of budget-friendly folding knives around, but not everything with the RAT name is a folder. In fact, OKC has turned the iconic silhouette into an impressive fixed blade, as well — seen here in the 8666 RAT-3. Made to take some serious punishment, this simple, minimalist fixed blade boasts a partially-serrated 1095 steel blade with a durable black finish, grippy and handsome Micarta handle scales, and a full tang that peeks out the butt of the blade — allowing it to serve as both a lanyard attachment point and an ad-hoc blunt striking surface.
Steel: 1095
Handle: Micarta
Blade Length: 3.9″
Total Length: 7.9″
Gerber Strongarm
Don't discount Gerber just because they're a big-name brand you can find at major retailers. In fact, with offerings like the Gerber Strongarm, the brand's easy-to-find-and-afford catalog might be much more of a reason to pay attention to them. This stylish fixed blade features a reliable and easy-to-sharpen 420HC black-finished blade, a glass-filled nylon handle with a rubber overmold, and it comes with a handy multi-mount sheath. That last bit is special because it is MOLLE-compatible and works with belt buckles, backpacks, and more.
Steel: 420HC
Handle: Glass-Filled Nylon W/ Rubber Overmold
Blade Length: 4.8″
Total Length: 9.8″
Civilware Packer Fixed Blade
Inspired by and modeled after fieldcraft blades, the Civilware Packer might not look like a flashy fixed blade, but it has it where it counts. Namely, it features a versatile blade shape crafted from high-end S35VN steel mated to a grippy (in all conditions) G10 handle. Made to be a true do-anything knife, this is the perfect example of a pack-and-go knife — the kind you'll turn to time and time again because it just does everything so damn well.
Steel: S35VN
Handle: G10
Blade Length: 3.35″
Total Length: 7.1″
Buck Knives 113 Ranger Skinner
Buck's most famous knife is probably its aptly named Hunter, which is normally a folding pocket knife (although it did come in a fixed blade format). However, when it comes to fixed blades, we prefer the 113 Ranger Skinner you see here. As the name suggests, this is a knife made to be carried when you're on the move and it is very well-suited to hunting usage with its 420HC drop point blade, Crelicam ebony handle, and its handy genuine leather sheath. Of course, if you want to use this as a moderately discreet do-it-all blade, it can handle that usage beautifully, as well.
Steel: 420HC
Handle: Crelicam
Blade Length: 3.125″
Total Length: 7.25″
KA-BAR Marine Corps Fighting Knife
There are folks out there that would decry the KA-BAR Marine Corps Fighting Knife, suggesting that standard-issue gear is meant to be cheap and expendable. We'd suggest the opposite, however — this knife has an extremely long history of being one of the most reliable tools in a grunt's loadout and, as such, it deserves the utmost respect. Of course, you don't have to be on the battlefield in order to get use out of it, as it's — put bluntly — one of the best fixed blades ever made for any purpose. Attach this knife at your hip and you'll never truly be wanting for another blade.
Steel: 1095 Cro-Van
Handle: Leather
Blade Length: 7″
Total Length: 11.875″
Boker Plus Kwaiken Fixed Blade
The original Lucas Burnley-penned Kwaiken is actually an urban-friendly minimalist folding knife. However, it also has pared beautifully into a fixed blade, as you can see here. It still boasts that same Japanese-inspired design, reminiscent of samurai swords, but it has no moving parts. Furthermore, it has a full-tang Sandvik 14C28N mated to grippy G10 scales and a molded Kydex sheath with a belt adapter. If you want style out of your fixed blade without sacrificing genuine capability, you can trust in the Boker Plus Kwaiken.
Steel: Sandvik 14C28N
Handle: G10
Blade Length: 3.625″
Total Length: 8.375″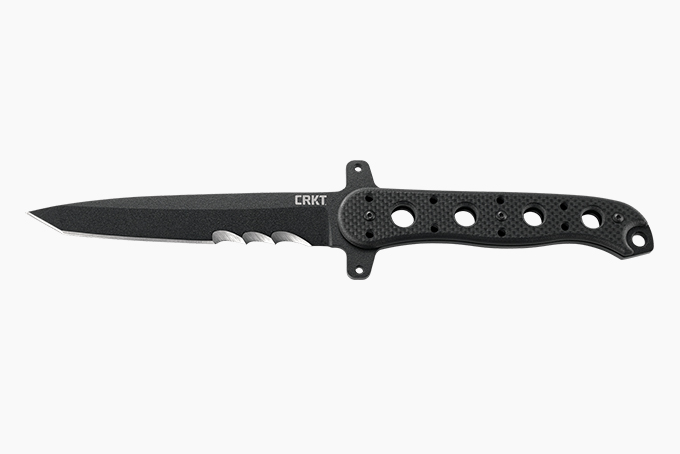 CRKT M16 13FX
Especially when it comes to tactical designs, you can't go wrong with a Kit Carson knife. That goes double for this fixed blade reinterpretation of the designer's iconic M16. This particular edition boasts a black-finished SK-5 blade — marked by partial Veff Serrations — alongside skeletonized G10 handle scales for great grip in a lightweight package. If you're looking for a no-nonsense tactical knife to fill your fixed blade needs, go no further than this one.
Steel: SK-5
Handle: G10
Blade Length: 4.64″
Total Length: 9.38″
TOPS Knives Poker
Not all fixed blades are the kind you might see waved around by the likes of Paul Hogan. Rather, some are intended to be discreet, sneaky, and concealable — without sacrificing functionality, of course. Or at least that's what you'll find in the TOPS Knives Poker. This tiny titan measures up at 6.88″ in total, but only 2.5″ of that is the blade. It also features a silhouette directly inspired by Japanese kiridashi blades, a Micarta handle with a finger hole for an even better grip, and a surprisingly versatile wharncliffe blade shape. Whatever you need this blade for, it will serve its purpose well.
Steel: 1095
Handle: Micarta
Blade Length: 2.5″
Total Length: 6.88″
ESEE Knives ESEE-5PB-002
It is functionally impossible to pick out the best ESSEE fixed blade knife, full stop. Truly, this brand has an intimidatingly deep catalog loaded from end-to-end with exceptional knives. So we'll settle for just picking one that fits squarely in the middle — the 5PB-002 you see here, to be exact. At 11″ with a 5.25″ blade, it's big without being unmanageable and still compact enough to stash in or on a pack. The powder-coated finish on its 1095 blade and canvas Micarta handles aren't bad touches, either.
Steel: 1095
Handle: G10
Blade Length: 5.25″
Total Length: 11″
Quiet Carry The Current
While Quiet Carry calls The Current a "culinary cooking knife," we'd implore potential buyers to perhaps look a bit closer at this, as we're confident in the claim that this is far more than just an outdoor chef knife. In fact, its practically rustproof LC200N steel blade, machined G10 handle scales, and blade-favoring silhouette have us itching to take this bad boy out on the trails to put it through its paces. It's also available with your choice of a Kydex or leather sheath, giving users the ability to haul it along anywhere and everywhere — which you might very well want to when you realize just how useful it truly is.
Steel: LC200N/Z-FiNit
Handle: G10
Blade Length: 3″
Total Length: 7.23″
Helle Knives Les Stroud Mandra
If the name Les Stroud sounds familiar to you, it's probably because you know it from Discovery's Survivorman show — yes, Les Stroud is the Survivorman himself. And it's pretty safe to say that he knows a thing or two about the kinds of tools one might need for outdoor adventure. It's this expertise that has earned this particular Helle Knives design a spot on our list. Marked by a triple-laminated steel blade, a beautiful curly birch wood handle, and a pared-down Scandinavian-inspired silhouette that's extremely versatile, this compact cutting tool is perfect for those that want to save some weight and space without sacrificing usefulness.
Steel: Triple-Laminated 18/8
Handle: Curly Birch & Vulcan Fiber
Blade Length: 2.7″
Total Length: 5.8″
Victorinox Outdoor Master Mic L
Believe it or not, the Outdoor Master Mic L was recently released as a part of a pair — marking the brand's first-ever fixed blade releases. And, in classic Victorinox fashion, it turned out to be pretty spectacular. Crafted with a silhouette reminiscent of classic bushcraft blades, this is an outdoor cutting tool through-and-through — made specifically with versatility and hardcore usage in mind. That includes features like a full-tang high carbon steel blade, grippy and gorgeous Micarta scales, and a tough-as-nails Kydex sheath. Equal parts fashion and function (with perhaps a touch more focus on function), this is a pretty spectacular first attempt at a fixed blade for Victorinox.
Steel: 1.4116
Handle: Micarta
Blade Length: 3.94″
Total Length: 8.7″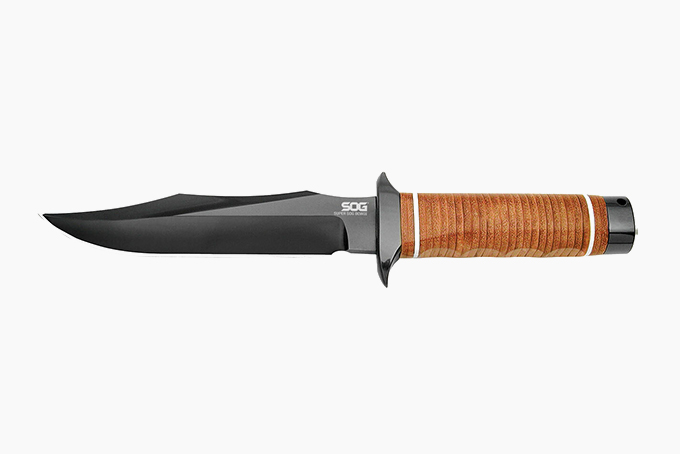 SOG Super Bowie
The bowie knife was actually the blade that gave SOG its start and, if the SOG Super Bowie is any indication, that's not a fact that the brand has forgotten — not by a long shot. In fact, this fixed blade is actually designed to pay homage to the company's inaugural offering while also improving upon it in some ways. The result is a hefty fighting knife made for military usage marked by a 7.5″ TiNi AUS-8 steel blade with a matching crossguard and pommel, a classic leather handle, and a gorgeous leather sheath. Put simply: this blade means business and you can rely on it to help you through any and all dire situations.
Steel: AUS-8
Handle: Leather
Blade Length: 7.5″
Total Length: 12.88″
Benchmade 375FE-1 Fixed Adamas Knife
Originally designed as a folder, Benchmade's Adamas with its tactical, military influence made for the perfect starting point for a hardcore fixed blade. Of course, the silhouette was only step one — the brand then pared it down as much as possible (including crafting a skeletonized handle), built the whole thing from D2 tool steel, and got creative with the jumping to ensure users would have a solid grip whether they used the knife with a paracord wrap or not. And if that's not enough to pique your interest in this formidable USA-made fixed blade, perhaps you'll be enticed by the fact that it comes slapped with a lifetime warranty.
Steel: D2
Handle: D2
Blade Length: 4.2″
Total Length: 9.17″
Spyderco Bradley Bowie
Best known for their instantly recognizable tactical folding knives (most with the brand's signature thumb hole), Spyderco is also no stranger to fixed blades. In fact, it's pretty hard to pick just one; but we've settled on the Bradley Bowie you see here. This sturdy cutting tool is marked by a PSF27 tool steel, 3D-machined G10 handle scales, and a pair of through-and-through lanyard holes for paracord attachment. Expertly designed by Gayle Bradley, this is a fixed blade to keep on your radar, so long as it fits in your price range.
Steel: PSF27
Handle: G10
Blade Length: 5.13″
Total Length: 9.93″
The James Brand Hell Gap
Having thoroughly made their mark in the everyday carry world, The James Brand turned its sights on something a bit more robust — resulting in the absolutely spectacular Hell Gap fixed blade knife. While the minimalist styling is still very much in line with the rest of the brand's design language, this knife is much more outdoor-friendly thanks to its format along with its Micarta handles, versatile CPM-S35VN drop point blade, lanyard hole, etc. As if that's not enough to get this cutting tool on your radar, it was also made here in the USA.
Steel: CPM-S35VN
Handle: Micarta
Blade Length: 3.8″
Total Length: 7.8″
Chris Reeve Pacific
Back in 2007, Blade Show named the Chris Reeve Pacific the American-Made Knife of the Year. The fact that its still relevant and amongst the greatest fixed blades to this day should go a long way to telling you just how impressive it is. Of course, if its appearance and accolades aren't enough, perhaps its specs are: a corrosion-resistant CPM-S35VN steel blade, sturdy and gorgeous Micarta handle scales, available serrations, and a canvas multi-cam sheath. This isn't your average military fighting knife; it's an apex predator made to do work.
Steel: CPM-S35VN
Handle: Micarta
Blade Length: 6″
Total Length: 11.5″
The 10 Best Throwing Knives
The above is only a fraction of the many, many fixed blades presently available. If you want to dip your toes into the category a bit more, you could always have a gander at our guide to the best throwing knives — of which all are also fixed blades.
HiConsumption is reader-supported. When you buy through links on our site, we may earn an affiliate commission. Learn more