As is the case with so many gear categories, different formats are typically made to serve vastly different purposes. For instance, everyday carry knives are typically made for medium-duty day-to-day usage — best suited to the kinds of cutting tasks an urbanite might be faced with, like opening packages, removing staples, or trimming lengths of string or rope. However, these folders are not usually built robust enough to handle outdoor usage, and even those made with trail and/or camping usage in mind have a habit of getting gunked up with dirt and grime — requiring them to be disassembled and cleaned frequently in order to continue performing well. For these purposes, we recommend a solid fixed blade knife. And, while it's hard to whittle down a true best-of list of fixed blades, we're pretty confident that we've managed it with the following list of exceptional non-folding knives you can buy right now.
Best Fixed Blade Knives Rundown
Best Budget Fixed Blade

Morakniv Companion

Best Neck Knife

CRKT Folts Neck Knife

Best Bang For Your Buck

Ontario Knife Company 8666 RAT-3

Best Hunting Fixed Blade

Buck Knives 113 Ranger Skinner

Best Survival Fixed Blade

Ka-Bar Marine Corps Fighting Knife

Best Overall Fixed Blade

Esee Knives 5PB-002

Best Camp Kitchen Fixed Blade

Quiet Carry The Current

Best Tactical Fixed Blade

SOG Super Bowie

Best Minimalist/Designer Fixed Blade

The James Brand Hellgap

Best Premium Fixed Blade

Chris Reeve Pacific
Why Carry A Fixed Blade?
While there's certainly a time and place for folding knives, it's almost always going to be a better choice to carry a fixed blade knife when you need a true workhorse (harder, off-the-beaten-path usage) that will not fail you. They're sturdier, easier to maintain, and are often actually made for hardcore usage that folders simply cannot manage. But, the key selling point for fixed blades is that they have no moving parts, and moving parts lead to failure. Of course, the full tang longer blades also allow for more leverage when performing more labor intensive tasks. If you plan on carrying an EDC fixed blade, be sure to check your local laws and regulations for compliance.
Morakniv Companion
Pros
There's no better value on the market
Cons
The materials & construction are good for the price, but they don't compare to pricier options
Best Budget Fixed Blade: Don't let the ultra-low-budget price fool you, the Morakniv Companion is a tried-and-true fixed blade designed for true outdoorsmen. It has a simple, albeit sturdy and reliable high-carbon steel blade mated to a grippy rubber handle, and the whole package comes with its own plastic sheath. Ideal as both an entry-level blade and one you can put through its paces without worrying too much, the Morakniv Companion is a champion-level fixed blade at a bargain-bin price.
Steel: Sandvik
Handle: Friction Grip Rubber
Blade Length: 4.1″
Total Length: 8.8″
CRKT Folts Neck Knife
Cons
The sheath quality is questionable
Small size can be a challenge to grip for large hands
Best Neck Knife: If the idea of carrying a full-sized fixed blade seems a bit too intimidating or perhaps unnecessary, but you still want a tough, durable fixed blade for all your adventures, you might fall in love with the CRKT Folts Neck Knife. Yes, this 5.13″ fixed blade is light and compact enough to carry in its included thermoplastic neck sheath (complete with a length of adjustable cable). But it's formatted to fit your grip perfectly and still feels substantial in your hand. This is proof positive that there is such a thing as compact, discreet carry even when it comes to fixed blades.
Steel: 5Cr15MoV
Handle: Resin-Infused Fiber
Blade Length: 2.125″
Total Length: 5.13″
Ontario Knife Comany 8666 Rat-3
Pros
Best sub $100 option
Great size for outdoor use
Ontario Knife is the brand trusted by Navy Seals
Cons
Sheath quality was not great
Knife arrived slightly dull
Best Bang For Your Buck: The OKC RAT series is one of the most lauded collections of budget-friendly folding knives around, but not everything with the RAT name is a folder. In fact, OKC has turned the iconic silhouette into an impressive fixed blade, as well — seen here in the 8666 RAT-3. Made to take some serious punishment, this simple, minimalist fixed blade boasts a partially-serrated 1095 steel blade with a durable black finish, grippy and handsome Micarta handle scales, and a full tang that peeks out the butt of the blade — allowing it to serve as both a lanyard attachment point and an ad-hoc blunt striking surface.
Steel: 1095
Handle: Micarta
Blade Length: 3.9″
Total Length: 7.9″
Buck Knives 113 Ranger Skinner
Pros
Made in the USA
Sustainably sourced ebony handles in collaboration with Taylor Guitars
Beautifully crafted and well balanced
Proprietary blade heat treatment blocks corrosion and provides great edge retention
Cons
Sheath doesn't include a safety strap
Variation in wood means actual knife looks different than photos
Best Hunting Fixed Blade: Buck's most famous knife is probably its aptly named Hunter, which is normally a folding pocket knife (although it did come in a fixed blade format). However, when it comes to fixed blades, we prefer the 113 Ranger Skinner you see here. As the name suggests, this is a knife made to be carried when you're on the move and it is very well-suited to hunting usage with its 420HC drop point blade, Crelicam ebony handle, and its handy genuine leather sheath. Of course, if you want to use this as a moderately discreet do-it-all blade, it can handle that usage beautifully, as well.
Steel: 420HC
Handle: Crelicam
Blade Length: 3.125″
Total Length: 7.25″
KA-Bar Marine Corps Fighting Knife
Pros
USMC Standard Issue survival knife
The most famous fixed blade knife design
Blade is ultra sharp out of the box
100% American made
Feels incredibly solid while cutting
Cons
Leather sheath is lackluster
Best Survival Fixed Blade: There are folks out there that would decry the KA-BAR Marine Corps Fighting Knife, suggesting that standard-issue gear is meant to be cheap and expendable. We'd suggest the opposite, however — this knife has an extremely long history of being one of the most reliable tools in a grunt's loadout and, as such, it deserves the utmost respect. Of course, you don't have to be on the battlefield in order to get use out of it, as it's — put bluntly — one of the best fixed blades ever made for any purpose. Attach this knife at your hip and you'll never truly be wanting for another blade.
Steel: 1095 Cro-Van
Handle: Leather
Blade Length: 7″
Total Length: 11.875″
ESEE Knives ESEE-5PB-002
Pros
USA-made
Feels like a tank on your hip – true workhorse
Durable Kydex sheath
Cons
A bit on the heavier side
Best Overall Fixed Blade: It is functionally impossible to pick out the best ESSEE fixed blade knife, full stop. Truly, this brand has an intimidatingly deep catalog loaded from end-to-end with exceptional knives. So we'll settle for just picking one that fits squarely in the middle — the 5PB-002 you see here, to be exact. At 11″ with a 5.25″ blade, it's big without being unmanageable and still compact enough to stash in or on a pack. The powder-coated finish on its 1095 blade and canvas Micarta handles aren't bad touches, either.
Steel: 1095
Handle: G10
Blade Length: 5.25″
Total Length: 11″
Quiet Carry The Current
Pros
Nitrogen-based steel is virtually rust-proof
Compact design feels ergonomic in hand
Minimalist design
Generous handle is great for camp cookouts
Cons
Expensive for non-USA made knife
Best Culinary Camp Fixed Blade: While Quiet Carry calls The Current a "culinary cooking knife," we'd implore potential buyers to perhaps look a bit closer at this, as we're confident in the claim that this is far more than just an outdoor chef knife. In fact, its practically rustproof LC200N steel blade, machined G10 handle scales, and blade-favoring silhouette have us itching to take this bad boy out on the trails to put it through its paces. It's also available with your choice of a Kydex or leather sheath, giving users the ability to haul it along anywhere and everywhere — which you might very well want to when you realize just how useful it truly is.
Steel: LC200N/Z-FiNit
Handle: G10
Blade Length: 3″
Total Length: 7.23″
SOG Super Bowie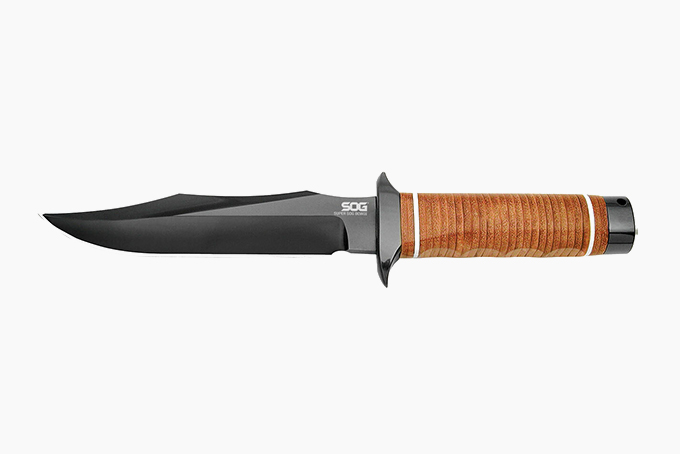 Pros
Adaptation of the classic bowie knife
Stacked leather handle is beautiful and comfortable
XL format is great for heavy field work
Cons
Another sheath that falls short
Best Tactical Fixed Blade: The bowie knife was actually the blade that gave SOG its start and, if the SOG Super Bowie is any indication, that's not a fact that the brand has forgotten — not by a long shot. In fact, this fixed blade is actually designed to pay homage to the company's inaugural offering while also improving upon it in some ways. The result is a hefty fighting knife made for military usage marked by a 7.5″ TiNi AUS-8 steel blade with a matching crossguard and pommel, a classic leather handle, and a gorgeous leather sheath. Put simply: this blade means business and you can rely on it to help you through any and all dire situations.
Steel: AUS-8
Handle: Leather
Blade Length: 7.5″
Total Length: 12.88″
The James Brand Hell Gap
Pros
Beautiful and simply designed
Cons
Paying a premium for good design
No longer made in the USA
Best Designer Fixed Blade: Having thoroughly made their mark in the everyday carry world, The James Brand turned its sights on something a bit more robust — resulting in the absolutely spectacular Hell Gap fixed blade knife. While the minimalist styling is still very much in line with the rest of the brand's design language, this knife is much more outdoor-friendly thanks to its format along with its Micarta handles, versatile CPM-S35VN drop point blade, lanyard hole, etc. Not everyone wants to carry something tactical-looking into the great outdoors, but they need the utility offered by some of these other blades – The James Brand fills that void masterfully.
Steel: CPM-S35VN
Handle: Micarta
Blade Length: 3.8″
Total Length: 7.8″
Purchase at The James Brand: $279
Chris Reeve Pacific
Pros
Chris Reeve makes some of the best knives on the planet
Best Premium Fixed Blade: Back in 2007, Blade Show named the Chris Reeve Pacific the American-Made Knife of the Year. The fact that its still relevant and amongst the greatest fixed blades to this day should go a long way to telling you just how impressive it is. Of course, if its appearance and accolades aren't enough, perhaps its specs are: a corrosion-resistant CPM-S35VN steel blade, sturdy and gorgeous Micarta handle scales, available serrations, and a canvas multi-cam sheath. This isn't your average military fighting knife; it's an apex predator made to do work.
Steel: CPM-S35VN
Handle: Micarta
Blade Length: 6″
Total Length: 11.5″
The Best Throwing Knives
The above is only a fraction of the many, many fixed blades presently available. If you want to dip your toes into the category a bit more, you could always have a gander at our guide to the best throwing knives — of which all are also fixed blades.