We've all been spending a lot more time indoors lately, and if there's one thing that seems to have become extremely disconnected from our daily lives, its shoes. While you're lounging around in your comfortable abode, there's hardly a need to don a pair of socks and shoes every morning, let alone wear them throughout the day. But sometimes, we feel that our feet might seem a bit bare, cold, or unprotected. For that reason, the genre of soft, comfortable shoes that we've come to know as "slippers" was born.
Throughout the ages, the slipper has become a mainstay of indoor footwear, providing comfort-savvy wearers with an opportunity to protect their feet, and their floors, without having to don a pair of unruly shoes. Often times, regular footwear can be a bit too cumbersome for conventional wear around the home, making them an unattractive prospect if you're just looking to make your way from one room to the next. That's where their more comfortable counterpart, the slipper, comes in. These moc-style shoes boast soft interior linings, lightweight architectures, and an even more approachable silhouette that can allow you to slip in and out with ease, making them the go-to item for lazy, half-hearted wear. Below, we've aggregated a few of our favorites from around the industry, providing you with a cornucopia of choices for your next piece of plush footwear.
Deer Stags Nordic
Relaxing at home can always be made better with a set of plush footwear. If you're looking for a pair of in-house slippers that can get you into your laid-back atmosphere quickly, without a large monetary investment, the Deer Stags Nordic might just be the best option. Each example features a synthetic sole and a clog-style architecture that's been rounded out with a moc-stitched toe, providing adequate support that doesn't feel too loose or too tight. A plush sherpa lining and cushioned insole provide more comfortable traits.
Pendleton Footwear Forest Driver
Pendleton has a knack for the creation of aesthetically-pleasing trademarks, and the Forest Driver slipper is no exception. This traditional example boasts a soft suede upper that's been adorned in plenty of hand-stitched details, providing an air of undeniable presence that you can't find in other, more reserved footwear pieces. Inside, a comfortable, warm wool lining and memory foam footbed provide plenty of support as you make your way around the home, helping you to traverse slick floors, carpet, or tile with ease.
Minnetonka Taylor
Minnetonka's shoes are revered within the footwear industry as some of the most comfortable variants you can buy, and when it comes to the company's Taylor slipper, we're willing to bet that you'll be hardpressed to find something more relaxing in the price range. Each leather example is dressed with a suede sole, upper, and enhanced pile lining for additional warmth and comfort during the winter months. Since it's been built for utilization both indoors and outdoors, a removable, contoured footbed and rubber-treaded outsole provide intuitive responsiveness, cushioning, and grip as you take on your daily tasks.
Sanuk You Got My Back III
Sanuk's You Got My Back III slipper may have an abnormal name, but when it comes to comfort and wearability, it's one of our favorites on the list. Each backless variant features a hand whip-stitched edge, soft canvas lining, and a durable textile upper that's a bit more formidable than the other offerings you might find in the genre. A premium EVA footbed and recycle provides adequate cushioning for everyday traversal, but since you'll be donning them whenever you're given the chance, they've also been treated with an antimicrobial additive that's been proven to reduce odor-causing bacteria, keeping them fresh and functional for a lifetime of wear.
Keen Howser II
Keen's Howser II is a lounge-worthy silhouette that takes on the identity of a pull-on sneaker, albeit, with a bit more cushion. Each fleece-lined slipper has been crafted with an abnormal nylon exterior that's both water- and wear-resistant, as well as a microfleece lining that provides enhanced warmth for the wearer. Aside from the creation, and retention, of body heat, the Howser II excels in the realm of comfortability, thanks to its memory foam footbed and tailored cushioning system, allowing for your own foot anatomy to mold the shape and fit of the shoe. Last, but not least, a non-slip rubber outsole has been included to keep you upright whenever you decide to leave the couch or office area.
Sorel Manawan II
Sorel's Manawan II slipper looks and feels relatively simplistic, and at the end of the day, that's it's most efficient strength. Aside from the large, blocky branding located on the shoe's exterior, the rest of its suede and leather silhouette remains untouched, offering a more conservative aesthetic that might not be present in some of the other slippers' busier architectures. A simplistic topstitch detail, cushioned insole, and faux fur lining round out the moccasin-styled variant, complementing its dependable and grippy rubberized sole.
Glerups Model A Wool
Glerups has gifted the world with some of the most unique shoes on the market, and the company's Model A Wool slipper — a hybridization the traditional slip-on silhouette, and the more performance-focused pull-on model — provides an even greater illustration of their classic design. Each wool-built example provides wearers with enhanced warmth and comfort, thanks to its 100% pure and naturally-sourced wool felt upper, while eco-friendly dyes and a natural rubber sole serve to give the shoe its own unique look. If you're looking for an ethical alternative to the more notable slippers on the market, these are it.
Sasawashi Room Shoes
Sasawashi's Room Shoes boast an understated design that eludes to simplistic comfort, and there are many out there who have combed the genre looking for something a bit more dialed-back. That being said, these sleek Kumazasa and polyester shoes are comfortable, absorbent, and easy to clean, meaning that they'll wick moisture away from your foot as you wear them. After everything is said and done you'll be able to air them out and cut back on odor, thanks to their quick-drying persona. But don't worry, when they're in use, you won't feel like you're wearing a heavy, moisture-ridden slipper. Instead, they've been built with a breathable, roomy interior that promotes adequate airflow and heat transition, helping to keep your feet comfortable and sweat-free.
Teva Ember Moc
Teva's Ember Moc is a staple within the slipper world, and while they may boast a more contemporary cushioned architecture than their counterparts, the company's commitment to dependable build quality shines through here. Each Ember Moc model features reliable textile upper, knitted collar, and a collapsible heel that allows the shoe transition from a secure, on-foot fit, to a more relaxed, backless iteration. Inside, EVA foam and a polyurethane footbed provide exceptional comfort and cushion for a day's worth of wear, whether you're taking on the outdoors, or staying inside for some much-needed rest and relaxation.
UGG Men's Tasman
There's no such thing as a "best slipper" guide if UGG isn't included. The company has singlehandedly become one of the mos well-recognized shoe manufacturers on the face of the planet, thanks to its exceptional slipper collection, If that doesn't sell you on the brand's Australia Mens Tasman model, then maybe its dyed sheep suede upper will. Inside, a comfortable sheepskin liner and UGGpure wool insole provide adequate support and comfort throughout the day, while a synthetic sole and flexible EVA outsole promote a firm foundation that won't let you down as you traverse a number of different surfaces.
Haflinger AS Classic
Haflinger's AS Classic slipper bridges the gap between timeless slipper design and a more modernized look, thanks to their sleek, all-black silhouette. Each pair is crafted using boiled wool, latex, and double felt, providing a classic look and feel that's also been tailored to massage your foot as you move around the house. Aside from their impeccable comfortability, the AS Classics also feature a felt-covered rubber outsole for optimal performance and traction on a variety of different surfaces.
L.L. Bean Wicked Good
If you're not already well-acquainted with L.L. Bean's comfort-focused footwear, you're in for a special treat. The brand's Wicked Good slipper is a genre-leading example of what an in-home slipper should be, calling upon a suite of genuine shearling, sheepskin suede, and an indoor-exclusive leather sole that speaks to a life of inherent relaxation. Once you put these lavish examples on your feet, you'll understand why it is that the company landed on the slippers' odd-but-abnormally-true name. They really are "wicked good."
OluKai Moloa Hulu
OluKai's Moloa Hulu reigns supreme as one of the brand's most comfortable variants, and without throwing too many nudges in Sanuk's direction, these well-designed shoes are the way to go if you're looking for an equally-formidable indoor and outdoor slipper. Each example is built atop a grippy and dependable, non-marking gum rubber outsole, and features a heathered knit upper that complements its supple wool-blend interior lining. There's even a gel insert and wool-blend footbed cover to ensure that you're feet are kept in top shape as you make those long treks from the refrigerator to your backyard after you fetch another beverage.
Mahabis Classic
If this was a competition based around great-looking design, Mahabis' Classic slipper might have been our number one pick. However, to say that the handsome on-foot companion is anything short of extraordinary when it comes to construction and durability — well, that might be a bit sinful. Each example has been fully outfitted with a suite of high-end properties, including a supportive neoprene heel cradle, premium felt upper, adaptable foam footbed, and a soft wool liner that's been contracted to regulate the temperature around your foot. Each shoe also comes with a durable hybrid midsole that boasts hard-wearing, performance-grade TPU, making it the perfect model for both indoor and outdoor use.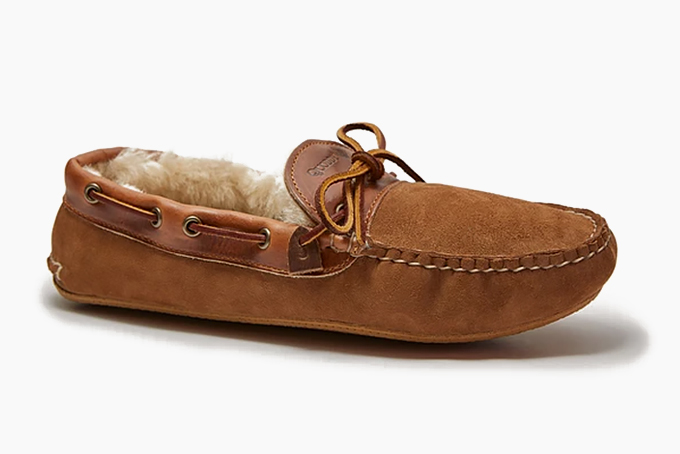 Quoddy Men's Fireside Camp
We're rounding out our list with Quoddy's Fireside Camp slipper, and for many reasons, it's one of the genre's most recognizable and lauded variants. Aside from its task of foot-warming comfort, it's also one of the lightest examples around, thanks to its unique twin-face shearling, full-grain leather collar, and hand-cut Vibram air-injected rubber sole. As a result, each featherweight Fireside Camp variant boasts unprecedented comfort, maneuverability, and dependable construction, while still playing the part of a traditional moccasin. To round things out, each shoe is outfitted with a distinct Auburn rawhide lace, providing wearers with the iconic look that we've all come to know and love from the genre's classic footwear.
The 15 Best Men's Socks For Every Occasion
If you're looking to amplify your comfort and warmth while indoors, head over to our guide on the best men's socks for every occasion, where we outline the best prospective pairings for your new at-home slippers.