Winter and spring have come and gone and, finally, summer is upon us. That means, for many, a lot more outdoor activity and adventure. Of course, just because the weather is getting warmer, that doesn't mean that it's going to be blue skies and sunshine all the time. So, how does one manage to get out and about while still being prepared for sometimes unpredictable inclement weather?
Well, one of the best all-around solutions can be found in procuring yourself a lightweight, packable rain jacket — one you can stash in your backpack or pocket when you're not using it but will remain at the ready in the case that a drizzle or full-on downpour catches you unaware. And that's exactly what we have for you today: a collection of the absolute best packable rain jackets for men that you can buy right now.
Best Packable Rain Jackets
Best Budget-Friendly

Columbia Inner Limits II Jacket

Best for Bikepacking

Black Diamond StormLine Stretch Rain Shell

Best for Hiking

REI Co-op XeroDry GTX Jacket

Best Ultra-Lightweight

Outdoor Research Helium Rain Jacket

Best with GORE-TEX

Marmot Minimalist Jacket

Best for the Cold

Fjallraven High Coast Hydratic Jacket

Best Overall

Rab Kinetic 2.0 Jacket

Best for Urban Commuting

The North Face Dryzzle FUTURELIGHT Jacket
Picking The Perfect Packable Rain Jacket
Factors To Consider
It needs to be said that not all packable jackets are necessarily going to be waterproof enough to qualify as rain-ready and not all rain-ready jackets are going to be conducive to packing down smaller for transportation. As this guide is dedicated to proving, however, there is a middle ground where you can get both features out of a single jacket; you just need to know where to look. It's with that in mind that we've outlined the factors we took into consideration when putting this list together. That way, even if you don't find the perfect jacket here (however unlikely that may be), you'll still know what to seek out.
Waterproof Rating: this metric can be a tricky one, as there's a bit of a gray area as to what qualifies. For instance, tightly-woven nylon is naturally "water-resistant" but it probably won't serve you very well in a full-blown downpour. As such, we've made sure that all of the jackets on our list are "waterproof" and, at a bare minimum, have a waterproof membrane (like GORE-TEX) on top of the weatherproof properties of the fabrics. That way, when you find yourself in a deluge, you can still depend on your jacket to keep you dry.
Packability: Obviously, you can take any jacket and smash it into a ball or fold it up a few times — but that doesn't make a jacket packable. Rather, we've focused on jackets whose design was specifically built around packing down. That means most of these raincoats come with integrated stuff sacks and/or pockets into which they collapse. These jackets also tend to trend toward as little bulk as possible to aid in this endeavor — which might seem obvious but still needs to be stated.
Weight: While this final factor goes hand-in-hand with the metric above, it still necessitates explanation. The lighter a jacket, the easier it will be to haul it around — packed or unpacked. As such, we've tried to keep the jackets on our list to the ones that are the most reasonable in their overall weight. After all, you wouldn't call a brick — even a small one — packable, would you?
What are Taped Seams?
Even the most waterproof fabrics have to be sewn or stitched together to make clothes. And that stitching creates small holes where the needles once passed through. That's why, to enhance the waterproof properties of some jackets, companies will "tape" the seams, meaning they heat and pressurize thermoplastic tape to that it becomes fused to the seams.
Columbia Inner Limits II Jacket
Pros
Several colorway options
'90s aesthetic
Features Omni-Tech waterproof/breathable fabric
Hidden pockets
Cons
Heavier than other options
Best Budget-Friendly: Apart from the obvious low price of this packable rain jacket, this option has some other pretty great things going for it. For starters, it draws stylistic inspiration from the 1990s without sacrificing modern features — like seam-sealed Omni-Tech waterproof-yet-breathable fabric, an adjustable hood, hidden security pockets, and (of course) the ability to pack down into its own pocket. Better still, it's available in several stand-out color combinations.
Material: Polyester with Omni-Tech
Weight: 18.56oz
Black Diamond StormLine Stretch Rain Shell
Pros
Helmet-compatible hood
Elastane helps with range of motion
YKK zippers are PU-coated for water-resistance
Lightweight
Cons
Hood might be too big for some
Best for Bikepacking: If you consider yourself an outdoorsman and you've never heard of Black Diamond, you might be overstating your involvement in the industry. This brand has earned a sterling reputation by offering things like the StormLine Stretch Rain Shell you see before you. Weighing in at just 11.3 ounces, this jacket is made from a DWR-coated and laminated combination of nylon and elastane for superior waterproofing without sacrificing the wearer's comfort and range of motion. It also has a helmet-compatible hood, making it ideal for rock climbing, bike riding, and other more extreme sports. Lastly, if you're worried about the zipper, don't be — the YKK zip is also PU-coated for exceptional water resistance.
Material: Nylon and elastane
Weight: 11.3oz
REI Co-op XeroDry GTX Jacket
Pros
Features dual-layer GORE-TEX Paclite
bluesign-approved fabrics
Lightweight
Best for Hiking: One of the best outdoor stores in the world, REI, also happens to offer a superb range of house-branded gear — including the XeroDry GTX packable rain jacket you see before you here. This jacket will keep you protected from the elements thanks to a DWR-coated, 2-layer GORE-TEX Paclite fabric that's designed specifically to save as much weight as possible without sacrificing waterproofing. Better still, the fabrics are bluesign-approved — meaning they're less impactful on the environment. And you can have all of that (and more) in a jacket that weighs a grand total of just 12.5 ounces. If you thought REI was just a retailer, think again.
Material: Recycled polyester with dual-layer GORE-TEX PACLITE laminate
Weight: 12.5oz
Outdoor Research Helium Rain Jacket
Pros
Only 6.3oz
Incredibly durable
Waterproof chest pocket
Best Ultra-Lightweight: Another brand that's made great strides in the outdoor space, OR (short for Outdoor Research) has built its Helium Rain Jacket to be its most durable and lightweight waterproof jacket with the brand's Diamond Fuse technology — meaning the fabric is constructed from diamond-shaped filaments for increased toughness and abrasion resistance. For reference, Diamond Fuse technology is 5x more tear-resistant than the brand's award-winning Helium II tech, and it is even lighter. That means — for anyone seeking the perfect blend of weatherproofing, toughness, and weight-saving — this jacket might be your ideal garment.
Material: 30D nylon ripstop
Weight: 6.3oz
Marmot Minimalist Jacket
Pros
100% taped seams
Pit vents for breathability
Abrasion-resistant
Attractive silhouette
Cons
Not great for cold weather
Best with GORE-TEX: "Minimalist" is a word that people like to throw around a lot. So, when a brand uses that word as an official product name, there could be reason to exercise caution. Well, worry not with the Marmot Minimalist Jacket, as this one delivers across the board. For starters, it has a sleek, well-designed exterior that's available in four distinct, handsome colors. Then, it boasts a 100% seam-taped construction for abrasion resistance and waterproofing — which pairs beautifully with its GORE-TEX laminate, zipper flaps, adjustable hood, 14.9-ounce weight, and packability. If you think that checks off all the right boxes for an excellent packable rain jacket, you'd be exactly right.
Material: Recycled polyester with GORE-TEX Paclite
Weight: 14.9oz
Fjallraven High Coast Hydratic Jacket
Pros
Windproof and waterproof
Zips up high
Lightweight and packs down well
Pit zips for ventilation
Cons
Pricey
Zipper could be better
Best for the Cold: While Fjallraven's catalog of gear tends to harken back to traditional Scandinavian design, they're no strangers to innovation. In fact, it could be said that the Northern European minimalism pairs perfectly with modern sensibilities surrounding packability — as is exemplified by the brand's High Coast Hydratic Jacket. Not only does it look outstanding and lacks any extraneous detailing, but it's also waterproof and windproof, weighs just 11.2 ounces, packs down tiny, and is built from a recycled polyamide fabric with a PU coating for extra weatherproofing. Granted, it's a bit of an investment at $250 — but it's one worth making, as this could very easily become your go-to inclement weather coat.
Material: Recycled polyamide
Weight: 11.2oz
Rab Kinetic 2.0 Jacket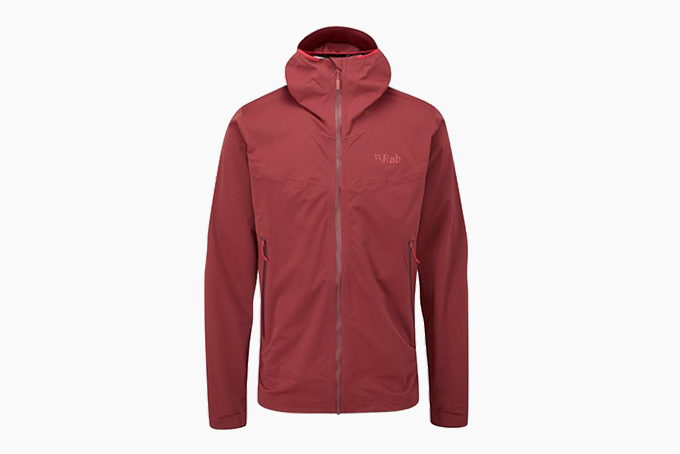 Pros
Lightweight
Really comfortable
Lots of color options
Extra stretchiness in select areas
Zippered inner pocket
Best Overall: If Rab isn't already on your radar when it comes to outdoor apparel, it's time to change that. And we can start with the Kinetic 2.0 Jacket you see here. This minimalist packable rain jacket weighs just 11.9 ounces and still offers protection from all the elements — aided by its PU-coated 3-layer Proflex fabric and YKK AquaGuard zippers. It also has an adjustable hood, hem, and cuffs. And the whole thing is Fair Trade Certified, for an added level to be proud of. This jacket, while handsome, isn't what we'd call flashy. But it doesn't need to be — not at all.
Material: Polyester
Weight: 11.8oz
The North Face Dryzzle FUTURELIGHT Jacket
Pros
Comfortable for wearing all day
FUTURELIGHT fabric is waterproof, breathable, and durable
Sizes go up to 3XL
Cons
Not super light
Zippers aren't great
Best for Urban Commuting: Would this really be a decent collection of packable rain jackets if we didn't have an offering from The North Face? In this case, we've chosen the Dryzzle FUTURELIGHT Jacket — which is both waterproof and breathable while still offering plenty of comfort and all-day wearability. At under a pound, this is somewhat heavier than the other jackets on the list — but it is still plenty light and packable enough to have a well-earned spot here. Furthermore, while its fabric is exceptionally waterproof and seam-sealed, it's also stretchy and lightweight enough for all-day wear. It also has additional features like reverse-entry zippered hand pockets, an adjustable hood, an internal chest pocket, and more. It might not be the lightest packable rain jacket on our list, but it makes up for that in numerous ways ranging from styling to capability and everything in between.
Material: 75D FUTURELIGHT
Weight: 15.27oz
The Best Packable Backpacks For Travel
If having ultra lightweight gear that can stash away with ease is at the top of your list, then dive into our guide of the best packable backpacks for your next excursion.