It goes without saying that boots are one of the mainstays of men's style. Without them, we'd be stuck wearing distasteful urban sneakers, slides, and sandals. That's a reality that we never want to see. Luckily, the heritage of our favorite boot brands runs deep within the world of footwear, providing us with plentiful styles, an ever-expanding catalog of offerings, and proprietors that have a penchant for the reproduction of history's most lauded designs. But we've narrowed it down to the best men's boots, and broken it down into eight different categories.
Best Men's Boots Breakdown
Best Chelsea Boots

Common Projects Suede Chelsea Boots

Chelsea Boot Runner-Up

Blundstone Classic Chelsea Boots

Best Chukka Boots

Red Wing Shoes Weekender Chukka

Chukka Boot Runner-Up

Nisolo Everyday Chukka Boot

Best Combat Boots

Danner Reckoning

Combat Boot Runner-Up

Nike SFB B1

Best Duck Boots

L.L.Bean Bean Boots

Duck Boot Runner-Up

Nike Lunar Force 1

Best Hiking Boots

Arc'Teryx Arcrux TR GTX

Hiking Boot Runner-Up

Salomon X Ultra 4 Mid GTX Hiking Shoe

Best Rain Boots

Bogs Men's Workman Boot

Rain Boot Runner-Up

Filson x XTRATUF Legacy Lace Boots

Best Work Boots

Wolverine McKay Waterproof Steel-Toe Work Boot

Work Boot Runner-Up

White's MP-M1 Half-Lug

Best Dress Boots

Frye Bowery Lace Up

Dress Boot Runner-Up

Rancourt & Co. Brighton Boot
How We Selected Our Favorite Boots
The boot world is undeniably vast. If you're new to the genre, or you have a hard time keeping up with the endless torrent of models, it can seem daunting to find the perfect brand, style, and model for you. That's where we come in. Below, we've outlined eight different genres of boots— including Chelsea, chukka, combat, duck, hiking, rain, work, and dress — in an effort to make your search a bit more intuitive. Each section will break down into an editor's pick and a runner-up, and give you a sub-surface look at what it is that makes the models so special. Whether you're looking for fashionable fatigues that have been built for a night on the town, a more informal model that would work well on the job site, or an outdoor essential that'll take you far, far away from the concrete jungle, our guide has you covered. Especially since our picks are backed by tons of collective experience from our team in the style scene.
What Makes A Good Pair Of Boots?
Upper: The right upper depends on the style of shoe you end up picking. Dress shoes, Chelseas, and Chukkas will likely have a leather upper, and if you want the highest quality, go for full-grain. Something like combat boots, on the other hand, may use canvas instead.
Outsole: This is a similar situation to the upper, in that you want an outsole that's in line with the style you're getting. But more often than not, you'll be getting a rubber outsole. If you need more traction, look for deep lugs and/or a non-slip treatment.
Resistance: Again, this is largely dependent on style – dressier boots naturally won't offer the same resistance as hiking boots, but you can waterproof your leather if you want extra protection.
Style: As we stated above, this guide will break out into eight different style categories, and we'll get into a bit of history and design in the breakdowns below.
Boot Breakdown: Different Types Of BOots
Chelsea Boots
Kicking us off, Chelsea boots may have seen their initial rise to fame in the UK during the '60s, but quickly became icons around the world. They're made of leather and have a classic silhouette that's low to the ground, above the ankle, and completed with unmistakable pull tabs.
Common Projects Suede Chelsea Boots
Pros
Made in Italy
Cushioned soles
Editor's Pick: The duo of Chelsea boots that we've included revel in their minimalist dialogue. And Common Projects' Ankle-Length suede models are a perfect study in simplicity. In order to make their statement, each boot is built with premium suede, chunky rubber soles, and elasticated side panels. Embossed lettering accents the side of each model, working hand in hand with the Chelsea's trademark pull-tab to provide more utilitarian poise than its refined counterparts.
Upper: Suede
Outsole: Rubber
Blundstone Classic Chelsea Boots
Pros
Stylish pick
Oil, acid, and organic fat-resistant
Removable EVA footbed
Runner-Up: Blundstone's Classic Chelseas might look like a more robust Chelsea, but you'd be wrong to write it off as just another stylish footwear accessory. Instead, this well-equipped model takes on a life of its own, thanks to its rugged, premium leather upper, removable EVA footbed, and Poron XRD inserts, which reduce wearer fatigue, thanks to their ergonomic design. Dive a bit deeper, and you'll find that the boot is made with both a polyurethane midsole and thermoplastic urethane outsole, which fight against hydrolysis and microbial attack. To round things out, an integrated steel shank assists with torsional stability.
Upper: Leather
Outsole: Thermoplastic polyurethane
Chukka Boots
Starting out as the go-to shoe for British soldiers during the Second World War, Chukka boots would go on to be a worldwide casual wear success and continue to be a versatile and stylish pick (much like Chelsea boots). They're made of leather and feature either rubber or leather soles, finished with open lacing strung through two to four eyelets.
Red Wing Shoes Weekender Chukka
Pros
Made in the USA
Legendary heritage brand
Water-resistant
Editor's Pick: Red Wing's Heritage Weekender Chukka brings the proprietor's legendary construction principles to a more stylish, inner-city boot. Calling upon over 100 years of experience within the bootmaking realm, this unique chukka features a full-grain oil-tanned leather upper from S.B. Foot Tanning in Minnesota, as well as a dependable stitch-down conduction, Comfortforce footbed, and water/stain-resistances to keep it looking as good as new throughout the majority of its life.
Upper: Nubuck leather
Outsole: Rubber
Nisolo Everyday Chukka Boot
Pros
Comes with built-in arch support
Antimicrobial insole
Runner-Up: Nisolo's Everyday Chukka is a versatile boot that you can wear almost anywhere, save for the trail. It features a full-length, five-layer antimicrobial insole, built-in arch support, and a slip-free rubber heel cap, as well as an added layer of stitching for a more vintage appeal. Style these with a pair of cuffed pants for a truly iconic look.
Upper: Leather
Outsole: Leather
Combat Boots
Most modern combat boots exist in this middle ground between hiking boots and work boots, offering the mobility and protection of hiking boots combined with the rugged durability and protection of work boots. They're usually made of leather, nylon, or canvas, and should ride up the ankles to keep them protected.
Danner Reckoning
Pros
DWR finish
Modern look with a sleek all-black option
Not bad in hot weather
Cons
May be too lightweight for some
Editor's Pick: Danner's Reckoning is a modern departure from the more traditional combat offerings that we see, but after one look at the boot, we could tell that it was from the fabled Oregon-based footwear provider. Like many of the manufacturer's models, each 100% leather offering is made in the USA and features a water-repellent full-grain leather and textile upper for increased durability. Below, a Danner Vibram All Terrain sole gives the Reckoning a great-looking base for its many components that are both modern and useful.
Upper: Leather, textile
Outsole: Danner Vibram All Terrain
Waterproof?: Water-repellent
Nike SFB B1
Pros
Comes with an internal rock shield
Hybrid style that borrows from sneakers
Removable sock liner
Cons
Could use an internal membrane
Runner-Up: Part of Nike's SFB Collection (which honors the Nike co-founder Bill Bowerman and his WWII service), the Nike SFB B1 gives traditional combat boots a modern makeover. These boots have a tough yet breathable full-grain leather and nylon canvas upper, a removable sock liner, an inner rock shield, handy side vents, extra-strong stitching, comfy foam midsoles, and a dual-zone lacing system. Plus, they follow DA PAM 670-1 rules and sport a rubber outsole inspired by Nike Free tech. To keep your feet happy, they've got Nike Air cushioning in the heel and a tread pattern with shallow flex grooves at just the right spots.
Upper Construction: Leather & Nylon Canvas
Outsole: Rubber
Waterproof?: No
Duck Boots
As one of the most legendary outdoor and hunting boots of all time, it's hard to go wrong with these rugged waterproof boots. L.L.Bean dropped the original Bean Boots dropped in 1911, and they've maintained a status as one of the premier outdoor boots all these years. The waterproof leather upper and rubber sole haven't changed much over the years, but a chain pattern was added in the '40s.
L.L.Bean Bean Boots
Pros
Made in USA
GORE-TEX construction
Truly iconic design
Editor's Pick: Much has been said about the legendary boots you see above, and they were originally released all the way back in 1911 by Leon Leonwood Bean (the founder of L.L.Bean). They've maintained their style and material construction of waterproof leather up top and rubber on the bottom for most of that time. This offering is made with full-grain leather uppers and waterproof GORE-TEX lining, with insulation on the inside to keep your feet warm. The rubber bottom is also waterproof, with the iconic chain tread outsole to keep you steady.
Upper: Full-grain leather
Outsole: Rubber (chain-tread)
Insulation: Yes
Nike Lunar Force 1
Pros
Modern style with callbacks to the OG silhouette
Style of a sneaker with the utility of a boot
Cons
Takes a little time to break in
Runner-Up: These unique kicks right here are a unique blend of the Air Force 1 and the Bean Boot, and if the OG Bean Boot style isn't city-friendly enough for you, then this take from Nike might be right up your alley. Like the classics, you get a water-repellent leather upper, and a rubber outsole with a tread pattern to maximize traction. And in classic Nike fashion, there are Air Units in the soles to give you that unmistakable cushioning.
Upper: Leather
Outsole: Rubber
Insulation: Synthetic
Hiking Boots
Hiking variants are often lauded for their technical materials and focus on performance. As such, it's difficult for contemporary hiking boots to break away from the complex silhouettes that they've garnered over the past few decades. Regardless, aesthetics don't mean much when you're out on the trail. Below, we've outlined a few of the genre's more advanced offerings, including waterproof, reinforced, and cushioned models that'll allow you to take on the environment with ease.
Arc'Teryx Arcrux TR GTX
Pros
Abrasion-resistant uppers
Waterproofed with GORE-TEX
Cons
Takes a little time to break in
Editor's Pick: Arc'teryx continues to enamor with its technical designs, and they aren't confined to utility-approved outerwear. The brand's Acrux TR GTX boot features a beautifully-realized SuperFabric upper that calls upon micro-plate technology to keep them as light as possible, while still promoting above-average abrasion resistance. Injected EVA midsoles provide ample cushioning over long distances, while a 3D-molded OrthoLite insert has been incorporated to keep your feet free of fatigue. A grippy Vibram MegaGrip rubber sole and GORE-TEX waterproofing tie the Acrux together.
Upper: SuperFabric
Outsole: Vibram MegaGrip
Waterproof?: Yes
Salomon X Ultra 4 Mid GTX Hiking Shoe
Pros
Great for trail running
Moisture-wicking lining on the inside
Lightweight
Cons
Some prefer a full-height ankle
Runner-Up: Salomon's X Ultra 4 Mid GTX is a perfect hiking model for those who are indebted to the trail. Each boot features a dependable GORE-TEX waterproof bootie, an advanced, foam-cushioned chassis, and a soft textile lining for enhanced moisture control. Pair that with the shoe's protective tongue gussets, injection-molded EVA midsole, and Ortholite sock liner, and you're in for one of the most comfortable hikes that you've had in a while.
Upper: PU-coated leather, textile
Outsole: Rubber (All Terrain Contragrip)
Waterproof?: Yes
Rain Boots
Rain boots come in all shapes and sizes, but as long as they're waterproof and keep your feet dry, then they're built for the job. Generally speaking, a boot that rises up your ankle at least a bit is advised to give you more coverage, but if rain is light where you live, then you can go for a low or mid boot.
Bogs Men's Workman Boot
Pros
Slip-resistant outsole
Waterproof insulation
Classic rain boot style
Cons
May be too bulky for some
Editor's Pick: Bogs comes through with a classic yet modern-looking rain boot in all black, with a waterproof and seamless neoprene construction up top, and a slip-resistant outsole to make sure you never take a spill. To keep your feet warm, it's insulated with 5mm of waterproof fiber, and temperature rated for -72ºF. So whether it be dirt, rain, or a mixture of both, these boots will keep you clean and dry.
Upper: Neoprene
Outsole: BioGrip slip-resistant outsole
Insulation: 5mm Neo-Tech waterproof insulation
Filson x XTRATUF Legacy Lace Boots
Pros
More modern rain boot look
Chemical and acid resistant
Runner-Up: The Filson x XTRATUF Legacy Lace Boots is yet another model that calls upon the brand's iconic outdoor heritage for its well-informed persona. Each boot is crafted from waterproof leather and features cushioned insoles for extra support. On its exterior, a durable chevron sole has been added for increased traction on a number of surfaces, complementing its water-repellent sealed seams and stitch-down construction.
Upper: Waterproof leather
Outsole: Rubber (chevron)
Insulation: None
Work Boots
Work boots sit in a niche all their own. Oftentimes, they're seen as tools — accessories that are built solely to achieve a task or complement a job. However, that doesn't always take precedence. A number of the genre's boots are informed in both lineage and style, helping wearers to take on the job site without looking like they're wearing a generic, cookie-cutter brand.
Wolverine McKay Waterproof Steel-Toe Work Boot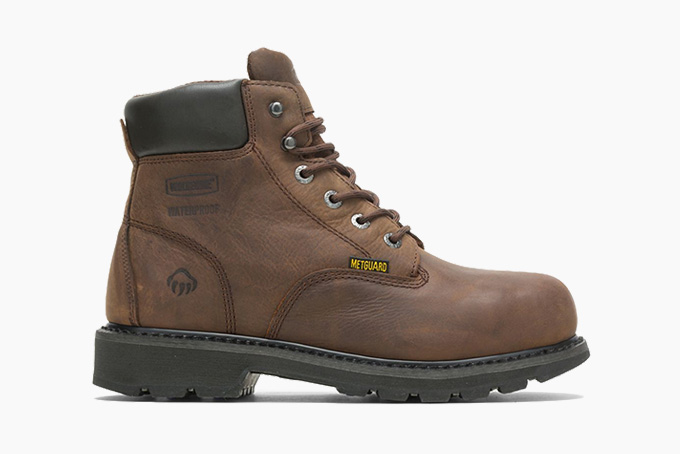 Pros
Steel toe reinforcement
Waterproof mesh lining
Made of high-quality full-grain leather
Cons
Can be narrow on those with wide feet
Editor's Pick: Wolverine has already made an appearance on this list with one of the genre's most fashionable style boots, but that doesn't mean that it can't roll with the best that the workwear world has to offer. Its McKay Steel Toe is a perfect example of its utilitarian dedication, thanks to its high-performance full-grain leather exterior, waterproof mesh lining, and fully cushioned footbed. It also boasts improved foot protection due to its internal metatarsal guard, as well as a slip-resistant rubber and PU outsole for sure footing.
Primary Construction: Full-grain leather
Waterproof: Yes
Toe: Steel
Outsole: TPU
White's MP-M1 Half-Lug
Pros
Heritage brand
Comes in ten different leather color options
Inspired by old-school military gear
Runner-Up: Unlike its counterparts in our work-focused section, White's MP-M1 boot is a militaristic model that takes on a different role in the world of workwear. Inspired by the footwear that was adorned by American infantry during WWII, these rugged models feature a sleek one-piece backstay, a six-inch, full-grain, water-resistant leather upper, and a utilitarian half-lug sole, making them perfect for field use.
Primary Construction: Full-grain leather
Waterproof: Water-resistant
Toe: N/A
Outsole: Half-lug commando sole (rubber)
Dress Boots
Dress shoes are rooted in their iconic lineage. They're the basis for any authentic outfit, providing one of the most important foundations for stylish expression. If you're a fashionable gentleman who's looking to amplify his aesthetic, this is the section for you.
Frye Bowery Lace Up
Pros
Goodyear welted
Antique brass hardware
Editor's Pick: When it comes to stylish footwear, it's hard to hold a candle to FRYE. The legendary boot brand has made a name for itself through the consistency of its heritage designs, and the Bowery Lace Up is a perfect example of its artisanal capacity. Each boot features a suite of interesting traits, including waxed laces, antiqued brass hardware, textured welting, and vintage, vegetable-tanned leather, pairing seamlessly with its enhanced rubber lugs and PORON footbed for increased traction.
Upper: Leather
Outsole: Rubber
Rancourt & Co. Brighton Boot
Pros
Constructed in Maine
Antique brass detials
Runner-Up: Rancourt & Co.'s Brighton is a subtly-brogued boot with leagues of character. It features finely-finished Mimosa calfskin leather, a full tan cowhide lining, and a natural leather midsole/welt, pairing seamlessly with its dependable Vibram 430 mini-lug outsole. Throw in some antique eyelets, flat-waxed laces, and a Black welt for easy resoling; you've got yet another contemporary offering with its eyes to the past.
Upper: Calfskin leather
Outsole: Vibram 430 mini-lug
The Best Men's Wardrobe Essentials
Now that you've found the perfect pair of boots, it's time to tackle the rest of your closet. Head over to our guide on the best men's wardrobe essentials to dial in your arsenal.