Fresh out of the box, your leather boots look immaculate. But as you wear them consistently they tend to lose their shine. It's hard to beat a stylish pair of leather boots or shoes, so it's in your best interest to take extra special care of them for longevity. Footwear made from high-end animal hide needs to be polished to maintain their supple feel and bold character. Not to mention, a beat-up pair of leather boots just don't look quite the same.
Shoe polish comes in two forms: an oil-based cream or solid shoe wax. Both are efficient in breathing life back into your footwear, and you'll find both in our roundup. With proper treatment, exceptional leather can last decades upon decades if you take care of it with quality shoe polish. You may know nothing about what makes a worthy shoe polish formula, but we're here to help you track down the ideal blend for your leather. After searching the vast array of options, we've compiled a list of the best shoe polishes for men, so you can keep your leather footwear looking brand new.
How To Polish Your Shoes
Quick Tips
If you grab quality shoe polish, it won't be as effective if you don't know how to use it. So, we're going to give you a quick guide on how to use the polish you end up choosing. Find a relatively flat surface and place a towel on it. Then remove the laces from your leather boots and clean off any dirt with a horsehair brush. If your shoes are particularly dirty, consider doing a thorough wash with soap made for leather. When they're all clean and dry, work the polish into the leather using a cloth. Move it around the shoes with your fingers, going in small circular motions. Once you're done, finish the process by buffing the shoes to a nice shine. Now that you have an idea of how to utilize shoe polish, let's jump into the list.
KIWI Color Shine Liquid Polish
This premium wax formula by KIWI will nourish the leather and protect it, extending its life. The long-lasting liquid polish contains natural Carnauba wax, giving your leather footwear a genuine shine without any need for buffing. It also features a durable two-layer sponge to manage the dosage, allowing you to control the shoe polishing process.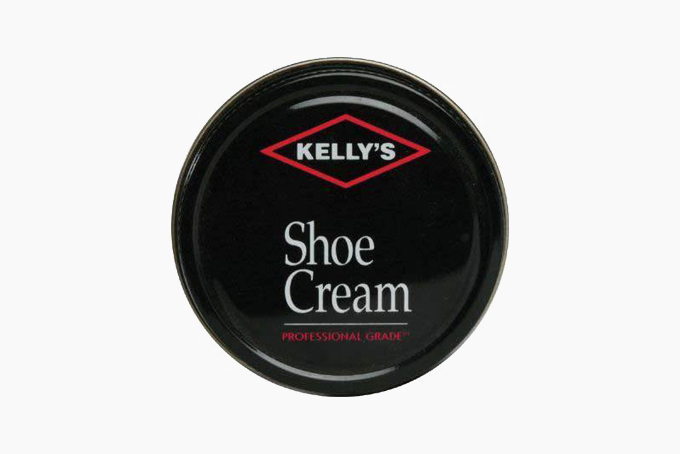 Kelly's Shoe Cream
Kelly's professional-grade shoe cream is a premium polish that comes in 1.5-ounce glass jars, keeping it classy. The blend contains water-repellent ingredients and a mix of finely blended waxes for long-lasting, lustrous shine, leaving your leather boots or shoes looking like a million bucks. And it contains Carnauba wax to help your footwear achieve a sleek aesthetic
Angelus Shoe Wax Polish
Angelus Shoe Wax Polish is one of the best black shoe polishes on the market today. It will keep your classic black boots looking smooth and shiny while hiding small scuffs and wear-and-tear marks. It also nourishes the leather, keeping it looking slick for a long while. And it keeps your shoes or boots waterproof, enhancing the functionality of your footwear.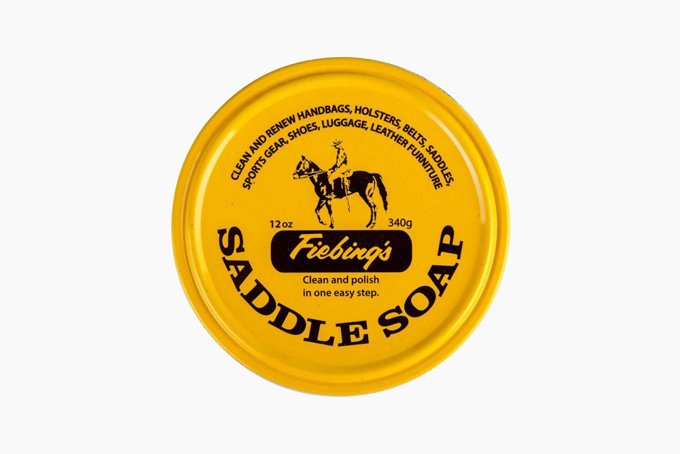 Fiebing's Saddle Soap Paste
Fiebing's versatile blend is used across the globe on high-quality shoes, saddlery, boots, and other leather items. Use the Saddle Soap Paste to clean leather thoroughly, as well as lubricate the fibers, preventing coarseness and keeping the texture supple. Fiebing's Saddle Soap is formulated in black, white, and yellow.
Lincoln Original Stain Wax Shoe Polish
Launched back in 1925, Lincoln's shoe polish is made using John Lincoln's secret formula, following stringent quality standards. The formula consists of more Carnauba wax than any other major competitor, giving your leather shoes a glossy, durable shine after one application. Not to mention, the Carnauba wax used is sustainably sourced from the leaves of Brazilian palm trees.
Shinola Shoe Polish
Shinola doesn't only make impressive timepieces, as they also produce incredible shoe polish to help you care for your leather goods properly. This high-quality blend will protect your leather shoes, give them an amazing shine, and make them waterproof. Shinola's shoe wax is manufactured in small batches by expert leather-care craftsman. You may have to dig to find it, but the product is worth the effort.
Bickmore Bick 4 Leather Conditioner
Maintain a variety of smooth-finished leather with this formula that's been proven to work wonders since 1882. Bickmore's Bick 4 Leather Conditioner is made for restoring worn leather to its original, gleaming shine, so you can preserve the original shade of your footwear. Additionally, it's completely wax-free, ensuring that the pores of your leather boots or shoes do not seal up, keeping them breathable.
Dr. Martens Wonder Balsam
Blending natural and synthetic waxes, Dr. Martens' Wonder Balsam will nourish, protect, and condition your leather shoes or boots. You can also rub small amounts of Wonder Balsam on the interior of your dapper boots to soften the leather. And there's no polishing necessary, so you can save your energy. Protect your leather footwear from liquid and salt marks with this top-tier shoe polish.
Otter Wax Boot Wax
Keep your leather footwear shining for years with Otter Wax's American-made Boot Wax created from a balanced mix of beeswax and lanolin. This multi-purpose waterproofing treatment protects your leather boots and repels stains to preserve their handsome aesthetic. Apply the thick sealing wax to give your footwear a long-lasting protective seal, so you don't have to worry about any terrain you walk on.
Huberd's Original Shoe Grease
Huberd's Original Shoe Grease is made from pine tar and beeswax to provide you with a blend to condition and waterproof your leather shoes The non-toxic formula also extends the life of your leather footwear without yellowing, deteriorating, or stretching it out. Made in Arizona, this shoe polish contains food-grade ingredients, contributing to its safety.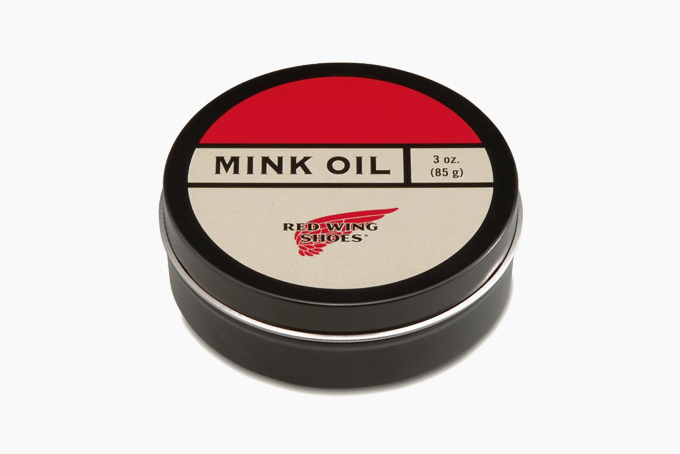 Red Wing Mink Oil
It makes sense that a company that produces incredible boots right here in the USA also makes amazing shoe polish. Red Wing's shoe polish is a blend of lanolin, silicone, and mink oil that softens and conditions oil-tanned leather, keeping your boots looking suave. Extend the life of your footwear and protect your investment with Red Wing's shoe polish.
Saphir Renovateur
According to Saphir, the Renovateur Cleaner and Conditioner is considered by shoe aficionados to be the king of all-purpose shoe care products in the world. It contains a mink-oil based formula blended with other waxes to clean and smooth out your leather footwear. The shoe polish is ideal for crocodile, ostrich, alligator, cordovan, and smooth calfskin leather.
The Complete Guide To Leather Care
Now that you've picked up a tin of shoe polish to keep your boots shining, it's time to learn more about taking care of your footwear. Take a peek at our complete guide to leather care and extend the life of your boots.