Overlanding provides an immensely unique respite from the rigors of day-to-day life, with the amalgamation of car camping and off-roading affording endless opportunities for adventure, recreation, and solitude. And while the overlanding vehicle itself is obviously a crucial element in the overall equation, so too is the selected location and route. But with literally endless overlanding route options scattered across the country, selecting a destination can be tricky.
Whether you're looking for a simple weekend excursion or a hearty multi-week (or multi-month) expedition, some of the world's very best overlanding routes are located in America right here in your proverbial backyard. To help narrow down the country's wealth of locations, we've consulted with seasoned experts in the field to bring you this condensed guides to the 9 best overlanding routes in the US.
Overlanding In The Homeland
The Best Routes In Your Own Backyard
Despite its relatively short-lived history, the growing popularity of overlanding has lead to dozens of world class routes being mapped out on US soil. And, because the country spans nearly 3.8 million square feet, America offers an incredibly diverse array of terrain and trail types. From lush forest trails, to aired deserts routes, to Rocky Mountain passes, no matter what type of setting you have in mind, there's almost certainly a domestic overlanding route that is sure to tick all the boxes for you.
Benefits Of Domestic American Overlanding
Why Domestic Is The Way To Go
There's a number of factors that make the US an ideal overlanding location. First off, (assuming you live in the US of A), overlanding voyages in America don't require traveling long distances — or shipping your rig and gear — to foreign lands. There's also abundant access to infrastructure and resources, so if you have a medical emergency or simply need to replace a part on your ride, it'll almost certainly be much easier to accomplish stateside.
Plus, with the nation stretching around 2,500-3,500 miles across (depending on how far north or south you are), American overlanding offers up some stellar long-distance routes, with some selections requiring more than a month to complete — and that's under ideal conditions with a proper 4×4. The diversity of the domestic routes available also means there's an equally diverse range of difficulty on offer, from novice pilots to seasoned experts.
Black Bear Pass
Extremely technical and not for the faint of heart, Colorado's Black Bear Pass offers miles of high-altitude excitement. Set on one of the state's highest peaks, this mountainous route's setting offers serene panoramic views of local hotspots like Telluride and Bridal Falls. Unsurprisingly, the region's weather conditions mean that the trail is inaccessible — even for the most heavily modified and best-equipped rigs — for the majority of the year. It's countless switchbacks and tight turns also mean this is one route to keep away from if you're afraid of heights.
Location: Colorado
Duration: 9.8 Miles
The Continental Divide
This enormous route stretches from the Canadian to Mexican borders, passing through a handful of noteworthy National Parks along the way like Yellow Stone and the Grand Tetons. Spanning the entire north/south length of the US, this route was first completed in '89 and was developed by industry legend, Tom Collins. And because Collins documented the inaugural trip via camera and GPS, his exact route can still be recreated today. The route's length does mean that there's a super wide range of difficulty levels in the terrain, including everything from smooth off-road travel, to extremely technical, crawling-esque riding — such as a particularly difficult, albeit fun section inside the Rio Grande National Forest.
Location: Canada To Mexico
Duration: 1,394+ Miles
The Dalton Highway
This snowy road was established in the '70s, and though popularized by the show Ice Road Truckers, it's only for the toughest of off-road enthusiasts, with its otherworldly temperatures, very little in the way of infrastructure or help — including gas stations which are literally few and far between — and some particularly nasty sections of untamed gravel and ice. Like Black Bear, this one also affords some pretty remarkable views in the form of the Northern Lights. And though long stretches are comprised of tamed road, it still boasts some ultra-steep grades, plus the risk of blizards and even avalanches. The 414-mile Alaskan route stretches all the way to the Arctic Ocean, so there's obviously a lot of fun to be had, not to mention getting to the start of the route, which can be an adventure in and of itself.
Location: Alaska/Canada
Duration: 414 Miles
The Grand Arizona Traverse
With all its expansive rocky desert landscape, it's frankly unsurprising that Arizona is home to one of the country's best overlanding routes. Brimming with local culture and historical hotspots, this route spans nearly 190 miles, starting in the sleepy little town of Dewey-Humboldt before ending at the Grand Canyon. And while overlanding is obviously all about the journey, it doesn't hurt to wind up at a world-class destination. Boasting elevations starting at just below 4,000 feet and jetting up to as high as 7,500, this route is relatively easy to handle and can be accomplished in a stock SUV or truck, though the route is just a stone's throw from some seriously technical hardcore trails.
Location: Arizona
Duration: 188 Miles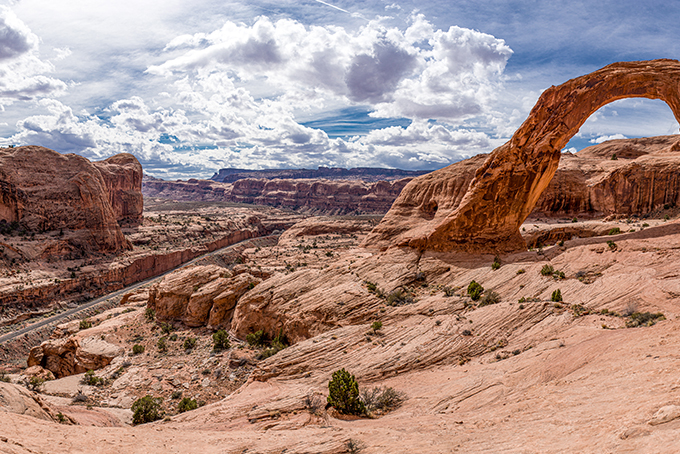 Moab
Located in Utah, Moab is somewhat akin to the holy grail of domestic overloading destinations. This sprawling off-road playground is brimming with trails and routes suited for a wide variety of vehicles and driver skill levels. And on top of boasting some of the finest trails in all of the US, Moab offers gorgeous views with its red rock formations, stunning sunset vistas, and the remnants of a once-bustling mining operation. Because of Moab's immense popularity with off-roading and overlanding enthusiasts, the locale is flush with amenities for travels, including readily-available access to rental and repair outfits. There are also some really worthwhile guided tours offered.
Location: Utah
Duration: N/A
Rubicon Trail
A trail so legendary that they named a Jeep after it, the Rubicon trail in California is an old, historical route that's been used for more than a century, though today these trails are primarily occupied by trucks, UTVs, and the like. While the Sierra Nevada location's rocky and rugged appearance is very aesthetically pleasing, it also makes for one of the most challenging and hardcore overlanding routes in the country. Despite the main route only spanning over 22 miles, it nonetheless typically takes overlanders a good 1.5-2.5 days to complete — and that's with a heavily-modified vehicle and an experienced driver at the helm.
Location: California
Duration: 110 Miles
South Core Banks, Lookout National Seashore NC
This roughly 20 mile route is located on the island of South Core Banks, and requires taking a short ferry trip in order to access. Once there, the locale boasts miles of totally untouched and undeveloped trails and paths, making it something of a playground for overlanding hobbyists, as well as one of over landing's best kept secrets. And, while it's said to be a seriously fun route, it's much less challenging than entries like the Rubicon or Black Bear Pass, while still being far from boring, even for the most seasoned of pilots. Having said that, this is one route that can be done on a bone stock vehicle fresh off the lot.
Location: North Carolina
Duration: 20+ Miles
The TransAmerica Trail (TAT)
Like the Continental Divide, this route stretches from one tip of America to the other, only instead of north/south, this route takes drivers from east to west, running for around 5,000 miles from Virginia to the Oregon coast and using very little paved road along the way. Because of the extensive length, this route travels through a myriad of types of scenery from desert to forests and everything in between. It also allows for other cool stops along the way, considering completing the route takes a little over two-weeks on average. The TAT was developed by Sam Correro, a hardcore off-road motorcyclist, and though it is probably more popular with bikers, plenty of four-wheel enthusiasts are known to routinely take part.
Location: Virginia To Oregon
Duration: 5,000+ Miles
White Rim Road (Canyonlands National Park)
Consisting of a 100-mile route requiring multiple days to complete, the White Rim Road goes through Utah's Canyonlands National Park and is packed with challenging naturally-formed obstacles gifted from the overlanding gods. Because of the extremely rugged terrain, vehicles taking on this route need to have ample clearance, stellar rebound dampening, and low enough gearing to climb its many steep hills and trails. Surrounded by rivers on three sides, this medium difficulty route is littered with roughly a dozen excellent camp grounds which help to enrich the experience. Like Black Bear Pass, this route can be heavily effected by weather, in this case: rain.
Location: Utah
Duration: 110 Miles
8 Best Overlanders You Can Buy Off The Lot
Now that you've got a grasp on the very best routes the country has to offer, you're going to need a proper overlanding vehicle to traverse them. And though most overlanding rigs are heavily modified, there are a handful of stock vehicles that are highly conducive to the long-range vehicular activity. To save you the trouble, we've compiled this list of the best overlanders you can buy.