For many everyday carry enthusiasts, the core of our loadout is the knife we choose to carry on a given day. It's even given more consideration than some of what might be called more "essential" pieces, like our wallets. And many of us have quite the collection of pocketable blades — though there is always room for more. It certainly helps that there are literally thousands upon thousands of options out there, making finding the perfect blade for you simultaneously simpler than ever before and quite daunting in scope. But if you have a flair for minimalism, today is your lucky day.
In the collection below, you're going to find 15 of the finest folding, pocketable cutting tools crafted with pared-down design in mind. And while the styling of these knives is certainly minimized, the materials and cutting power remain top-notch, meaning you could use any (or all) as your go-to day-to-day folder. These are the best minimalist EDC knives you can buy right now.
Nagao Higonokami Friction Folder
Not only is the Nagao Higonokami series of friction folders one of the best examples of ultra-minimalism in the folding knife world, but it's also one of the most historically significant. This is because these knives are actually made by Japanese artisans whose trade was passed down for generations and can be traced back to the samurai warriors of old. While these knives vary in size, shape, and materials — and, therefore, price — they all have an unmistakable, signature appearance marked by a friction folder-style format (notice the paddle lever). And any of them would make a fine addition to your knife rotation.
Blade Length: 1.5-3.75″
Handle: Varying
Steel: Varying
Lock: Friction
Victorinox 52860 Floral Swiss Army Knife
Interestingly, Victorinox actually made this knife to aid in botanical ventures, hence the name. But the intended purpose, in our opinion, is a bit limited in scope. In actuality, the Floral Swiss Army Knife you see here is perfect for everyday carry purposes with its sheepsfoot blade, simple handle, and slipjoint mechanism. Sure, it's not as much of a do-everything tool as the more feature-laden SAKs, but it's elegant and well-built for its exceedingly approachable price. In short, this versatile, simplified pocket knife is good for far more than pruning leaves.
Blade Length: 2.17″
Handle: Nylon
Steel: Stainless
Lock: Slipjoint
Deejo Knives
Headquartered in France, Deejo has been making ultra-minimalist folding knives since 2010 — founded with the intention of reimagining what we think of as the pocket knife. And we think they've succeeded beautifully in creating one of the most utterly skeletonized (while still being useful, of course) folding knives. Though these blades vary in size, handle material, finish, and more, they all boast the same familiar silhouette that put Deejo on the map. If you're looking for something that's ultralight, extremely well-refined, and more unique than most other cutting tools out there, you can't go wrong with a Deejo.
Blade Length: 2.625-3.75″
Handle: Varying
Steel: Varying
Lock: Liner
Douk-Douk Knives
Named after the Melanesian trickster spirit, Douk-Douks are crafted by a company called M.C. Cognet and have been since as far back as 1929. Though Oceanic in name and in regards to their engravings, these simple folders are actually made in France. Unsurprisingly, they were intended to be a low-budget tool to be used and carried by working men, but have since transcended their simplistic origins to become an iconic pocket knife that we believe should be in every true EDC fanatic's collection. And while these slipjoints don't technically have a locking mechanism, the bail found on the tail can be used to secure the blade when folded, ensuring it doesn't pop open when unintended.
Blade Length: 3-3.625″
Handle: Steel
Steel: Carbon or Stainless
Lock: Slipjoint
Case Sodbuster Jr. Knife
Truth be told, American knifemaking brand Case actually offers quite a few different spectacular minimalist pocket knives. However, if we were to pick just one, it would likely be the Sodbuster Jr. you see before you today. It bears many of the stylistic hallmarks of classic American knife design without a single extraneous detail. And while its slipjoint mechanism, chrome vanadium carbon steel blade, and synthetic handle are all as pared-down as it gets, they're also all still durable, reliable, and useful. For less than $30, this is a remarkably dependable knife you'll find yourself turning to over and over again.
Blade Length: 2.8″
Handle: Synthetic
Steel: Chromium Vanadium Carbon
Lock: Slipjoint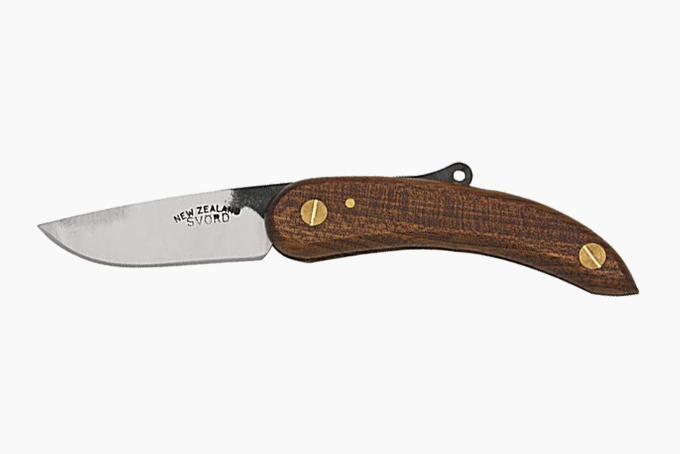 Svord Peasant Knife
Based in New Zealand, Svord is responsible for crafting one of our all-time favorite friction folders, the Peasant Knife you see before you. And while we picked out this particular one for its beautiful all-hardwood handle scales, the brand actually makes a wide variety of other versions — namely different colorways with synthetic scales. Pair that with the beautifully forged and versatile carbon steel drop point blade, and you've got one of the most elegantly minimalist knives available now or ever. Furthermore, there's a bit of history attached, as this knife is based on those used in central Europe some 300+ years ago.
Blade Length: 3.25″
Handle: Varying
Steel: High Carbon Tool
Lock: Friction
Spyderco Roadie Knife
Spyderco's Roadie Knife actually has a pretty unique story in that it was originally created in response to the new TSA guidelines for travel after the tragic events of 9/11. Or rather, it was built in response to the eased regulations that came about in 2013, more than a decade later. Unfortunately, those regulatory rollbacks were canceled, but Spyderco had already designed the Roadie to meet them and chose instead to produce the knife anyhow. The result is perhaps the brand's best minimalist knife, marked by a unique silhouette, N690Co sheepsfoot blade, FRN handle scales, and a slipjoint mechanism. While bearing some of Spyderco's signature design cues, it certainly stands out from the brand's other offerings, but that's a part of what we like about it.
Blade Length: 2.09″
Handle: FRN
Steel: N690Co
Lock: Slipjoint
Serge Knife Co. Production Keychain Slip Joint Knife
Serge Panchenko is a one-man tour-de-force in the knifemaking industry, responsible for numerous lauded knife designs — one, the Coin Claw, even made it onto a character costume in Disney's The Mandalorian TV series, though only as a stylistic addition. To put it bluntly: his knives are in high demand. And that's a part of what makes the Production Keychain Slip Joint you see here so special. It's approachable priced (compared to some of his other offerings), beautifully designed, simple in its functionality, and actually intended for discreet carry. If the $100 mark doesn't frighten you off, we'd suggest picking up this Blade HQ exclusive while you can.
Blade Length: 1.375″
Handle: G10
Steel: Böhler M390
Lock: Slipjoint
Kizer WPK Knife
One of the really cool things about the everyday carry knife world is getting to see brands do things in a unique way. In this instance, Kizer has beautifully combined an old-school folding knife style with utterly modern materials and an up-to-date appearance. You see, this knife is made from high-grade titanium and S35VN blade steel, but its silhouette is undeniably inspired by peasant-style friction folders of old. The strangest part, perhaps, it that it works so well. And that makes this a special blade, even amongst the great company that is the rest of these minimalist knives.
Blade Length: 2.5″
Handle: Titanium
Steel: S35VN
Lock: Friction
WESN Allman Knife
WESN's Allman frame lock knife doesn't do any one thing particularly spectacularly. In fact, if you looked at it piece by piece, it might seem familiar — like so many knives before it. But there's undoubtedly something truly special about its entirety when looked at as a whole unit. Its silhouette is simultaneously familiar while also being unique and new. Its materials aren't groundbreaking, but they are of tremendous quality and work brilliantly together from both a stylistic and functional standpoint — whether you get the titanium or G10 version. And there's certainly no denying that the 8 different versions (mostly variations in color) are all superb in their own way, lending themselves well to collecting multiples. All told, WESN is a brand to watch if this knife is any indication.
Blade Length: 2.8″
Handle: Titanium or G10
Steel: S35VN
Lock: Frame or Liner
Quiet Carry The iQ Knife
We should start by pointing out that none of the Quiet Carry iQ knives are presently available — and they won't be until September. But we couldn't leave this knife off our list, especially with the impending release date right around the corner. Available in five options — the highlight probably being the blacked-out, carbon fiber-accented version — all of these beautifully minimalist folders feature the same silhouette, ceramic ball-bearing deployments, titanium handle scales with frame locks, and a high-end Elmax steel blade. That means, whichever finish you get, you're getting a truly outstanding EDC blade you'll never want to keep in your pocket because you'll be too busy showing it off.
Blade Length: 2.9″
Handle: Titanium or Titanium & Carbon Fiber
Steel: Elmax
Lock: Frame
The James Brand County Knife
Wtih all due respect to the other brands here, we have to give The James Brand some extra recognition, as they've practically single-handedly invigorated the current minimalist EDC knife trend — the brand even has copycat competitors now. And while you could probably make a case for any of the brand's knives to make this list, we're partial to the classic simplicity of TJB's County Knife. This particular version is even more special, as it boasts a titanium handle, Sandvik straight back blade, slipjoint mechanism, and a silhouette reminiscent of the kinds of pocket knives so many of us carried as kids (perhaps in the Scouts).
Blade Length: 2.5″
Handle: Titanium
Steel: Sandvik
Lock: Slipjoint
Jho Knives GS3
It's a shame that Jho Knives isn't more well-known and talked about in the EDC space because this microbrand has a selection of truly unique gear — some more practical than others, but all beautifully realized. In the case of minimalist knives, we'd have to back the GS3 you see here with its friction-style format (meaning it has no locking mechanism of which to speak), titanium handle, and a pair of interchangeable Böhler M390 blades — a tanto and a wharncliffe. The simple inclusion of a second blade gives this knife some extra versatility, both functionally and stylistically. Either way you swing it, this knife is superb.
Blade Length: 3.5″
Handle: Titanium
Steel: Böhler M390
Lock: Friction
Chris Reeve Sebenza 31
There's an argument to be made that, without the Chris Reeve Sebenza, there might not be a modern minimalist EDC knife category at all. Even The James Brand, which we mentioned above, is beholden to the Sebenza. And while this knife recently got its first redesign in a decade, it's still very much the same overall knife that the EDC world fell in love with back when it was first released. This new version boasts titanium handle scales (with the iconic Reeve Integral Lock), a S35VN blade, and it's available in your choice of small or large sizes. Better still, if you want a little more flair than is found in the standard version, the brand offers eight other versions with gorgeous rare wood onlays.
Blade Length: 2.99″ or 3.61″
Handle: Titanium
Steel: S35VN
Lock: Reeve Integral
Nesmuk Janus Folder
Believe it or not, the Nesmuk Janus Folder is actually intended to be a portable culinary knife for foodies on the go. But, between its sleek and sinister minimalist styling and stupendous material construction, we'd suggest that it works wonderfully as an ultra-high-end EDC blade. That includes a gorgeous ergonomic handle crafted from your choice of eight different materials (mostly rare hardwoods), a Niobium steel blade, and it even comes with its own leather carrying case (for those that don't want this slipjoint floating around in their pocket, as it doesn't have a pocket clip). Sure, the price is going to scare off plenty of folks, but it's certainly reflexive of the overall exclusivity and quality therein.
Blade Length: 3.5″
Handle: Varying
Steel: DLC Niobium
Lock: Slipjoint
The 15 Best Damascus EDC Knives
Perhaps you're not overly keen on the minimalist options above and you'd like to wrap your fingers around a blade with a bit more flair. Well, you'll find that in spades and more with our collection of the best Damascus EDC knives.