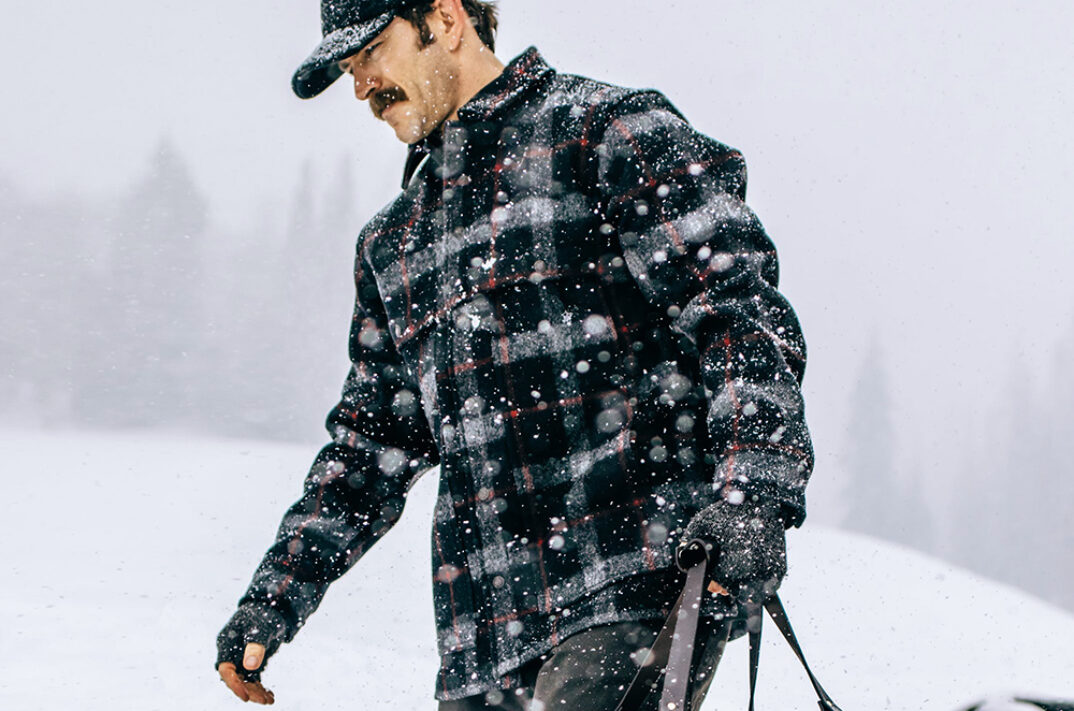 The old adage of "The show must go on" extends far beyond the world of entertainment. For countless professions that work outdoors, work must go on rain or shine. During the warmer months, laboring outdoors comes with obvious benefits, though when temperatures start to drop during the colder months, fighting off the cold can become a challenge. Fortunately, there's no shortage of reputable outfits producing hardwearing winterized workwear, though the oversaturated nature of the market and the sheer number of available offerings can make it difficult to find the creme of the proverbial crop. So, after extensively scouring the internet, as well as drawing from our own personal experience working physical labor outdoors during the winter months, we've compiled this guide to the 15 best pieces of men's winter workwear.
Quality winter workwear has to pull off a delicate balancing act, needing to be thick and warm enough to stave off frigid temperatures, while not being so bulky as to substantially mitigate one's range of motion (or increase fatigue). Advancements in materials and construction techniques have enabled manufacturers to deliver on some increasingly stellar workwear items. And, while workwear is obviously most conducive to those performing physical labor outdoors, the rugged nature of these products and the fact they're engineered to withstand the rigors of daily use under tough conditions also allows winter workwear to excel in metropolitan settings. It's also likely to last markedly longer than your average winter jacket or pants.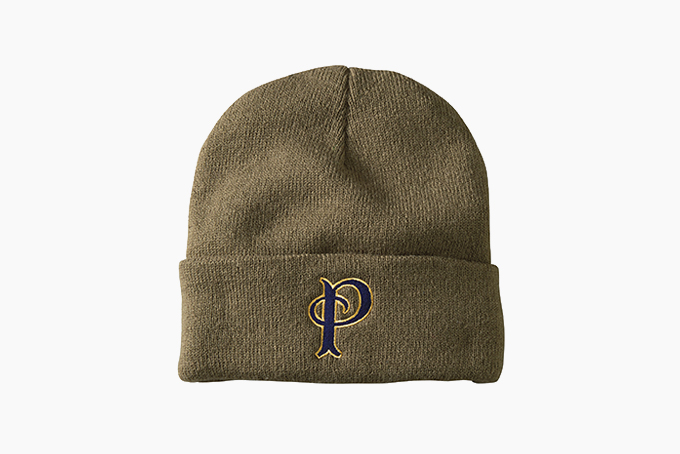 Pendleton "P" Beanie
While the claim that humans lose most of their body heat through their heads is objectively untrue, your noggin is nonetheless a crucial element to protect during the colder months. Made by Pacific Northwest powerhouse, Pendleton, this fashionable yet functional acrylic ribbed knit beanie is adorned in a special vintage Pendleton "P" logo in blue with gold outlining. Offered in red, green, blue, or brown, this beanie is also made in the USA.
CAT Cold Weather Work Sock
While boots are undeniably a crucial part of the winter workwear equation, the battle in the fight against cold feet ultimately starts with a good pair of socks, which is where CAT Footwear's Cold Weather Work Sock comes into play. Sold in convenient two-packs, these engineered-for-winter socks features a construction made from a mixture of polyester, polyamide, acrylic, wool, cotton, spandex. A shin panel and reinforced padding in the heel and toe make it easier spending full shifts on your feet.
Milwaukee Winter Demolition Gloves
A long-trusted name by generations of American workers, Milwaukee makes quality, affordable products for workers, ranging from hand-tools to garments. These particular gloves offer a winterized take on the brand's traditional "demo" gloves, with the knuckle, palm, and finger-tip-armored gloves now being backed by 40 grams of insulation and a wind and waterproof liner. These gloves also sport a simple hook and loop closure, and the brand's SMARTSWIPE Knuckle that enables its wearer to utilize a touchscreen without having to remove their gloves.
Under Armor ColdGear Base Layer
Base layers are arguably the best place to start when piecing together a warm outfit to combat the winter cold. And while traditional cotton thermals do help, they're objectively pretty antiquated compared to modern-day synthetics like Under Armour's ColdGear Compression mock long sleeve. Made from an 87% polyester, 13% elastane blend, this four-way stretch material boasts a dual fabric setup that makes it ultra-warm while still affording solid breathability. The trick material also wicks and absorbs sweat, mitigate chafing, and is anti-microbial.
Mechanix M-PACT Gloves
Winter work gloves really don't get much tougher than Mechanix' Durahide M-Pact gloves. The things pack a thermoplastic rubber exoskeleton for impact protection, plus Durahide Resist leather construction that's largely impervious to cuts and abrasions. PrimaLoft 100g Gold Performance insulation guarantees that hands stay warm no matter how far the needle drops — a feat that's helped along by extended stretch-elastic cuffs with internal wrist gaiters.
Dickies FLEX Sanded Duck Insulated Bib Overalls
Overalls are another staple in the workwear realm that becomes even more important during the winter months. And with full insulation, it's hard to do better than this pair from Dickies. Unlike ski bibs being passed off as "workwear", this item features full duck canvas construction, heavy-duty plastic buckles, reinforcements around the knees, back-pockets, and other high-stress areas. Flex-fabric helps to mitigate any limitation of movement, while a myriad of zippers allows for easy adjustment of both fit and ventilation.
United By Blue Responsible Flannel
The flannel is a bonafide staple in the world of winter workwear, and though the overall silhouette and design have changed relatively little, the same can't be said for the manufacturing techniques that create these plaid-clad pieces thanks to offerings like United By Blue's Men's Responsible Flannel. Made from 6.7oz double-brushed flannel — comprised of 59% organic cotton, 2% spandex, and 39% recycled polyester — and offered in half-a-dozen yarn-dyed colors, this garment is produced in a factory that's run entirely on solar energy. And, instead of traditional plastic buttons, this attractive and warm button-up boasts corozo buttons made from the nuts produced by Central America's Tagua Palm.
Patagonia Steel Forge Denim Work Pants
Though the company is best known for its outdoor goods and garments, Patagonia is, in fact, one of the best-kept secrets in the men's workwear space, which is a damn shame considering the pedigree of products like the company's Steel Forge Denim Pants. These ultra-hardwearing pants boast double-fabric knees and work-specific reinforcements, as well as pockets designed to accommodate tools and horizontal gussets for quick-access to an EDC blade. Sewn in the USA from American-grown Cone Mills cotton, the denim in these work pants is backed by 8% Dyneema which, despite being an extremely lightweight fiber, is ten times stronger than steel.
Carhartt Duck Quilted Flannel-Lined Active Jac
Quite possibly the most quintessential piece of men's winter workwear currently on the market, Carhartt's Duck Quilted Flannel-Lined Active Jacket has been a go-to garment for countless ranch hands, construction workers, and outdoor laborers all over North America. Sporting a traditional hoodie silhouette, this made in the USA item boasts ring-spun 12oz cotton duck – available in five earth tone colors — that shields its wearer from wind and water. A fully-quilted inner lining adorns the jacket's sleeves, hood, back, and chest, and rib-knit cuffs and an elasticized waist help to trap and recycle heat. We're not being hyperbolic when we say no men's winter workwear arsenal is complete without one of these.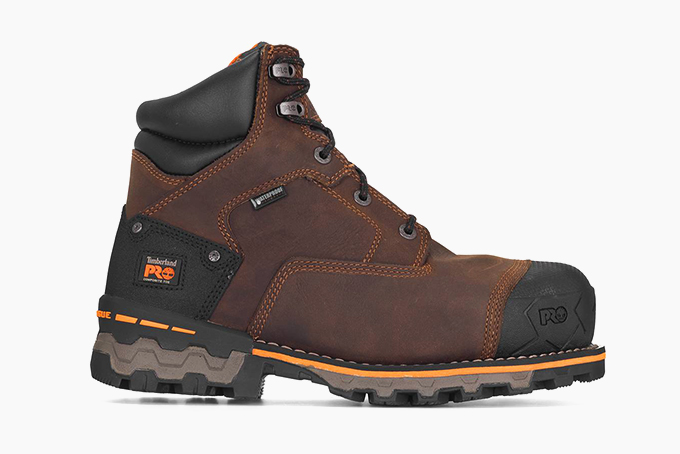 Timberland PRO Boondock Composite Toe
A contemporary take on the traditional winter work boot, Timberland PRO's Boondock boasts a plush, breathable, antimicrobial Wick Dry-Lined interior with a waterproof membrane that's shrouded by a rugged, protective exterior with premium waterproof oil-tanned full-grain leather uppers and padded tongues, ankles, and collars. Born out of decades of experience producing work-ready footwear, this boot's high-wear-prone areas are reinforced with the brand's proprietary highly-abrasion-resistant Ever-Guard Leather. It also gets a fiberglass composite shank, deep lugged Timberland PRO rubber outsoles, and has been rated for various workplace safety standards as well as being electrical hazard rated.
Mission Workshop The Falkland Pants $225
Mission Workshop is an elite outfit that's built its name on a vast catalog of technical, well-designed garments and goods, and though the majority of its offerings are more street-focused, their hardwearing nature and athletic designs also make them highly conducive to workwear. And this very much extends to the San Francisco-based company's Falkland pants. Despite looking like a pretty average pair of pants, the Falkland features articulated knee areas, a flexible crotch gusset, and is composed of Spanish Santanderina four-way stretch cotton which, together, allows for unrestricted movements, while its DWR finish shields its wearer from the elements. Available in green or grey camo (or solid gray color), these pants are made in Portugal.
Bradley Mountain Edison Chore Coat
For well over a century, chore coats have been fixtures on ranches and worksites the world over, and for good reason. These warm and durable garments act as an ideal exterior layer for laborers working in colder conditions, and one of the better chore coat offerings currently on the market is Bradley Mountain's Edison model. Made from 12oz (preshrunk) stonewashed duck canvas, this made in California jacket features a timeless and classic silhouette decorated with antique brass button shanks and snaps. A variety of interior and exterior pockets make this vintage-inspired modern-day offering both stylish and ideal for the winter workday.
Red Wing Roughneck Boots
Red Wing didn't become one of the most trusted names in workwear by accident, as demonstrated by top-notch offerings like the classic Roughneck boots. Originally designed to meet the exacting needs of mid-20th-century oil rig workers, these six-inch boots boast a steel shank, nickel eyelets, lugged Vibram outsoles, Puritan triple stitch, and Goodyear welt construction, and are wrapped in Briar Oil Slick full-grain leather. And while they have been on the market for over half-a-century, the Roughneck continues to be one of Red Wing's best-selling products.
Filson Mackinaw Wool Cape Coat
A thick shirt jacket made from warm 26oz 100% virgin Mackinaw Wool this Filson Cape Coat is a limited edition version of one of the heritage brand's outfit best-selling pieces of winter workwear. Sourced from hardy sheep in the Pacific Northwest, this special wool offers stellar insulation, even if it gets wet. This made-in-America item was designed to withstand everyday use and features large hand-warmer pockets and double-layering over the shoulders that afford its wearer solid protection from snow and precipitation. And, like pretty much all of Filson's wares, the Mackinaw Wool Cape Coat looks great and will last a lifetime.
El Solitario Bonneville Protective Coverall With Dyneema
No matter what the season, some tasks simply call for a solid set of coveralls, and during the winter months, it's important to have a set that you can toss on over your existing cold-weather getup. El Solitario's Bonneville coveralls are an already stellar product, but the custom moto outfit and gear outfit has taken it to the next level with the introduction of a Dyneema-infused version. The coveralls are complemented via matte zinc buttons held down via copper rivets and wire, padded knees, shoulders, and neck, an adjustable/removable waist belt with a large brass metal buckle, a rear tool loop, and a button-fly closure with a tab collar. They also boast an elasticated waist back, bi-swing back shoulders, and adjustable wrist cuffs to tighten over your clothing underneath.
Punch The Clock: 25 Men's Workwear Essentials
Looking for more rugged workwear that isn't limited to cold-weather gear? Our guide to men's workwear essentials offers a definitive look at the market's work-ready staples.