Nobody wants to head out into the summer sun without a gameplan, and oftentimes, that means throwing on a pair of your favorite jeans, a great looking t-shirt, and some sleek sneakers to round everything out. After all, one of the season's biggest pulls is the ability to show off your handsome attire. But, your stylish wardrobe can go south almost as quickly as it came together if you don't have the perfect pair of shoes to complement it.
As much as we hate to admit it, choosing the right footwear to accent your summer outfit is absurdly important. Whether you're heading to the beach, going up the street, or jogging down to your favorite gym, there's a carefully-written ruleset that dictates your choice of subtle silhouette, causing you to stress over which selection would look best with your current getup. But there's no reason to overthink things. You can spend hours upon hours thinking of the perfect pairing, or you can dive headfirst into our guide on the best men's sneakers for summer, where we give you the lowdown the season's must-have styles — the choice is yours.
Converse Chuck Taylor All Star High-Top
The Converse Chuck Taylor All Star High-Top is as iconic as they come, and as one of the premier basketball silhouettes to ever be created over 100 years ago, it's fostered quite the reputation during its centurial reign. Over the shoe's long-winded lifespan, it's remained strikingly true to its original design, sporting a high profile, canvas upper, a lightweight orientation, and the brand's classic All Star ankle patch. These are a must-have for every summer-ready style.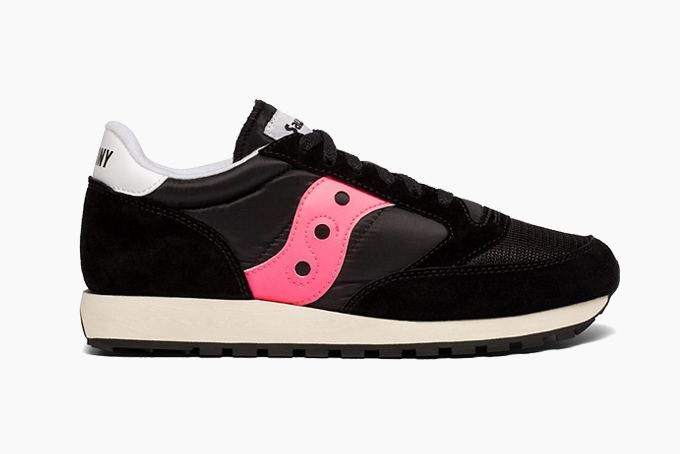 Saucony Men's Jazz Original Vintage
Saucony is one of the most underrated shoe manufacturers around, and the brand's Jazz Original Vintage is a staple style piece that's just as refined as its classic counterparts. This retro runner boasts a nylon/suede/mesh upper for exceptional durability, an unlined tongue, sock liner, and padded collar, and vintage branding that gives the shoe a truly nostalgic feel. Since these were originally designed for use on the track, they're outfitted with textile lining and cushioning, a shock-absorbing EVA midsole, and a rubber traction outsole to keep you planted on any terrain.
Vans Old Skool Core
Vans is one of the most notable companies in the footwear world, and a large portion of their notoriety is owed to the Old Skool Core line. The Old Skool silhouette is a timeless take on the company's iconic skate shoe, boasting a unique side stripe, low-top, and durable suede/canvas construction that made it a hit among action sports enthusiasts. These days, this legendary shoe is worn by athletes and style-focused guys alike, making the waffle-soled wonder a must-have variant in every fashion-forward wardrobe.
New Balance 501
New Balance's 501 sneaker is a throwback style that's been implemented for the 21st century. Not only is this fashionable silhouette deeply rooted in the company's past, but it also boasts a modern suede and mesh upper that's been optimized for long-lasting, breathable comfort. A cushioned midsole and traction-savvy ripple outsole round out the vintage-inspired shoe, offering buyers a pair of quintessential shoes that can be worn from the hardtop to the street.
Nike Cortez
Nike's Cortez is a legendary silhouette, in its own right; and today, the iconic style essential has been updated to fall in line with contemporary standards. It's based on Bill Bowerman's 1972 running shoe and features a modified design, nylon upper, and suede overlays to help keep it as light as possible. But, just because the shoe is focused on weight saving doesn't mean that it's short on durability — the Cortez is lauded as one of the longest-lasting silhouettes on the market, making it an attractive proposition for heritage-oriented buyers.
Tretorn Nyliteplus
Tretorn's Nyliteplus sneaker is a modern take on one of the most classic styles around, and it goes out of its way to sustain its spirited silhouette. It's been built with a flexible upper, environmentally friendly ecoOrtholite, and a durable canvas upper to keep it running strong for years to come. A non-marking rubber outsole, high-performance sock liner, and top-stitched gullwing design help to give the shoe a look all it's own, while keeping things comfortable (and breathable) for the wearer.
Seavees Hawthorne Slip-On
Seavees' Hawthorne Slip-On is easily mistakable for one of Vans iconic variants, however, the brand has made sure set the shoe apart from its competitors with the addition of one-of-a-kind textiles, materials, and care. The Hawthorne boasts a smooth poplin twill upper, twin gore design, and a contoured foam footbed to keep things comfortable, no matter the situation. To channel the spirit of the shoe's beachy, 1960s roots, the brand has even opted for the implementation of a high-profile rubber foxing, and a herringbone molded grip-lock outsole that's exclusive to Seavees.
Superga Lendl
Superga's Lendi sneaker is a legendary tennis silhouette that's been off the map for a number of years. Now, the company has decided to reintroduce the famous swallowtail shoe with a mixture of modern textiles, fabrics, and design accents, including an enhanced leather upper, perforated stylings, and an iconic Superga Sport logo on its tongue. Even if you aren't a lover of the sport, Ivan Lendl's stylish silhouette is surefire pick up to round out your collection.
Native Dartmouth
Native's Dartmouth sneaker is a testament to collegiate footwear, boasting a slip-on silhouette that exudes comfortable style. Each air mesh upper is placed atop the company's durable EVA bed and rubber outsole, allowing exceptional breathability during use. Better yet, each variant is created using animal-free suede, elastic laces, and Lycra liners, giving you peace-of-mind when it comes to everyday wear.
Novesta Marathon
Novesta's Marathon silhouette harkens back to some of the shoe industry's most iconic offerings, bringing a fashionable, functional variant to the forefront for the brand. If you're not enamored by the shoe's sleek styling, vintage design, or lightweight orientation, rest assured; each classic example is made by hand in the company's European factories and boasts a vegan construction for sustainable manufacture.
Greats Royale Knit
Greats' Royale Knit shoes are as environmentally conscious as they come. These aesthetically-pleasing sneakers start their life in a New York design studio before making their way overseas to Italy, where they're crafted with recycled single-use and ocean plastics. An Enviro Knit yarn upper, breathable knit weave, and custom-made comfort-performance insole separate the Royale Knit from their counterparts, offering buyers a standout shoe for a fraction of the cost when compared to similar offerings. But, if you want to feel even more positive about your purchase, we'll leave you with this fun fact: each handcrafted pair is comprised of seven plastic bottles from the earth's oceans, and contributes to Greats' ambitious mission to remove a percentage of the world's surplus single-use plastics.
Adidas Nite Jogger
Adidas Nite Jogger was introduced all the way back in the 1980s, but that doesn't mean that they haven't garnered some new upgrades. These modern-day variants embody much of the original's retro stylings, including reflective detailing and a bulky design orientation, while implementing technical improvements like a durable mesh and ripstop nylon upper, suede overlays, and the company's innovative Boost midsole. The Nite Jogger is a testament to comfortable wear, offering responsive cushioning and all-day comfort to wearers who are looking to brandish one of Adidas' most iconic examples.
Nike Zoom Fly Flyknit
Nike's Zoom Fly Flyknit is a running shoe that's learned to transcend the realm of athletic wear, becoming one of the quintessential styles for everything from casual, everyday use, to tailored exercise endeavors. Originally, the sneaker was built to break the world's running records; but now, thanks to an ultra-lightweight support system and a bevy of stylish colorways, the Flyknit has become a staple in many a man's everyday wardrobes. If you're looking for a pair of purposeful shoes that'll accompany you from the gym to the streetside, the Nike Zoom Fly Flyknit might be your next favorite pickup.
Veja V-10
Veja's V-10 sneaker is a lightweight, breathable shoe that's made with the environment in mind. It's crafted from some of today's most ecological and sustainable materials, offering a premium leather upper, panel, and logo, alongside the shoe's organic cotton and recycled polyester lining. On the interior, you'll find a comfortable insole made from both wild rubber and synthetic material, which acts in perfect unison with the sneaker's sustainably-sourced wild rubber outsole.
Nike Air Max 270
Nike's Air Max 270 is an amalgamation of two of the company's most prolific sneakers: the Air Max 180, and the Air Max 93. It's outfitted with a breathable, bootlike construction that supports and flexes with the movement of your foot, and features a solid/mesh construction that provides adequate ventilation, no matter where you are. To round things out, the shoe's dual-density foam sole operates alongside the company's biggest Air heel unit to date, offering wearers exceptional cushioning throughout the length of their stride.
Garment Project Boston
Garment Project's Boston sneaker is a mixture of classic style, and modern construction principles, bringing a shadowy black textile upper, Arneflex insock, and plush leather lining to the forefront for interested buyers. Aside from being one of the best-looking shoes available today, these artisanal shoes are built around an ultra-comfortable Italian Gommus outsole and boast a handmade silhouette, crafted by some of Portugal's most talented shoemakers.
Adidas Originals NMD_R1
Adidas' Originals NMD_R1 are one of the most lauded silhouettes available today; and, thanks to avid wear within the street-fashion and high-end sneaker scene, they've become more popular than ever before. The NMD_R1 silhouette harkens back to the racing-oriented styles of the 1980s, bringing heritage design, minimalist qualities, and classic composure into the limelight. When it comes to modern upgrades, the shoe doesn't fall short — it's outfitted with an engineered Primeknit upper, the company's most responsive cushioning to date, and even offers industry-leading energy return.
Filling Pieces Low Mondo
Filling Pieces might not be a household name when it comes to notable footwear, but with offerings like the Low Mondo, it won't be long until the company's other silhouettes are thrust into the industry spotlight. The Mondo boast as minimalistic composure that's defined by subtle, contrasting textures, natural leather, and Nappa textiles. The mixture of premium top-grain and matte Nappa leather brings a certain prestige to the sneaker, while waxed cotton laces, leather lining, and a custom-designed Fundament Plain sole give the shoe a leg up when it comes to comfortable utilization.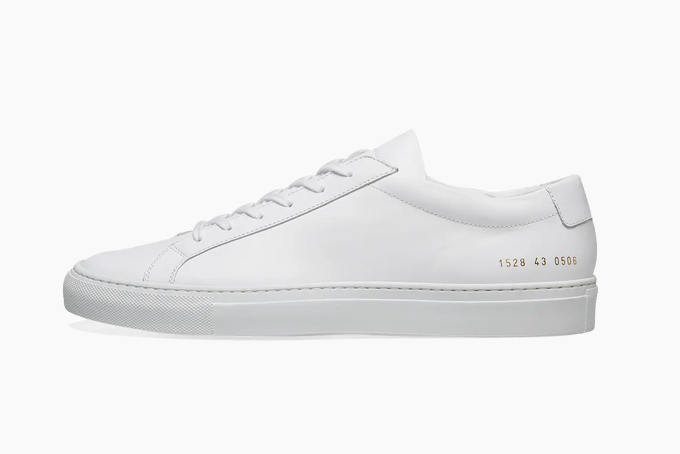 Common Projects Achilles Low
Common Projects Achilles Low sneaker is a staple in the subtle, white-shoe world, and its contemporary design isn't half bad, either. It's become quite the fashionable item thanks to its clean lines, minimalist construction, and simplistic color scheme, making it a classic shoe that pairs well with a variety of different wardrobe types. On the exterior, a luxurious leather upper gives way to the shoe's gold foil style code, tonal rubber outsole, and comfortable leather liner.
No.One Delta
No.One's Delta sneaker is one of the most intricate shoes on the market, and its high-end price represents that. These one-of-a-kind silhouettes are worth it, however, thanks to a mineral tanned, full-grain Baby Bull leather from French tannery Remy Carriat, asymmetrical body panels, and UV printed type accents. On the shoe's exterior, distinctive orange stitching, a soft French Plonge Lambskin liner, and stylistic detailing that harkens back to the 1980s' most iconic workout shoes help elevate the Delta into the realm of luxurious wear.
The 12 Best Sneakers Under $100
Sometimes your budget takes precedence over style, but you can find the best of both worlds on our list of the best sneakers under $100.