Summer is right around the bend, and that means a lot more time spent outdoors with our friends and family. Exploration and curiosity are in our blood, but to utilize everything that the wilderness can provide for us, we need to be properly outfitted. Adequate clothing for outdoor endeavors is always essential, and while footwear has always been a mainstay of the genre, the utilization of water shoes might be something that you've always placed on the back burner.
You don't have to be embarrassed about your exclusion of these water-focused footwear pieces. After all, unless you live in an area where stream and creek crossings are a dime a dozen, it might not seem like the most immediate issue. However, taking precautions to remain agile on the trail is always the most logical option, meaning that even if you're wearing your favorite pair of durable hiking boots, it's always nice to have a backup. Thankfully, most water shoes are small, compact, and stowable, allowing them to be packed away for use when things get a bit slippery. Below, we'll review the best water shoes for men on the market and give you some insight as to what you should be looking for when perusing your next pair.
Best Water Shoes Breakdown
Best for Swimming

Crocs Swiftwater Mesh Wave Sandal

Best for the Beach

Vans Slip-On TRK Shoe

Best Foam Sandals

Merrell Hydro Moc Shoes

Best for Night Outings

Astral Loyak AC

Best for Everyday

Salomon Techamphibian 5

Best for Urban Commuting

Teva Outflow Universal

Best Zero-Drop

Vivo Barefoot Ultra III Bloom

Best for Hiking

KEEN Newport H2

Best for Boats

Danner Rivercomber
What Makes A good Pair Of Water Shoes?
Uppers Material: Perhaps the most common material for water shoe uppers is mesh, typically made from polyester. This helps keep out debris while allowing the shoe to dry really quickly. Another popular material you'll see is injected foam, often with single-piece construction as in Merrell's Hydro Moc. These are more similar to enclosed sandals but are better for drying out and often more comfortable for all-day wear.
Porousness: All water shoes will be porous by nature, but some options, such as traditional Crocs, will essentially act as sandals, with holes for both water and debris to flow in and out. While not as versatile from a style standpoint, these will often be made of lightweight foam materials and fast-drying.
Traction: It's always important to have good traction in wet conditions, but your activity will determine how much grip you'll need. For instance, those hiking will be more prone to facing slippery mud and will need deeper lugs for digging into the ground. On the other hand, those heading to the beach won't need something quite as rugged.
Size & Weight: If you're taking your water shoes along as a secondary pair, make sure you get something that can fit into your bag, and without weighing you down. Again, foam options may be favorable when it comes to being lightweight, but they may not always be as packable as some fabric-based shoes.
Crocs Swiftwater Mesh Wave Sandal
Pros
Nearly entire upper is mesh
Stretchy
Drains pretty well
Cheap
Cons
Toes aren't completely protected
Not the most sturdy
Best for Swimming: Over the past two decades, we've all become familiar with the original Crocs, but these amphibious Swiftwater Mesh Wave Sandals are a favorable alternative when it comes to mobility and cutting through the water. The entirety of the upper is made from mesh, making them entirely porous, but also stretchy and lightweight. Given cutouts on the sides and heel, the shoe will also drain really quickly. Likewise, the ethylene vinyl acetate outsoles are siped to help water spill away from underneath you.
Vans Slip-On TRK Shoe
Pros
Lightweight
Nice aesthetic; looks like checkered Vans
Budget-friendly
Cons
Not super sturdy for all-day walking
Best for the Beach: You'll spark conversations instantly when you bring these Vans to your next beach outing. Made to look like classic checkerboard Slip-Ons, these Slip-On TRK Shoes bring that same go-anywhere mentality to a new water-ready silhouette with improved traction thanks to the oversized reverse waffle soles. Super durable and lightweight, the single-piece injected foam construction utilizes the checkerboard design as drainage holes for fast drying and breathability. It's also easy to bring along as a secondary pair of shoes.
Merrell Hydro Moc Shoes
Pros
Lightweight
2mm lug depth for outdoors
Contoured arch support
Cons
Drain holes could be a bit lower
Best Foam Sandals: While the trails are riddled with Merrell hiking shoes, the brand's Hydro Mocs are arguably just as popular. Similar to original Crocs, these porous sandals are easy to slip on, lightweight at just 15oz, and comfortable to wear for extended periods of time, and without the kitsch. Made entirely from single-density injected EVA foam, these shoes have a 2mm lug depth for more treacherous occasions and a contoured arch for all-day support.
Astral Loyak AC
Pros
Doesn't look like a water shoe
Really flexible
Great ventilation
Cons
Runs small
Not the most durable
Best for Night Outings: Astral's Loyak AC is a sleek, unimpeded variant that looks great, and performs even better. It utilizes an ultrafine ripstop mesh upper, thermoplastic urethane reinforcement to provide adequate abrasion resistance, and a sock-like fit to promote comfortable all-day wear. When you set foot into any waterway, the shoe's level footbed and Flex-Grip outsole will be put to work, calling upon divided lugs and razor siping to offer predictable traction and performance. Once you're done, however, you'll be treated to ultra-fast drying and ventilation thanks to the shoe's aerated mesh upper and drain outlets.
Salomon Techamphibian 5
Pros
Comfortable
Keeps out debris well
Styllish
Cons
Runs narrow
Heavier than previous versions
Best for Everyday: While transcending their outdoor nature to streetwear culture, Salomon's footwear models can be seen just about anywhere these days. Whether you're in the wilderness, at the gym, or running errands around town, these fifth-generation Techamphibian water shoes are made to handle it all. Equipped with a reinforced toe cap in front for extra protection, the breathable, fully-stitched mesh uppers keep the debris out while drying quickly after your day is over. Meanwhile, the siped outsoles are made to draw water out and give you a much-needed grip against any wet terrain or surfaces.
Teva Outflow Universal
Pros
Attractive aesthetic
Great strapping system
Comfortable to wear all day
Cons
Heavy
Sand and dirt gets stuck inside
Best for Urban Commuting: It's difficult to find water shoes that can be both stylish and performative, all while blending in enough to go with whatever your wardrobe has in mind. Keeping you secure with its proprietary strapping system, Teva's Outflow Universal looks spectacular on your foot and can handle the toughest of torrential downpours on your daily commute. Comfortable with every step, the midsole and topsole are made from injected EVA. Likewise, the recycled polyester mesh dries incredibly quickly while the stretch-fit collar and polyester microfiber lining won't be uncomfortable if you choose to go without socks. For extra stickiness, the thick contoured outsoles are made of recycled rubber.
Vivo Barefoot Ultra III Bloom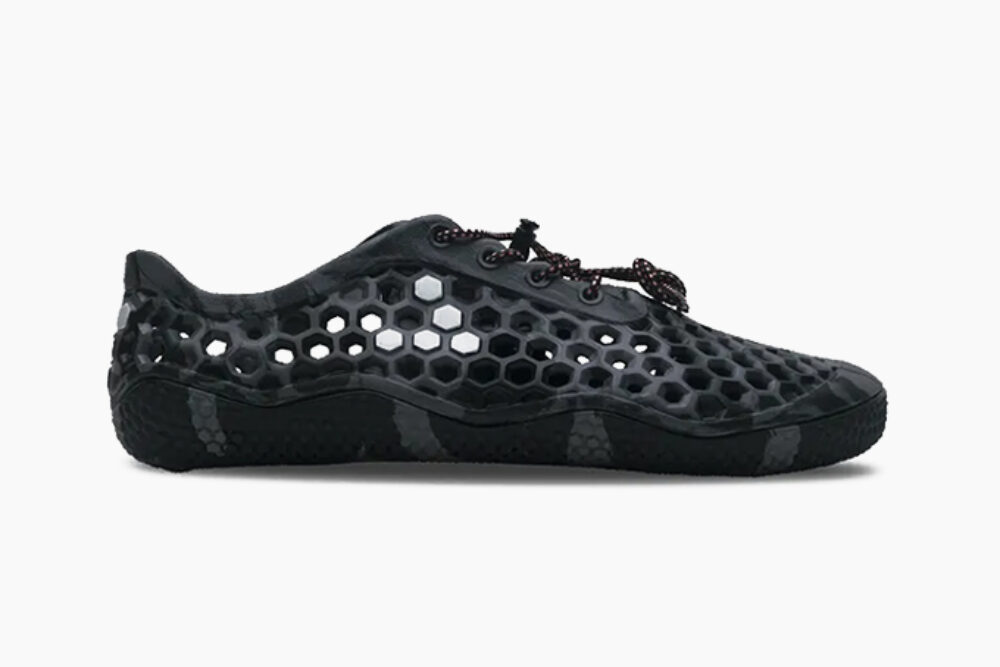 Pros
Supports natural gait and stability
100-day trial period
Vegan materials
Cons
Barefoot feel not for everybody
Best Zero-Drop: Walking barefoot can have its advantages. For one, it encourages a more natural gait and posture. It also allows your feet and toes to rest naturally for increased stability. Vivo Barefoot's Ultra III Bloom is just one of many zero-drop offerings from the brand. Sporting unique honeycomb pores all over the top, this silhouette happens to aid you well in wetter conditions while still maintaining some conventions of a traditional shoe, such as the laces on top and the overall shape and design. Moreover, these shoes are made with proprietary BLOOM vegan foam that's both flexible and comfortable.
KEEN Newport H2
Pros
Great protection on top, especially toes
Very breathable and drain well
Spacious toe box
Stable fit with bungee laces
Lots of color options
Cons
Rocks/debris can get into holes
Best for Hiking: Water shoes, or hybrid sandals, can be a great option while hiking simply for their flexibility in surviving whatever your trek has in store for you. One of the best to ever do it also so happens to be the first to ever do it. KEEN's original Newport model launched some two decades ago and changed the way companies viewed hiking sandals. For once, they protected our toes without needing to feel the suffocating enclosure of a traditional shoe. Now, the Newport H2 is better than ever, with a high-traction rubber outsole with razor siping for efficiency, anti-odor properties, a large toe box, and a lace-locking bungee system. There really is no other option here.
Danner Rivercomber
Pros
CORDURA knit uppers
Nice aesthetic
Really comfortable
Good Vibram grip
Cons
Don't dry as quickly as other options
Ankles can be a little tight
Best for Boats: Believe it or not, the Pacific Northwest's favorite heritage work boot brand also makes one of the best water shoes around. Inspired by canyoneering and canoe paddling, Danner's Rivercomber is impressively built with CORDURA knit uppers that are abrasion-resistant, lightweight, and breathable, while also being able to dry quickly and drain any water that gets inside. At first glance, these look like your standard boat shoes, but these are made for the wettest of conditions, with quick-drying EVA midsoles and Vibram Wavegrip outsoles that direct water away from the shoes.
The Best Waterproof Socks
While most folks tend to wear water shoes without socks, some might want that extra layer of comfort, protection, and warmth. In that case, you'll find what you're looking for on our list of the best waterproof socks.