There are a thousand reasons you should be carrying a knife with you every single day. And, if you ask some folks, there are just as many reasons not to carry one — a sentiment with which we most certainly disagree. In fact, we're of the mind that many of those reasons can be mitigated with the right knife. For instance, if your fear is that you're not ready to carry a bulky, tactical, 8″ blade around like you're Crocodile Dundee, we'd simply suggest something a bit sleeker and smaller. In other words, a gentleman's knife.
Perfect for city living, gentleman's knives — while an ill-defined category — are perfect for anyone who wants a compact and stylish cutting tool. They're often beautifully made, uncomplicated, and built to last. And while there are a lot of options that fall under those general guidelines, we've got a number of favorites that we believe really exemplify the category. And we've rounded them up in the following guide to the best gentleman's knives for everyday carry.
What Is A Gentleman's Knife?
Sleek, Stylish, & Simple
Unlike some other factors in the world of everyday carry, the idea of a "gentleman's knife" is fairly ill-defined — even within the knife community itself. And while trying to pin it down definitely opens up the potential for debate, there are a few factors that are generally agreed upon. The most important of these is that gentleman's knives are made to be easily and discreetly carried — necessitating a relatively slim and sleek format that can easily fit into a pocket, no matter how otherwise crowded. There are some who might say that they're intended as a fashion accessory first and little else, but we disagree — a knife is a purposeful instrument that should always be able to perform required cutting tasks. But they most certainly need to be easily carried.
Secondly, gentlemen's knives are typically uncomplicated in regards to both their styling and functionality. For instance, a highly-tactical automatic switchblade with sci-fi styling would never qualify as a gentleman's knife. Similarly, Swiss Army Knives — while classic and iconic in their appearance and purpose — offer too much in the way of complications to fit into the category. It's not a requirement for gentleman's knives to be completely free of accouterments, but they are mostly very simplistic — even to the point that they often don't even feature locking mechanisms, relying instead on friction or slipjoint deployments.
Lastly — and most complicatedly — these blades need to have some measure of timelessness about them, whether that's because they're built from beautiful and rare materials, have iconic styling from a noteworthy designer, or otherwise. As mentioned, it's hard to pin down exactly what a gentleman's knife is and not everyone will agree, but we believe these factors do help clarify the somewhat murky category.
The Best Gentleman's Knives On The Market
Dapper & Design-Conscious
Now that you're privy to just what exactly a gentleman's knife is, let's dive into our picks for the best everyday carry-friendly models that money can currently buy.
Opinel No. 8 Walnut Handle
Designed and made in France, the Opinel No. 8 is one of the most popular budget-friendly EDC knives that, despite its accessible MSRP, exudes an unmistakable air of elegance — while still offering plenty of real-world utility. Secured via one of Opinel's patented Virobloc locking systems, this iconic EDC knife features a Sandvik 12C27 blade with a nail-nick opening that's mated to a walnut handle. In addition to being offered in a wide variety of handle constructions, Opinel also produces a ruggedized, outdoor-specific version of the No. 8 with a fiberglass-reinforced polyamide handle with an integrated survival whistle and lanyard hole and a partially serrated blade. 
Blade: Sandvik 12C27
Handle: Walnut
Blade Length: 3.35"
Total Length: 7.50"
Lock Type: Virobloc System
CRKT CEO
Winner of Blade Show's "Best Buy of the Year" award, CRKT's CEO model is a dapper EDC knife that was designed — by Richard Rogers — to seamlessly blend into more formal, corporate environments, being carried in the user's front shirt pocket where it almost looks more like a pen than it does a blade. Backed by a lifetime warranty, the CEO is equipped with a glass-reinforced nylon handle and a 3.11" 8Cr13MoV steel blade that's deployed using Columbia River Knife and Tool's IKBS system — an innovative deployment setup comprised of a half-circle-shaped track that guides the blade's action using an inner circle of lubricated ball bearings. In addition to its ultra-slim profile, this knife also sports a recessed thumb stud and a weight of just over 2oz.
Blade: 8Cr13MoV
Handle: Glass-Reinforced Nylon
Blade Length: 3.11"
Total Length: 7.63"
Lock Type: Liner
Kershaw Leek
An exercise in minimalism penned by renowned designer Ken Onion, the Kershaw Leek Pocket Knife is another budget-friendly EDC item on the decidedly dapper end of the appearance spectrum. Offering a ridiculous amount of bang-for-your-buck, the Leek is loaded with features that are typically reserved for markedly more high-dollar folders. Made in America, the Leek has been outfitted with a framelock-equipped 410 stainless steel alloy handle paired with a Sandvik 14C28N steel blade that both share a matching matte, monochrome bead-blasted finish. The 3.00" Wharncliffe-drop-point hybrid is also deployed using Kershaw's snappy, spring-loaded Assisted SpeedSafe system.
Blade: Sandvik 14C28N
Handle: Stainless Steel
Blade Length: 3.00"
Total Length: 7.00"
Lock Type: Framelock
WESN The Samla
Boasting top-notch craftsmanship and an excellent fit and finish, WESN's The Samla is a charming, pocketable friction folder with a classic Scandinavian design — with some obvious straight razor-influence — that's been brought to life using premium, modern-day materials. Guided by a set of phosphor bronze washers, the Samla packs a 2.45" Sandvik 14C28N steel Wharncliffe blade that's mated to a minimalistic handle composed of top-shelf Grade 5 titanium. Like the rest of WESN's heirloom-grade EDC items, the Samla was made to be passed to future generations, and as such is protected by a lifetime warranty. The Detroit knifemaker also crafts a version of the Samla with a gorgeous set of Rosewood scales contrasted via a bronze pivot and hardware. 
Blade: Sandvik 14C28N
Handle: Titanium (or Rosewood)
Blade Length: 2.45"
Total Length: 5.70"
Lock Type: Non-Locking Friction Folder
Shun Higo-No Kami
Widely considered to be the very first Japanese pocket knife, Shun's Higo-No Kami was first produced in Meiji-era Japan at the tail-end of the 1800s, and while more than a century has passed since its debut, it continues to be handcrafted in the Asian nation today from fine constructions. The knife features a skinny, 3.50" drop point blade crafted from Japanese-made V Gold 10 cutlery-grade steel and a linerlock-equipped Ebony PakkaWood handle decorated via a mosaic crest inlay. And, while this knife is suitable for everyday carry duties, its svelte blade shape and stain-resistant construction also make it particularly conducive to use as a steak or charcuterie knife. Sold with an included embossed leather sheath, this folder is also backed by a limited lifetime warranty, as well. 
Blade: VG10
Handle: Ebony PakkaWood
Blade Length: 3.50"
Total Length: 7.75"
Lock Type: Liner
The James Brand The Pike
One of The James Brand's contemporary takes on a classic non-locking slipjoint pocket knife, The Pike marries a vintage visual theme with a plethora of modern and high-end materials. Weighing only 2.1oz, The Pike features a smooth stainless steel handle with rounded edges and prominent inlays of either Micarta, brass, or rosewood. Fitted with a TJB rocket logo badge, the handle is linked to a 2.3", nail-nick-opening Wharncliffe blade made from Sandvik 12c27 steel — or, on its most high-end variant, a Rose pattern DS93X Damasteel construction that's comprised of a combination of the Swedish metallurgy outfit's premium RWL34 and PMC27 blade steels. 
Blade: Sandvik 12C27
Handle: Stainless Steel & Micarta (or Brass or Rosewood)
Blade Length: 2.30"
Total Length: 5.70"
Lock Type: Non-Locking Slipjoint
Kizer Yorkie
A significantly more affordable version of Ray Laconico's original Yorkie knife — a custom blade which sold from anywhere from $800 to over $2,000 — that's still crafted from an objectively premium array of materials, Kizer's mass-produced Yorkie is a super minimalistic flipper knife with a framelocking titanium handle with smooth round lines, and an attractive 2.50" CPM-S35VN spear point blade that's deployed using a smooth, un-knurled flipper tab. And, like most of Kizer's knives, the Yorkie is produced in a wide variety of different constructions and finishes, including a forged carbon fiber-handled version as well as more accessibly-priced Yorkie models with Micarta or G-10 handles that pack blades made from top-shelf Böhler M390 steel. 
Blade: CPM S35VN
Handle: Titanium
Blade Length: 2.50"
Total Length: 6.125″
Lock Type: Framelock
Quiet Carry The iQ
While a modern take on the genre, the Quiet Carry iQ embodies just about every trait and quality that's associated with gentlemen's knives, from its dapper yet minimalistic industrial design to its bevy of more premium features and materials. Capable of satisfying even the most fashion-forward and design-conscious of EDC enthusiasts, the iQ is comprised of a 2.9" satin-finish modified sheepsfoot ELMAX blade with a flat grind, and a 3D-machined, light stonewash-finished 6AL-4V titanium frame with textured striped pattern scales that bolsters grip while also adding a bit of understated aesthetic flare. This model also boasts 416 stainless steel hardware, a framelocking mechanism with an SST insert lock-bar, a ceramic detent, caged ceramic bearings, and a tip-up pocket clip.
Blade: ELMAX
Handle: Titanium
Blade Length: 2.90"
Total Length: 6.60"
Lock Type: Framelock
LionSteel Thrill
Designed to be an extremely modern and high-end interpretation of a gentlemen's knife, the LionSteel Thrill is an impressive piece of equipment that's crafted around a 0.50" thick, single-piece integral handle that's been precision-machined from a solid block of titanium billet. Furthering the theme of delivering a top-shelf, modern-day take on a classic gentlemen's pocket knife is a 3.00" nail-nick-opening drop point blade composed of ultra-premium Böhler M390 blade steel. This Italian-made integral knife also features LionSteel's innovative H.WAYL – or "Hide What Annoys You" — pocket clip system, which is a spring-loaded mechanism that sinks into the handle when not in use, sitting completely flush and entirely eliminating the "hot spots" typically caused by pocket clips on knives during hard use. 
Blade: Böhler M390 (or Damascus Steel)
Handle: Titanium Billet
Blade Length: 3.00"
Total Length: 7.00"
Lock Type: Non-Locking Slipjoint
Nagao Higonokami Brass & Aogami
Producing the legendary Nagao Kanekoma Higonokami is far more than a mere business operation, it's a family tradition that's been passed down through five generations since Komataro Nagao first began handcrafting these knives in Japan's Miki, Hyogo prefecture in 1894. A traditional non-locking friction folder, the Higonokami is produced in an absolutely enormous variety of different variants all ranging in handle and blade construction as well as in color and finish, though this particular version of the Japanese gentlemen's folder features a beautiful Aogami (blue paper) Damascus steel blade with a unique 90-degree extended-tang flipper tab that's been paired with a polished and engraved 3.75" brass construction handle. 
Blade: Damascus Steel
Handle: Brass
Blade Length: 3.00"
Total Length: 6.75"
Lock Type: Non-Locking Friction Folder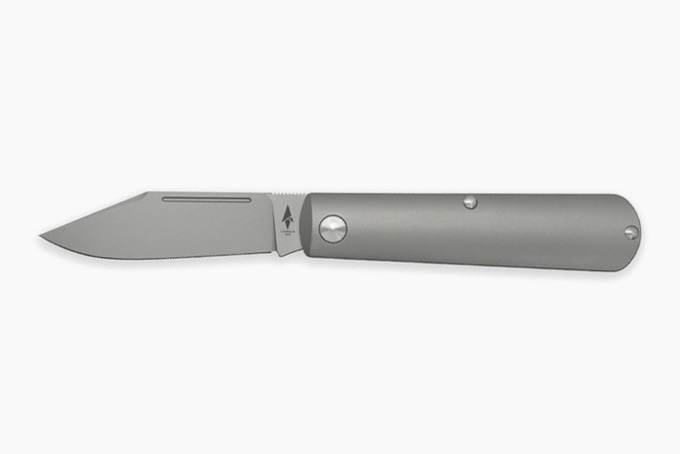 Terrain 365 Caiman Ti
While many of today's more premium gentlemen's knives put somewhat modern twists on timeless, tried-and-true pocket knife designs, Terrain 365's take on the genre is modeled directly after a traditional vintage non-locking Barlow-style slipjoint, albeit the renowned outdoor and EDC brand has brought the model to fruition using a spare-no-expense array of constructions. This includes a 6AL-4V titanium handle mated to a 3.00" clip point blade with dual nail nicks that's crafted from Terrain 365's proprietary, completely rust and corrosion-proof, non-magnetic, ultra-premium, Terravantium Dendritic Cobalt blade steel. Bestowed with a fine matte finish, the Caiman — which is also offered in a variant with carbon fiber scales — conceals dive watch-grade 316 stainless steel hardware, an internal lanyard pin, bronze bushings, and a martensitic stainless steel back-spring.
Blade: Terravantium
Handle: Titanum (or Carbon Fiber)
Blade Length: 3.00"
Total Length: 6.9375″
Lock Type: Non-Locking Slipjoint
The James Brand The Duval
The Duval is the direct result of The James Brand setting out to deliver the ultimate modern-day gentlemen's knife, combining the looks of traditional pocket knives with the high-end constructions, ample utility, and functionality of modern, premium EDC flippers. Using a front-flipper setup, the Duval boasts a slim framelocking handle with a rounded bottom and a crowned top that's machined from 6Al-4V titanium before being adorned in scales made from Micarta or rosewood — or capped off with matching 6Al-4V titanium inserts. Fully ambidextrous, the Duval also comes equipped with a CPM S35VN modified sheepsfoot blade with a buttery-smooth action that's guided via ceramic ball bearings. Like the Pike — and the rest of TJB's blades — the Duval comes in a plethora of different constructions and finishes including the ultra-top-shelf Damascus steel-bladed version seen here. 
Blade: Damascus Steel (or CPM S35VN)
Handle: Titanium & Rosewood (or Micarta & Stainless Steel)
Blade Length: 2.6"
Total Length: 6.4"
Lock Type: Framelock
Chris Reeve Knives Mnandi Box Elder Burl
Pronounced "mm-nun-dee" — a Zulu term essentially translating to "very nice" — Chris Reeve Knives' Mnandi is a hand-crafted, hand-assembled, and hand-polished pocket knife of the extremely top-shelf variety. Its 2.74″ CPM S45VN blade features an easy-open thru-hole nail-nick opening and is mated to a framelocking titanium construction chassis that's been decorated with inlays made from Box Elder Burl, an ultra-rare and precious type of Maple that's world-renowned for its exquisite burls. And, as one might expect from a knife at this price point, this Chris Reeve model comes with an included 0.078" maintenance wrench, a bottle of CRK fluorinated grease lubricant, a microfiber cleaning cloth, and a G'Feller leather slip sheath. What's more, CRK also makes two additional versions of the Mnandi with equally-rare and precious handle materials: one with Bog Oak wood inlays in the early stages of fossilization and one with Macassar Ebony inlays made from stabilized wood — both of which also cost $450. 
Blade: CPM S45VN
Handle: Titanium & Elder Burl
Blade Length: 2.74″
Total Length: 6.375″
Lock Type: Framelock
Böker Barlow Prime Tirpitz-Damascus
Böker Manufaktur Solinge's Barlow Prime Tirpitz-Damascus model is a gentlemen's knife with an incredible story behind it. Paired with its non-locking slipjoint handle — which is composed of a combination of Micarta and walnut — is an ultra-unique Damascus steel blade that's made from battleship steel recovered from the sunken WW2-era Bismarck Class Kriegsmarine vessel, the Tirpitz. Boasting an impressive Rockwell hardness rating of between 61 and 63, this hand-forged Damascus steel is comprised of 200 layers that have been repeatedly folded and tempered in Solingen, Germany to create the knife's stunning "Great Pyramid" pattern construction. Sold with a premium felt case, this slipjoint knife also features a stainless steel axle screw and special decorative rivets made from nickel silver.
Blade: Tirpitz Damascus
Handle: Walnut & Micarta
Blade Length: 2.72″
Total Length: 6.02″
Lock Type: Non-Locking Slipjoint
Jens ANSØ Knives Monte Carlo V2
Producing knives since 1988, Jens Anso is a renowned designer and knifemaker that's penned blades for a slew of big-name knife brands such as Kershaw, GiantMouse, Zero Tolerance, Spyderco, and Böker, just to name a few. Though for the most discerning of EDC aficionados that want something that's truly unique — and don't mind spending "a bit" more money — the Danish designer produces ultra-small batch, completely handworked custom knives — the most popular of which has long been the Monte Carlo. Years after its debut in 2014, Anso has now unveiled a second-gen Monte Carlo that sees the best-selling model receive even more precise machining, along with all-titanium hardware throughout. On top of a nail-nick-opening, hand-rubbed, flat-ground RWL34 sheepsfoot blade with Anso's signature logo diamond-engraved into the steel, this non-locking slipjoint knife features a titanium handle with a double detent ball joint mechanism, a titanium backspacer with an integrated lanyard hole, and a milled titanium pocket clip. Sold with a handmade leather pouch, this knife's titanium scales are also offered in a myriad of different color-anodized finishes.
Blade: RWL34
Handle: Titanium
Blade Length: 2.75"
Total Length: 6.50"
Lock Type: Non-Locking Slipjoint
*Additional Contributions by Sean Tirman
The 12 Best EDC Pocket Knives To Buy
If gentlemen's knives are a bit too dapper and minimalistic for your taste, then be sure to head over to our guide to the best everyday carry knives for an in-depth look at a dozen of the most capable EDC blades currently on the market.