The age-old adage "history repeats itself" rings true in all areas of life, and men's fashion is no exception. As designers endeavored to innovate on classic men's outerwear, many found inspiration in the annals of our country's military history. The field jacket is a prime example of history weaving itself into the zeitgeist. Its tough aesthetic, army-caliber practicality and simple design allowed it to be the perfect punctuation mark for many men's wardrobes. And that's why we've compiled a list of the best men's field jackets on the market.
The Best Field Jackets
The Best Budget Jacket

CARHARTT LOOSE FIT FIRM DUCK BLANKET-LINED CHORE COAT

The Safe Pick

L.L.BEAN ORIGINAL FIELD COAT

The Best Hunting Jacket

BUCK MASON CRAFTSMAN CANVAS FIELD JACKET

The Classic

ALPHA INDUSTRIES M-65 FIELD JACKET

The Best Heavyweight Jacket

ORVIS HERITAGE FIELD COAT

The Best Field Jacket for the City

Barbour Classic Beaufort Wax Jacket

The Best Suede Field Jacket

BANANA REPUBLIC SUEDE FIELD JACKET

The Best Jacket for Storage

Filson Tin Cloth Field Jacket

The Best Water-Resistant Jacket

TOM BECKBE TENSAW JACKET

The Best Modern Take

MISSION WORKSHOP THE EIGER WX
A Brief History of the field jacket
As its name suggests, the M-65 field jacket started out as a military-issued jacket for soldiers fighting in the Vietnam War in 1965, though military field jackets can be traced as far back as WWII with the M-41 field jacket. Much like its fashionable counterparts such as chinos, bomber jackets, and aviator glasses, the M-65 Field Jacket was forged in a crucible of practicality and efficiency. Four pockets – two on the chest and two on the hips – maximize storage for soldiers, while its durable, windproof exterior helped protect troops from the harsh Southeast Asian climate. The jacket even featured a hood that wearers could roll into the collar.
While Alpha Industries originally designed the M-65 to be a war-time, utilitarian field jacket, its popularity quickly boomed as the soldiers returned home and wore their field jackets in the streets, oftentimes to protest the war that created it. The jacket gained so much visibility from protesting veterans that it became a symbol of anti-war protests. However, its comfort, versatility, and simple rugged look made it a coveted garment for men and women alike. Nowadays, the field jacket is a staple in most wardrobes, and companies throughout the world have put their own spin on this Swiss Army knife of jackets.
field jacket considerations
While modern-day field jackets aren't geared for military use like their predecessors, they retain the rugged silhouette, durability, and functionality that made them iconic in the first place. For the most part, we are basing our criteria on what a field jacket is off of the classic M-65 field jacket, which has several outer pockets, a concealable hood, and snap buttons. Of course, some exceptions on this list deviate from the traditional M-65, but all pay homage to the legendary garment through its quality, style, and utility.
Material: As with most garments, the material is generally the most important step in the process. Field Jackets, in particular, are meant to be durable and versatile pieces so this information is important. Generally, they're made mostly with quality cotton or a cotton/synthetic blend, usually with nylon or polyester. Tight weaves and chemical treatments can make these jackets quite windproof and waterproof, just to name a few advancements in the space. Today, you may find some changes here and there but the blueprint has been set, so variations will often be justified (like wool collars or waxed cotton).
Fit: Much like other clothes, fit can vary widely based on stitching, seams, construction, etc. But one of the main things to look out for regarding a field jacket is if it's made for military use or not. If so, they're going to be bigger and roomier so make sure that's what you want.
Care: Since a majority of the material found in most field jackets is cotton, a cold wash, and (sometimes) gentle drying is recommended. Take note of what the company making the jacket recommends.
CARHARTT LOOSE FIT FIRM DUCK BLANKET-LINED CHORE COAT
Pros
Great work jacket
Affordable durability
The Best Budget Jacket: Carhartt is an iconic workwear brand. Their no-frills jackets are an extension of the dependability, honesty, and trust on which the company prides itself. The Chore Coat is a particular standout among the brand's stellar line of outerwear. It has a blanket-lined interior and a wind-resistant, water-resistant exterior that will keep users warm in virtually any cold weather. The jacket is made with 100% cotton, has four outer pockets, and sports the signature corduroy collar that has remained on the brand's jackets since the 1930s.
L.L.BEAN ORIGINAL FIELD COAT
Pros
Can be used for hunting as well
A bit lighter than most field jackets
Cons
No inside pockets
Lining isn't very thick
The Safe Pick: While many people buying this jacket won't be hunting in the Maine woods that inspired L.L.Bean's Original Field Coat, they can take solace in knowing that its durability is suited to withstand the harshness of the wild. The Original Field Coat has a warm rating which will keep its wearer toasty down to zero degrees. It is made out of 100% cotton canvas and is both waterproof and windproof. Users will also benefit from the underarm gussets and bi-swing shoulders, which allow them to move their arms easily and freely.
BUCK MASON CRAFTSMAN CANVAS FIELD JACKET
Pros
Garment-washed with softener
Strong seams
Cons
Some may want more storage
The Best Hunting Jacket: Inspired by 1940s hunting gear, this American-made jacket is standard on any "best field jackets" list. Made of 7.5 oz. cotton canvas, Buck Mason's Craftsman Canvas Field Jacket is a stylishly lightweight piece of outerwear that is made to last. The jacket sports a set of two large lower pockets, a chest pocket with button closure, and a corduroy collar to boot. Its brass buttons and faded color palette evoke a vintage vibe that makes the Craftsman Jacket a perfect accent piece to round out your fall outfits.
ALPHA INDUSTRIES M-65 FIELD JACKET
Pros
Made by an iconic company
Based on the military jackets worn in Vietnam
Cons
Large fit
Lining could be warmer
The Classic: Does the company name ring a bell? It should. Making a "best field jacket" list and not including Alpha Industries is akin to making a "best pickup truck" list and not including Ford. The Alpha Industries M-65 is the most iconic on the market for good reason. While Alpha Industries stopped designing clothes for the military some time ago, their current M-65 Field Jackets stay true to their roots. They retain all classic elements: the front pockets, the concealed hood in the collar, and even their signature wire zipper. It's practical. It's rugged. It's just plain awesome.
ORVIS HERITAGE FIELD COAT
Pros
Breathable and flexible even though it's heavy
The Best Heavyweight Jacket: Orvis seeks to continue its tradition of making excellent coats with its Heritage Field Coat. The Heritage Field Coat boasts a waxed cotton exterior to handle the rigors of nature, gusseted underarm panels with grommets to provide ventilation, and adjustable button cuffs with corduroy trim to match its corduroy collar. It even sports a rear-entry lined waterproof game bag for extra storage. Despite being a heavier coat, the shooting patches on the shoulders and elbow patches allow for long-lasting mobility and durability.
Barbour Classic Beaufort Wax Jacket
Pros
Works well in the rain
Quilted liner can be added/removed
The Best Field Jacket for the City: If you're looking for a jacket that's equally as useful in the city as it is out in nature, then look no further than Barbour's Beaufort Wax Jacket. It has a (not too) relaxed fit and a corduroy collar, making it a stylish piece. The moleskin-lined hand pockets provide some needed warmth in cold weather, along with 100% cotton lining. And since it's a waxed coat, it's also ready to handle some rain.
BANANA REPUBLIC SUEDE FIELD JACKET
Pros
Stylish yet functional
Makes for a great layer
Cons
Not ideal for wet conditions
Doesn't have as much utility as other field jackets
The Best Suede Field Jacket: For the field jacket lovers who yearn for a premium option that harkens back to yesteryear, look to Banana Republic. This field jacket is made from 100% suede, which harmonizes perfectly with the all-leather trim to create a chic jacket that's oozing with style. Banana Republic kept the iconic front pockets for their field jacket while outfitting it with a relaxed silhouette, belt-fastened collar, and full liner to help keep you layered and warm during those colder outings
Filson Tin Cloth Field Jacket
Pros
Simple design with tons of utility
Useful in all weather
Cons
Longer sizes aren't available
The Best Jacket for Storage: While field jackets usually have ample storage, sometimes some extra room is important. Filson's Tin Cloth Field Jacket has its in-house oil-finished tin cloth, providing warmth and water resistance. But it also has large expandable front pockets with built-in dividers, along with a nylon-coated rear pocket. This additional storage is quite useful for workers, hunters, and city-dwellers.
TOM BECKBE TENSAW JACKET
The Best Water-Resistant Jacket: The folks over at Tom Beckbe kept utility at the forefront of their minds when designing the dapper Tensaw Jacket. With the rolling Alabama hills as its muse, the Tensaw Jacket offers a red clay cotton liner that stays true to its Southern roots. Aside from the standard four front pockets, the jacket offers a hidden Napoleon pocket for extra storage. Its waxed shelter cloth shell and antique brass hardware provide an aged finish that will only get better over time.
MISSION WORKSHOP THE EIGER WX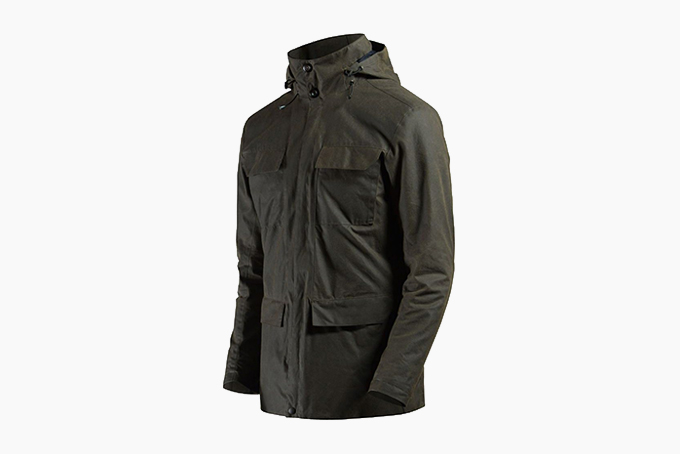 Pros
Premium quality
Water-resistant outer shell
Cons
Quite expensive for a jacket
The Best Modern Take: For a completely modern rendition of the M-65 field jacket, look no further than the Eiger: WX. The jacket maintains the traditional M-65 silhouette while boasting modern amenities like six outer pockets, a three-point adjustable hood with anatomic construction and an integrated visor, custom YKK weatherproof zippers, and Italian Riri snaps. Its exterior is made from Halley Stevensons' world-renowned wax canvas, while its interior is lined with 100% cotton to keep you dry, warm, and comfortable for a lifetime.
The Best Flannels For Layering
If you plan on tackling the outdoors with your new field jacket, it's best to layer up. Check out our guide covering the best flannels to take care of that.