Oct 30, 2019
Category: Style
For generations, guys have been turning to history's most lauded attire to keep their fashionable wardrobes as well-rounded as possible. Many popular styles from the past, be they militaristic, trade, or era-specific, have found their way back into the rotation of individuals who are looking to take a step back from today's more modernized examples, and one of the most sought-after peripherals is none other than the historic Field Jacket.
In its early years, the M65 Field Jacket was issued to military members to keep them warm during the harsh winters, where they would endure rain, snow, freezing temperatures, and rough terrain while traveling. Originally, these garments were created with durable, hardwearing fabrics to inhibit abrasion, and to keep water and cold-weather penetration to a minimum; but these days, many of the genre's most iconic variants have been used as inspiration for a more stylish, albeit functional, selection of counterparts. Like most historic outerwear, the Field Jacket has become a staple in many a wardrobe. Below, we've selected a handful of the industry's most quintessential offerings, and given some insight as to why they're so special.
Carhartt Men's Canyon
Carhartt is no stranger to the workwear space, and as such, the brand's Canyon coat is a heritage-imbued field variant that was built to take on the environment's most inclement inhibitors. Each garment is made with 100% cotton and features a reinforced Carstrong cuff, a spread collar, and snap flap hand and chest pockets to keep it in-line with the industry's other offerings.
Topo Designs Field
Topo Designs' Field jacket is full of mountain-inspired attributes, including a rugged-looking exterior, plentiful pockets, and a durable cotton/nylon ripstop construction that pays homage to militaristic style, while encompassing one of today's most sought-after fabrics. It features a straight silhouette, internal cotton twill detailing, and a web-reinforced snap front closure to accent a multitude of the jacket's deep patch pockets.
Herschel Field
Herschel's Field jacket brings the classic military silhouette into a new realm, gifting buyers a comfortable outerwear piece that's been crafted using the industry's finest fabric blend. If you're looking to don the perfect layering garment this season, Herschel's quintessential example shouldn't fall short of your expectations, thanks to its two-tone DNA neckline trim, YKK zipper closure, snap-fastened storm flap, Woodland Camo internal yoke, and a standing collar that's been imbued with a branded metal snap.
L.L. Bean Original Field
L.L.Bean's Original Field jacket might be one of the most prestigious on our list, thanks to the brand's long-running lineage. Unlike many modern offerings, this unique example places authenticity at the forefront, utilizing a heavy-duty Nor'Easter cotton canvas fabric, 16-wale corduroy collar, and cuffs, and a sewn-in cotton lining to keep you warm, comfortable, and capable throughout the day. The jacket's exterior is adorned with five deep-set pockets and features underarm gussets to help wearers remain mobile, regardless of application.
Bonobos Hooded Field
Bonobos' Hooded Field jacket is a water-resistant variant that pays its respects to the age-old military garment, thanks to a handful of reimagined attributes. Within, you'll find a durable cotton/nylon silhouette that's been outfitted with a lined front, interior welt pockets, an external flap for hand stow, and a center front zip that complements the jacket's straight fit.
J.Crew Field Mechanic
J.Crew's Field Mechanic jacket is a remembrance of the original military garment, and as such, it boasts a broken-in silhouette that pays homage the best way it knows how. It calls upon a foldable zip hood, flap patch pocketing, a standing collar, and a partially-lined interior to make it a versatile offering for every occasion, whether you're wearing it to the beach on a chilly night, or to the mountains for a full-fledged journey.
Patagonia Maple Grove
Patagonia's Maple Grove is jacket is one of the warmest around, and when it comes to its adherence to militaristic style, it'll be difficult to find an offering that can stand toe to toe. This weather-resistant example boasts a durable stretch canvas that's been lined with a ¼"-pile polyester fleece, a bellows-style pleat on the shoulders, and a stowaway hood to keep preparedness at the forefront. Better yet, it's made almost entirely with organic cotton and features a handful of quality-of-life implementations like DWR treatment, a 100% polyester lining, and the original's iconic flap pockets.
Alpha Industries Men's M-65 Field Coat
Alpha Industries' M-65 Field Coat is an exercise in timeless reproduction, providing wearers with a modern reinterpretation of the classic military garment. It's been manufactured to the same exacting standards, and even boasts an oversized silhouette that was implemented to help soldiers carry additional gear and ammunition when the jacket was first issued to members of the armed forces. If you're looking to take comfort to the next level, you can use a button-in ALS/92 liner to complement the coat's concealed collar and hood, signature wire coat zipper, buttoned epaulets, and four exterior body pockets for the ultimate in essential item storage.
Fjallraven Greenland
Fjallraven specializes in the creation of the industry's most attractive outerwear, so when they decided to take on the timeless military field jacket, it was no surprise that they exceeded all expectations. The Greenland is an homage to the classic 1968 silhouette and boasts an improved fit that's been upgraded with sustainable materials, water-resistant properties, and an improved construction to amplify its durable nature. If you're searching for an attractive variant that's been made using a water-resistant G-1000 Eco in recycled polyester and organic cotton, you're in luck.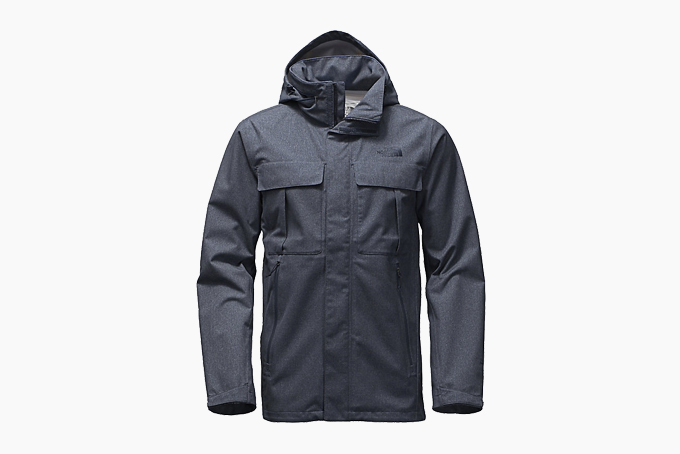 The North Face Men's Kassler Field
The North Face continuously sets the bar for outdoor apparel, and the company's take on the iconic Field jacket is nothing short of brilliant. The Kassler Field is a durable, but handsome take on the prominent military peripheral, imbuing the classic with a waterproof/windproof shell, seam-sealed DryVent technology, and textured fabric that complements the jacket's various improvements. Inside, you'll find a fully adjustable hood, which can be stowed/retrieved from the Kassler's collar, a Stormflap closure adorned in Velcro, and a hem cinch-cord to keep you protected from external inhibitors when the weather gets questionable.
Orvis Heritage Field
Orvis' Heritage Field jacket takes all of its cues from its forbear, marrying a classic field silhouette with a handful of subtle modern upgrades. Each example features a dry-waxed cotton canvas to repel rain and foliage, while a selection of lower bellows pockets, slash hand warmers, and gusseted underarm panels join alongside ventilated grommets, reinforced elbow patches, and adjustable button cuffs to provide a perfect fit.
Cockpit M65 Field
Cockpit's M65 Field jacket might be as close to the original garment as you can get. It features a heritage silhouette that's reminiscent of the 1960s original and takes a more militaristic approach by implementing the OG107 olive color of its predecessor, as well as a 30-minute water resistance that's similar to that of the first M65. What sets Cockpit's field jacket apart from its counterparts, however, is its composition; it's made using a removable quilted liner for added warmth, and even features a durable, longevity-focused fabric that hasn't been treated with chemicals during the manufacturing process.
PS Paul Smith Cotton-Blend Ripstop
PS Paul Smith's Cotton-Blend Ripstop jacket stays true to the company's commitment to the fashionable guy while retaining much of what made the original field coat so special. It's a technical offering that brings attributes like a lightweight cotton-blend ripstop into the fray, giving it a versatile, water-resistant composition alongside a handful of storage pockets, a classic collar, chest patch pockets, and a grosgrain-trimmed placket. To keep it in-line with the industry's heritage-oriented flagships, Paul Smith has opted to include the same button, zip, and snap fastenings as the original garment, helping to keep it both recognizable, and provocative.
Barbour Beaufort Waxed
Barbour specializes in the creation of classic waxed outerwear, and with the Beaufort Waxed field jacket, the company's expertise is more apparent than ever. This all-purpose cotton jacket features a weather-resistant exterior, dual bellows pockets, concealed zip-up wallet pocket, and a full-width cartridge pocket at the rear to mimic the original's militaristic application. At the throat, you'll find a tasteful snap closure and storm-fly font, while the rest of the garment remains relatively true to the revered field jacket style, calling upon moleskin-lined hand- warming pockets, a fully-lined tartan, and Raglan sleeves with adjustable storm cuffs to keep you comfortable during inclement weather.
Filson Tin Cloth Field
Filson's Tin Cloth Field jacket is a water-repellent, abrasion-resistant variant that brings the company's seamless shoulder design to the forefront, incorporating a 100% virgin wool collar lining, drawcord waist, and adjustable cuffs to provide wearers with the ultimate in adaptable outerwear. At the coat's front, you'll find a tasteful front zipper closure, storm flap, and solid brass zipper to provide an impenetrable barrier against inclement weather, while dual bellows pockets, hand warmers, and a dual-access rear map pocket provide all of the capable storage that made the original so popular.
Best Made 3L Field
Best Made's 3L Field jacket was designed to keep the winter's most adversarial elements at bay, but that doesn't mean that it's short on stylish implementation. Each example features durable double-needle stitching, a waterproof DWR finish, and fully-taped seams to keep the garment up-to-par when faced with inclement variables like rain or snow, while articulating arms and a three-layer bonded fabric ensure adequate range of movement throughout the day.
Polo Ralph Lauren Camo-Print Waxed
Polo Ralph Lauren is a great inclusion on any iconic outerwear list, and the company's Camo-Print Waxed field jacket certainly sets the standard in more than one area. In an homage to the military's timeless style, the Camo-Print has been imbued with a durable nylon construction, a waterproof wax coating, and a handful of pockets to keep your most valuable EDC items stowed and protected throughout the day. At the jacket's openings, you'll find a menagerie of drawstrings to keep things sealed up tight, should you encounter a reason to adapt its naturally-loose fit.
Aspesi Heavyweight Cotton Field
Aspesi's Heavyweight Cotton Field jacket is obviously inspired by the US Army's M65, and as such, it places an emphasis on a durable, long-wearing constitution. Each garment is made with rugged, garment-dyed cotton gabardine, and stone-washed to give it a worn effect that was characteristic of the military's most revered apparel. Inside, you'll find a detachable nylon/wool gilet, compact Thermore wadding, and concealed press-stud fastening that adorns the jacket's storm flap, collar, and pockets. On the exterior, a removable ASPESI tag provides wearers with subtle branding that helps to promote fashionable wear.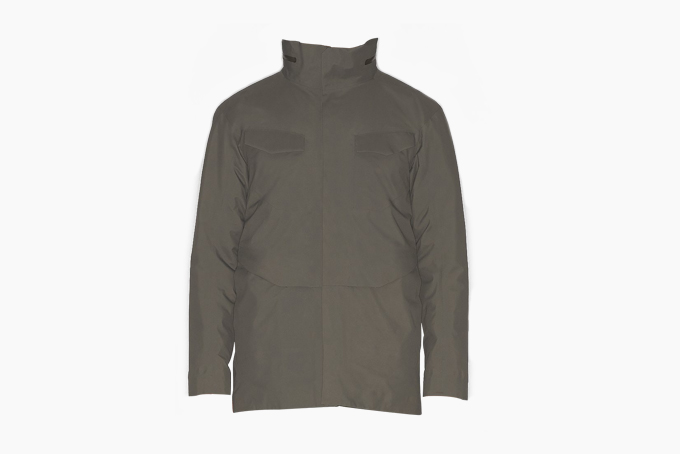 Veilance Field
Veilance takes each of their garments to the extreme, and that's definitely the case with the company's ultra-minimalist Field jacket. This fully-waterproof offering boasts an exceptionally militaristic design, and features the company's lauded taped-seam construction, Coreloft synthetic insulation, and concealed StowHood to give it a more modern appeal. Each of the jacket's storage compartments is protected by a WaterTight zipper system, providing exceptional water resistance to keep your most important peripherals protected through thick and thin.
Stone Island David-TC Garment-Dyed PrimaLoft
Stone Island's David-TC Garment-Dyed PrimaLoft field jacket rounds out our list as the pinnacle of militaristic offerings, bringing a handful of the company's innovative construction principles to the forefront. Each of the jacket's characteristics is decidedly top-tier, including its unique heat-treated, matte-finish outer shell, a specialized anti-drop treatment that keeps water and dirt at bay, allowing you to wipe it away in one fell swoop, and an internally-quilted PrimaLoft construction that traps and recirculates heat throughout the day. A detachable hood and sleeve patch are the cherries on top, bringing a personalized application to the garment, depending on your tastes/needs.
The History Of The Iconic M-65 Field Jacket
As you might expect from something originally made for the military, this garment has a long and storied past. Learn everything you need to know about it on our history of the M65 field jacket.
HiConsumption is reader-supported. When you buy through links on our site, we may earn an affiliate commission. Learn more