Traditionally, stocking stuffers are thought of as a last-minute, smaller collection of gifts that are often cuter and/or more quirky than they are useful. And while we wouldn't lump most EDC gear worth carrying into that category, it is important to point out that it's often perfectly sized and suited to sticking into a stocking above the mantle of your fireplace. That means you could theoretically turn the traditional afterthought into a feature of your gift-giving.
Better still, you don't actually have to trade an arm and a leg in to get everyday carry gear for one or all of your gift recipients. In fact, if you're careful about the how, where, what, and why of your shopping, you can get some superb EDC gear that would be well-suited to anyone's loadout and might even become a favored piece or two. Of course, you could also skip the guesswork and dive right into our thoroughly well-curated collection of EDC gifts you can get for under $50 and get all of the praise with little if any hard work.
Field Notes National Parks Pocket Notebooks
You never know when that million-dollar idea is going to strike, so it's better to be safe than sorry by carrying a USA-made Field Notes Pocket Notebook in your back pocket, backpack, or glove compartment. And these ones have the added bonus of National Parks-inspired artwork on their covers.
Big Idea Design Titanium Pocket Bit
Tiny enough that you might actually forget you're carrying it, the BID Titanium Pocket Bit gives you access to the power of both a Philips and flathead driver without the bulk of a full-sized tool. It's also built from ultra-tough titanium, meaning you don't have to worry about it breaking if you choose to use it as a bottle opener or pry bar.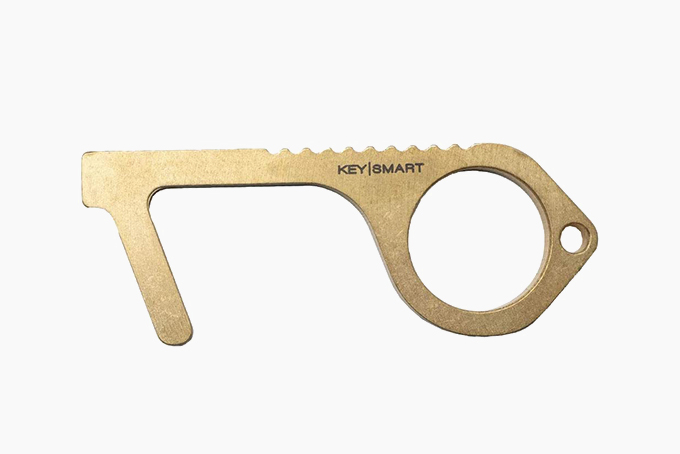 KeySmart CleanKey
The pandemic is far from over and that means, for many EDC enthusiasts, figuring out ways to avoid germs and contagions is exceedingly important. Thankfully, KeySmart makes this hygienic no-touch tool that can attach to your keychain and actually has germ-fighting properties.
KeySmart NanoTorch Keychain Flashlight
You might not always need a flashlight, but you'll be thankful to have one when you do. And if you add the KeySmart NanoTorch to your keychain, you'll have access to 25 useful lumens in a tool you might even forget you're carrying — that's how lightweight and out-of-the-way it is.
Graf Lantz Zenbu Face Mask
It's entirely possible that, after the pandemic is quelled, we will still use masks as a regular part of everyday life — especially during the flu season. As such, reusable masks — like this handsome and handy one from Graf Lantz — are still a safe bet for a good EDC gift this holiday season.
Handgrey Bauhaus Mo.25 Keychain Bottle Opener
A bottle opener might not seem like an essential piece of equipment — until you need one but don't have one. Of course, with this tiny titanium keychain tool, you'll always have one at your disposal without it getting in the way of the rest of your day, gear, etc.
Izola Hip Flask
You might not want to carry a flask in your EDC every single day, but there are appropriate occasions — at which point you can't go wrong with Izola's pocketable 5-ounce hip flask. It's food-safe, leak-proof, has a handy screw-top, and is built from sturdy stainless steel.
Arktype RMK Paracord Quick-Release Keychain
A tactical spin on the quick-release keychain, the Arktype RMK boasts a military-grade rifle clip, a hand-woven type III 550 paracord weave, a slim neodymium magnetic clasp, and a 3″ split keyring. It also happens to be made in the USA and this particular version is available exclusively through Gallantry.
Ezra Arthur Small Leather Notebook
There are numerous benefits to carrying a notebook — including working as a landing place for great ideas, phone numbers, or even functioning as a beneficial mental health tool. It helps, too, if the notebook you choose is as handsome as the Era Arthur offering here, with its hand-stitched Horween leather USA-made construction.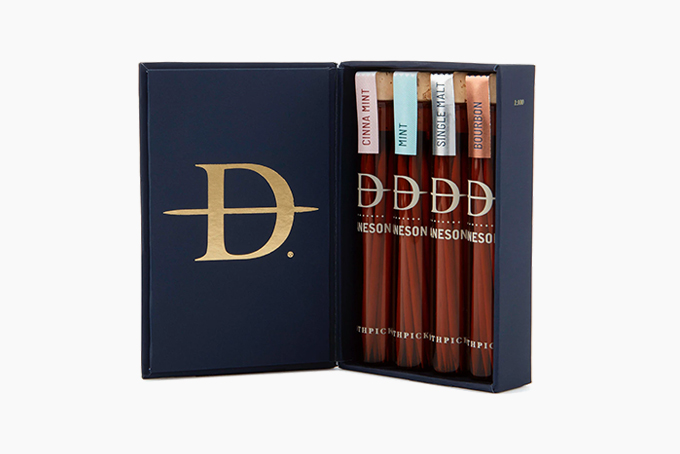 Daneson Every Blend 4-Pack Toothpicks
Toothpicks are underrated. They're a healthier alternative to cigarettes (for ritual chewing purposes), they're better for the environment, and they can get pesky food out from between your teeth. These ones from Daneson have the added benefit of four distinctly delicious flavors to add to the whole experience.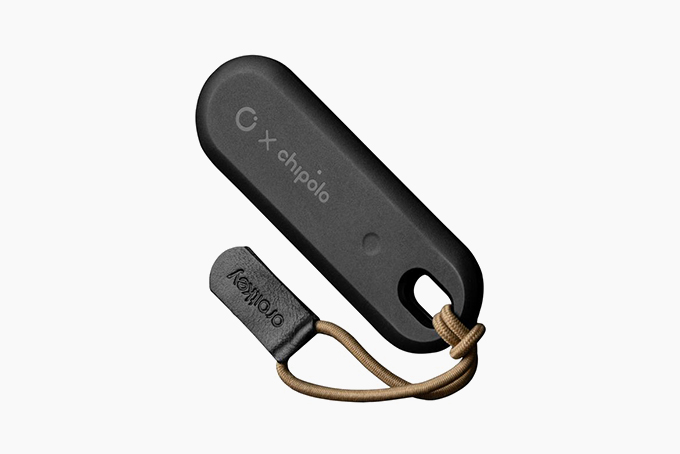 Orbitkey x Chipolo Keychain Tracker
Whether you need help finding your possessions when you've misplaced them, you just want an added level of security, or you want to take advantage of remote photo-taking capabilities, you can manage all that and more with the Orbitkey x Chipolo Keychain Tracker.
Everyman Grafton Pen
Everyone should carry an everyday carry pen around with them, even if just for signing receipts. And you could do a whole lot worse than the aluminum Everyman Grafton pen — which also happens to come with a lifetime guarantee and is compatible with both Pilot G2 and Fisher Space Pen refill cartridges.
Huckberry Weekenders Sunglasses
Even the winter sun can be harsh to your peepers. As such, it's always a good idea to have a pair of stylish sunglasses handy. And these ones from Huckberry are available in four different colors, they're polarized, and they're made durable enough for any adventure.
TEC Accessories Python-QR Titanium Quick-Release
The perfect way to keep your most frequently used keys and tools more convenient than the rest of your keychain accessories, the TEC Accessories Python-QR is a quick-release keychain alternative that was made in the USA from solid titanium and has no extraneous moving parts.
Handgrey Kin No. 9 Titanium Key Hook
There are numerous benefits to adding a suspension hook to your everyday carry loadout. The biggest of them, however, is probably that they keep your keys floating near the top of your pocket, making them more convenient to snag when you need them and they don't look like an unsightly lump in the bottom of your pocket. This one is also made from solid titanium, making it ultralight and nigh-indestructible.
Quiet Carry Bandit Titanium Keychain Knife
An ultra-compact alternative to a full-sized blade that doesn't skimp on quality and cutting power, the Quiet Carry Bandit boasts a titanium handle, AUS-8 steel blade, and a sturdy back lock. That's not bad for a folding knife that clocks in at just 3″ in total.
Native Union AirPods Pro Leather Case
Everyone's favorite true wireless earbuds, the Apple AirPods Pro, aren't exactly handsome in their bulbous charging case. However, you can imbue them with a tremendous amount of style simply by slipping them into this Italian leather case. Not to mention, it won't impede their wireless charging capabilities.
Leatherman FREE T2 Multi-Tool
Designed specifically to be as compact as dedicated EDC knives, but with far more built-in usefulness, the Leatherman FREE T2 might look like only a blade at first glance, but it actually has 8+ functions ranging from a blade to a bottle opener and so much more.
The James Brand Holcombe Carabiner
Ditch that old hulking keychain and replace it with this, The James Brand's minimalist Holcombe Carabiner — which is built form solid titanium, making it both ultralight and super-tough. As an added bonus, the base also doubles as a driver and pry bar, which is handy in a pinch.
Gerber Asada Folding Cleaver
A novel take on the folding cleaver, Gerber's Asada is inexpensive, yet doesn't skimp on style nor substance. Along with its elegant silhouette, this knife boasts lightweight and tough aluminum scales, a 7Cr17MoV steel blade, and still has a sturdy frame lock for safety and security in use.
Dissim Inverted Lighter
Designed as a superior, ergonomic alternative to traditional lighters — both disposable ones and those coveted Zippos — the Dissim Inverted Lighter works at any angle, making it perfect for daily usage. It also has a fuel level viewing window, runs on inexpensive butane, and comes with a lifetime warranty.
Trayvax Axis Wallet
A ruggedized, tactical take on the front pocket minimalist wallet, the Trayvax Axis is built out of ultra-tough steel, it has built-in RFID-blocking technology, and it both comes with a lifetime warranty and was made in the USA. Best of all, it can hold a whopping 14 cards and 8 bills at a time.
The James Brand Halifax Keychain Multi-Tool
A gorgeous, elegant, and useful one-piece multi-tool, The James Brand's keychain-friendly Halifax boasts a handful of useful integrated tools (like a bottle opener and driver/pry bar), it's constructed from solid billet titanium, and it's both lightweight and compact enough for daily carry.
Nomad Rugged Leather iPhone 12 Pro Max Case
A simple way to upgrade the look of your new iPhone 12 Pro Max with a bit more style and panache, this beautiful case is built from USA-made Horween leather, it can protect against drops of up to 10 feet, and it is still Qi wireless charging compatible.
Aer Cable Kit 2
Ideal for an increasingly digital world, this durable, weatherproof kit is perfect for all your cables, battery packs, portable hard drives, and whatever other high-tech gear you might incorporate into your everyday carry. And it works just as well as a standalone case as it does as a module you might slip into a larger everyday backpack.
The Wishlist: 20 Best Everyday Carry Gifts
If you're less concerned with staying under budget and would rather take a gander at the top options of 2020 overall, you'll find a superb collection on our guide to the best EDC gifts you can buy this year.