Presented by

On the surface, especially for the uninitiated, it might seem like the world of everyday carry is a vast and difficult-to-navigate landscape better left to those who actively take part in it. However, the vastness and oversaturation actually make it great for those seeking gifts this holiday season. Allow us to let you in on a little secret: true EDC enthusiasts will never be 100% satisfied with their existing loadouts, at least not for long. And that means getting new, unique, interesting gear is a superb go-to and/or fallback for holiday gift-giving.
But, just as the vast landscape makes for good gift-giving, it does also come with pitfalls. Not everything available for purchase is worth actually picking up and using — especially in the land of Amazon knock-offs. It's with this in mind that we've put together a fairly comprehensive guide of everyday carry gifts worth giving. If you're in a rut searching for the perfect present for someone fond of pocketable gear, go no further than this collection.
Luminox Navy SEAL 3500 GOLD Series Watch
If a watch is built tough and reliable enough for use by U.S. Navy SEALs, some of the most hardcore special operatives in the world, then you can bet it's good enough for you. And that's exactly what we have here with the CARBONOX-cased, 20 ATM, Swiss-made Luminox Navy SEAL 3500 GOLD Series dive watch. Think of this less like a watch and more like a hardcore, all-conditions sidekick.
Handgrey Knox Titanium Keyring
A vast improvement over traditional keychain keyrings, this one has a titanium construction that makes it both ultra-strong and ultralight. Furthermore, it features a split-ring design that makes putting keys on and off much simpler without sacrificing security.
Shinola 12-Month Runwell Planner
For most of us, 2020 ended up being a bit of a wash. But that means we can prepare for brighter times ahead. And there are few way to do that better than with Shinola's comprehensive and handsome 12-Month Runwell Planner.
UAG AirPods Pro Case
If you're an Apple fiend, you've already picked up a pair of AirPods Pro. But if you want to make that wireless charging case easier to carry with the rest of your EDC, you'll want to stash it in this UAG protective sleeve, which also happens to come with its own keychain carabiner and doesn't impede its wireless capabilities.
Under Armour UA Sportsmask
It's time to face facts: we're all going to be wearing masks regularly for the foreseeable future. But you don't have to suffer, even during intense workouts, if you pick up Under Armour's ultra-breathable, fitness-focused UA Sportsmask. After all, it was literally designed for Top-level athletes.
TEC Accessories Python-QR Titanium Quick-Release
Perfect for keeping your frequently-used keys and tools separate from those that just get in the way most of the time, the TEC Accessories Python-QR keychain can be pulled apart on-the-fly, but still offers plenty of strength and security thanks to its titanium construction and simple-yet-effective design.
YETI Rambler Water Bottle
Regardless of where your days take you, you need to stay hydrated. And that's a snap to manage with the YETI Rambler Water Bottle — which is ultra-tough, has a 26-ounce capacity, will keep beverages ice-cold or steaming-hot for hours and hours, and it won't collect condensation and ruin your furniture.
Dissim Inverted Lighter
This clever EDC lighter solves the biggest issue with most conventional pocket lighters: the ergonomics. That means this one is comfortable and easy to use in just about any hand position — and that's just one of the many great things about it.
Aer Cable Kit 2
Modern technology isn't going anywhere, which means you're going to have to get used to carrying all those cables and accessories around. Of course, that's not an issue at all if you utilize Aer's ballistic nylon 1.8L Cable Kit 2 — which was made specifically to organize all that gear.
Pioneer Carry Wallets
Many of these EDC wallets — bifolds, cardholders, and more — were all made from a proprietary fabric that took a whopping 10 years to develop and test. But the result, simply put, is stunning, as it is actually 10x stronger than steel. Pioneer Carry is definitely a name to become acquainted with if you aren't already.
DSPTCH Base Object 04 Valet Tray
Ideal for lovers of industrial design and brutalism, this Bauhaus-inspired valet tray is made from a single piece of USA-made cold-rolled steel. And it is the perfect place to stash all your everyday carry gear when it isn't in your pockets.
Foursevens Mini Turbo MKIII Flashlight
Don't let its teeny-tiny stature fool you — this 2.38″ flashlight might only weigh 1.8 ounces, but it packs a wallop. That's because its CREE XPL-HI LED emitter can produce up to 700 lumens maximum and is IPX8 waterproof.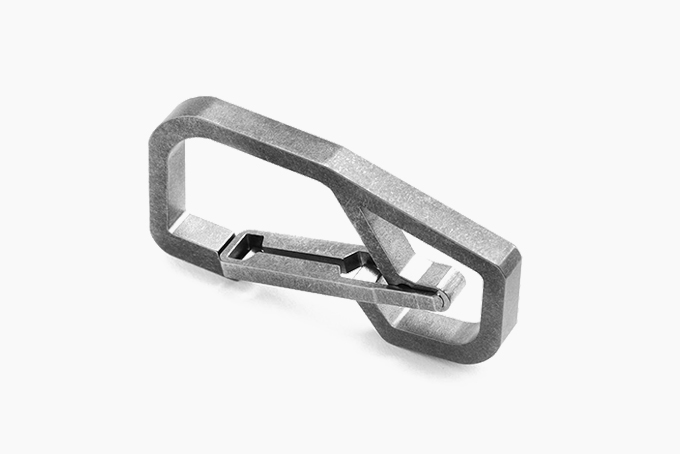 Handgrey H4 Titanium Carabiner
A gorgeous, minimalist keychain alternative, Handgrey's brutalist H4 titanium carabiner was inspired directly by the Bauhaus movement and boasts an all-titanium construction alongside a clever two-compartment key-capturing design for increased security.
Tactile Turn Standard Side Click Pen
A sleek and clever take on the classic writing utensil, Tactile Turn's Standard Side Click pen is crafted from your choice of titanium, bronze, copper, or ultra-luxe zirconium (for an up-charge). And it was made in the USA and designed to last, as is proven by its lifetime warranty.
The James Brand Pike Knife
Easily one of the most spectacularly beautiful and useful knives to come out this year, The James Brand's Pike is a modern take on the kinds of non-locking slipjoints our grandfathers used to carry. However, the silhouette is the only retro throwback, as the Sandvik 12C27 steel and hybrid stainless-steel-G-10 handle are all-modern.
Leatherman Charge+ Multi-Tool
One of Leatherman's all-time best folding multi-tools, the Charge+, is now offered with handsome camouflage handle scales. Of course, it also still boasts 18+ built-in tools and was built tough enough to last for decades and complete any number of DIY tasks.
Raen Optics Wiley Polarized Sunglasses
Even the winter sun, with as few hours in the sky as it has, can still do a lot of damage to your eyes, especially if you live anywhere where snow blindness is a concern. But that's hardly a problem with Raen's timelessly-stylish polarized Wiley sunglasses. Never fear the sun again with these shades.
Marshall Major IV Wireless ANC Headphones
Marshall's offerings have always stood out for their distinctive style. But now their wireless headphones are formidable regarding their tech, as well, since the brand put active noise-canceling into their high-fidelity Major IV model.
Code of Bell X-Pak Sling Pack
Code of Bell's X-Pak might actually be the all-time best sling bag. And it's hard to do it justice without writing at lengths more appropriate for a college dissertation. So we'll just keep it short and sweet: it's made from insanely tough ballistic nylon and sailcloth, expands from 11-23L, and has a wealth of internal organization for all your EDC needs.
Emerson Bullshark Auto Knife
After decades of making some of the best tactical folding knives — including one they designed specifically for NASA — Emerson has finally built an EDC-friendly automatic flipper with their 154 CM steel Bullshark. Best of all, this tiny titan is completely California-legal, meaning you can carry it without the worry of being a law-breaker.
Apple iPhone 12 Pro
Undoubtedly the big-ticket item that's going to be on everyone's list — EDC or not — this holiday season, the Apple iPhone 12 Pro is the brand's most powerful smartphone ever. Yes, it's expensive, but it's worlds better than most other offerings out there right now.
Scoured: The Best EDC Gear On Gallantry - October 2020
If you're searching for new everyday carry gear, either for yourself or as a gift, you absolutely can't go wrong with the offerings on Gallantry. Don't believe us? Have a look at last month's guide to the best gear on Gallantry and that ought to prove it.