Photo: PDW Kepler Down Cardigan
The human body was simply not made to survive in sub-freezing temperatures. Hell, it's not even hearty enough to survive slightly chilly environments — not without some ingenuity. Thankfully, we've got big problem-solving brains that have allowed us to vastly transcend our natural habitats and colonize huge portions of even the most unforgiving lands. Now, chilly weather is less like a life-threatening monolith and much more like a slightly inconvenient hurdle.
Our ability to survive harsh temperatures is owed largely to our cleverness in the creation and refinement of apparel — outerwear, specifically. And down jackets might just be the king of the ring in that regard. These garments, basically since their inception, have boasted the ability to keep us incredibly warm — and they manage that while still being relatively lightweight and without interfering too much with our range of motion. As is always the case with gear, however, some are better than others. And the cream of the crop is gathered on the following list of the best down jackets for men.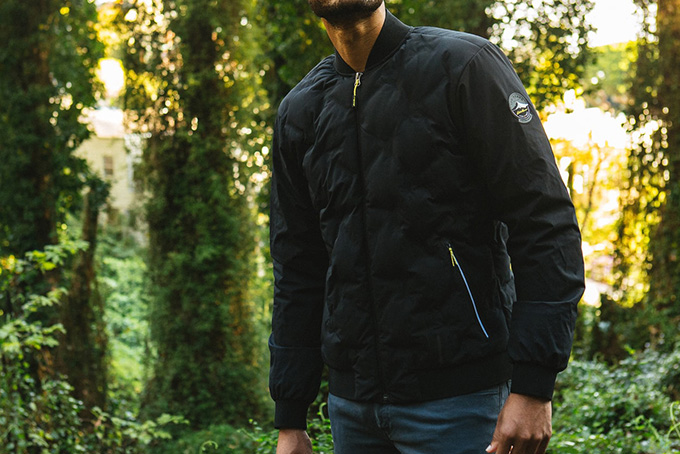 What's So Special About Down?
Natural Science
Traditionally, down is defined as the undercoat of waterfowl — typically harvested from geese — that's soft, fluffy, and superb as a natural insulator. What's especially interesting about it comes in two parts. First, down is one of the world's best natural insulators, but it actually works via an extremely simple concept. You see, this soft, fluffy under-plumage doesn't actually keep warm itself. Rather, its fluffiness and body serve to trap pockets of air, which are subsequently warmed by the heat of the waterfowl's body — meaning ducks and geese actually keep their own bodies warm by retaining their own expelled heat in an extremely efficient manner. When pared into a manmade jacket, it performs in much the same manner.
Second, it wasn't actually used in outerwear until 1922, at which point Australian chemist George Finch crafted a down-filled jacket (made from hot air balloon fabric) for an expedition up to the peak of Mt. Everest. Before the '20s, humanity had actually been using feathers and down for centuries — typically in things like blankets and pillows — but nobody had yet thought to apply its benefits to performance-focused apparel en masse. However, the shift to outerwear was both speedy and revolutionary in its effectiveness. Through today, down is still one of the best insulators we have access to — even in light of the numerous technologies and materials that have been invented in the time since. In fact, while the market is awash with down replacements (like the varying synthetic varieties), they all still operate on the same basic principle as natural down.
Down Varieties
Know Your Investment & Impact
Goose: The granddaddy of human-use down is that of the goose variety. After all, geese are some of the most hearty survivors that have ever taken flight. While goose down is still the standard for warmth retention in every down-focused industry, there are some downsides (no pun intended) to choosing this particular variety of insulation. First of all, avoiding cruelty is impossible, as harvesting down requires the animal to be killed. Even in the best of conditions, this can be considered wildly inhumane and is certainly not sustainable, as a tremendous amount of resources are required to raise and slaughter geese and the waste created is abundant. Secondly, goose down tends to be much more expensive than most of its synthetic alternatives — which means the gear it's put into inherently gets a price hike as a result. If these are not concerns of yours, however, goose down might be your preferred jacket insulation.
Synthetic: For about as long as humans have known about goose down, we've been trying to find and/or create suitable synthetic alternatives — and with good reason. For starters, synthetic downs that aren't made from animal byproducts are inherently more cruelty-free. Synthetic downs also tend to be less expensive, as it requires less effort and capital to produce them when compared to harvesting animal byproducts. Finally, some have elicited other benefits. For instance, some synthetic downs can still retain heat even when they're sopping wet, which can be a huge benefit in a survival situation. The downside, however, is that synthetic down doesn't always perform as well as genuine goose down, meaning it won't necessarily keep you as warm — though that gap has largely shrunk at this point, especially with higher-end synthetics. Furthermore, while synthetics can almost always be considered more sustainable than natural goose down, they have their own set of hurdles to overcome to be considered truly sustainable.
Hybrid: As you might imagine, hybrid down combines the best of both worlds. It's as effective as natural goose down but it has the added benefits afforded by synthetics — like hydrophobia, which repels water and allows the down to stay warm even when wet. It's not entirely cruelty-free and sustainable, but it's certainly more of both when compared to pure goose down. Finally, hybrid down is often less expensive than pure goose down, although it's still not quite as affordable as pure synthetic down can be.
Recycled/Responsibly-Sourced: One of the ways that many outerwear brands are skirting the animal cruelty and sustainability issues is by only utilizing down that's harvested as a byproduct of the meat industry — the logic being that the geese are going to die anyhow and the down would otherwise be wasted. This is not entirely sound, as partnering with the meat industry still supports unsustainable practices that are damaging the natural world, but it's better than nothing. Finally, there are also some brands that use recycled down. The idea is simple: there is plenty of down in circulation and, rather than kill more geese to make new down, they can get their hands on existing down and repurpose it into new garments without negatively impacting the natural world.
REI Co-op 650 Down Jacket 2.0
Proof positive that you don't need to spend an arm and a leg to get yourself some top-notch gear, REI's in-house brand has been crafting superb budget-friendly essentials for years. As is to be expected, the 650 Down Jacket 2.0 is no exception to the rule. It's simple and minimalist, meaning there isn't much in the way of flourish, but it's more than made up for by a balance of great materials that perform when you need them — like a DWR-coated recycled nylon shell, certified responsibly-sourced down, and more. Not to mention it packs down into its own pocket for simpler storage in transit and it even doubles as an ad-hoc pillow when collapsed.
Eddie Bauer Tech Skyliner Jacket
The very first patented down jacket was actually produced by none other than Eddie Bauer, which makes this company a special one in the grand scheme of this guide. And while that original jacket is more museum relic than something you'd want to wear and use now, the brand hasn't simply been resting on its laurels. In fact, they've since released a spiritual successor in the Tech Skyliner Jacket you see here. A limited release for Eddie Bauer's 100th anniversary, this jacket boasts an ultra-durable, lightweight DWR-coated external shell alongside certified responsibly-sourced 800 fill premium down to keep you warm and dry in any weather. And you definitely can't go wrong with its classic bomber-style silhouette — a knowing nod to the original jacket this one is based upon.
Outdoor Research Helium Down Hoodie
Outdoor Research is a mainstay in the realm of hiking, camping, and general adventure gear — and they have been since their founding in 1981. So it should carry some weight when they advertize something as their "most durable, lightweight, and technical," which just so happens to be how they present the Helium Down Hoodie you see here. Of course, if their own claims aren't enough, perhaps it should be said that Backcountry Magazine gave this jacket an Editors' Choice award. If accolades aren't your think, then maybe the fact that it features a shell equipped with ultra-tough Diamond Fuse technology, 800+ fill down insulation, a waterproof hood and shoulders, and more ought to do the trick. If not, we'd probably just go ahead and say you're not interested in being won over, regardless of this coat's impressiveness.
Arc'teryx Cerium SL Hoody
Anyone who is even moderately familiar with the outdoor gear landscape should be familiar with the Arc'teryx name. After all, this Canadian supplier is lauded amongst a bevy of professionals from all reaches of the adventuring world — including world-class athletes, photographers, and even military personnel. The Cerium SL Hoody you see here isn't quite hardcore enough to call "tactical," but it does have everything you could hope for in a down jacket. That included things like an ultralight, compressible silhouette alongside highly-efficient down insulation, a Durable Water Repellent coating for weatherproofing, cinched cuffs to keep warmth from escaping — the list goes on and on. Arc'teryx is definitely a brand you can trust, and that doesn't change when on the hunt for a down jacket.
PDW Kepler Down Cardigan
Despite the fact that PDW calls this a "cardigan," we assure you that it is absolutely nothing like the lightweight wool jackets worn by the likes of Mr. Rogers and Harry Dunne. In fact, its relation to a cardigan starts and stops with the fact that it falls under the greater jacket umbrella. Rather, this is a packable, durable, ultralight, goose down-filled, baffled, technical performance jacket designed for big-time adventuring. What might be the most impressive bit of this particular down jacket is that it weighs, in total, just 12.6 ounces. When you add all of that up and total it out, you've got a contender for the hands-down best down jacket you can get in its price range.
lululemon Navigation Stretch Down Jacket
To suggest that lululemon only makes workout clothing is kind of like saying that McDonald's only makes hamburgers. In fact, their catalog is much further-reaching than you might expect and actually includes this outstanding and aptly-named Navigation Stretch Down Jacket. While the styling is fairly inline with what we've all come to expect from down jackets — if perhaps a bit more minimalist than some of its brethren — it does have some highlights we haven't seen elsewhere. For instance, the water-repellent fabric that makes up its exterior is actually made from a stretchy material that won't compromise your range of motion — even if you're out doing something athletic like hiking — and it boasts a construction the brand is calling "ThermoChannel" and promises that the insulation stays put to keep you warm evenly no matter what activity in which you partake.
Patagonia Silent Down Jacket
If ever there were a big-name outdoor brand you can confidently trust, it's Patagonia. After all, they've been a staple of the industry since, well, before there actually was an industry — at least as far as we know it today. The brand's Silent Down Jacket isn't what we would call groundbreaking, at this juncture, but it definitely stands as one of the best options around right now. That's largely thanks to its 70% recycled taffeta shell (which is stretchy and has a DWR coating applied to it for weatherproofing purposes), 100% recycled 700-fill-power goose and duck down, jersey-lined handwarmer pockets, and a high collar. As we said, this isn't anything mold-breaking, per se, but it definitely performs in every way you'd want a down jacket to perform.
Black Diamond Vision Down Parka
Seemingly proving that simple design tweaks can make a jacket stand out from the crowd, Black Diamond's Vision Down Parka boasts an angular stitching pattern that makes it much more interesting to look at than much of its competition. Of course, they were also careful not to let that sacrifice any overall quality. In fact, it seems like they stacked the deck in their favor — with additions like a DWR-coated weatherproof shell, 800-fill down with a HyperDry treatment that will keep it warm even when soaking wet, and a Japanese Liquid Crystal Polymer to increase the overall durability of the coat. For the price point, we're not sure you're going to find a down jacket better than this one.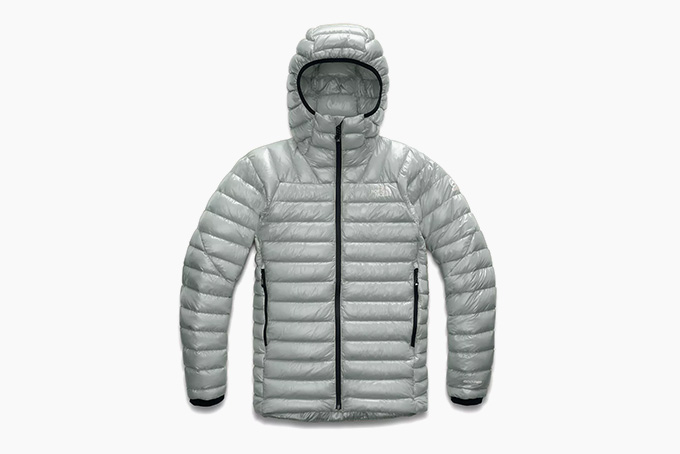 The North Face Summit L3 Down Hoodie
Just like Patagonia, The North Face is about as recognizable as outdoor brands get. And while the former's down jacket was a solid if not innovative option, TNF's Summit L3 Down Hoodie illustrates the other side of that spectrum. Designed specifically for movement, this jacket is made from a fabric called nylon Pertex that is both extremely lightweight and quite durable. It's also loaded with 800 fill ProDown that stays warm and fluffy when the jacket is expanded and still collapses down small for packability. And it has built-in stretch — lending credence to its intended use in movement-focused activities. Best of all, the whole thing collapses down into an included stuff sack that's somewhere between the size of a Nalgene water bottle and a beer can.
Marmot WarmCube Featherless Hoody
The first thing you should know about Marmot's WarmCube Featherless Hoody is that the brand is so confident in its quality that they've slapped a lifetime warranty onto it — which should speak to how good the down jacket actually is. Second, it's called Featherless because, you guessed it, it utilizes synthetic down rather than the natural stuff, giving this a sustainable and cruelty-free angle. Of course, even without those factors, this would still be an exceptional down jacket worth its weight (or more, since it's so lightweight) in gold. It's designed specifically to keep its insulation even throughout, the insulation inside is much slimmer than traditional down but stays warmer longer (even when wet), and it boasts weatherproofing in its shell.
Canada Goose Hybridge Base Down Jacket
With a name like Canada Goose, it should come as a surprise to nobody that this company is dominant in the outerwear category, especially when it comes to things crafted with down insulation. It's worth pointing out, however, that the Hybridge Base Down Jacket is special, even for a brand of Canada Goose's pedigree, as it comes as the latest addition to an award-winning lineup. Yes, it has all the hallmarks you'd want — including 800-fill-power premium goose down, a water-resistant nylon external shell, and an insulated hood. But it also has a few tricks up its sleeve, namely in the form of the brand's Thermal Mapping technology — which, as CG eloquently puts it, "strategically places performance fabrics where you need them to maximize warmth, breathability, and movement in the areas an active body needs it most." This isn't simply a down jacket, it's a piece of technical armor.
Vollebak Indestructible Puffer
If you were to look, at a glance, at what Vollebak has to offer in their catalog, you might think them a bit hyperbolic. In reality, however, they're perhaps not quite bombastic enough. You see, calling their down jacket the "Indestructible Puffer" might sound like a lot of hot air, but it's actually much more closely aligned with being the most accurate description of the coat. You see, this jacket has a shell crafted from Dyneema, the synthetic fabric that's ultra-resistant to tears and punctures and boasts a strength-to-weight ratio that's a whopping 10 times better than that of steel. For reference: that's the same fabric used in body armor and anti-ballistic vehicle panels. But it doesn't stop there — the jacket also has a synthetic down stuffing made from 100% recycled water bottles that make it good in temperatures as low as -40 degrees. And that's just the beginning…
How To Wash A Down Jacket
Unfortunately, most down jackets can't simply be tossed into the wash with the rest of your clothes — not if you want to keep it fluffy and warm. Luckily, we've put together a comprehensive guide detailing the ins and outs of how to wash a down jacket.