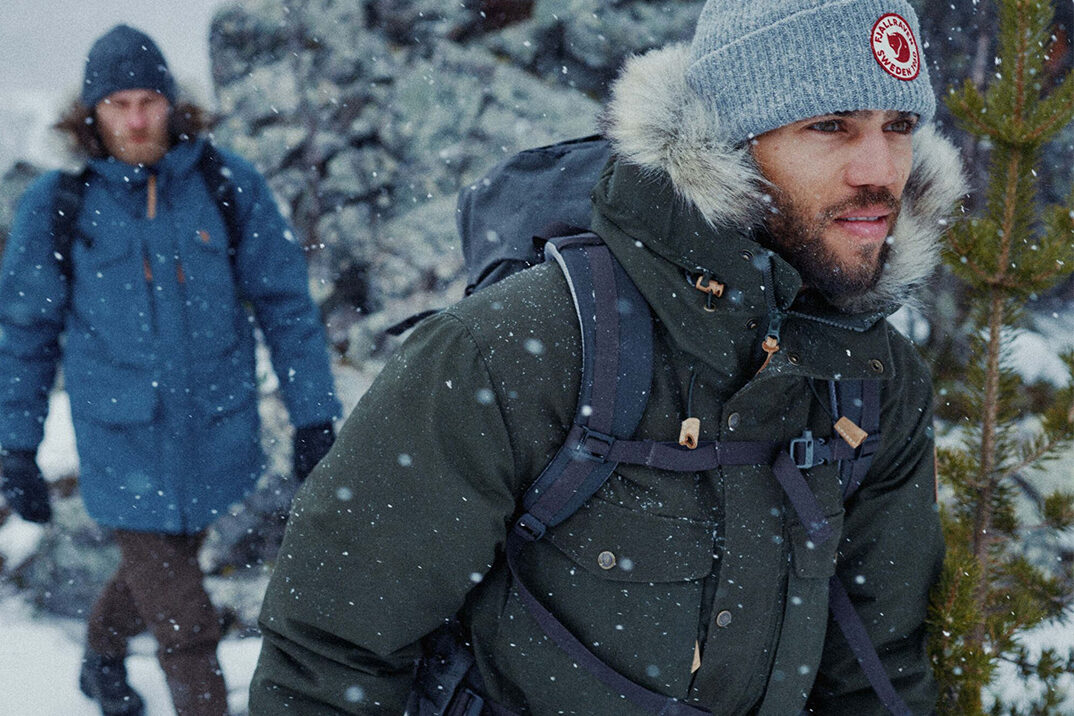 The human body was simply not made to survive in sub-freezing temperatures. Hell, it's not even hearty enough to survive slightly chilly environments — not without some ingenuity. Thankfully, we've got big problem-solving brains that have allowed us to vastly transcend our natural habitats and colonize huge portions of even the most unforgiving lands. Albeit, chilly weather is less like a life-threatening monolith and much more like a slightly inconvenient hurdle. An inconvenience that can be overcome with good old-fashioned ingenuity.
Our ability to survive harsh temperatures is owed largely to our cleverness in the creation and refinement of apparel — outerwear, specifically. And down jackets might just be the king of the ring in that regard. These garments, basically since their inception, have boasted the ability to keep us incredibly warm, and they manage that while still being relatively lightweight and without interfering too much with our range of motion. However, as is always the case with gear, some down jackets are better than others. And the cream of the crop is gathered in the following guide on the best down jackets for men.
What's So Special About Down?
Natural Science
Traditionally, down is defined as the undercoat of waterfowl — typically harvested from geese — that's soft, fluffy, and superb as a natural insulator. And the most interesting part about it is twofold.
First, down is one of the world's best natural insulators, but it actually works via an extremely simple concept. You see, this soft, fluffy under-plumage doesn't actually keep warm itself. Rather, its fluffiness and body serve to trap pockets of air, which are subsequently warmed by the heat of the waterfowl's body (i.e., Ducks and geese actually keep their own bodies warm by retaining their own expelled heat in an extremely efficient manner). When paired with a manmade jacket, the down performs in much the same manner.
Second, down fill wasn't actually used in outerwear until 1922, at which point Australian chemist George Finch crafted a down-filled jacket (made from hot air balloon fabric) for an expedition up to the peak of Mt. Everest. And then in the '30s, Eddie Bauer's near-death experience from hypothermia convinced him to develop and sell the first down jacket as we know it today. Before Finch and Bauer, humanity had actually been using feathers and down for centuries — typically in things like blankets and pillows — but nobody had yet thought to apply its benefits to performance-focused apparel en masse. However, the shift to outerwear was both speedy and revolutionary in its effectiveness.
Today, down is still one of the best insulators we have access to, even in light of the numerous technologies and materials that have been invented in since. In fact, while the market is awash with down replacements (like the varying synthetic varieties), they all still operate on the same basic principle as natural down.
Down Varieties
Know Your Investment & Impact
While goose and duck down are arguably still the most prevalent fill materials, more and more alternatives have cropped up, especially in recent years. Here are the main varieties you can expect to find in your jackets:
Goose: The granddaddy of human-use down is that of the goose variety. After all, geese are some of the most hearty survivors that have ever taken flight. While goose down is still the standard for warmth retention in every down-focused industry, there are some downsides (no pun intended) to choosing this particular variety of insulation.
First of all, avoiding cruelty is impossible, as harvesting down requires the animal to be killed. Even in the best of conditions, this can be considered wildly inhumane and is certainly not sustainable, as a tremendous amount of resources are required to raise and slaughter geese and the waste created is abundant.
Secondly, goose down tends to be much more expensive than most of its synthetic alternatives, which means the gear it's put into inherently gets a price hike as a result. If these are not concerns of yours, however, goose down might be your preferred jacket insulation.
Synthetic: For about as long as humans have known about goose down, we've been trying to find and/or create suitable synthetic alternatives — and with good reason. For starters, synthetic downs that aren't made from animal byproducts are inherently more cruelty-free. These fills also tend to be less expensive, as they require less effort and capital to produce when compared to harvesting animal byproducts. And then there are other plusses. For instance, some synthetic downs can still retain heat even when they're sopping wet, which can be a huge benefit in a survival situation. 
The downside, however, is that synthetic down doesn't always perform as well as genuine goose down, meaning it won't necessarily keep you as warm — though that gap has largely shrunk at this point, especially with higher-end synthetics. Furthermore, while synthetics can almost always be considered more sustainable than natural goose down, they have their own set of hurdles to overcome to be considered truly sustainable.
Hybrid: As you might imagine, hybrid down combines the best of both worlds. It's as effective as natural goose down but it has the added benefits afforded by synthetics — like hydrophobia, which repels water and allows the down to stay warm even when wet. It's not entirely cruelty-free and sustainable, but it's certainly more of both when compared to pure goose down. Finally, hybrid down is often less expensive than pure goose down, although it's still not quite as affordable as pure synthetic down can be.
Recycled/Responsibly-Sourced: One of the ways that many outerwear brands are skirting the animal cruelty and sustainability issues is by only utilizing down that's harvested as a byproduct of the meat industry — the logic being that the geese are going to die anyhow and the down would otherwise be wasted. This is a noble endeavor, but not always entirely sound, as partnering with the meat industry still often supports unsustainable practices that are damaging the natural world, but it's better than nothing. On the other hand, there are some brands that use recycled down. The idea is simple: There is plenty of down in circulation and, rather than killing more geese to make new down, they can get their hands on existing down and repurpose it into new garments without negatively impacting the natural world.
The Picks
Premium Puffers
REI Co-op 650 Down Jacket 2.0
Down jackets can get quite pricey, especially if you want something that's well-made and warm. The gear from REI Co-op's house brand always winds up on our lists for their quality construction and fair prices. There's an 850-fill option, but the 650 Down Jacket is lighter at 11oz without losing much protection in the process. Made from recycled nylon taffeta, the shell can also be packed down for easy winter travel and features zippered hand pockets in front.
Weight: 11oz
Fill Type: Animal Down
Fill Power: 650
Lululemon Navigation Stretch Down Hoodie
Accessibly stylish and super comfortable, the Navigation Stretch Down Hoodie from lululemon fits into the brand's athleisure trademark while also showcasing its outdoor versatility. Water-resistant, windproof, and unbelievably stretchy thanks to the elastane-infused nylon DiamondStretch build, the coat can accompany you on any adventure this season, trapping heat inside with ThermoChannel technology. Sporting a more tapered fit compared to its contemporaries, the jacket utilizes a combination of 85% gray goose down and 15% goose feathers.
Weight: N/A
Fill Type: Goose down
Fill Power: 700
Cotopaxi Fuego Hooded Down Jacket
Everyone's always raving about Cotopaxi's Fuego jacket, and for good reason. Not only does it come in an array of attractive colorways but it sports a built-in scuba hood, breathable underarm panels, an adjustable drawcord at the waist, and a 20d ripstop nylon shell that runs water off during the rainy season. Likewise, the 800-fill goose down doesn't detract from the lean build that'll help keep you moving through most activities, while the different color schemes make this a great year-round option as well.
Weight: 14oz
Fill Type: Goose down
Fill Power: 800
Outdoor Research Helium Down Hoodie
Another mainstay in the world of hiking and camping, Outdoor Research's Helium Down Hoodie is infused with responsibly-sourced 800-fill goose down, the 30d ripstop Pertex Quantum nylon shell is given Diamond Fuse tech to make it even more abrasion resistant without adding unnecessary weight. One of the few down jackets that's made for the rainy season as well, the Helium is constructed with the waterproof Pertex Shield on high-impact points like the shoulders and hood.
Weight: 15.4oz
Fill Type: Goose down
Fill Power: 800
Patagonia Silent Down Jacket
There are several options from outdoor clothing giant patagonia that could've made the cut here, but this Silent Down Jacket just seems to have it all. A heavy-weight option with everyday style and performance, this coat packs recycled 700-fill goose and duck down into the water-resistant polyester taffeta shell with a four-way stretch and a streamlined aesthetic. Great for travel as well, the puffer is compact with a stow-away hood and sports a media pocket with easy access to headphone cables.
Weight: 20.7oz
Fill Type: 100% recycled duck and goose down
Fill Power: 700
Norrøna falketind Down750 Hood
Perhaps not as well known in the States as some of its European contemporaries, Norway-based Norrøna has a history that spans nearly 100 years. Meant to be a lightweight mid-layer for colder environments or as a sturdy outer layer, the brand's falketind down750 jacket is thoughtfully constructed with meticulous body-mapped insulation and 45d nylon reinforcement on the high-impact body parts like the shoulders (the rest of the shell is made of 20d nylon). The RDS-certified 750-fill down is given to the core area while synthetic fill is placed on the more exposed areas for better protection against the physical elements of nature.
Weight: 15.7oz
Fill Type: Hybrid: Synthetic and food byproduct animal down
Fill Power: 750
Eddie Bauer Powder Search 2.0 3-in-1 Down Jacket
The creator of the first patented puffer jacket continues to innovate outerwear with its Powder Search 3-in-1 coat. Combining the warmth of a down jacket with the durability of a breathable polyester-shell outdoor jacket, Eddie Bauer's heavy-duty, triple-layer coat is made for the slopes but is versatile enough to be an everyday outer layer during the winter as well. Windproof and waterproof, the polyester shell has a plethora of pockets, a goggle wipe, and even a zip-in down layer for extra warmth when needed.
Weight: 44.8oz
Fill Type: RDS-certified animal down
Fill Power: 650
Arc'Teryx Cerium Jacket
Previously known as the Cerium LT, Arc'Teryx's flagship Cerium down jacket is the quintessential lightweight option for the rugged outdoors. Thoughtfully constructed with hydrophobic Coreloft insulation in moisture-prone areas of your body, it weighs in at a measly 10.6oz despite the 850-fill-power. Although the Canadian brand has plenty of puffer options, the Cerium continues to be a fan favorite for its wardrobe versatility (it can easily swap between a mid-layer or an outer layer) and minimalist aesthetic.
Weight: 10.6oz
Fill Type: Responsibly-sourced animal down
Fill Power: 850
Mountain Hardwear Ghost Whisperer UL Hoody
At just 6.67oz, Mountain Hardwear's Ghost Whisperer UL Hoody takes over 2oz off the brand's flagship Ghost Whisperer W/2 model and packs itself with 1,000-fill RDS-certified down insulation for incredible coziness. Meanwhile, the synthetic down inserted into the cuffs helps with durability during wetter weather. The brand's Stretchdown Hoody is a great option as well, but when trying to find supreme weight-to-warmth ratio, the Ghost Whisperer is simply the best around.
Weight: 6.67oz
Fill Type: Hybrid: Synthetic and RDS-certified animal down
Fill Power: 1,000
Rab Neutrino Pro
If you want to tap into everything down jackets have to offer, look no further than the Rab Neutrino Pro, a heavy-weight, alpine-grade coat built with a Pertex Quantum Pro shell and 800-fill goose down that's given a water-resistant finish. To help protect your gear, there are optimally-place pockets gifted with YKK zippers for extra durability and grip when wearing gloves in icy climates. At 20.6oz, the jacket still sheds weight where it can while still remaining one of the warmest options available and a favorite of mountaineers for the last two decades.
Weight: 20.6oz
Fill Type: European goose down with Nikwax fluorocarbon-free hydrophobic finish
Fill Power: 800
Fjällräven Singi Down Jacket M
Just because it's freezing outside doesn't mean you can't partake in activities that require you to move. Fjällräven recently updated its Singi Down Jacket parka, which balances extreme protection against the cold and comfortable maneuverability. Now made using sustainable materials such as ethically-produced 600-fill down and G-1000 Eco for the shell, with G-1000 HeavyDuty Eco reinforcement on the shoulders and rear, this super-heavy, long-cut jacket sports a whopping nine pockets and detachable synthetic fur on the hood.
Weight: 61.7oz
Fill Type: 80% goose down and 20% feather
Fill Power: 600
AETHER Dylan Corduroy Jacket
Masterfully blurring the line between style and performance, AETHER's Dylan Corduroy Jacket features a unique quilted pattern that's packed with 800-fill goose down. At first glance, you'd never guess this was a down jacket to begin with, riddled with premium details such as the lamb leather trim, Cupro twill interior lining, and the inside patch pocket that closes shut via magnet to keep your phone or wallet safe. Water- and wind-resistant, the stretch-corduroy shell is unusual, to say the least, but allows for ultimate versatility in your wardrobe while never forcing you to compromise warmth and comfort.
Weight: N/A
Fill Type: Goose down
Fill Power: 800
Vollebak Indestructible Puffer
Claiming to have an outer layer that's 15x stronger than steel, pound for pound, Vollebak aims to put an end to the down jacket's frail reputation with its Indestructible Puffer, using the strongest fiber ever made — Dyneema — while also constructed to withstand temperatures as low as -40°F, known to become stronger as the air gets colder. It sounds hyperbolic but the UK outfit is renowned for its cutting-edge tech and innovations, and this is no different. Foregoing the traditional goose down, this coat is insulated with recycled plastic bottles, which actually trap air better than most other synthetic fills. Naturally, the Indestructible Puffer is the heaviest option in this guide at 70.5oz.
Weight: 70.5oz
Fill Type: Recycled plastic
Fill Power: 600+
The Best Winter Hiking Boots
After you find your perfect down jacket, head over to our guide to the best winter hiking boots to equip you for your next adventure.