If there's one thing that's assured in life, it's that change is constant whether we like it or not. And when it comes to cars and the brands that produce them, this proves especially true. That's because automaking is less of an industry than it is an arena filled with cutthroat competition — one in which survival of the fittest is the modus operandi and the weak die off while the strong live to see another day. It's a tough pill to swallow, for no matter how badly you want to see a brand to make it, if they can't find their niche or get an edge on their opponents, they'll soon be squeezed out of the market altogether.
The good news is that even once automakers have gone to the great scrapyard in the sky, we can still remember them for everything that they brought to the car world — both successful and not. So whether it's because of an important innovation (factory fitted seatbelts), a groundbreaking model (the Pontiac GTO), or even just an unusual design (Iso's Isetta), there's good cause to look to the past and appreciate the car manufacturers that have come and gone, lest we let history repeat itself. And besides, with so many automakers being revived for a 21st-century reboot, you never know who you'll next see make a return. In the meantime, don't get your hopes up; instead, just revel in your nostalgia and have a look to see what we've picked for the 12 dead car brands we wish were still around.
In order to stand a better fighting chance against the likes of Ford, Chrysler, and General Motors, two small American automakers known as the Nash-Kelvinator Corporation and the Hudson Motor Car Company came together on May 1, 1954 to form the American Motors Corporation (AMC). While it was the largest corporate merger in United States history at the time, the brand struggled to compete with the otherwise impenetrable dominance of the Big Three. As such, AMC had to look for gaps in the market to stay afloat, coming out with a range of compact, fuel-efficient economy models despite the ever-growing size of its competitors' cars. And that's not all — American Motors also found its bread and butter in experimentation, with such novelties as reclining front seats and standard front and rear disc brakes. Today, most oil-blooded enthusiasts miss AMC for the Eagle, a four-wheel-drive station wagon that was effectively the first crossover in American auto history.
No list of defunct car companies would be complete without DeLorean, a brand that is known for one car and one car only: the DMC 12. First revealed as a design concept in the mid-1970s, the DMC 12 was widely heralded for all that it would bring to the industry — including a mid-engined layout for better handling, airbags for improved safety, and a unit-produced plastic chassis for lower weight. Unfortunately, such innovations weren't in the cards for DeLorean — be it because of impractical manufacturing technology or mounting economic pressures — and the car was but a shadow of what everyone expected it to be when it first rolled off the assembly line on January 21, 1981. Despite the initial buzz surrounding the brand's launch, it quickly developed a backlog of unsold production cars nearly double that of its orders. Plagued by the effects of the 1980 recession, Delorean had to file for bankruptcy in October 1982. It was only upon the DMC 12's appearance in the Back To The Future series in 1985 that it began to amass the cult following that it still retains to this day.
International Harvester
(1902-1985)
International Harvester was founded on March 22nd, 1902 when the McCormick Harvesting Machine Company and the Deering Harvester Company decided to merge with a series of smaller manufacturers that included Milwaukee, Plano, as well as Warder, Bushnell, and Glessner. Long known for its high-quality agricultural equipment and earthmovers, the Illinois-based enterprise even had its hand in the auto industry throughout most of its lifetime. For instance, in 1907, IH launched its first light-duty truck known as the Model A Auto Wagon. With its high ground clearance and convertible carrier bed, it's widely considered to be one of the first examples of what we know today as the pickup. But no matter how popular International Harvester's vehicles were in rural environments, it was only upon the introduction of the Scout in 1961 that the brand saw widespread support. Since that time, Scouts have become quite the hot commodity, with everyone from amateur enthusiasts to professional customizers looking to get in on the classic off-road aesthetic.
Like so many other older automotive manufacturers, Iso didn't get its start in vehicle production. Rather, up until WWII, it actually sold refrigerators under the name 'Isothermos.' Once Europe had entered peacetime, its founder Renzo Rivolta sought a change in direction, moving the company's headquarters from Genoa to Bresso and coming out with a range of small scooters, motorcycles, and three-wheeled transporters starting in 1948. Then, nearly five years later, Rivolta rebranded the Italian appliance manufacturer as Iso Autoveicoli S.p.A in order to make the switch official. The first Iso automobile ever produced was the Isetta Bubble Car, a quirky little subcompact that bore striking resemblance to an egg and required the driver to enter the cabin from the front of the vehicle. (If it sounds familiar, Iso actually licensed the design to BMW.) However, these days, Iso is best known for the Grifo, a sporty GT that packed a Chevy 327 under the hood.
Jensen Motors
(1922-2011)
By contrast, Jensen Motors is a brand whose founders — Alan and Richard Jensen — came well-steeped in automotive expertise. That's because prior to creating their own car company, the pair of brothers started out by offering unique hand-crafted versions of other manufacturers' offerings, with their modified Austin 7 Chummy being the model that put them on the radar. Afterward, the Jensens went on to work for a series of small coachbuilt customizers, including New Avon Body Co, Edgbaston Garage Limited, and W J Smith & Sons. In each case, the brothers were responsible for designing and building the bodywork to fit over the existing chassis, so by the time that they took over Smith & Sons in 1934 and changed its name to Jensen Motors Limited, they had already amassed a wealth of industry experience. Although most auto enthusiasts remember Jensen for the Interceptor, like many other British brands, it produced a slew of fun little two-seater sports cars.
Mosler Automotive
(1985-2013)
Founded in 1985 by a prosperous hedge fund manager named Warren Mosler, Mosler Automotive (originally known as Consulier Industries) was a small American sports car manufacturer based out of Riviera Beach, Florida. From the outset, Mosler was plagued by its relationship with the press and its consistent race ineligibility. That is, following the successes of the Consulier-branded GTP — including multiple IMSA wins at Lime Rock and Laguna Seca as well as the Car And Driver One Lap Of America — the car was repeatedly banned from entering competition. Whether it was because of its lightweight composite monocoque chassis, its space-age carbon-kevlar body, or some other reason entirely, the details of the sentence remain unclear to this day. In any case, even when Mosler did manage to keep its cars on the track, it had trouble finding buyers in a market awash with much more established brands. A shame too, considering the MT900 had a sub-3.5s 0-60mph time and a 200+mph top speed.
Chrysler originally introduced Plymouth in 1928 as an alternative to the lower-priced models being produced by Ford and Chevrolet However, throughout the Great Depression, it served as a saving grace for the American automotive giant, for even despite the enormous reduction in car sales, Plymouth emerged on the other side as the third best-selling brand in the United States. Afterward, Chrysler began to perpetually experiment with Plymouth in an attempt to catch the competition unawares. From futuristic finned sedans to compact economy cars to performance-minded fastbacks, it became less of an automobile manufacturer and more of an effort to get an edge on the blue oval and the golden bowtie. Nevertheless, during the height of the muscle car mania, Plymouth did put out several significant models, with such icons as the Barracuda and the Road Runner still fetching hefty sums to this day.
In a similar vein, Pontiac was intended to be an affordable accompaniment to General Motors' more expensive Oakland automobile line. But following the brand's initial success, it soon overtook its parent brand and found its own spot amongst the GM hierarchy, coming in just above Chevrolet but below the likes of such luxury marques as Buick and Cadillac. Thus, many Pontiacs shared a number of components with General Motors' other offerings, be it something as insignificant as a door pull or something as easily recognizable as an entire body (except for the front and rear end — those were always unique to Pontiac). While many people can't seem to get past Pontiac's monstrosities like the Aztec SUV, it did effectively create the first muscle car with the GTO. And when you consider that the brand followed it up with an encore like the Firebird, we can forgive GM for its missteps.
As the postwar offshoot of a Swedish aerospace and defense company, Saab is a brand that was well-prepared for success, with sound engineering expertise and attractive aerodynamic-inspired design language. Founded in 1945, it wasn't until four years later that Saab's first production car hit the market with the Saab 92. After a series of exterior redesigns, engine overhauls, and increased exportation, it went from a car that had just 20,000 units sold to one with nearly 550,000 buyers to its badge. However, it was only upon Saab's merger with Scania AB that it really began to see commercial success. In 1978, the brand launched the 900 as a successor to the 99, an incredibly popular model that saw over a million units made during its production years and one that commands a loyal cult following even now. Nevertheless, after its acquisition by GM in the late 80s and early 2000s, Saab became a brand with an increasingly-niche audience and eventually went bankrupt in 2011.
Back in 2003, Toyota launched Scion in an attempt to improve its appeal to younger audiences and ingrain some long-term brand loyalty. Across the range, each model came with a single standard trim level, meaning that there'd be no hidden fees or difficult haggling during the buying process — just the advertised sticker price to be paid. But don't be quick to assume that it was merely an affordable alternative for cash-strapped youths. On the contrary — when you consider cars like the tC and xB (amongst a number of others), Scion also proved to be a brand that was as stylish as it was sporty. Despite a couple of promising initial sales years, the hotly-awaited FR-S ended up being a little too successful, drawing buyers away from Scion's other offerings and creating too much internal competition. Add to that some poor economic conditions and a changing target demographic, and Toyota had more than enough reason to absorb the brand come 2016.
Although all of the other marques we've featured here on this list were founded after the turn of the 20th century, Studebaker is an exception to the rule. Founded in 1852 by Clement and Henry Studebaker Jr., the company got its start in wagon-building during the days of the California Gold Rush. As such, by the time its first car was brought to market in 1902, Studebaker was well-versed in all things four-wheeled. So, while the competition had only just started using gasoline-fueled internal combustion, the Indiana-based automaker was already using technology decades ahead of its time: fully-electric battery power. As you'd expect, it proved to be far too impractical for the existing infrastructure, and Studebaker entered a partnership with Garford to produce gas-engined cars beginning in 1904. After waging a price war with Ford during the mid-1950s and early 60s, Studebaker scrambled to finance a merger to no avail.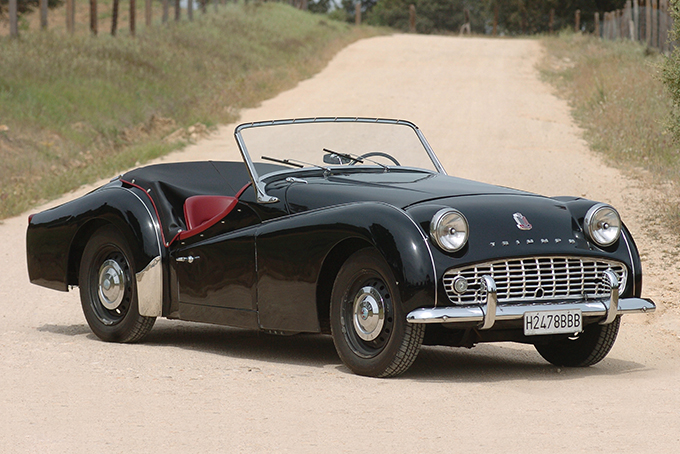 Triumph Motor Company
(1930-1981)
Having bought and sold imported European bicycles for nearly a decade as part of S. Bettmann & Co., Siegfried Bettmann renamed his company to be Triumph Cycle Co. Ltd. in 1897 and began producing motorcycles in 1902. Despite quickly becoming Britain's largest motorcycle manufacturer during the First World War, Bettmann wasn't one to be complacent and acquired the Dawson Car Company in 1921 so that he could enter the world of automobiles. After another name change in 1930 — this time to read Triumph Motor Company — the brand was sold off to a scrapping company before being forced to close its doors due to bombing-related destruction from WWII. Soon after, the Standard Motor Company bought what was left of the factory and announced an entirely new range of cars in an attempt at revival. Unfortunately, even after yet another sale that led it to be absorbed by the British Leyland Motor Corporation, Triumph had already started a downward spiral that eventually ended with a rebadged Honda Ballade in the 1980s. Triumph's automobile days may be long behind it, but we'll always remember beauties like the TR6.
Motor Mania: 12 Best Automotive Museums In America
While it's one thing to appreciate dead car brands over the internet, it's something else entirely to see their work in person. If you're looking for the skinny on where you can spot some of these relics, be sure to check out our guide to the best automotive museums in America.