This a certain gratification and sense of accomplishment that comes with building something with your own two hands. And while the vast majority of us don't possess the necessary design, engineering, or fabrication skills (or equipment) to create our own motorized vehicle from scratch, there's no shortage of fantastic kits that allow you to piece together your dream ride from the comfort of your garage, using only basic mechanics tools.
While kit cars have existed for just about as long the automobile itself, there's an enormous number of offerings that have been produced over the years straight on through to this day and beyond. With many of these small independent outfits popping in and out of operation on a regular basis, it can be difficult to get a sense of what the current market actually entails. So, to help steer you towards the automotive project of your dreams, we've constructed this guide to the best complete kit cars.
Affordable Exclusivity
The Numerous Benefits Of Kit Cars
Modern kits are routinely designed and manufactured with efficiency and cost-savings in mind — an aspect that's no doubt furthered by the reduced expenses tied to DIY assembly. Another area that allows for substantially more economical MSRPs is kit car's near-ubiquitous use of donor vehicles (the car the kit is assembled on/around) or powertrains that are readily available at on the used market at accessible prices.
While the engine powering the car may be a fairly run of the mill lump, the bodywork adorning the vehicle is a different story altogether. From perfectly-detailed replicas to novel supercar designs, kit cars tend to be real head-turners, indistinguishable from original vintage classics, or genuine top-shelf supercars when viewed by the average joe on the street. That's not, however, to say that kit cars are all "show" and no "go," with plenty of today's kits boasting hair-raising performance that can rival that of a high-dollar sportscar. There are even race kit cars that can legitimately best contemporary hypercars despite costing a fraction of the price.
Garage-Built Dreams
The Various Types Of Kit Cars
The modern kit car realm is just as diverse as the regular, pre-constructed car market, though there are a few main categories that constitute the bulk of the sector. Most kits use the engine or entire rolling chassis from an existing donor model, and sport their own unique design (which is sometimes based on or loosely-insured by a production exotic or race car).
Certain models that are particularly iconic, but were produced in minimal numbers and/or cost a small fortune — think Shely Cobra, Lancia Stratos, Ford GT40 — are often embraced by the replica kit community, as it provides an obtainable means of owning one of these prestigious models (or at least the closest thing to it for most of us). There are genuine recreation kits, that go to painstaking (and wildly-expensive) lengths to reproduce each individual part and component of a classic car — including the powertrain — though they're much less common (and much more expensive).
Built Not Bought
Learning A Vehicle Inside And Out
Whether its a ruggedized off-roader, a modern supercar, or an elite classic, every gearhead has that one dream car that they cherish above all others. And while much of the time these prestigious machines carry exorbitant price tags, kit cars offer a markedly more accessible alternative that can still afford a comparable experience behind the wheel.
One often unforeseen benefit of building your own kit car is the intimate knowledge one gains of the vehicle over the duration of its build. Putting together a kit piece by piece is arguably one of the best ways to learn exactly what makes a machine tick, and how the different components relate to each other. This also makes further upgrades and modifications that much easier, which is also hugely beneficial considering many of these kits are highly-upgradable.
Best Kits Cars of 2022
Exomotive Eco-Exo
Made in the UK, Exomotive's Eco-Exo is a completely barebones, minimalistic driving machine, designed to offer behind the wheel thrills in a compact and affordable package. Powered by the liquid-cooled four-stroke engine and automatic transmission from Suzuki's Burgman scooter, the vehicle is built around an exoskeletal tubular space frame chassis with polyurethane bushings and Coilover-equipped front suspension arms and a five-piece GRP bolt-on bodywork set. We'd recommend dropping the extra $500 for the Eco-Exo-R, which replaces the motorcycle-style handlebar steering and twist-to-go turn-throttle with a steering wheel and pedal throttle (which uses a modified steering column, rack, and cover from a Fiat 500).
MEV Exocet Miata
Like the Eco-Exo, the MEV Exocet is a thoroughly spartan driving machine that was designed to be the most affordable and easiest-to-assemble kit on the market, while still offering sufficient performance. To accomplish this, Mills Extreme Vehicles designed a cutting-edge lightweight tubular fully triangulated space frame chassis and an accompanying suspension and linkage system that's made to accommodate one of the least expensive, most widely-available cars in existence, the Mazda Miata. Compatible with several older generations of the two-seater Mazda, the Exocet's use of the donor also allows for the ability to use any of the thousands of upgradable Miata high-performance mods from the aftermarket sector. This kit is also street legal and can carry to passengers.
DF Kit Car Goblin A/T
Not unlike the Ariel Nomad, the Goblin A/T is a high-performance off-roader based on DFKC's road-going kit. Inspired by old-school VW Rail Buggies, this thoroughly modern dirt-goer is built around a Chevrolet Cobalt donor (with an automatic transmission) and boasts tire pressure monitoring, and power disc brakes and steering. Generating 155hp, this mid-engined machine also features a relocated radiator and a chassis that was modified to accommodate kick rails and more robust bumpers and crash protection. Considering the entire kit and an appropriate donor specimen can be had for around the $10,000 mark, the all-terrain-spec Goblin is undoubtedly one of the best UTV or off-roaders dollar for dollar. Each kit is also individually made-to-order by hand in Texas.
Manx Meyers Manxter DualSport Kit
Originally designed and developed by Bruce Meyers in 1960's Southern California for the purpose of desert racing, the Meyers Manx is unequivocally one of, if not the most iconic dune buggy ever built. And though the company's heyday is now in its rearview, it continues producing kits today, such as the even-more rugged DualSport-spec package. Based around the classic Type 1 VW Beetle, the kit features a fiberglass body, three-piece fiberglass dash, polished steel bumpers front and aft, headlights, indicators, and the other necessary bits for road-legal status. The abundant use of fiberglass allows for a surprisingly nimble vehicle, despite the limited power coming from the VW powertrain. And, in addition to further modifying and customizing Manx DualSport specimens, it's fairly common to see owners utilizing other, more powerful engines.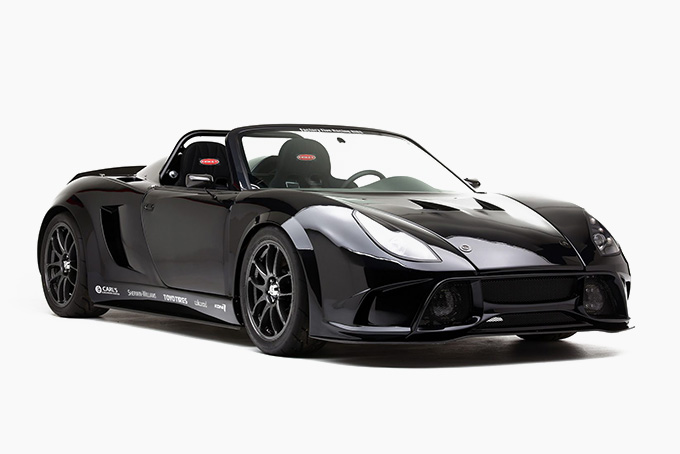 Factory Five 818C
Perfectly encapsulating the notion of affordable exclusivity, Factory Five's 818C is an exotic-looking mid-engined vehicle that can legitimately go toe-to-toe with supercars ten times its price. Tipping the scales at 1,800lbs, the car features a fully-finished two-passenger interior that can comfortably accommodate taller drivers and is available in both left and righthand drive configurations. Despite its flashy appearance, the 818 is shockingly attainable thanks to being built around a 2002-2007 Subaru Impreza or WRX sedan or wagon and using the lion's share of the donor's running gear. Other noteworthy elements on the 818 — which is also available in a higher-performance 818S and 818R variants – include KONI coil-overs, aluminum and composite bodywork, and a 3D-printed headlight assembly.
Factory Five 33 Hot Rod
Building a bonafide hot rod requires an enormous amount of work, having to source countless parts and components — many of which are extremely expensive and require permanent modifications. Factory Five's '33 Hot Rod kit offers an expedited path to hot rod ownership at a reasonable price, including everything needed to build the car, except for the engine, which can be any Small Block Ford 4.6L or 5.0L Coyote, and Chevy SB or LS engine. The kit also maintains the authentic appearance of a depression-era hot rod, with hand-laid laminate composite bodywork and CNC-cut 6061 T6 aluminum chassis panels, though contemporary components such as the brakes from a late-model Ford Mustang allow for more modern performance.
Factory Five 289 USRRC Roadster
Whether written today or 20-years ago, no list of kit cars would be complete without a proper Shelby Cobra replica. And while Factory Five does offer a regular Cobra kit, the company also produces a replica version of one of the six 400-450hp 289 Small Block USRRC (U.S. Road Racing Championship) racers Shelby built for the '64-'65 season. Touted as a "Gentlemen's Racer," the 298 USRRC more than merely looks the part, and reportedly follows the same engineering plans as the original, resulting in what's said to be nearly indistinguishable performance compared to the original 1960s racer. Factory Five does also offer a track-only "Challenge Car" Cobra, though, with its race-ready performance and road-legal status, it's hard to beat the 289 USRRC-spec.
Lister Bell STR
Penned by the great Marcello Gandini, the Lancia Stratos is without-a-doubt one of the most celebrated rally car designs of all time, though, with less than 500 examples produced across its entire production run, surviving specimens now command six-figure prices. Recognizing the demand from the automotive world, Nottinghamshire-based outfit, Lister Bell Specialist Cars have created an exact scale replica of the Italian rally machine. The replica starts with a CAD-designed semi-monocoque chassis with a full integrated roll-cage, and rather than using the model's original Ferrari Dino V6, the UK outfit allows the replica to be powered by anything from a modern 190hp 2.5L Alfa V6 to a 350hp 3.5L supercharged Toyota- derived 2GR-FE V6 — the same engine found in the Lotus Evora or Exige.
Caterham Cars Seven 360
The Caterham Seven has long been one of the most popular kit cars on the market, and for good reason. While slightly pricier than some of the other purist driver's cars, the timeless appearance and genuinely competent performance of this adult-sized go-kart have made the Seven something of an icon in this space. At the heart of the Caterham Seven is either a 1.6L Ford Sigma engine or a 2.0L Ford Duratec mill, all of which are tuned to different outputs based on the model variant. The Caterham Seven is available in a total of five different specs, ranging from the $37.9K, 120mph, 135hp Seven 270, and going up to the $65.9K supercharged 155mph, 310hp Seven 620, though, for the price, we're partial to the mid-tier Seven 360.
Superlite Cars SL-C
Superlative Car's SL-C kit is an ultra-high-performance, race-bred machine designed to take on modern supercars. The kit features a full aluminum, TIG-welded semi-monocoque chassis, a bey of billet suspension components, and full fiberglass bodywork. Weighing in at around 2,400lbs, the entire kit is broken down into 16 different stages (with the earlier more crucial stages consisting of the frame and bodywork while higher numbers deal with elements such as wheels and master cylinders), though even if you opt for all 16 parts, the grand total for the kit comes in at around $50,000, which is a steal considering the on-track capabilities of this street-legal machine.
Superlite Cars MOAB
Though Superlite Cars have a solid history of producing race-focused road-goers, the company has more recently branched out into the rugged off-road sector with its Moab model. A serious piece of off-road machinery, the Moab gets the same power steering system that's used in professional-grade Class 1 and Trophy Truck racers and FOX Racing shocks that afford a cool 20" of suspension travel. Furthermore, in lieu of traditional tubular control arms, the Moab calls on a laser-cut boxed plate design that's said to be markedly stronger and lighter. Powering the Moab are a variety of engine options from noted tuning outfit, Katech Performance (which boasts wins at the 24 Hours of Le Mans and several other high-profile events).
Cape Advanced Vehicles GT40
Ford's GT40 is an automotive legend through and through, famously being used by the American marque to dethrone the mighty Ferrari team at the 1966 running of the 24 Hours of Le Mans. And while the last majority of the motoring population will never own a true GT40, Cape Advanced Vehicles is offering the next best thing with a highly-detailed exact replica that maintains the original model's insanely-competent performance. Weighing 2,557lbs (wet) and boasting a 43% / 57% F/R weight distribution, the CAV GT40 generates some 450hp and 405ft-lbs of torque (at 6,000rpm and 4,500rpm respectively), allowing for 4.5-second 0-60mph runs and a top speed of 200mph. Cape Advanced Vehicles also builds a modern replica of a late-model Ford GT40.
Ultima Evo Coupe
Born out of some 30-years of development and race experience, the Ultima Sports EVO Coupe is a bonafide hypercar kit, matching the exotic outward appearance and highly-tuned race-ready performance of six and seven-figure exotics. Directly inspired by Le Mans Group C racers, this street-legal track weapon is powered by an LS Chevy V8 that generates anywhere from 350hp up to 1,020hp, depending on the tune, though in its highest spec, the carbon fiber-clad hypercar kit is capable of 2.3-second 0-60mph times (or 0-100mph in 8.8-seconds) and speeds exceeding 240mph — placing it on par with some of the fastest cars in the world. Riding on forged alloy rims and sending power through a Porsche six-speed manual transmission (with machined billet quick-shifter), the EVO Coupe's cabin is no less impressive, with a finely finished and thoroughly plush cockpit.
Kirkham Motorsports 289 Coupe
Carroll Shelby's fabled Daytona Coupe is another highly-coveted elite American-made model that few of us will ever have the pleasure of owning. Kirkham Motorsports's replica-take on the racer, however, is created in such stunning detail, that it could easily pass for the real thing when passing by you on a city street. Described as "the ultimate evolution of the leaf spring chassis car," the 289 Coupe features trellis-style backbone stiffing tubes supplementing an original Roadster ladder-style chassis, that, when paired with the model's aerodynamic bodywork, results in an incredibly competent vintage race machine. And, though it doesn't feature the modern elements that are found in most other kits, the 289 Coupe's aim is to deliver the most realistic expression of the original Shelby racer, and to that extent, Kirkham has absolutely nailed it.
Spyder Creations 550
With only 90 examples built in total across its entire four-year production run, the Porsche 550 Spyder is one of the Stuttgart firm's most elite and valuable models, with surviving examples routinely fetching well into the millions when sold at auction. Wanting to share their passion for the prestigious 1950s factory race car, Spyder Creations has produced an exact replica of the vehicle. Rather than using fiberglass, all the bodywork is comprised of genuine hand-beat aluminum pieces, and best of all, Spyder Creation's replicas are powered by an original Porsche 4CAM engine (which have been known to sell for over a quarter-million dollars). Inside, the cockpit has been recreated to the same highly-exacting standards.
The 15 Best Bolt-On Motorcycle Kits
Interested in checking out a few easier DIY garage projects? Our guide to the best bolt-on motorcycle kits contains over a dozen transformative bodywork packages that don't require any permanent modifications and can be installed using basic tools in just a few hours.