At the end of the day, you buy a car with a stick-shift for the enjoyment that ensues. Sure, it used to be the case that automatics were sluggish units that cost more than their manual counterparts despite having less power and worse gas mileage. However, these days, advancements like launch control and dual-clutch operation put them on par with — if not ahead of — row-your-own transmissions. What's more, buying a stick-shift will now often run you a premium rather than save you money (not to mention the considerably smaller pool of buyers available come time to sell). And as far as power and fuel economy are concerned? Today's autos rely more on additional gears and less on their torque converters in order to be incredibly efficient pieces of engineering. You might experience a slight dip in output or see your consumption suffer in bumper-to-bumper traffic, but they're largely moot points.
That being said, automotive enthusiasts love to wax romantic about the connection they share with their car when shifting through its gears, and it's for good reason. Taking control of the transmission, hearing the engine respond to your input — it's a feeling that you have to experience to understand. Even in the most mundane of manual-equipped vehicles, heel-toeing it to a stoplight or throwing it into third makes an otherwise boring commute feel like a spirited getaway drive. You don't want to believe it when manual drivers claim that you'll feel closer to your car, but trust us — you will.
All that is to say, you shouldn't convince yourself to buy a manual car for responsibility's sake. They're not practical vehicles — at least not by today's standards. But that's the beauty of them. In a world in which everything is becoming increasingly automated for the purposes of efficiency, the reality is that the user's end experience is often dulled as a result. Stick shifts are a stalwart reminder of the glory days and, for that reason, they should live on. Without further adieu, here are the best cars that still offer manual transmissions.
Hyundai Veloster
Hyundai's unconventional hatch wears its manual transmission with pride, coming standard with a six-speed stick-shift across the line. So whether you spring for the 147hp base model with its 2.0L four or the range-topping Veloster N with its 257hp turbocharged 2.0L four, there's nothing stopping you from getting a row-your-own gearbox. And while Hyundai offers automatics for both its entry and mid-range Veloster models, it forgoes the option entirely for the hot hatch. A case in point that a manual is a right of passage for performance driving.
Vehicle Class: Sport Compact
Available Engines: 1.6L 4-cyl Turbo, 2.0L 4-cyl
Power Range: 147hp to 201hp
Volkswagen Jetta
The Golf's sedan sibling is one of the few on the market to still offer a stick-shift. That being said, your choices are a bit limited compared to the above Veloster. A six-speed manual is available as an option on the 147hp turbocharged 1.4L inline-four base model S, and it comes standard with any version of the Jetta GLI models. With a turbocharged 2.0L four putting out 228hp and 258lb-ft of torque, the GLI makes for a spirited daily driver made only better by the addition of stick.
Vehicle Class: Sedan
Available Engines: 1.4L 4-cyl Turbo, 2.0L 4-cyl Turbo
Power Range: 147hp to 228hp
Honda Civic
Although the Accord comes with a row-your-own gearbox in several of its flavors, the options are limited when compared to the Civic. And besides, the smaller platform makes for a better driving experience. Sure, Honda is phasing out the Civic coupe for 2021, but the hatch body style is here to stay and, along with it, a range of specs that offer a manual. From the Sport and Sport Touring models to the uber-angular Type R, there are stick-shift options abounds. It's worth noting that although the Si is being put on pause for 2021, it'll return with the introduction of the 2022 model year. That being said, when you pair a stick-shift paired with the R's 306hp 2.0L turbo, you couldn't ask for a better driver's car.
Vehicle Class: Hatchback
Available Engines: 1.5L 4-cyl, 2.0L 4-cyl Turbo
Power Range: 158hp to 306hp
Subaru Impreza
With its thriving fanbase of manual transmission enthusiasts, Subaru wouldn't dare ax the option from its Impreza line. Granted, the Japanese automaker's CVT is among the better performing variable transmissions out there, but it's not for those who want to make the most out of the flat-four engine's meager power. However, it's not often that you'd find a stick-shift on a passenger car of this kind, especially when it's mated to Subaru's industry-leading all-wheel-drive system. You can get a five-speed on either the Impreza sedan or the hatchback.
Vehicle Class: Hatchback/Sedan
Available Engines: 2.0L 4-cyl
Power Range: 152hp
Mini Cooper
Despite having announced that production of the drop-top Cooper convertible will be coming to an end in the US within the next couple of years, Mini still offers plenty of choices with a standard six-speed manual. Available in both two- and four-door hardtop (and convertible for the time being) forms, a stick-shift turns this car into quite the pint-size ripper on the road. When it comes to engine specs, you can opt for the base 134hp turbocharged 1.5L three-cylinder, the S model's 189hp turbocharged 2.0L inline-four, or the 228hp John Cooper Works. For those that were eyeing the super hot GP, don't hold out hope — it only comes with an eight-speed automatic.
Vehicle Class: Subcompact
Available Engines: 2.0L 4-cyl Turbo
Power Range: 189hp to 301hp
Chevrolet Camaro
In a rare (but appreciated) move, Chevy makes a manual transmission available across the entirety of the 2021 Camaro lineup, in both coupe and convertible flavors. So whether you spring for the humble 275hp turbocharged 2.0L four-cylinder of the base model or the tire-hungry 650hp supercharged 6.2L V8 of the ZL1, there's no shortage of options to scratch your stick-shift itch. What's more, if you opt for a model with Chevrolet's 1LE performance package, you gain a helpful little feature called rev-matching. In practice, this means that even if your shifts are a little rough around the edges, it'll compensate for your errors and make sure that each change is as smooth as the last.
Vehicle Class: Sports Car
Available Engines: 2.0L 4-cyl, 3.6L V6, 6.2L V8
Power Range: 275hp to 650hp
Mazda MX-5
One of the hallmark qualities of this Japanese classic has always been its short-throw manual transmission. There's no way Mazda would eighty-six that feature from this little convertible; should such a day ever come, it'll be to the much to the mourning of the greater automotive community. In keeping with tradition, the fourth-gen MX-5 offers a six-speed row-your-own gearbox in both roadster and retractable fastback forms across all of its trim levels. From the spritely Sport package to the luxurious Grand Touring model, each one comes with a 2.0L four-cylinder engine good for 181hp and 151lb-ft of torque — the most power that any Miata has ever made.
Vehicle Class: Roadster
Available Engines: 2.0L 4-cyl
Power Range: 181hp
Ford Bronco
With the return of the Bronco name comes the return of the manual transmission to Ford's SUV platform. Although Ford is offering the Bronco with a turbocharged 2.3L four-cylinder, as well as a twin-turbo 2.7L V6, only the former will offer you the choice of a seven-speed; should you spring for the latter engine option, you'll have to make do with a 10-speed automatic. That being said, it's available on both the two-door and four-door body styles. With an ultra low-range granny gear positioned to the left of first, it makes for even more capability come time to venture off-road.
Vehicle Class: Midsize SUV
Available Engines: 2.5L 4-cyl Turbo
Power Range: 270hp
Ford Mustang
Fans of the classic pony car rejoice — almost every version in the range comes with the option for a six-speed manual, no matter the engine option or roof configuration. And although we'll be mourning the GT500 for some time to come, it was only available with a seven-speed dual-clutch unit anyway. That being said, for 2021, Ford is bringing back the Mach 1 in both six-speed manual and 10-speed automatic varieties. Full of performance upgrades such as an exclusive handling package and a specially calibrated 5.0-liter V8, it promises to be this one the most track-ready iteration yet, making it a great buy for fans of the 'Stang.
Vehicle Class: Midsize SUV
Available Engines: 3.6L V6
Power Range: 285hp
Jeep Wrangler
Apart from the 2021 Bronco, your options in the United States are limited to a Jeep Wrangler when it comes to mid-size SUVs offering a manual transmission. Much like Ford's iconic off-roader, the Wrangler holds you to just one engine if you want a stick-shift: a 285hp 3.6L V6. Featured on both the two-door and four-door models, in all trim levels from Sport to Sahara, the six-speed manual makes for plenty of clutch pedal fun off the beaten path. If you were hoping for one of the other powertrains (such as the 375hp mild-hybrid 4xe) you'll have to look elsewhere — those miss out on the manual option.
Vehicle Class: Compact
Available Engines: 2.0L 4-cyl Turbo
Power Range: 228hp
Volkswagen GTI
With its coming redesign, the standard Golf loses its manual transmission in the United States after 2021. However, when it comes to the performance-oriented GTI, Volkswagen is keeping the third foot-pedal format alive for the eighth-generation model. In fact, the platform comes standard with a six-speed stick mated to its 228hp turbocharged 2.0L inline-four. As the undisputed heavyweight champ of the hot hatch world, the GTI's quick handling and punchy performance are made all the better with the addition of a row-your-own 'box.
Vehicle Class: Sports Car
Available Engines: 2.0L 4-cyl
Power Range: 205
Subaru BRZ
Sure, Subaru has been teasing us the 2022 redesign of its sporty little coupe, but until that time we'll have to make do with the current body style. Thankfully, a six-speed manual comes as a standard option on the car across the board (if you want the automatic, you'll be a bit more limited in trim choices). With its 205hp boxer engine, sport-tuned suspension, and low center of gravity, the BRZ has been widely heralded as one of the most driver-forward cars in recent memory.
Vehicle Class: Sports Car
Available Engines: 3.7L V6
Power Range: 332hp to 350hp
Nissan 370Z
Having started production of the 370Z way back in 2009, Nissan has stayed true to its sports car roots, offering a manual option all the while. Granted, the roadster has since been discontinued, but otherwise, the Z car gives you the choice of a stick-shift throughout most of the range — including the eye-catching NISMO-spec. Nissan also gave the six-speed manual on the 370Z rev-matching functionality, enabling smooth, accurate downshifts. Oh, and if you hadn't heard — the Japanese carmaker recently announced a timeline for its successor: the 400Z. In keeping with tradition, it's slated to come factory-built with a twin-turbo V6 and a six-speed manual.
Vehicle Class: Midsize Pickup
Available Engines: 3.5L V6
Power Range: 278hp
Toyota Tacoma
As one of the only remaining pickups to offer a stick-shift these days, the Toyota Tacoma is something of a rarity. However, if you want to row-your-own gears, your options are pretty limited across the platform. Not only do you have to bypass the base 159hp 2.7L four-cylinder model in favor of the 278hp 3.5L V6; you also have to opt for one of the TRD trim options, whether it's the Sport, Off-Road, or Pro. But with powerful four-wheel-drive, a locking rear differential, and capable crawl control, it's hardly a compromise.
Vehicle Class: Midsize Pickup
Available Engines: 3.6L V6
Power Range: 285hp
Jeep Gladiator
Like the Wrangler, the Jeep Gladiator limits buyers to the choice of a 285hp 3.6L V6 if they're looking for a six-speed manual. Sure, it makes for slim pickings, but it's worth noting that apart from the Tacoma, it's the only mid-size truck on the market to offer a transmission option other than its standard automatic. With a rugged all-steel 5-foot cargo bed offering best in class payload and best in class towing, it's a worthwhile alternative to Jeep's classic off-roader for those that need some extra utility.
Vehicle Class: Coupe
Available Engines: 2.0L 4-cyl Turbo, 3.0L 6-cyl Turbo
Power Range: 228hp to 444hp
BMW 2-Series
Although BMW has nixed the option for a stick-shift from its new 3-Series model, the 2-series takes up the torch. From the entry-level 230i coupe with its 245hp 2.0L TwinPower Turbo inline-four all the way up to the top trim M2 Competition coupe with its 444hp 3.0L TwinPower Turbo inline-six, the two-door sports sedan offers a manual transmission as a no-cost add-on (and as a standard in the case of the latter). What's more, it's also available on the M240i convertible, a 335hp model with plenty of potential for wind-blown fun.
Vehicle Class: Sedan
Available Engines: 2.0L four-cyl Turbo
Power Range: 252hp
Genesis G70
Hyundai offers one of the most diverse model ranges of manual-equipped vehicles on the market, and the G70 from its luxe Genesis line is no exception. A sleeper of a sport sedan if there ever was one, the G70 has earned no shortage of accolades for its all-around performance and class-disrupting price point. Unfortunately, a stick-shift is only available with the 252hp turbo 2.0L four-cylinder engine; the 365hp V6 is exclusive to an automatic gearbox. It's worth noting that while the manual is still available for 2021 models, it looks to be on its way out for 2022.
Vehicle Class: Sports Car
Available Engines: 2.3L 4cyl, 5.0L V8, 5.2L V8
Power Range: 310hp to 526hp
Porsche 718
Porsche has long been known for producing cars that put the driver's experience first. Key to that equation has been the ongoing availability of a manual transmission. Both models in the 718 range — the Cayman coupe and the Boxster convertible — come with the option of a six-speed stick-shift in all trims starting at the 300hp base model. What's more, the performance-drive Cayman GT4 and Boxster Spyder are exclusively offered in row-your-own variety.
Vehicle Class: Sports Car
Available Engines: 2.0L 4-cyl Turbo, 2.5L 4-cyl Turbo, 4.0L 6-cyl Turbo
Power Range: 300hp to 394hp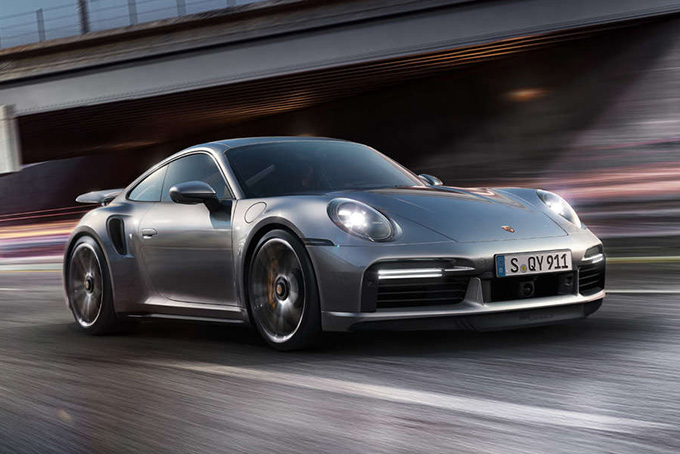 Porsche 911
While Porsche purists far and wide see the 992 as something of a departure from previous generations of the 911, it does stay true to its heritage by offering an optional manual. The German automaker reintroduced a seven-speed stick-shift, giving you a three-pedal Porsche with ample opportunity for gear changes. For the time being, you'll be stuck with either the Carrera S or Carrera 4S (in coupe or convertible body styles) if you want a manual, as the base Carrera as well as the 991-generation GT3 RS, GT2 RS, and Turbo models all pass on the option. Should you be able to get your mitts on the ultra-rare Speedster, you're in luck — it's offered exclusively as a six-speed.
Vehicle Class: Sports Car
Available Engines: 3.0L 6-cyl Twin-Turbo
Power Range: 443hp
Aston Martin Vantage
For 2021, Aston Martin made the seven-speed manual from the limited-edition AMR a standard option on the Vantage. Mated to a 503hp twin-turbo 4.0L V8, it's good for 503hp giving it a 0-60mph time of just 3.5s and a top speed of 195mph. To put it another way — even though AM claims that the Vantage is a "sports car" rather than a "supercar," its performance says otherwise. It's worth noting that in exchange for your driving pleasure, the stick-shift suffers a loss in torque compared to the automatic car — a mere 460lb-ft compared to the latter's 505lb-ft figure.
Vehicle Class: Sports Car
Available Engines: 4.0L V8 Twin-Turbo
Power Range: 503hp
Secondhand Stallions: 12 Best Used Car Websites
Although off-the-lot manual-equipped options are few and far between, the used car market has plenty of worthwhile choices. Head over to our guide to the best used car websites to see where you'll have the best luck.