Ever since sneakers were brought to the masses in the early 1900s, they've been a staple of the footwear industry. Not only did these rubber-bound shoes provide a comfortable, capable means of traversal for the common citizen, but they began to take on a life of their own as a fashionable accessory that could complement, and sometimes, complete, an outfit. Soon, manufacturers realized that the sneaker was more than a piece of everyday footwear — it was a stylish centerpiece that would define mankind's approach toward discernable culture.
If you think that our adoration of sneakers seems a little too farfetched, we're about to enlighten you. Below, we've decided to round up a selection of the most influential sneakers of all time, from genre-defining silhouettes like the Stan Smith, Old Skool, and Club C, all the way to athletic mainstays like Samba, Tailwind, and Center Hi. Whether they served to define an entire era of shoemaking or make a name for themselves as the most iconic sneakers to ever grace the field/concrete/court, these all-encompassing sneakers are sure to endure as the most revered silhouettes of the past century.
Adidas Stan Smith
Adidas' Stan Smith silhouette started out as one of the most domineering tennis sneakers of all time, and over the years, it became synonymous with classic style. Today, the Stan Smith retains the same staunch allure as the original, thanks to its all-leather upper, tri-stripe sidebox, and leather liner, which adds a plush, comfortable feel to the already-supple shoe. Whether you're looking for a sleek sneaker that will look great on the court, or a stylish silhouette that will never see athletic use in its life, the Stan Smith addresses both with ease.
Vans Authentic
Vans Authentic sneaker boasts one of the most recognizable silhouettes in the industry, and thanks to its deep-rooted heritage as the go-to shoe for both pop culture aficionados and skate fiends, it's etched its name into the annals of history. Like the original version, which was released all the way back in 1966, the modern-day style staple utilizes a durable canvas upper, metal eyelets, and an iconic Vans Waffle Sole, providing exceptional grip on a variety of surfaces. However, the transcendental sneaker isn't confined to its image as a comfortable, everyday essential; it's also preferred by action sports athletes due to its durable construction, tactile feel, and lineage as one of the defining shoes of the genre.
PF Flyers Center Hi
PF Flyers' Center Hi sneaker is quite possibly one of the most iconic basketball sneakers to have ever been released, and with almost a century of trusted use at its back, it's proven that classic style doesn't easily die out. The shoe's premium upper, vertically-ribbed toe guard, and signature treaded outsole stay true to the vision of the original, while quality-of-life additions like a vertically-wedged Posture Foundation insert and molded rubber ankle patch keep you looking and feeling great throughout the day.
Vans Old Skool
Vans' Old Skool sneaker is a renowned skate shoe that's steadily transitioned into the realm of stylish footwear. As the brand's first sneaker to bare the iconic side stripe, it features a durable suede and canvas upper, alongside a low-top silhouette that's undeniably great looking when flaunted next to its competitors. Since the shoe was originally introduced in 1977, it's gained traction as one of the most quintessential, and influential, sneakers of all time, thanks to its signature lining, padded tongue, and iconic Waffle sole.
Puma Suede Classic+
With a name like the Puma Suede Classic+, you'd be right to believe that the brand's flagship shoe is nothing short of legendary. It was released all the way back in 1968, and much like the original, it features a great-looking premium suede upper, padded tongue and collar, and a textured rubber midsole that offers exceptional traction on a variety of surfaces. On the side of the shoe, you'll find PUMA's signature Formstrip, complementing the shoe's classic stylings. Needless to say, the Suede has aged insanely well over the past five decades, and today, it's equally as enticing for sneakerheads who want a taste of old-school style.
Superga 2750 Cotu Classic
Superga's 2750 Cotu Classic is a worldwide favorite, and when it comes to contemporary style, they're the perfect addition to any guy's casual wardrobe. Like many of the classic, low-cut styles of today, they feature a durable canvas upper, a handful of handsome colors, and an aesthetic that blends seamlessly with a pair of rolled chinos and a relaxed t-shirt. They also boast an unlined canvas upper, loop signature tag, and cushioned footbed for the utmost comfort throughout the day, while a natural rubber outsole and adjustable lace-up closure round out the timeless example.
Reebok Club C 85
Although the new Reebok Club C 85 is only a rendition of the original, it still sports the classic aesthetic that made its predecessor so popular. On the exterior, you'll find a soft and supple leather upper adorned by the brand's famous box logo, giving the shoe an extravagant aura, and placing it firmly within the realm of top-end style. When it comes to internal construction, the Club C 85 is no pushover; it boasts a comfortable molded sock liner and a cushioned midsole that make walking and running a breeze. A grippy, dependable rubber outsole ties everything together. The result? An iconic shoe that's served to define Reebok's expansive catalog ever since it was first unveiled in 1985.
Novesta Star Dribble
Novesta might not be a household name in our part of the world, but in Europe, the classic basketball sneaker has amassed a significant following since its debut. It features a timeless hi-top orientation, and thanks to a chunky sole, stylish vegan composition, and an array of innovative colors, it's earned its place within the annals of history as one of the best-looking examples around. You'll find all the notable characteristics of a well-rounded sneaker within the Star Dribble, including a durable canvas upper, rubber shell toe, and vulcanized rubber on the exterior, creating an attractive structure that's hard to dispute. There's no doubt that Novesta has played to its strengths with this long-winded sneaker, and in doing so, they've created a minimalist mainstay in the process.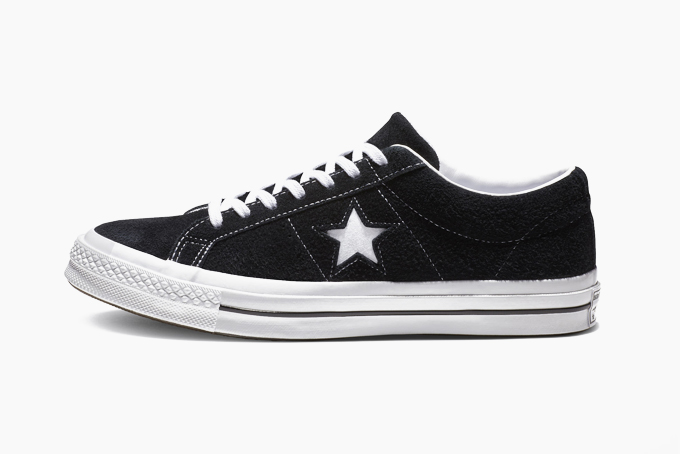 Converse One Star
Like many of the classic sneakers on this list, the Converse One Star was introduced with a purposeful mission. In 1974, the shoe took to the court with an all-new, low cut offering, implementing the now-iconic single star atop the sneaker's vamp. The style was an immediate hit among sneaker enthusiasts and the growing streetwear culture; and although it was only on shelves for a year, it had made its mark on the community as a whole. The shoe made a dramatic return to the market in 2017, thanks to its powerful suede composition, OrthoLite insole, and durable rubber outsole, which have served to thrust the classic sneaker into the limelight once again.
Nike Cortez
Nike's Cortez shoe is a classic of magnificent proportions, and as one of the company's OG leather offerings, it was a no-brainer to add it to our list of legendary sneakers. Today's iteration of the Cortez comes outfitted with Nike's comfortable and capable EVA midsole, herringbone rubber outsole, and full-grain leather construction that's undoubtedly influential. The company's iconic swoosh adorns the shoe's exterior, giving it an err of timeless taste. If you're looking for a simplistic silhouette that'll turn heads wherever you go, the Cortez might just be the quintessential sneaker.
Adidas Gazelle
In the early 1990s, Adidas' Gazelle sneaker made its debut. It was an instant hit, thanks to its minimal design principle, tri-line branding, and subtle leather accents. Almost 30 years later, the Gazelle has shown its face once again, thanks to the company's anticipated "one-to-one" reissue. It features the same leather upper, synthetic overlay, and synthetic liner that it did all those years ago, and harkens back to the original's tasteful guise through the implementation of a debossed Trefoil logo, subtle profile, and slimline design. The Adidas' Gazelle is an undeniable look into the 90s' most influential sneaker styles, and for a contemporary model, it holds its own quite well.
Adidas Men's Continental 80
Adidas' Men's Continental 80 sneaker is the definition of a retro footwear essential, bringing a nostalgic silhouette, color, and composition to the table for the transcendental brand. This indoor-oriented example features a smooth leather composition, a swooping two-tone stripe on its side, and a split rubber cupsole for unabated traction while out and about. The shoe's larger profile was a stark contrast to the minimalist silhouettes exhibited throughout the market during its debut, setting it apart almost immediately. Today, it stands out just as easily, thanks to a striking color palette of white, gold, and black.
Adidas Samba OG
Adidas' Samba OG was born and bred on the world's finest pitches, and over time, it's steadily transitioned into the realm of everyday street style. With a silhouette as good looking as this one, it's no surprise that the shoe has become a staple of the sneaker industry; a full-grain leather upper, gold foil detailing, and rough, durable suede accents encompass the exterior of the Samba, giving it a leg up on the competition through sheer cleanliness. On the interior, a synthetic leather liner ensures comfortable wear throughout the life of the shoe, while a dependable gum rubber midsole, and cupsole, keep you firmly rooted as you take on any type of urban terrain.
New Balance 574
New Balance's 574 is part of the company's Essentials collection, and as far as we're concerned, that's no understatement. Thanks to the shoe's classic profile and cleanly-tailored silhouette, it's become one of the mainstays of men's style, boasting more than enough aesthetic prowess to keep it on top of our radar throughout the years. To keep the shoe up-to-date with current trends, the company's proprietary ENCAP midsole technology offers the utmost support and durability, while a die-cut EVA foam midsole and heel provides adequate cushioning for even the most pampered sneakerhead. To round things out, a handsome suede and textile upper provides the perfect layered look for any occasion.
Converse Chuck Taylor All-Star 70
Converse's Chuck Taylor All-Star 70 is a must-have when it comes to classic sneakers. While the domineering basketball shoe was introduced all the way back in the 70s, today's modernized platform doesn't divert from the original — in spirit, or style. While the shoe's handsome aesthetics remain generally the same, they've been outfitted with even more cushioning, a tougher 12-ounce canvas exterior, and other premium materials that keep them at the head of the pack when it comes to contemporary footwear. A durable rubber outsole, vintage accents, and a lightweight upper make the Chuck an adaptable staple that complements any outfit with ease.
Onitsuka Tiger Mexico 66
Onitsuka Tiger's Mexico 66 silhouette is almost sixty years old, and with a classic style that hasn't been betrayed in just as long, they've proven that timeless aesthetics really do make all the difference. These prolific low-profile shoes made their debut at the 1968 Olympic games, showing the world that a premium white leather upper, red and blue tiger stripes, and suede accents were more than enough to create one of the best-looking sneakers ever. Today, the racer features many of the same attributes, including its lauded premium leather composition, unique side stripes, and a tasteful suede heel and toe-cap.
Veja Nova
Veja's Nova sneaker is a minimalist's dream. Not only does the shoe feature one of the most optimized exteriors on the market, but it's also environmentally friendly, thanks to a wild rubber sole, which has been sourced from the Amazonian forest, and an insole crafted from premium synthetic materials. Inside the shoe, you'll find an ethically-sourced organic cotton liner, providing comfortable, unwavering wear throughout the day. While the shoe certainly delves into the more progressive side of manufacturing, its silhouette remains unabashedly classic, harking back to some of the most prolific low-cut styles of the 70s and 80s.
Nike Air Tailwind 79
Nike's Air Tailwind 79 is a legendary runner that made its debut all the way back in 1978 at the Honolulu Marathon. Back then, it was one of the first shoes to embody Nike's revolutionary Air unit cushioning system, fostering industry-wide recognition and praise. Over the years, the shoe became a staple of the sneaker world, and today, the reissue of the Tailwind 79 plays to the strengths of the original. A handsome textile and leather upper provides wearers with adequate support throughout the day, while a grippy, waffle-inspired rubber outsole provides the utmost traction on and off the blacktop.
Reebok Aztrek
Reebok's Aztrek sneaker is a chunky shoe that's got more than enough vintage character. The 96, in particular, brings us back to the heyday of the 90s, where angular shapes, thick soles, and even larger silhouettes were all the rage. The shoe boasts an interesting mix of faux suede and hard-wearing textiles, while a large midsole, X-shaped toe, and retro branding serve to transport wearers back in time. But don't let the Aztrek's large footprint fool you — it sports a lightweight, breathable upper, an airlike EVA midsole, and Hexalite hexagonal cushioning for the utmost comfort throughout the life of the shoe.
New Balance 990
The New Balance 990 has been an industry mainstay for close to three decades, and after taking a look at the company's flagship shoe, there's no question that it boasts one of the most recognizable styles of all time. That being said, the 990v5 is the definition of simplistic style, thanks to its blown rubber outsole, pigskin/mesh upper, and dual-density foam collar. To strengthen the shoe, the implementation of the company's durable ENCAP midsole technology allows for exceptional support, helping the shoe to maintain its form over years of use. While these might look like the perfect pair of dad sneakers from the 1990s, there's no doubt that the latest iteration of the 990 is an undisputed classic.
The 12 Best Waterproof Sneakers For Men
Now that you've brushed up on the industry's most iconic footwear, head over to our guide on the best waterproof sneakers to find your next pair of capable, city-faring companions for when the weather takes a turn.