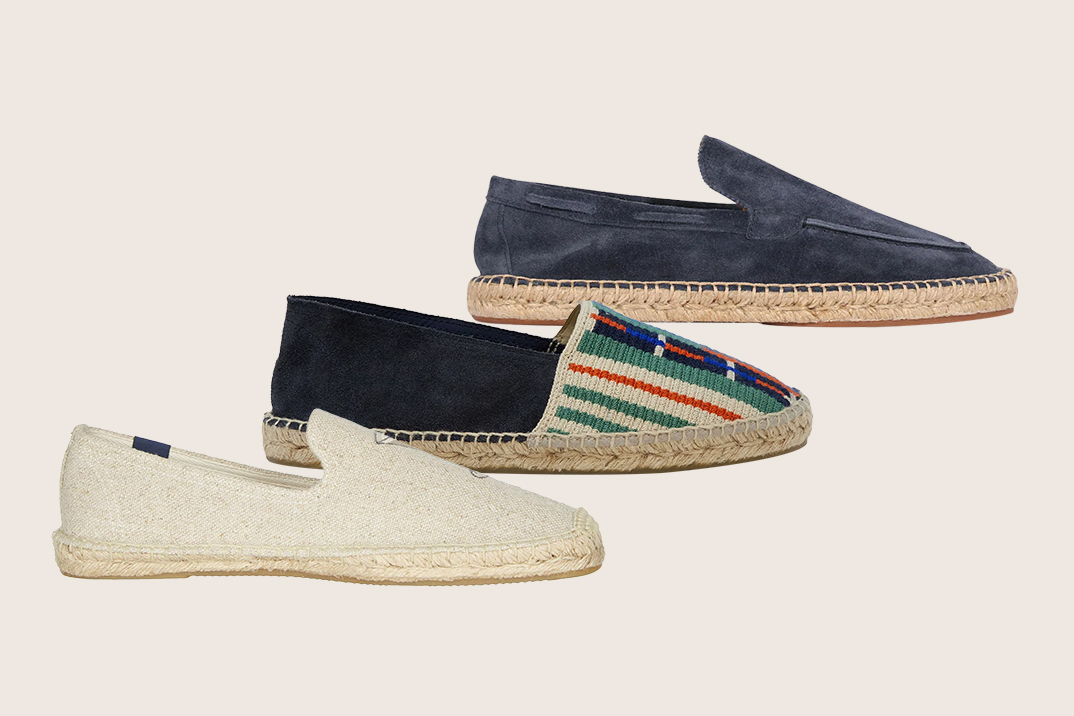 There are few shoes that speak to casual, laid-back wear like the espadrille, and if we're being honest, there aren't too many people who know about the transcendental style. While we might not see a ton of people taking part in the espadrille genre these days, the shoe style is still very prominent in Europe — and most importantly, Spain — where it originated. Due to their popularity, many footwear companies have adapted them for consumption in the West, leading to various offshoots, variants, and styles. Below, we've outlined a few of our favorites, as well as provided you with some interesting input as to why they're so unique. So without further ado, here's our best espadrilles for men guide.
The Best Espadrilles
The Starters

Soludos Dry Martini Smoking Slipper

The Classic

Castañer Pablo Canvas Espadrilles

The Best Vintage-Inspired Espadrilles

Guanábana Espadrilles

The Best Loafer Hybrid

The Resort Co Espadrilles Belgian Loafer Style

The Best City Espadrilles

Mulo Striped Linen Espadrilles

The Best Leather Espadrilles

Sabah Fort Worth

The All-Arounders

Aurélien Steel Blue Beachside Loafer

The Premium Pick

TOD'S Full-Grain Leather Espadrilles
What are espadrilles?
These minimalist Spanish shoes got their start as staples in the 1300s for peasants and low-income workers, thanks to their easy-to-craft design, primitive architecture, and dependence on attainable fabrics. They were originally made with grass soles (which is where the Catalan-based name comes from), but today they're a bit more nuanced, coming in virtually every shape, size, and make. It's no secret that the roles of today's espadrilles have been somewhat reversed. Instead of seeing them on the feet of the commoner, they've become an essential favorite among aristocratic individuals who enjoy their lightweight, simplistic style, aerated design, and beach-savvy persona, making them a must-have in the more stylish regions of the Mediterranean.
What to look for
First off, figure out where you're going to be wearing these the most. If you plan on mostly wearing them at the beach or the pool, then go for something breathable and light, like variants with cotton or linen canvas uppers. But if you want more city-friendly shoes, then look for espadrilles with beefier outsoles and/or sturdier uppers made with something like leather/suede.
How (and when) to wear espadrilles
These shoes are perfect for summer and warm weather, especially if you want something more elevated than flip-flops. More specifically, lounging poolside and beach days are the perfect setting for espadrilles, and always look great with trunks/summer shorts and camp collar shirts. They're also more durable and rugged compared to similar warm-weather shoes, so you can wear them more confidently in (slightly) rougher conditions, like out on the town.
Soludos Dry Martini Smoking Slipper
The Starters: There are new-age espadrilles, and there are classics. Soludos' Dry Martini variant falls squarely within the latter, securing one of the most timeless silhouettes around, while still being able to squeeze out a bit of contemporary style with fun martini embroidery. As a result, these comfortable textile staples can be worn at the beach, to the restaurant, or anywhere in between. But if you do find yourself walking from place to place for a day of exploration, don't fret — they're outfitted with a jute footbed for intrinsic comfort and breathability, as well as a rubber outsole to keep you stable on a variety of different surfaces.
Castañer Pablo Canvas Espadrilles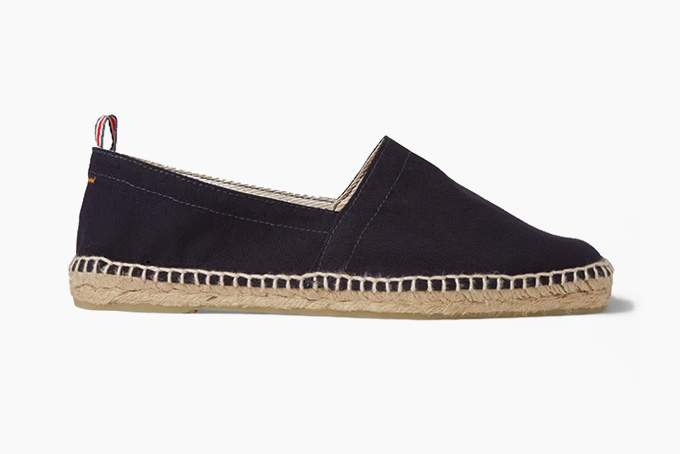 Cons
Only available in full sizes
The Classic: If you can't tell by the name, Castañer's Pablo Canvas espadrille is yet another variant from the style's home country of Spain. Aside from its commitment to the long-running tradition of the country's most versatile footwear, it seamlessly blends modern and midcentury styling to create the perfect unison, meaning that you'll be able to wear these on more formal occasions, as well as that random day-trip at your beach house or timeshare. With close to 250 years of experience and expertise in the shoemaking realm, you can bet that you'll get more than you bargained for with Castañer's Pablo — the true evolution of the espadrille style
Guanábana Espadrilles
Pros
Made in Spain
Classic style and construction
Cons
Will stretch over time, requiring a size down
The Best Vintage-Inspired Espadrilles: Since starting in 2011, Los Angeles-based label Todd Snyder has been making quality menswear with a focus on American style and craftsmanship. Guanábana has a similar appreciation for expert craftsmanship, and you can see it here with these espadrilles designed by the founder Almudena Espinosa and made in Spain. It features hand-crocheted patterns, a suede heel, and a braided jute midsole. And it's all handmade in the country where it all started.
The Resort Co Espadrilles Belgian Loafer Style
Pros
Handcrafted in Spain
Quality Spanish suede upper
Cons
Will feel a little tight when breaking them in
The Best Loafer Hybrid: Here we are with an offering from a pretty new company – The Resort Co, which started in 2019 and focuses on sustainable vacation wear inspired by Scandinavian minimalism. You can see this inspiration here in these espadrilles that have been designed with some Belgian loafer characteristics. This subtle shoe is handcrafted in Spain with Spanish suede, has hand-stitched jute soles, and a microfiber insole for enhanced breathability. Additionally, the shoes are partly made with biodegradable, organic, and recyclable materials.
Mulo Striped Linen Espadrilles
Pros
Expertly made with a 100-step process
The Best City Espadrilles: Mulo's Striped Linen Espadrilles were created to change the game for espadrilles, especially in the cases of capability and functionality. To achieve this, they adopted a more sporty appearance than their more style-savvy counterparts, calling upon a sneaker-like structure, elasticated inserts, a linen upper, and pull tabs for easy donning and doffing. Pair those with the shoe's urban-adapted rubber sole, and you've got a recipe for success, especially if you're looking for something that speaks to the espadrille style, without resting wholeheartedly on its timeless traits.
Sabah Fort Worth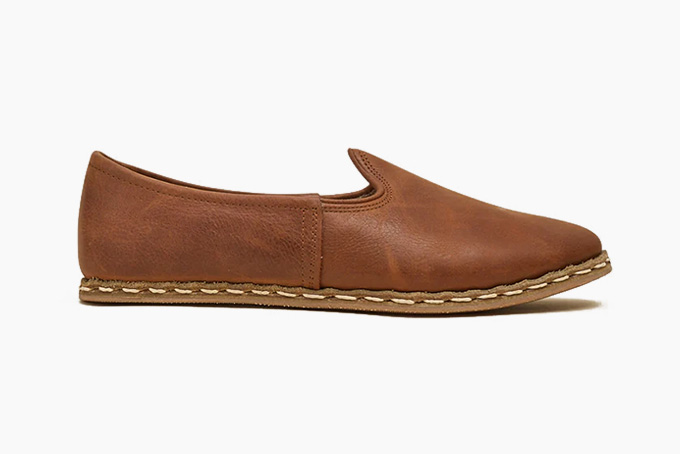 Pros
Made with premium natural leather
The Best Leather Espadrilles: Sabah's Fort Worth espadrille is a refined take on the iconic silhouette. It features an Instanbul-sourced medium brown leather upper, as well as the genre's recognizable stitching and hand-constructed appeal. Unlike the canvas-clad variants on our list, this unique offering offers buyers a premium material that will garner more character with age, taking on a generous patina as it's exposed to different climates, weather, and conditions. But if you're not a fan of that worn-in look, don't fret. More often than not, their great-looking leather exterior can be refurbished and restored with a bit of natural cream and conditioner.
Aurélien Steel Blue Beachside Loafer
Cons
Might want to waterproof the suede
The All-Arounders: Aurélien specializes in luxurious yet casual-friendly Mediterranean garments and footwear made with raw materials. And these espadrilles are the perfect example of this design philosophy, as they're made with French calfskin and have traditional braided jute soles. The soft suede upper will mold to your feet and allows you to take these out on the town with no problem, while still being great beach choices. These also have more of a loafer slant, which makes them even more versatile when it comes to styling options.
TOD'S Full-Grain Leather Espadrilles
Pros
Made in Italy
High-quality craftsmanship
Cons
People with narrow feet are encouraged to go down a half size
The Premium Pick: This espadrille from Tod's is not to be confused with TOMS' more affordable offerings, but when it comes to wearability and function, they have some similarities. Yes, they look drastically different, but their roots in the espadrille genre extend beyond aesthetics, with each taking on the handy collapsible heel for backless wear. Of course, this shoe is made from premium, full-grain leather, and features rubber-trimmed jute soles for exceptional grip on a variety of different surfaces. To ensure that you're ready for anything the urban environment has to offer, each pair has been designed around a padded leather insole to promote breathability and all-day comfort.
The Best Camp Collar Shirts for Warm Weather
You might want some more breathable and easy-going backup – so head on over to our best camp collar shirts guide to get that taken care of.