Although walking shoes may be overlooked, they are an important pair of footwear to have in your lineup of sole protectors. Whether you speed-walk for cardio while you're recovering from an injury or want a comfortable pair of footwear to sport when you travel, you'll need an exceptional pair in which to invest.
Going for a walk on your off days will allow you to break a sweat without exacerbating your injury, but it does require the proper shoes. An exceptional pair of walking footwear will lessen the impact on your joints, heart, and muscles, allowing you to recover properly. And if you suffer from wanderlust, you'll be covering plenty of ground, so choosing the right footwear is critical to enjoying your adventure. Scouring the web for quality shoes can be a pain, which is why we've researched for you, creating a list of the best walking shoes available.
Primer
Comfort Is Everything
Comfort is king, so when you're considering a pair of walking shoes, critique the footwear based on how they feel. They could have all the latest technology, but if their design makes your feet hurt, you shouldn't snatch them. If you can, try the shoes on first before committing, and walk around to test them out. However, the most likely scenario is that you're online shopping and won't be able to try them on before buying them. In that case, do your best to find shoes with cushy midsoles, reliable outsoles, and ample room based on your feet. When they arrive, try them on and determine whether or not they're a Cinderella fit. Do not hesitate to return them if they don't fit well.
Reebok Cloudride DMX 4
The Reebok Cloudride DMX 4 deliver what's advertised, as they make you feel like you're walking on clouds. Designed for casual walking, the Cloudride DMX 4 shoes feature DMX cushioning that feels similar to an air mattress. It moves air fro your forefoot to the heel and back while you're on-the-move. It also has Molded Memory Tech Massage foam for stellar support and internal sock-like linings with Achilles padding for a secure feel. And it has mesh and ripstop uppers for excellent breathability, keeping your feet cool as you enjoy the outdoors.
Reebok Royal Astrostorm
One of the more stylish walking shoes available, the Royal Astrostorm sneakers feature Ortholite technology, which enables airflow and wicks away moisture to keep your feet fresh. There's plenty of cushioning to support your feet, as you go for a walk to enjoy a sunny day or take a stroll during the night for some peaceful alone time. For further comfort and security, the shoes have flexible bootie collars and Ghillie lacing, starting from the midsoles. Keep your feet cozy and secure with the Reebok Royal Astrostorm walking shoes.
Allbirds Tree Runners
Allbirds are one of the most comfortable shoes on the planet, which is in part thanks to their uppers that are made from responsibly grown and sustainably harvested eucalyptus pulp for a silk-like feel. They also have padded insoles lined with proprietary merino wool fabric for moisture-wicking capabilities, odor reduction, and incredible softness. To make the padded outsoles, castor bean oil is used to cut carbon output. Rounding out these super comfortable shoes are Allbirds' proprietary low-density lightweight soles with a unique S-curve tread to mimic the feet's anatomical flexibility.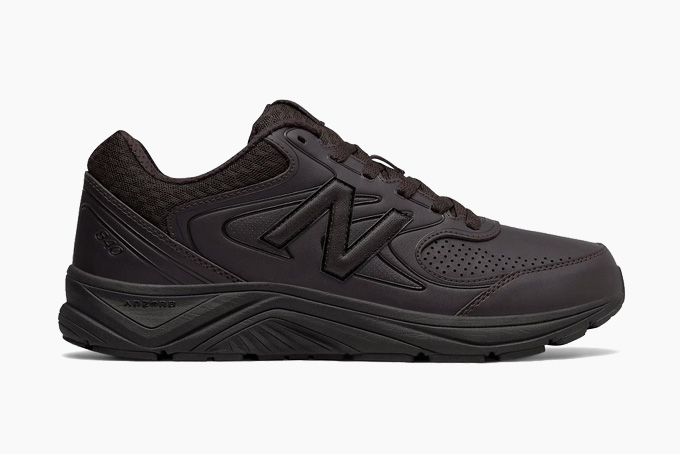 New Balance 840V2
If you need a pair of all-star walking shoes, the New Balance 840v2 are perfect for the job. It's designed specifically to handle various walking speed and surfaces, allowing you to go for a stroll around your neighborhood or walk a trail and enjoy the same comfort. It features ABZORB cushioning that absorbs intense impacts along with resilient rubber outsoles for a stable stride. The shoes have leather uppers for a flexible, secure fit and NDurance rubber compounds in high-wear areas. Grab the New Balance 849V2 walking shoes today and your feet will thank you.
Nike Zoom Fly Flyknit
Although the Nike Zoom Fly Flyknit shoes are built for record-breaking speed, they're also an excellent choice for walking shoes. The shoes have target areas reinforced with fusible yarns for exceptional support and structure without adding weight. For further stability, the breathable shoes have full-length carbon fiber plates. And it utilizes Nike React technology for a comfy and highly responsive ride. Whether you're taking a walk outdoors for recovery cardio or trekking through Europe, the Nike Zoom Fly Flyknit will help your feet stay comfortable.
Hoka One One Akasa
With clean, stylish design, the Hoka One One Akasa shoes are rather attractive, complementing their performance. These shoes feature Hoka One One Active Foot Frame for a "bucket seat" fit and incredible responsiveness thanks to rubberized foam. They have textured TPU toe reinforcement, ultra-plush memory foam sock liners, balanced Meta-Rockers, and rubbered foam midsoles and outsoles. To follow your natural gait path and provide you with flexibility where it counts, the Akasa shoes have a wishbone design. Not to mention, the Hoka One One Akasa shoes are 100% vegan.
Salomon Predict RA
With a supremely cushioned bottom unit mated to an innovative upper that hugs your feet, the Salomon Predict RA shoes provide a fluid ride. Your transitions will be balanced due to a biomechanical design, and your feet will stay comfy as you walk. Combining the benefits of durability and adhesion, the Predict RA's Contagrip FA technology assures stability and a reliable grip on the terrain. The shoes also have EnergyCell technology in the midsoles for substantial cushioning and unrivaled energy return no matter if you're running marathons or walking around town.
Adidas Ultra Boost 19
Benefiting from an engineered fit thanks to the Primeknit 360 upper, the Ultra Boost 19 shoes give you the support you need when you walk. They also feature dual-density Boost cushioning, giving you substantial energy for a responsive ride, and Torsion Springs in the midsoles for soft landings and a boost during toe-off. You'll feel the difference once you slip these shoes on, as their knit uppers have a second-skin feel and the motion-weave technology adapts to the natural movements of your feet. And they're a stylish pair of sneakers to sport whether you're going for a walk around your neighborhood to cool down or strolling around the city to grab a whiskey.
12 Best Rugged Duffel Bags For Travel
Now that you've grabbed a pair of ideal walking shoes for travel or light cardio, it's time to grab the perfect bag for vacations and weekend adventures. Check out the best rugged duffel bags for travel and haul everything you need for your next trip.