Dec 31, 2021
Category: Style
Popularized by Englishmen (and women) throughout the '60s, the Chelsea boot makes for a silhouette that has surely stood the test of time. While they grew popular throughout Great Britain (and later around the globe), the boot's name is a product of its environment, as Chelsea was and still is one of London's trendiest neighborhoods. For further confirmation of their popularity, the most famous Brits at the time had a strikingly similar style of boots made in their name; here's a hint, they start with "B" and end with "eatle Boots." Nowadays, Chelsea boots have transcended into an immensely common piece of footwear — one we think should be in every man's wardrobe.
With countless budget options and knock-offs in the mix, it could be impossible to narrow down exactly which brand is right to choose — but we've gone ahead and made it easy for you by rounding up the best of the best. With materials like glazed calfskin and goat leather, among numerous others, this guideline provides a round number of the top-tier options to choose from this year with a broad price range, tailored to fit anywhere from your most rugged to more superfluous needs in regard to your boots named Chelsea.
Doc Martens Graeme II
Kicking off a list like this, everyone should already know the drill. Though their backstory is polarizing, Doc Martens has been embraced by countless counter-cultures over the past five decades. Docs are pragmatically the Converse of boots, and the Graeme IIs are basically a sleeker rendition of their quintessential 2976, providing a polished look in comparison to the subdued smooth leather on the traditional boot. More or less, everything else is as expected, and what you see is what you get with a brand as renowned within their circle as Doc Martens. After all, he's a doctor.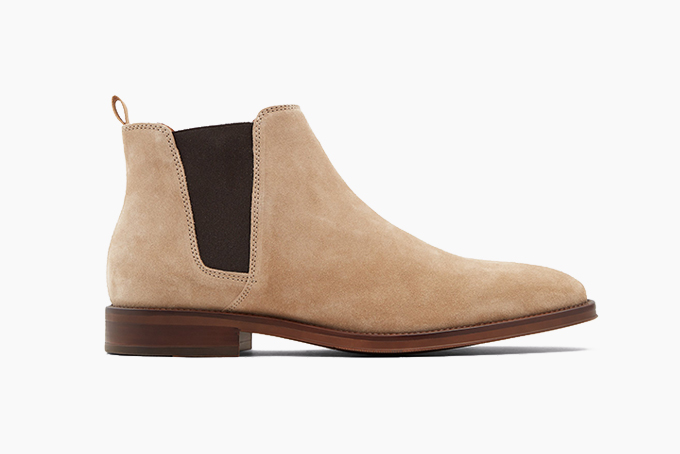 Aldo Gweracien Boot
Lightweight, easy to throw on, and good-looking? It's hard to go wrong with any pair that checks all those boxes, especially at such a humble price point from the shopping mall staple. Your friends won't know what hit them upon seeing you in these, and your wallet won't even know it got hit to begin with. Geared to fit all your sartorial needs, with a window of breathing room for your ankle, Aldo's Gweracien Boot is available in a hexad of colors; their Cognac option is quite a looker, while the Smooth Black Leather offers a far more subtle approach.
Danner Bull Run Chelsea Wedge Work Boots
"Made for wear and tear" and "Made in the USA" are a pair of phrases that have grown synonymous at this point; luckily, Danner is one of many brands that distinguish the difference between synonymous and monotonous. With stitch-down construction for durability's sake, the Portland-based Bull Run offers immense traction and easy on/off, making them yet another great addition to Danner's broad selection of rugged footwear.
Thursday Boots Cavalier
The qualifications that land a boot a spot on this list can be dubbed "The 3 Cs" and read as follows: Comfy, classy, and Chelsea. Oh, make that 4: Cavalier. While all of Thursday Boots' options are worth a look, the Dusty Brown Suede colorway makes for a sustainably stylish couple of stompers from a brand admittedly willing to fight the big industry prices. Thursday's Cavalier Boots make for a great pair on every day of the week and are built for your busiest days, as the New York-bred brand might know about being busy better than anyone else.
Blundstone Chelsea Boots
As an O.G. within their industry, Blundstone has surely progressed with the times, putting forth a pretty stylish boot that you won't worry about dirtying up. As a matter of fact, they're crafted with the expectation of getting a little messy. With many models to choose from, few match the stylistic simplicity of their classic 510, providing a stable, long-lasting boot built for harsh weather that can provide you with grit and glitz altogether.
Beckett Simonon Bolton Boots
Tired of getting your Achilles heel gnawed at while trying to break in a new pair of boots? Look no further, as these are practically like a pair of Vans, giving wearers virtually no trouble when walking into that one friend's place who is way too uptight about their carpet. The Bolton Boots are made out of pure calfskin, worth every penny, and, surprisingly, don't cost a baffling amount of them.
Ted Baker Leather Chelsea Boot
Ted Baker is a quintessential name in churning out high-quality garments at an arguably fair price, and they tend to pull no gimmicks while doing so. With their Leather Chelsea, that trend doesn't differ in the slightest. If and when you ultimately decide which pair you'll be wearing through the fall and winter, keep in mind that these typically run a bit larger than the size you usually wear in most other brands.
Red Wing Classic Chelsea
Topically enough, Red Wing's recent spin on their Chelsea boot is a bit roomier than the average foreign-made pair that show up on this list, making them an easy pick for anyone looking to be outdoors and stay on their feet for a good amount of time. Quality-wise, you already know what you're getting with a company like Red Wing. After all, there are only so many brands based in the states that have been handmaking boots for well over a century.
Taylor Stitch The Ranch Boot
The Ranch Boot looks exactly how it sounds, and wearing them anywhere but a ranch may not be utilizing them to their fullest extent. With its Goodyear-welted construction and buttery-smooth sheepskin lining, this limited pair of boots are geared for your days working the land, as with most pieces from the San Fran brand. But they'll also work just as well wherever you find yourself thanks to their showstopping appearance, which, again, is the case with everything Taylor Stitch makes.
AllSaints Markus Suede Boots
AllSaints was around long before Jay-Z rapped about buying their pieces for Beyoncé, and for good reason. On our pick here, cow suede and goat leather combine for a pair of boots that'll have you looking like you have some very important meeting to attend. Similar to practically every pair offered by the British fashion house, the Markus Suede Boots fall in line with their edgy look that is bound to complement any form of leather in your closet way too well.
R.M. Williams Comfort Craftsman Suede Boots
The Australian-bred R.M. Williams is famous for its Chelsea boots, so this should be a no-brainer. However, they do offer a variety of other quality clothing that would pair perfectly with the former. Take it as a business tactic. Founded by the man who shares its namesake, Williams was merely a swagman until ultimately growing into an esteemed name and brand. Their Comfort Craftsman Suede boots are meticulously crafted from Goodyear-welted leather, a couple of pull tabs, and all that good stuff for a fraction of the cost that brands who do the very same charge. Choose from a trio of colors and wear them with the coolest jeans you have.
Common Projects Suede Chelsea Boots
Common Projects is a brand that can be found along various walks of life, be it an upscale wedding or low-key night out. Worn by rapper-turned-shoe-salesman Kanye West himself, the Suede Chelsea Boots garner a solid stamp of approval as far as staying fashion-forward is concerned. And, just in case Ye's name isn't enough of a stamp, the brand's signature series number is subtly printed in gold by the heel. Sold in a neutral tan colorway as well as chocolate brown, these almond-toed boots were hand-stitched in Italy, as goes for each of the brand's pairs.
A.P.C. Charlie Boots
With glazed calfskin, these manage to shine through rain, snow, or sleet. Akin to their denim — and catalog in its entirety — these A.P.C. boots are formidable, pricey, and stylish as hell. Never one to necessarily push the envelope, the Parisian off-the-rack brand keeps things elegant and direct, simple and shining. These slightly-square-toed dress Chelseas will get you through whichever black-tie event you find yourself attending next. The Charlie Boots run one size small, so make sure to take it down a notch to prevent ending up with purple feet; even then, these might still be worth it.
Tricker's Henry Country Dealer Boot
As England's longest-tenured shoemakers, the lads at Tricker's have been crafting country boots since 1829, which is practically two centuries at this point. Their Henry Country Dealer Boot evokes their start, built on their original Commando sole that was curated with the damp countryside in mind. Sold in three rustic colors, these storm-welted steppers have a dual tab for ease and were put together with nothing but some of the finest leather, as you'd expect getting this deep into the list.
Church's Charlize Polished Binder Boot
Rounding out the list, it's only right to find a premier pair that has roots in this particular boot's origin story. Founded in England roughly a century and a half ago, Church's is a mainstay within high-end footwear. Since being bought out by the Prada Group back in 1999, they've always managed to take things one step forward. Built for literally everything and anything, this glistening pair is as easy on the eye as they are sturdy; needless to say, they maxed out in both categories. As classy as it gets, the Charlize Polished Binder Boot is improbably lightweight and available in a beautiful, brooding burgundy colorway.
The 35 Best Men's Boots for Every Occasion
In case Chelsea boots aren't typically your style, we've put together an expansive list of 35 of our all-time favorites geared to fit a wide variety of looks in our guide to the best boots for every occasion.
HiConsumption is reader-supported. When you buy through links on our site, we may earn an affiliate commission. Learn more