As much as we thoroughly appreciate the Benchmades and Spydercos of the knife industry, the sheer scale and volume at which these big-name brands produce their knives very seldom allow them to match the level of craftsmanship, exacting tolerances, fit and finish, and overall quality control exhibited by knives from boutique outfits. Unlike full-on custom knifemakers that produce one-off and ultra-limited runs of blades, boutique brands tend to deal in low-volume, small-batch production knives — often resulting in a better end product.
On top of their unparalleled craftsmanship and incredible attention to detail, the limited production of boutique-made knives also affords these blades a certain level of exclusivity — with your money not only getting you a knife itself, but also the knowledge that you are one of the very few individuals on the planet carrying such an item. What's more, because these companies produce knives in such small numbers and don't have to worry about selling thousands of units, they have markedly more freedom to experiment with unorthodox or outside-the-box designs — the vast majority of which are brought to life using high-end blade steels, handle materials, and hardware. With so many small yet stellar independent companies currently in operation, we thought we'd carve out some time to highlight a handful of the most reputable of these outfits in this guide to the best boutique knife brands you should know.
Acta Non Verba Knives
Translating from Latin to "Actions Not Words," Acta Non Verba is a small, up-and-coming knife company based in Prague. ANV Knives produces a wide range of folding and fixed blade knives that, while all extremely utilitarian, are largely characterized by their style-conscious industrial designs that put fashion-forward spins on existing EDC staples. In its relatively short existence, the company has also developed a distinctive design language that's present across its entire range of knives — save for its tactical military blades. 
Year Founded: 2018
Headquarters: Prague, Czech Republic
Berg Blades
Founded in 2013 by Matt Westberg, an Arizona-based craftsman and full-time firefighter, Berg Blades is a popular boutique knife brand that's developed an impressive cult following. Berg Blades produces an enormous range of knives and tools, from EDC folders to Kukris to tactical tomahawks to push daggers to bushcraft blades and practically everything in between. And while Westberg does often employ more traditional blade steels and handle materials, the first-responder has a clear proclivity for working with ultra-top-shelf constructions such as Maple Burl and Timascus, just to name a few. 
Year Founded: 2013
Headquarters: Arizona, USA
Chris Reeve Knives
Chris Reeve is almost certainly one of, if not the single most prolific knifemaker working today, with a long list of noteworthy and game-changing innovations that include the invention of the Reeve Integral Lock locking mechanism— now more commonly known as the "frame lock." Always favoring quality over quantity, Chris Reeve Knives crafts a small selection of folders and fixed blade models, though the Idaho outfit is best known for its Sebenza knives, which are widely considered to be the holy grail of everyday carry knives, with a level of fit and finish that's vastly superior to mass-produced knives from even the most reputable big-name knife brands. 
Year Founded: 1993
Headquarters: Boise, ID
D Rocket Designs
An Engineer by trade and a self-described "Garage Entrepreneur," Darriel Caston first began making knives in 2004, though after learning the ropes and garnering a small reputation in the knife world, Caston left the industry to focus on raising a family. A decade later, and Caston returned to the fold, before eventually launching D Rocket Designs in 2017. Since then, DRD has carved out an even more impressive reputation for his highly-idiosyncratic yet thoroughly functional and utilitarian tools and knives — items made all the more unique by the eye-catching patterns and finishes that Caston employs. 
Year Founded: 2017
Headquarters: Folsom, CA
GiantMouse
Both hailing from Denmark, Jens Ansø and Jesper Voxnaes collectively possess decades of experience designing and crafting knives. This expertise lead to the pair being unsatisfied with the available product offerings on the market, so in 2015, Ansø and Voxnaes joined forces with entrepreneur and friend Jim Wirth to launch GiantMouse. Combining Scandinavian design with an American spirit, GiantMouse now produces some phenomenal EDC knives at a fair price, with highly-calculated designs that are backed by modern materials and excellent quality control. Founded in San Francisco but now located in East Lansing, GiantMouse also donates $10 from each knife sold to the Save The Children charity. 
Year Founded: 2015
Headquarters: East Lansing, MI
Great Eastern Cutlery
Working out of a small shop in Crawford County, Pennsylvania, Great Eastern Cutlery is a boutique knife maker that trades exclusively in classically-styled, traditional pocket knives modeled after items from the late 19th and early 20th centuries — also known as the "golden age of pocket cutlery." Utilizing a combination of old-world manufacturing techniques and modern equipment, materials, and technology, GEC takes immense pride in sweating the details, with the company typically employing over 200 individual processes to complete each knife that it creates. 
Year Founded: 2006
Headquarters: Titusville, PA
Jack Wolf Knives
The newest entry on this list with the brand having been founded in 2021, Jack Wolf Knives is another boutique knife brand that models its wares on traditional pocket knife designs, albeit with an unmistakably contemporary twist. While the Arizona-based outfit produces classic Barlow-style pocket knives, it brings them to fruition using a thoroughly modern array of materials such as carbon fiber and Micarta handle scales and high-end blade steels. On top of looking attractive, these fully-functional knives also boast heirloom-grade quality and are designed to be used for a lifetime. 
Year Founded: 2021
Headquarters: Phoenix, AZ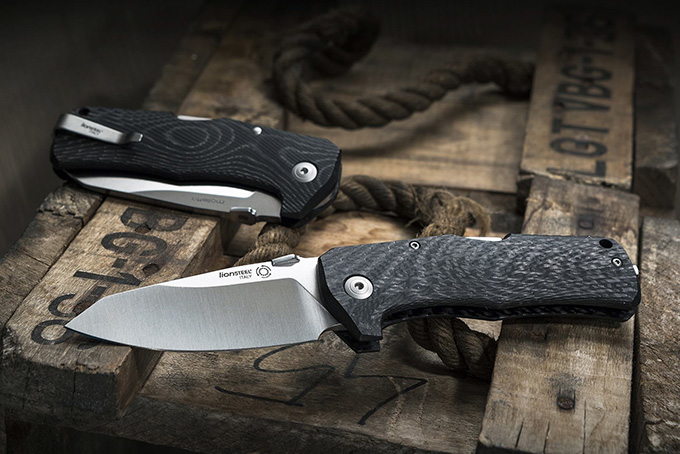 LionSteel
In constant operation since 1969, LionSteel is a small Italian knife brand that punches well above its weight. Using small batch production runs, LionSteel is able to deliver meticulously-crafted knives to ultra-high standards. What earns the company a spot on this list, however, is its knack for innovation. From utilizing removable flipper tabs to the brand's HWAY sinking/disappearing pocket clip design, LionSteel routinely conjures up new, envelope-pushing parts and systems for knives that genuinely bolster utility, rather than being mere gimmicks. 
Year Founded: 1969
Headquarters: Maniago, Italy
Medford Knife
Since 2010, native Arizonan Greg Medford hasn't just been hand-crafting small-scale production knives, he's also been helping to spearhead the rebirth of the American small factory industry — and proving that he can go toe-to-toe with some of the most reputable knife brands in existence while doing so. On top of using striking industrial designs, Medford Knive exhibits a level of overall craftsmanship and quality control that's genuinely in a league of its own, with insanely-exacting standards that are more in line with high-end Swiss horology than knifemaking. 
Year Founded: 2010
Headquarters: Phoenix, AZ
Quiet Carry
Employing a remarkable amalgamation of form and function, Quiet Carry produces a range of knives and EDC accessories that are as utilitarian and functional as they are visually appealing. Exclusively utilizing premium blade, handle, and hardware constructions, Quiet Carry is best-known for its minimalist yet high-end takes on everyday carry knives, though the California company also makes some of the best EDC key organizers in existence, along with an expansive range of tools and other EDC items. 
Year Founded: 2014
Headquarters: Costa Mesa, CA
Sandrin Knives
Based in Val della Torre, Italy, Sandrin Knives is an ultra-unique, high-end boutique knife company that's best-known for its tungsten carbide blade construction. Benefitting from Sandrin's proprietary Staysharp Technology, these blades are completely rust- and corrosion-proof and manage a beyond-impressive HRC rating in the 70s. Sandrin also employs a distinctive visual style that merges modern designs with more classic knife shapes. The company also pairs its tungsten carbide blades with equally top-shelf handle materials like titanium and Zirconium. 
Year Founded: 1980s
Headquarters: Val della Torre, Italy
Serge Knives
Making knives since 2008, Serge Panchenko is a Ukrainian-born craftsman who has become one of the best-known and most-respected independent knife makers on the planet. On top of having penned production knives for big-name companies like Boker, Panchenko's company, Serge Knives, also produces an enormous range of highly-unique knives, such as the Serge coin knife and the firm's popular Bean model. Alongside its blades, Serge Knives also deals in other EDC-focused products such as tactical pens, beads, mini pry-bars, keychains, multitools, and, most recently, a stainless steel automatic watch, the Model 1. 
Year Founded: 2008
Headquarters: Sacramento, CA
Tactile Knife Co.
Based in the outskirts of Dallas, Texas, Will Hodges built a name for himself machining high-end everyday carry pens under the Tactile Turn banner. And after years of producing click-style and bolt-action pens, Hodges hired a dedicated team and began prototyping different knife designs in October of 2020, before bringing the first Tactile Knife Co. model to market in March of the following year. Following the same guiding principles as Tactile Turn, the Tactile Knife Co. prides itself in designing and making nearly every component of its knives entirely in-house, from the blades and handles down to the hardware and screws — with final heat-treating being one of the only elements the company outsources. 
Year Founded: 2021
Headquarters: Dallas, TX
Terrain 365
Co-founded by Michael Vagnino and Patrick Ma — the former of whom has been making knives since 1995 while the latter is also the force behind Prometheus Design Werx — Terrain 365 is an objectively premium boutique knife brand that legitimately produces some of the best knives in existence. On top of an unrelenting focus on minor details and crafting its blades to within Swiss watch standards, the California company engineers its knives for prolonged real-world use. And, as if that wasn't enough, Terrain 365 also utilizes a proprietary blade steel construction known as Terravantium — an ultra-rugged "super alloy" that's completely rust- and corrosion-proof, non-magnetic, and requires zero heat treating. 
Year Founded: 2018
Headquarters: Visalia, CA
The James Brand
Since its inception in 2012, The James Brand has quickly grown from a small Oregon-based operation into one of the most coveted and respected EDC brands on earth. More of a lifestyle brand than a mere knife company, TJB employs much more thoughtful and carefully considered designs that put stylish twists on existing items, from fixed blades and folders to keychains and carabiners. The company's eye for design and immense popularity has also resulted in a slew of other leading names in the space — like Huckberry and Field Notes — linking up with The James Brand to deliver limited-edition collaborations alongside the brand's standard lineup of world-class EDC knives. 
Year Founded: 2012
Headquarters: Portland, OR
Toor Knives
Toor Knives is a boutique company that produces high-end, American-made knives and tools. Based in El Cajon, California, Toor is operated and owned by U.S. military veterans — a fact that's frankly unsurprising considering the military- and tactical-inspired feel that a great many of the company's knives possess. Alongside an expansive lineup of fixed blade and folding knives, Toor also makes a myriad of other EDC items and accessories. And, whether they're intended for use in an active war zone or on one's daily commute, one trait that all Toor products share is their immense quality — something that's owed to the use of premium materials, ultra-exacting standards, and small-batch production runs.
Year Founded: 2014
Headquarters: El Cajon, CA
Vero Engineering
Headed up by Joseph Vero, Vero Engineering is a Florida-based, boutique knife company that manages to compete with brands more than ten times its size. In addition to Vero's use of premium materials, the Coral Springs company is largely characterized by its super sleek and minimalistic industrial designs that offer a highly-calculated yet fashion-forward combination of form and function. In addition to knives, Vero Engineering also churns out other equally well-considered EDC tools such as pry bars and bit drivers.
Year Founded: 2019
Headquarters: Coral Springs, FL
WESN
Back in the mid-2010s, Billy Chester began looking for an heirloom-quality knife that he could carry and use on a daily basis, before eventually passing the blade down to his next of kin. Unsatisfied with the available options on the market, Chester would launch the WESN brand in 2016. Engineered to stand up to several lifetimes of hard use, WESN's knives use a combination of modern and classic knife designs, all of which are crafted from high-end modern materials. Based in Detroit, this American knife brand also produces an equally impressive range of keychains, carabiners, leather holsters, sharpening kits, and other EDC accessories. 
Year Founded: 2016
Headquarters: Detroit, MI
The 15 Best Pocket Knife Brands
Interested in checking out a wider selection of big-name brands that dominate the everyday carry space? Then be sure to head over to our guide to the best pocket knife brands for more than a dozen of the most reputable knifemakers currently in operation.