Anytime you're going to be spending a significant amount of time outdoors, you need to make sure you've got the right gear. Comfortable shoes that will hold up in any terrain, plenty of water, sunscreen, a good knife, and clothes to protect you from the elements are all no-brainers, but you should also strap on a solid outdoor watch. The best outdoor watches can be highly useful tools when you're out of doors, which is why we've put together a guide to help you find one that suits you best.
Outdoor watches come in many different styles and at many different price points, and ultimately, you're going to have to choose the type that works best based on how you think you'll be using it. If you know you're going to be backpacking through unknown territory, then you may want to opt for a GPS watch. If you're just taking a casual fishing trip, then a traditional water-resistant automatic watch will be perfect. Whatever type of outdoor watch you need, you'll end up finding it below on our list of the best outdoor watches to buy right now.
Best Outdoor Watches
VAER Standard Issue Field

G-SHOCK Rangeman GW9400-1

Hamilton Khaki Field Mechanical

Garmin fēnix 7 Solar Edition

Victorinox I.N.O.X. Carbon

Luminox Bear Grylls Survival Chronograph MASTER Series

Ball Roadmaster TMT Ceramic
What Makes An Outdoor Watch
Durability: Perhaps the most important thing to look for when selecting an outdoor watch is how well it will stand up to rugged wear. You should look for scratch-resistant crystals and cases, as well as some sort of built-in shock protection. If you smack your watch on a rock or drop it from a tree, you'll need it to keep functioning and, ideally, looking good, so choose accordingly.
Water Resistance: When spending time outdoors, there is usually ample opportunity to get wet. Whether you get caught in a rainstorm, a blizzard, or you end up in a lake, you're going to want a watch that can handle getting wet. Most watches these days have some level of water resistance, but generally speaking, the higher the better. 30m is really only suitable for handwashing, and 50m will probably work for a very quick dip, but you generally want to stick to 100m or above if you're going to be swimming or submerging the watch at all.
Dependability: When you're out away from civilization, the last thing you need is for your watch to suddenly stop working. So you'll need an outdoor watch that's dependable. Quartz and mechanical watches can both be dependable, but make sure you understand the protocols for each. If it's quartz, make sure you have a relatively new battery before heading out. If it's mechanical, make sure it's fully wound (easy to do if it's an automatic). It also doesn't hurt to look for watches that have been designed to resist extreme temperatures or magnetic forces, as these will continue working reliably in a wider range of conditions.
Survival Features: Depending on how hard you'll be roughing it, you may want to look into watches that have survival features that are tailored to the outdoors. This can include such relatively simple features as a compass, thermometer, or barometer, or more tech-heavy innovations like GPS navigation, heart rate monitoring, and — in one case — an emergency distress beacon. These features aren't always necessary, but you'll never regret having them.
Heritage: In lieu of opting for the latest survival gadget on your wrist, you may choose to go for a more traditional style of outdoor watch. After all, the explorers of yesteryear didn't have barometers and LCD screens on their wrists, and they were still able to travel to the ends of the Earth with nothing but a tough and simple three-hander. If this romantic adventurer ideal appeals to you, then you may want to opt for a more traditional mechanical explorer's watch or field watch.
VAER Standard Issue Field
Pros
Budget-friendly
Two case size options
Cons
Occasionally have to wait until it's back in stock
Regardless of how robust your watch is, if you're really roughing it, it's probably going to get beat up a bit. So if you're someone who's especially tough on your watches, what you need is an inexpensive beater. And "Built for Adventure" brand VAER makes a great one. With a classic field watch design and case size, the Standard Issue Field is the ultimate grab-and-go beater. A sapphire crystal, 100m of water resistance, and five layers of C1 Super-LumiNova on the hands and indices provide great specs at an even better price, making this a capable outdoor watch that you'll never have to baby.
Case Size: 36mm or 40mm
Movement: Quartz
Water Resistance: 100m
G-SHOCK Rangeman GW9400-1
Pros
Plenty of sports features without needing to be a smartwatch
Time is always accurate
Cons
Case might be too large for some
If you head out into the wilderness with any G-SHOCK, you'll have made a good decision for your outdoor partner. But if you really want the best G-SHOCK has to offer in terms of rugged survivability, then you've got to go with the iconic Rangeman. This unassuming and affordable G-SHOCK boasts a shock-resistant triple sensor with an Altimeter, Barometer/Thermometer, and a Digital Compass. It's low-temperature-resistant, mud-resistant, and water-resistant to 200m. And thanks to Multi-Band Atomic Timekeeping, it will always know the precise time no matter where you are.
Case Size: 53mm
Movement: Solar Atomic Quartz
Water Resistance: 200m
Hamilton Khaki Field Mechanical
Pros
Vintage look
24-hour dial
Cons
Only water-resistant to 50m
Sometimes, the old-fashioned ways are best, and it doesn't get much more old-fashioned than wearing one of these bad boys. Considered the prototypical field watch, Hamilton's field watches were worn by American GIs during WWII, and the modern-day version is still tough enough for the trenches. A bead-blasted stainless steel case, sapphire crystal, and manual-wind movement with 80 hours of power reserve provide the basics you need to get the job done. No more, no less.
Case Size: 38mm
Movement: Manual-Wind
Water Resistance: 50m
Seiko Prospex "Arnie"
Pros
Very unique look
Solar-charged battery has 6 months of power reserve
Dual lume
Digital/analog hybrid
Cons
Power-saving mode can be annoying
When Arnold Schwarzenegger wears the same watch to do battle in both Predator and Commando, then you know you've got a tough watch on your hands. Seiko recently reissued an updated version of the '80s movie watch affectionately known as "The Arnie," and it's still suitable for getting to the choppa. The watch's solar-charged battery holds six months of power reserve, it's got an ISO Standard diver rating of 200m and two kinds of illumination, plus its shrouded case provides protection against bumps, scrapes, and possibly alien hunters.
Case Size: 47.8mm
Movement: Solar Quartz
Water Resistance: 200m
Suunto 9 Peak
Pros
A good choice for runners
Solid outdoor smartwatch on a budget
Super-long battery life
Cons
Sluggish menu selection
Screen a bit small
Suunto is known for their outdoor-ready GPS sports watches, so when the company labels a watch as being "for explorers," you can bet that it's going to offer some serious outdoor capability. And the 9 Peak does not disappoint. Equipped with 170 hours of battery life with the GPS turned on, you won't have to worry about being left high and dry. Nor will you have to worry about being caught in a storm, as the watch analyzes barometric pressure and tracks the weather to alert you when you need to seek shelter. It also boasts the title of being the slimmest Suunto to date, which will come in handy on those longer excursions.
Case Size: 43mm
Movement: Smartwatch
Water Resistance: 100m
BOLDR Expedition
Pros
Very affordable for an automatic
Good modern take on old-school field watch
Two-tone lume is great for visibility
Cons
Lume doesn't last as long as others
BOLDR Supply Company hasn't been on the watch scene for very long, but they have quickly established themselves as a brand that puts outdoor adventure front and center. And no model of theirs better illustrates the brand ethos than this modern reimagining of the field watch, the Expedition. The watch boasts a handy inner-rotating bezel, 20,000A/m magnetic resistance, 200m water resistance, strong two-tone lume, an AR-coated sapphire crystal, a Swiss-made automatic movement, and a solidly-built case. Welcome to the 21st century, field watch.
Case Size: 41mm
Movement: Automatic
Water Resistance: 200m
Garmin fēnix 7 Solar Edition
Pros
Possibly the best smartwatch in existence
Sports modes for most outdoor activities
A lot of configuration options
Garmin is basically the king when it comes to GPS devices, and the latest fēnix watch is their top-of-the-line offering. You'll have to try really hard to get lost while wearing this thing, as you'll have access to global navigation satellite systems GLONASS and Galileo in addition to GPS. It can also map your route, track your elevation — and your vitals to see how you're faring at said elevation, and includes tons of loaded maps. There are also specific features for outdoor sports like skiing, surfing, golfing, and mountain biking.
Case Size: 42mm, 47mm, or 51mm
Movement: Smartwatch
Water Resistance: 100m
Seiko Prospex "Alpinist"
Pros
One of the best-looking picks on this list
Versatile style
Inner-rotating compass
Cons
Leather strap not for everyone venturing outdoors
The roots of Seiko's Alpinist line go back to 1961 when the watchmaker made durable and dependable watches for Japanese mountain climbers. The modern-day version of the Alpinist is the best that Seiko has ever made, and it's still plenty capable of accompanying you on your next mountaineering expedition. An evolution of the beloved previous-gen SARB017, the Prospex Alpinist features the improved 6R35 automatic movement and better case finishing but maintains the sapphire crystal, 200m water resistance, inner-rotating compass, and classic good looks of its predecessor.
Case Size: 39.5mm
Movement: Automatic
Water Resistance: 200m
Apple Watch Ultra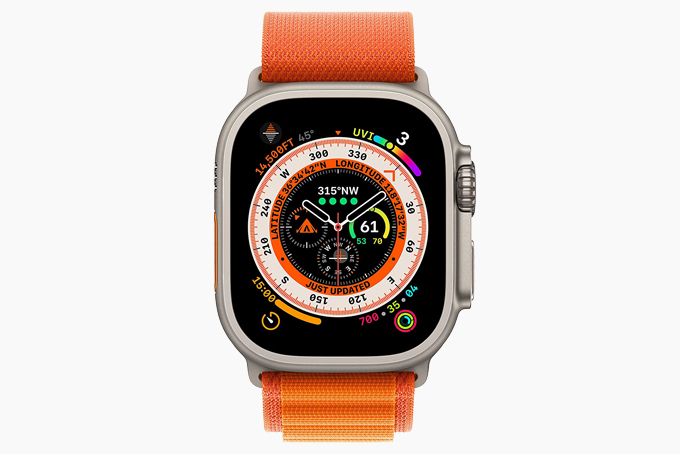 Pros
Fantastic fitness tracking capabilities
Has actually gone down in price lately
Tons of apps available
Cons
Battery life inherently won't last as long as quartz or mechanical options
The Apple Watch was already a great workout companion. The watch's fitness tracking capabilities are the stuff of legend, giving you tremendous insight into your workouts and vitals. But, the brand's Apple Watch Ultra has taken to things to the next level, giving the Cupertino giant a formidable outdoor watch. It does everything your old Apple Watch did including GPS and the endless array of apps, but now it's packed with a 49mm corrosion-resistant titanium case that's easier than ever to read, customizable emergency button, and 100m of water resistance. Did we mention it now has a 36-hour battery life?
Case Size: 49mm
Movement: Smartwatch
Water Resistance: 100m
Victorinox I.N.O.X. Carbon
Pros
Carbon case was used by NASA for space shuttles
Very lightweight
Cons
Paracord strap might chafe
As the survivor of 130 extreme endurance homologation tests, the Victorinox I.N.O.X. was already one of the toughest watches on the planet. But the Carbon version takes things to a whole other level. With a highly scratch-resistant case that's made from the same carbon composite NASA used to protect the space shuttle during re-entries, a potentially useful paracord strap, and military-inspired styling and visibility, this is the most brutal and robust rendition of the I.N.O.X. ever.
Case Size: 43mm
Movement: Quartz
Water Resistance: 200m
Marathon MSAR Auto
Pros
300m dive rating
Tritium lume is really impressive
There is arguably no modern watch company more associated with the world's militaries than Marathon, with the MSAR actually being manufactured to US Government Specification and worn by American servicemen overseas. This mid-sized dive watch is intended for search and rescue missions and accordingly features 300m water resistance built to ISO 6425 standards, along with super-reliable tritium lume and Marathon's trademark toughness.
Case Size: 36mm
Movement: Automatic
Water Resistance: 300m
Luminox Bear Grylls Survival Chronograph MASTER Series
Pros
300m of water resistance
Comes with a physical compass
Cons
Pricey for a quartz movement
Dial could be more legible
If you're going to take one person's advice on what to wear in the wilderness to help you survive, it should be Bear Grylls. So when the famed adventurer teamed up with one of the toughest Swiss watchmakers in Luminox, it was clear that the fruits of their labor would be a watch that was ready for anything. And that's exactly what this chronograph is, with Grylls-approved features like a CARBONOX case, 300m water resistance, a physical compass, and Luminox's always-on illumination that lasts up to 25 years.
Case Size: 45mm
Movement: Quartz
Water Resistance: 300m
Ball Roadmaster TMT Ceramic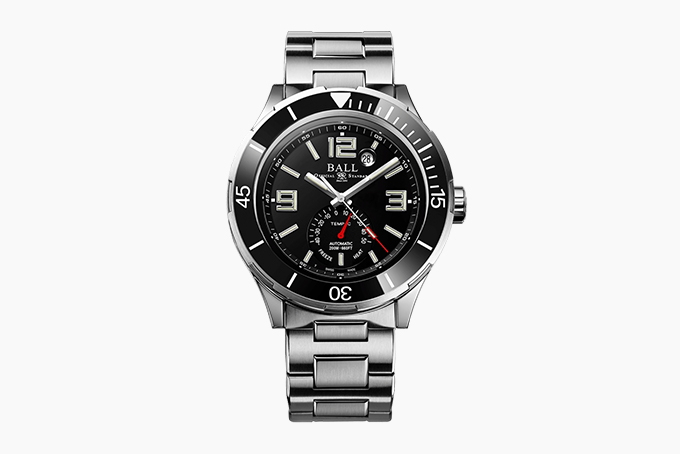 Pros
Very reliable movement
Features a patented mechanical thermometer module
Cons
40mm case size is a little small for a sports watch
Ball's slogan is "Accuracy Under Adverse Conditions," and this innovative watch is made to withstand some seriously adverse conditions. The watch has 200m water resistance, 5,000Gs shock resistance, and 4,800A/m magnetic resistance. It also contains a special oil that keeps the movement working properly down to -45°C / -49°F, and you'll be able to keep an eye on the temperature thanks to a patented mechanical thermometer module that measures temps from -35°C and +45°C with 99% accuracy.
Case Size: 40mm
Movement: Automatic
Water Resistance: 200m
Sinn EZM 12
Pros
Highly scratch-resistant
Dehumidifying tech keeps movement dry and crystal from fogging
Lets you read pulses
Cons
Oversized bezel may be a turnoff for some
Pretty much all of Sinn's watches are professional-spec tool watches, but the brand's EZM line really ups the ante by focusing on specific and demanding professions. The EZM 12 is intended for emergency personnel, and as such should prove highly useful in extreme situations. Its Tegimented case resists scratches, and the watch is highly resistant to magnetism, pressure, water, and a wider range of temperatures than you could survive in. The watch is also equipped with dehumidifying tech to keep the movement dry and the crystal from fogging, and it has a custom PulsRotor seconds hand that allows for easy pulse-readings in an emergency.
Case Size: 44mm
Movement: Automatic
Water Resistance: 200m
Bremont MBII
Pros
Stands up to extreme conditions, including temp, altitude, and impact
Cons
Only a 38-hour power reserve
Bremont specializes in making luxury watches for aviators, but what about when pilots have to leave their plane in an emergency? Well, they've got a watch for that too. The MBII was made in collaboration with fighter ejection seat specialists Martin-Baker, and the watch was subjected to the same rigorous endurance tests as the seats. Having held up through such extreme temperature, vibration, altitude, and impact trials, the MBII is certainly tough enough to handle whatever outdoor adventure you have in mind.
Case Size: 43mm
Movement: Automatic
Water Resistance: 100m
Rolex Explorer
Pros
Great high-end sports option
High legibility and 100m water resistance
Cons
May be too simple for some adventurers
The Rolex Explorer does exactly one thing: It tells the time. The watch doesn't even have a date complication. So why is such an uncomplicated watch on this list? Because it is the definitive outdoor explorer's watch. Sir Edmund Hillary famously had one with him when he and Tenzing Norgay climbed to the top of Mount Everest in 1953, and ever since then, the Explorer has been the choice for discerning adventures. And with legendary Rolex robustness, high legibility, and 100m water resistance, the watch is still plenty capable of mastering the world's highest peaks.
Case Size: 39mm
Movement: Automatic
Water Resistance: 100m
Breitling Emergency
Pros
Has a dual-frequency distress beacon for emergencies
Compass on bezel
Cons
Pricey for a quartz watch
If your outdoor adventure is so extreme that there's a chance you'll need to be rescued, then you need one of these on your wrist. A practically mythical offering from Breitling, the Emergency is the first wristwatch equipped with a dual-frequency distress beacon. Once activated, the distress beacon will emit a specialized alert signal that will guide rescue operations to you. This watch has literally saved people's lives before; don't leave home without it.
Case Size: 51mm
Movement: SuperQuartz
Water Resistance: 50m
The Best Solar-Powered Watches
Perhaps you'd like something that ensures you won't be left hanging while you're exploring the outdoors? If that's the case, you might want to take a look at our guide to the best solar powered watches.