Sep 19, 2019
Category: Style
There was a time where, if you wanted a watch, you had to settle for one finished in gold or silver and that was about the extent of color options. Today, however, you can find wearable timepieces in every single color on the spectrum and then some. However, if you're like us, there's a pretty good chance that one, solid, all-black watch can do the trick most of the time.
Thankfully, blacked-out watches are also available in abundance nowadays — regardless of your preferred style, size, or budget. But that abundance does pose a different problem: it's become difficult to discern what is worth your hard-earned money and what isn't. But that's where we come in — we've wrangled up the 20 best all-black watches for men in the following guide. Whatever your taste, lifestyle, or allowance, you'll find the perfect option here.
Timex Archive Camper MK1 Watch
Literally taken out of the Timex archives, this handsome field watch is based upon original Camper watch from the 1980s. However, it has been upgraded for the modern era — including the addition of a more-reliable quartz movement, a military-inspired strap with a patch, and a sturdy and lightweight resin case.
Casio G-Shock Tough Solar Watch
Anyone familiar with G-Shock's ethos will not be surprised to see the Casio sub-brand on this list. After all, they do take quite a bit of inspiration from the tactical world — both in regards to styling (in which black is an abundant colorway) and in capabilities. This particular hybrid analog-digital watch boasts a shock-resistant solar-powered movement that can last for up to 23 months without light, an auto LED lighting feature, radio signal calibration for greater accuracy, and a 48+ city world timer function.
Suunto Core All Black Military Watch
Suunto has made a name for themselves by supplying hardcore outdoorsmen and athletes with ultra-tough and capable watches loaded with features. Their Core All Black Military watch certainly fits that bill to a T. Besides its obvious good looks, this high-tech hiking companion also boasts an onboard altimeter, barometer, compass, and even has a weather-tracking feature so you can keep an eye on incoming storms. It's not quite a hiking smartwatch, but it's definitely not far off in regards to how useful a tool it is.
TID No. 1 Black Edition Watch
If minimalism is the name of the game for you, this all-black Bauhaus watch is likely to climb right to the top of your list of must-haves. One of the few watches that is done up entirely in black — meaning even the indices are obsidian — this monochrome timepiece is surprisingly eye-catching. It's also water-resistant to 50 meters, houses a reliable Japanese Miyota quartz movement, and is built from coated stainless steel.
Seiko 5 SRPD79K1 Sports Watch
In case you're unfamiliar, the Seiko 5 series of watches hinges on five key attributes: a self-winding automatic movement, resistance to water, a day-date in a single window, a recessed crown, and a durable case. As you can tell, this watch hits all those points but gets an even bigger boost thanks to its blacked-out colorway. This stainless steel watch also has a power reserve of 41 hours, a 100m water-resistance rating, a rotating dive-timer bezel, and an exhibition caseback.
Tsovet JPT-CC38 Watch
Headquartered out of Newport Beach, Tsovet isn't quite what you might expect out of a Southern California watchmaking brand, as they focus more on stylishness and refinement than a "fun in the sun" attitude. And that can be seen in abundance in their JPT-CC38 watch. With its minimalist styling, this all-black timepiece is a pleasure to behold, but it's also an impressive and reliable tool — thanks to its Miyota quartz movement, sturdy stainless steel case, hardened mineral crystal, and date window.
Bamford Wayfair Predator Watch
If you recognize the Bamford brand name, it may very well be because of their work with Bentley Mulliner — with whom they've coachbuilt a magnificent luxury car. Well, that partnership was borne out of Bamford's excellence in regards to timekeeping tools — like their Wayfair watch. Boasting the brand's signature black-on-black styling, this dive-style watch has a military-grade titanium coating, a rotating dive timer bezel, a reliable Miyota quartz movement, and a rotating dive timer bezel to name just a few highlights.
Filson Chronograph Watch
Filson made their first foray into the world of watches with their durable and precise Field Watch. Their follow-up, the Chronograph, is built with the same attention to detail and craftsmanship but has just a bit more functionality built right into it. This PVD-plated stainless steel timepiece is powered by a reliable quartz movement, has 100m of water-resistance, boats a sapphire crystal, and has a screw-down crown. We've come to expect greatness from Filson, but this watch is exceptional.
Hamilton Khaki Field Watch
One of the more unique all-black watches to behold, the Hamilton Khaki Field Watch you see here does a lot right without over-indulging. It houses a quartz movement to keep it ticking along reliably, has a PVD-coated stainless steel case, and has an onyx-colored dial that matches beautifully with its faceted rubber strap. It also cleverly adds 24-hour time via a super-imposed sub-dial and even has a date window.
Victorinox Maverick Black Edition Watch
Made to adorn the wrist of anyone who enjoys outdoor activities like diving, sailing, or any other extreme sport, this Maverick watch is a bit on the larger side — measuring up at 43mm to make for easier reading at-a-glance. That design language also translates to the timepiece's rotating dive timer bezel, its oversized hands, but is done away with for the subtle 6 o'clock date window. Pair that with 330-feet of water resistance, a reliable quartz movement, and a tough stainless steel case and this watch holds up beautifully against scrutiny.
Luminox Navy SEAL Steel Watch
For those who aren't familiar, the name of this Luminox dive watch was not just picked out of a hat. In fact, the brand actually worked with Chief Nick North, the officer in charge of procurement for the SEALs, to create a watch that was actually tough and reliable enough to be used by arguably the greatest warriors in the U.S. Navy, perhaps even the world. And this blacked-out version takes everything great about that lineup — a Swiss automatic movement, 200m water-resistance, a dive timer bezel, and more — and pares it into this steel, carbon, and polycarbonate nearly-indestructible timepiece.
Braun BN0095 Prestige Chronograph Watch
Braun has done a pretty stellar job of re-inserting themselves into the world of fashion and everyday carry after a period in which it seemed like they were out for good. But the minimalist revival has been nothing but positive for them and their Bauhaus offerings. Along with some of the watches that made them famous, they also now offer this upper-tier chronograph made with a quartz movement, stainless steel case, and integrated rubber strap. For lovers of simple, purposeful design, it doesn't get much better than this.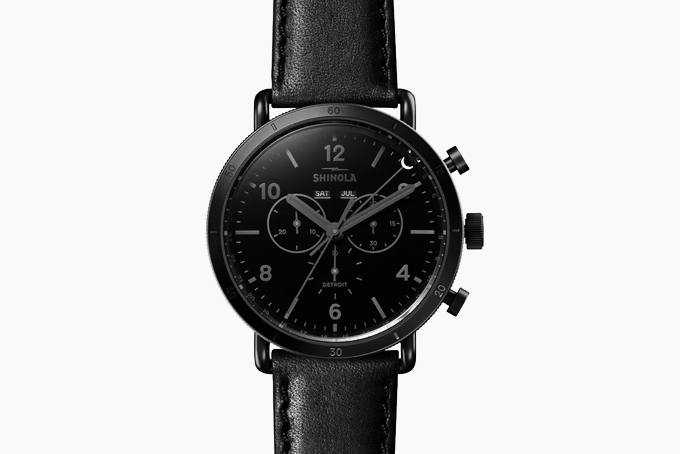 Shinola The Canfield Sport Watch
Shinola's Canfield Sport was already one of our favorite watches with its stainless steel case, Swiss Ronda movement, and premium leather strap. But this stealthy take on it has bumped it up even higher on our list. We also love the unique balance of the sub-dials, the day/date windows below the 12 o'clock position, and (of course) the PVD coating that turns it into a blacked-out beauty.
Longines HydroConquest Dive Watch
It's not often that a brand like Longines makes a watch that's exclusive to purchase in the USA — let alone one as excellent as their HydroConquest, especially not done up in a handsome blacked-out colorway. Yet, here it is. This PVD-coated watch features 300m of water-resistance, a Swiss-made self-winding kinetic movement, comes with both a stainless steel bracelet and a NATO strap, and so much more.
Bell & Ross BR 03-92 Phantom Watch
Thanks to their square cases and rounded dials — designed to be reminiscent of the instruments gauges aboard aircraft — Bell & Ross watches are unmistakable. And while all of them are plenty stylish, we can't help but find ourselves drawn to their all-black Phantom version of their legendary BR 03 watch. Somehow still surprisingly easy to read, this automatic watch is completely blacked-out — even the date window has an all-black dial beneath it. It's also made from ceramic and has a sturdy rubber strap, as well.
Tudor Black Bay Dark Watch
Tudor's Black Bay watch is already one of the most iconic timepieces out there — diver's or otherwise. But this special edition version, the Black Bay Dark, elevates it even further by offering it in a matte black colorway. Boasting a PVD-coated steel case with a matching link band, this watch boasts an automatic movement, 200m water-resistance, a sapphire crystal, a unidirectional dive timer bezel, and a screw-down crown.
Breitling Cockpit B50 Watch
Breitling has a long history of making exceptional pilot watches, but their Cockpit B50 might just be one of their best — combining both traditional mechanisms and modern conveniences. Hidden inside its titanium case, this watch has a SuperQuartz movement that manages both the analog and digital displays, an electronic tachymeter, a chronographic flight recorder, and a whole lot more. If you're looking for a pilot watch that might actually come in handy should your instruments fail you, this is it.
Omega Speedmaster Moonwatch Chronograph
Omega made history by crafting the watches that traveled with Buzz Aldrin and Neil Armstrong onto the surface of the moon. And now, their Speedmaster Moonwatch continues that legacy — albeit with some more modern styling and materials. This particular example actually draws inspiration from an event that predates the moon landing: Apollo 8 crossing to the dark side of the moon. As such, it's done up entirely in black — including its black ceramic case, chronograph dial, tachymeter bezel, and coated nylon strap. For NASA fans and those who appreciate sinister styling, there's just not a better watch out there.
IWC Top Gun Pilot's Watch
Besides its obvious spot-on all-black styling, IWC's Top Gun Pilot's Watch has a whole lot else going for it. For starters, it boasts a ceratanium case — a unique proprietary combination of ceramic and titanium made to be exceedingly lightweight, as well as exceptionally durable. It's also powered by a Swiss-made automatic movement, has chronograph functionality alongside a day/date window, features a sapphire crystal, and is fitted with a unique black rubber strap with a fabric inlay.
TAG Heuer Carrera Chronograph Watch
When it comes to racing-inspired watches, TAG Heuer's aptly-named Carrera can stand amongst the best of them. But this edition is even more enticing for a wide variety of reasons. For starters, the black-on-black colorway is timeless and appropriate for any measure of events and activities. It also features a durable PVD-coated titanium case coated with carbon, a carbon fiber tachymeter bezel, an anti-reflective sapphire crystal, and a skeletonized dial. And that's to say nothing of its Swiss-made tourbillon automatic movement — which is an achievement in and of itself. Yes, it's a pricey timepiece, but it's also unrivaled.
The 15 Best All-Black Sneakers For Men
Now that you've got your timepiece squared away, why not add some more black to your everyday style by imbuing it into your footwear? You can start by picking out a pair of the best all-black sneakers.
HiConsumption is reader-supported. When you buy through links on our site, we may earn an affiliate commission. Learn more