Referring to the small number of barrels chosen to be used in a single batch of whiskey, "small batch" is a source of contention within the industry and its enthusiasts. Now considered a mark of quality, whether that's usually true or not, the term began in the '80s as a way to showcase barrel curation for the drinking public. Today, the definition has become more obfuscated as labels typically include this remark without letting you know exactly how small the batch actually is. After all, there's no legal definition for the number of barrels used before being able to label it as such; small-batch bourbons can range from 2 barrels all the way up to 40, or even 100. Many times you have to head over to the company's website to find out more info, if it's even available at all.
Because some brands refuse to play the small-batch game by omitting it altogether, it's often difficult to determine if a given bourbon is made in a small batch or not. And even if distilleries don't denote this qualifier on their labels, their bourbons could very well fall into this category — but the question is often, "Does it matter?" We think there's still value in the small-batch category and have presented to you what we think are the best small-batch bourbons on the market.
Best Small-Batch Bourbons
Best Overall

Four Roses Small Batch Select

Best Runner-Up

Kentucky Owl Confiscated

Best Budget

Larceny Very Special Small Batch

Best Top-Shelf for Special Guests

Colonel E.H. Taylor Small Batch

Best Age Statement

Knob Creek 18 Year

Best Budget Age Statement

Russell's Reserve 10 Year

Best Not from Kentucky

Widow Jane 10 Year

Best Single Barrel

Blanton's Original Single Barrel

Best Cask-Strength

Peerless Straight Bourbon

Best Wheated

Pappy Van Winkle 20 Year Family Reserve

Best New Blood

Frank August

Best Cask-Finished

Barrell Bourbon Vantage
The History Of Small-Batch
More Than Words
Although it's said that, upon debuting in 1992, Knob Creek was the first bourbon to really have the term "small batch" on its label — a term coined by Jim Beam's legendary master distiller Booker Noe (who also launched Knob Creek) — the spirit of the category had been around for a few years already. In the '80s, Noe began letting his close friends and family taste his own private reserve barrels. Word got around and eventually he bottled up the liquid at cask strength and sold it as Booker's starting in 1988.
Since the '90s, the popularity of small-batch has only increased, especially amidst an alcohol industry riddled with vatted expressions that lack any connection to the people who make them. Today, even though distilleries continue to exercise the ambiguity of the phrase, small-batch bourbon has provided value and has even started to move away from any equivocality.
Four Roses Small Batch Select
Best Overall: Still somehow underrated despite its ubiquity, Four Roses Small Batch Select will be a top-shelf in most watering holes yet still plenty affordable for the home bartender. Easy to like no matter what your palate is like, this expression became a permanent addition to the Kentucky distillery's range in 2019 and has since become a big hit. Small batch indeed, it's a high-rye bourbon that combines six different 6-year-old barrels of different mashbills. It's bold, sweet, spicy, and goes down perfectly no matter how you choose to drink it. Corked at 104-proof, the whiskey boasts a profile of baking spice, dark fruit, and spearmint.
ABV: 52%
Tasting Notes: Baking spice, dark fruit, spearmint
Kentucky Owl Confiscated
Best Runner-Up: Revived by the great-great-grandson of C.M. Dedman after a 98-year hiatus, Kentucky Owl uses the originator's recipe and has become a cult favorite since it launched in 2014. Released in small batches that sell out super fast, the bourbon honors its whiskey-making history while also fitting in perfectly in today's climate. Offering notes of cinnamon, bananas foster, vanilla, and cardamom, this Confiscated expression is named after the U.S. government's confiscation of the distillery's entire 250,000-gallon inventory prior to Prohibition, thus leading to its demise.
ABV: 48.2%
Tasting Notes: Cinnamon, bananas foster, vanilla, cardamom
Larceny Very Special Small Batch
Best Budget: You could spend a couple-thousand dollars on a wheated bourbon like Pappy's, or you could spend under $30 for Larceny's Very Special Small Batch — a fantastic bourbon regardless of its mashbill makeup or how much it will cost you. While most small-batch whiskeys will garner a higher price tag, this Kentucky favorite can be experienced for a pittance. It features a four-grain mashbill (corn, rye, wheat, and malted barley) and a dynamic profile to boot. A great option for sipping, the expression can also be enjoyed in a mixed drink guilt-free. 
ABV: 46%
Tasting Notes: Butterscotch, honey, caramel
Colonel E.H. Taylor Small Batch
Best Top-Shelf for Special Guests: It's a safe assumption to make that most small-batch bourbons are top-shelf. However, there are only a few that can hold a special cachet when you bring them out of your liquor cabinet. We might reserve these bottles for when we're trying to impress certain guests at home — and without entirely breaking the bank to do so. Few brands hold the kind of reputation of Colonel E.H. Taylor, with a lineage that dates back to just after the Civil War and named after its founder. Now produced at Buffalo Trace Distillery and owned by Sazerac, the premium whiskey is made from small batches of hand-selected barrels aged in warehouses over a century old.
ABV: 50%
Tasting Notes: Vanilla, cinnamon, caramel, spice
Knob Creek 18 Year
Best Age Statement: Knob Creek was launched in 1992 by the inventor of the term "small batch" and has been a poster child for the category ever since. At one time, Knob Creek was among the only small-batch brands guaranteed to be behind most bars. Today that's no longer the case, but the distillery is still going stronger than ever — never more evident than its largest age statement ever, an 18-year-old bourbon released last year in celebration of its 30th anniversary. Double the age of its flagship expression, this 100-proof whiskey is unlike anything you've tasted from Knob Creek, with notes of brown sugar, peanut brittle, vanilla, and baking spices.
ABV: 50%
Tasting Notes: Brown sugar, peanut brittle, vanilla, baking spices
Russell's Reserve 10 Year
Best Budget Age Statement: If Booker's was the late Booker Noe's magnum opus, then Russell's Reserve is Wild Turkey's iconic master distillers Jimmy and Eddie Russell's chance to do the same. Launched 25 years ago to showcase the father-son duo's knack for barrel selection, the distillery has produced some of the most revered bourbons in the game. Featuring a four-grain mashbill, this 10 Year is at the top of the core range. Russell's has a Single Barrel bourbon as well, but as far as 10-plus-year age statements go, this Wild Turkey offshoot is as good as it gets, and at an unbelievable price.
ABV: 45%
Tasting Notes: Toasted oak, vanilla, baking spice, vanilla, butterscotch
Widow Jane 10 Year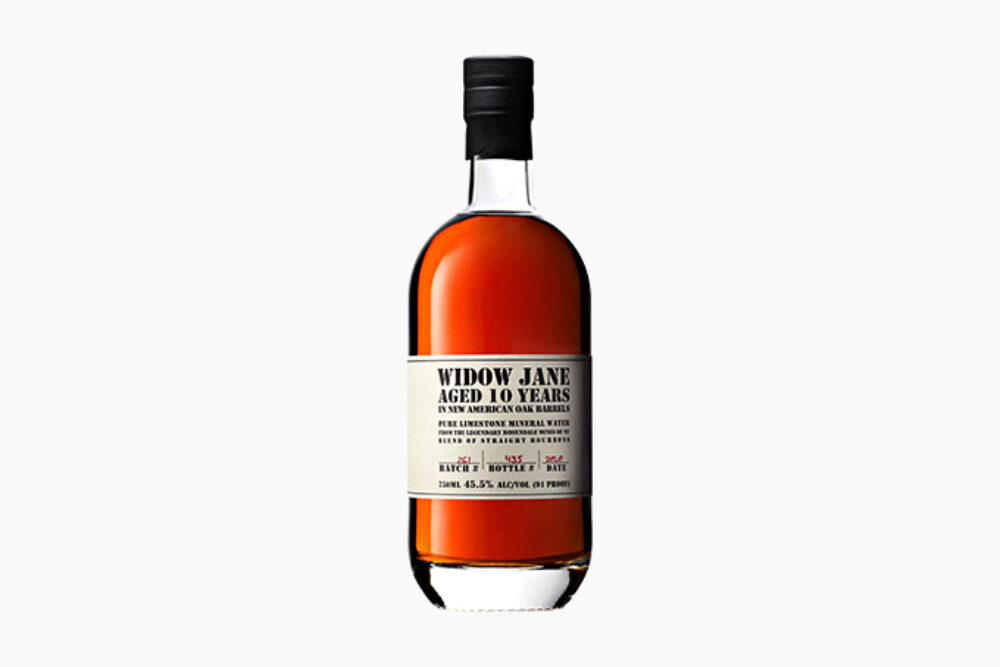 Best Not from Kentucky: New York is really becoming a hot spot for finely made moonshine. Widow Jane is a product of the renaissance, having opened its doors just over a decade ago right in the heart of Red Hook, Brooklyn. Named after a nearby mine from which it sources its limestone water for distillation and proofing, the distillery makes all of its bourbons in very small batches of just 5 barrels. Bottled at 91 proof, this award-winning 10 Year expression features notes of orange, maple, cherry, almond, and cinnamon.
ABV: 45.5%
Tasting Notes: Orange, maple, cherry, almond, cinnamon
Blanton's Original Single Barrel
Best Single Barrel: The originator of the single barrel is still a classic all these years later — and the best representative of the category you can find. Both the beauty and the blemish of single-barrel bourbon is that every batch will taste different than the other. And once the barrel is gone, it's gone. Even in small batches, you can pick and choose barrels that will help you achieve some level of consistency. This is why Blanton's is so revered: It doesn't have to. Distilling expertise and remarkable aging conditions have allowed this Kentucky staple to be so successful with the single barrel program since debuting its brand back in 1984 and as long as it's around, the world of whiskey will be well-represented.
ABV: 46.5%
Tasting Notes: Citrus, vanilla, oak, baking spices
Peerless Straight Bourbon
Best Cask-Strength: Although it just re-launched in 2015, Peerless was a Kentucky classic before closing its doors during the first World War. The inaugural spirit was a straight rye whiskey, but this four-year-old bourbon has been making waves in its own right. For starters, the distillery utilizes a lower barrel-entry proof of under 107, which was a common practice before Prohibition when consumers would draft whiskey straight from the barrel and needed something drinkable right away (now the standard is 125 proof). The result yields a richer profile with the water spending time with the barrel rather than being added afterward. The flavor is showcased even more by being bottled at cask strength at a reasonable 54.45% ABV.
ABV: 54.45%
Tasting Notes: Orange peel, vanilla, burnt caramel, spice
Pappy Van Winkle 20 Year Family Reserve
Best Wheated: The batches for Pappy's annual releases are so small that, once the yielded bottles are sold out, you can't find these on the secondary market without paying upwards of a grand or two (although, the distillery's facility at Buffalo Trace has stated that it plans to increase its production in the future). Perhaps the very epitome of higher quality rendered from small batches — as well as the results of supply-and-demand — Pappy Van Winkle 20 Year Family Reserve is still a legend for a reason. Wheat replaces rye in the bourbon's mashbill, resulting in a much smoother profile.
ABV: 45.2%
Tasting Notes: Leather, tobacco, coffee, vanilla, orange peel
Frank August
Best New Blood: Bourbon craft has been around for quite some time and we often spend a lot of time gushing about the American icons that helped build the industry — and for good reason. However, in recent years we've seen a preponderance of new brands cropping up and making a name for themselves in an already-established industry. Some are good, some are bad, and some are unforgettable. Frank August is a great reason to judge a book by its cover. The new brand has been making a lot of noise this past year since debuting its inaugural expression, a small-batch bourbon that stays true to tradition. Made from just 10 to 15 barrels, the whiskey is then placed in a beautiful Frank Lloyd Wright-inspired minimalist bottle with only a small label on the neck, so that we can see this liquid in all its glory.
ABV: 50%
Tasting Notes: Vanilla, caramel, cinnamon, rye bread, brown sugar
Barrell Bourbon Vantage
Best Cask-Finished: A lot of innovative bourbons are made in small batches, which is either a mark of curation or a cautious strategy by the distillery. Among the more popular experiments-turned-successes is cask-finished whiskey. Many purists scoff at the phrase but those who have experienced the style will tell you how much you're missing out and how much it opens up the possibilities in terms of flavor. Barrell Bourbon's Vantage may be the best proof of concept you'll find, combining a few barrels distilled in Kentucky, Indiana, and Tennessee, which are then individually finished in Japanese mizunara, French, and toasted American oak barrels before being blended together and bottled at 57.22% ABV.
ABV: 57.22%
Tasting Notes: Espresso, maple, baking spice, strawberry
The Complete Guide to Bourbon Styles
If you want to dig deeper on the different categories of the corn-based spirit, head over to our complete guide to bourbon whiskey styles.