"If you build it, they will come." Hard seltzer is such an interesting case study on supply versus demand. Between 2016 and 2020, the consumption of hard seltzers tripled in the U.S. Before that, the lower numbers seemed to be due only to a simple lack of companies making these canned and bottled concoctions. Once a few brands started making the rounds, more and more cropped up, and thus, the craze had begun… and continues. Now, mostly dominated by the likes of White Claw and Truly, these beverages have been adopted by even the biggest brands in the world.
While hard seltzer isn't legally defined, it typically refers to clear, sparkling, low-calorie, and low-sugar alcoholic beverages that are sold in either a can or bottle. It can be made with sugar, vodka, or whatever else, but it's typically enjoyed by those who prefer a lower alcohol content and something a bit lighter than beer (with a few exceptions). While flavored brewskies largely get a bad rap, hard seltzers seem like they're here to stay. With the proliferation of options out there now, we've aimed to narrow your options a bit with our guide to the best hard seltzers to drink.
Best Hard Seltzers Breakdown
Lagunitas Disorderly TeaHouse

The Finnish Long Drink Traditional

MAHA Organic Hard Seltzer

Rogue Cucumber Lime Gin Fizz
What Is Hard Seltzer?
The only thing that technically defines hard seltzer is its use of carbonated water and alcohol. Aside from that, it can be made from anything under the sun, including gin, vodka, and even kombucha, with no legal standards to abide by. However, most hard seltzers come from malted alcohol or cane sugar. After that, brands usually flavor their beverages with fruit juices, botanicals, and/or spices.
Is Hard Seltzer Healthier Than Beer?
Aside from being lighter and, thus, more refreshing than beer, hard seltzer is also a bit healthier from a caloric standpoint. Often ranging between 100 and 120 calories, these carbonate beverages also have less added sugar. Whereas a beer typically has anywhere between 150 and 300 calories per can.
Lagunitas Disorderly TeaHouse
Growing from a local brewpub into a top-five selling label in just two decades is nothing to scoff at. California-based Lagunitas helped craft beer become mainstream, as well as IPA with its flagship bottle. However, this year, the brand has made its way into the hard seltzer game with Lagunitas Disorderly TeaHouse, a spiked beverage that utilizes guayusa tea as its base, with infusions of raspberry and blackberry for good measure, with a yuzu lemon flavor also available. This crisp blend combines herbal earthiness with fruity sweetness at an affordable price.
ABV: 5%
Calories: 100
Base: Guayusa tea
The Finnish Long Drink Traditional
In Finland, the long drink, or "lonkero," is about as ubiquitous as water, but most people in the United States hadn't heard of it until recently. Made for the 1952 Helsinki Summer Olympics, the grapefruit and gin concoction has now made it across the ocean thanks to a company called The Finnish, which launched in New York just a few years ago. This canned version, called Long Drink Traditional, boasts the same legendary flavor that Finns have been wild about for 70 years now. Its popularity has grown like wildfire, with advocates such as actor Miles Teller and golfer Rickie Fowler on board as ambassadors.
ABV: 5.5%
Calories: 180
Base: Gin
MAHA Organic Hard Seltzer
Just because you're imbibing on some alcoholic beverages doesn't mean you can't watch your vitamin intake as well. California's own MAHA Hard Seltzer is not just organic, but it's tapped with nutrients such as potassium to help promote healthy blood pressure levels and magnesium to support muscle and nerve function. With the company's proprietary blend of real fruit juices, cascara tea, and sea salt, and flavors such as raspberry and tangerine yuzu, this refreshing hard seltzer will make you forget that you're drinking something… balanced.
ABV: 4.5%
Calories: 110
Base: Malted barley
Vizzy Hard Seltzer
Indigenous to Central and South America, the acerola cherry is a superfruit, extremely high in antioxidants and vitamin C. It also just so happens to be a major ingredient in Vizzy Hard Seltzer, from the eponymous Wisconson-based brand that prides itself on using the pulp in its array of sparkling beverages that includes flavors such as passionfruit watermelon, peach lemonade, and strawberry orange, with a mimosa variety as well. These low-sugar 100-calorie favorites are gluten-free and only have 2g of carbs, utilizing real cane sugar as its alcohol source at 5% ABV.
ABV: 5%
Calories: 100
Base: Cane sugar and acerola cherry juice
Rogue Cucumber Lime Gin Fizz
A gin fizz is simply a cocktail that involves citrus, sparkling water, and gin. It's grown to be the most popular of the "fizz" varieties and even has several iterations of its own. Oregon-based Rogue Spirits has decided to can its own unique version of the beverage, adding cucumber and lime flavoring to its in-house Farmhouse Gin, covering both the hard seltzer and the ready-to-drink spaces. The company also specializes in beer, whiskey, and CBD seltzers, but the Cucumber Lime Gin Fizz is easily its most refreshing.
ABV: 7.5%
Calories: 170
Base: Gin
Topo Chico Hard Seltzer
Despite being around for well over a decade, Topo Chico has been blowing up these past few years, with its flagship sparkling mineral water not only finding a certain ubiquity but also carving a place for itself as one of the most refreshing in the game. Opening up recently with its Hard Seltzer, along with its Ranch Water and Margarita Hard Seltzers, the Mexican-born brand has carried over its sparkling savvy to the alcoholic beverage space to create a line of flavors that is just as crisp and refreshing as expected, including Tangy Lemon Lime, Strawberry Guava, and Exotic Pineapple.
ABV: 4.7%
Calories: 100
Base: Vodka
Willie's Superbrew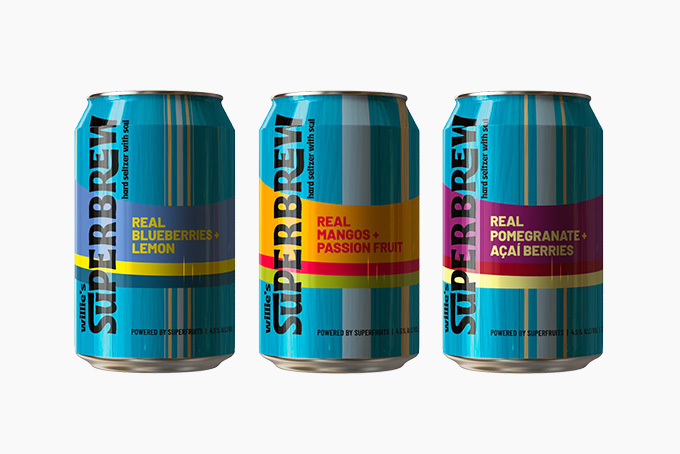 Let's face it, we're not drinking hard seltzers for the fruit content any more than we're drinking sodas for the colors. However, Willie's Superbrew might be the only one that can convince us otherwise. Other than the array of flavors provided, such as Mango-Passionfruit, Pomegranate-Acai, and Blueberry-Lemon, the Massachusetts-based company also uses real fruit juices, along with spices, and lists the percentages of each on the label. Gluten-free and low-carb, these canned beverages are dangerously refreshing.
ABV: 4.5%
Calories: 110
Base: Brewed fruit juice and kombucha
High Noon Hard Seltzer
While most hard seltzers have a malty flavor, High Noon's are a bit cleaner thanks to the vodka serving as its base. Blurring the line between hard seltzer and canned cocktail, these spritzes are made with real fruit juices to produce straightforward and easy-to-drink concoctions that use as few ingredients as possible. Unlike the competition, the California native doesn't bother with hyphenations and descriptors, with summery flavors like Lime, Pineapple, Kiwi, and Watermelon. What's more, there's no sugar added and each beverage is gluten-free and only 100 calories.
ABV: 4.5%
Calories: 100
Base: Vodka
Truly
If you haven't noticed, Truly has kind of exploded these past few years. Launching back in 2016, the rise of the Boston Beer-owned brand to becoming the second best-selling hard seltzer is more than just great marketing. In 2019, the company took a big risk by changing its recipe after an exhaustive testing process. The overall goal was a bolder taste — and far fewer calories and carbs than its competitors. The results were splendid and now, Truly is truly one of the best selections you can find on the shelves, mainstream or otherwise. With over 30 flavors to choose from, the company has seemed to perfect both quality and quantity.
ABV: 5%
Calories: 100
Base: Cane sugar
Flying Embers
Similar to its line of hard kombucha, Flying Embers' hard seltzer contains live probiotics to aid your stomach while you're consuming alcohol. Of course, kombucha naturally contains alcohol anyway, so we guess it makes sense. However, our favorite part of this company from Ojai, California is the flavors it comes out with. Sold in sets such as Botanicals & Bitters, which includes Black Lime-Juniper; Fruit & Flora, featuring Black Cherry-Rose and Passionfruit-Elderflower; and Sweet & Heat, which boasts divisive picks like Watermelon-Chili and Guava-Jalapeño, Flying Embers never blends into the crowd. Its beverages are also available at its taprooms in Los Angeles, Santa Barbara, and Boston.
ABV: 5%
Calories: 95
Base: Cane sugar fermented with champagne yeast
White Claw
It may be the easiest to find on the shelves, but that doesn't mean it's not excellent. White Claw helped change the tone on hard seltzers nationwide. Getting in good with YouTubers, albeit unintentionally, and real-life tubers (i.e., surfers), this bubbly beverage juggernaut became wildly popular for a reason. Produced by the same minds who made Mike's Hard Lemonade back in the day, White Claw offers refreshing, easy-to-drink beverages at just 100 calories and 1g of sugar. Made with a top-secret formula, flavors include Black Cherry, Mango, and Lime, with several other variations out as well.
ABV: 5%
Calories: 100
Base: Malted alcohol
AMASS Hard Seltzer
Although a vast majority of hard seltzers have begotten a stigma of cheapness over the years, it's brands like AMASS that keep naysayers at bay. The distillery's popular Dry Gin and Botanic Vodka gave way to something a bit lighter, all while using those same botanicals in the ingredients. AMASS Hard Seltzer may be the only one on this list to come with tasting notes on its website, pairing them with its elevated flavors such as Surfer Rosso, which is made from hibiscus, turmeric, and ginger; Faerie Fizz, made with the likes of jasmine and cardamom; and Sun Sign, which has mandarin, vanilla, and oak at its core. These packs don't come cheap, but the higher price tag is there for a reason.
ABV: 5%
Calories: 110
Base: Organic cane sugar
Tiki Drink Recipes You Should Know
If you want an alcoholic beverage that's just as summer-appropriate as hard seltzer — but a good deal stronger — check out our guide to the best tiki drink recipes you should know.