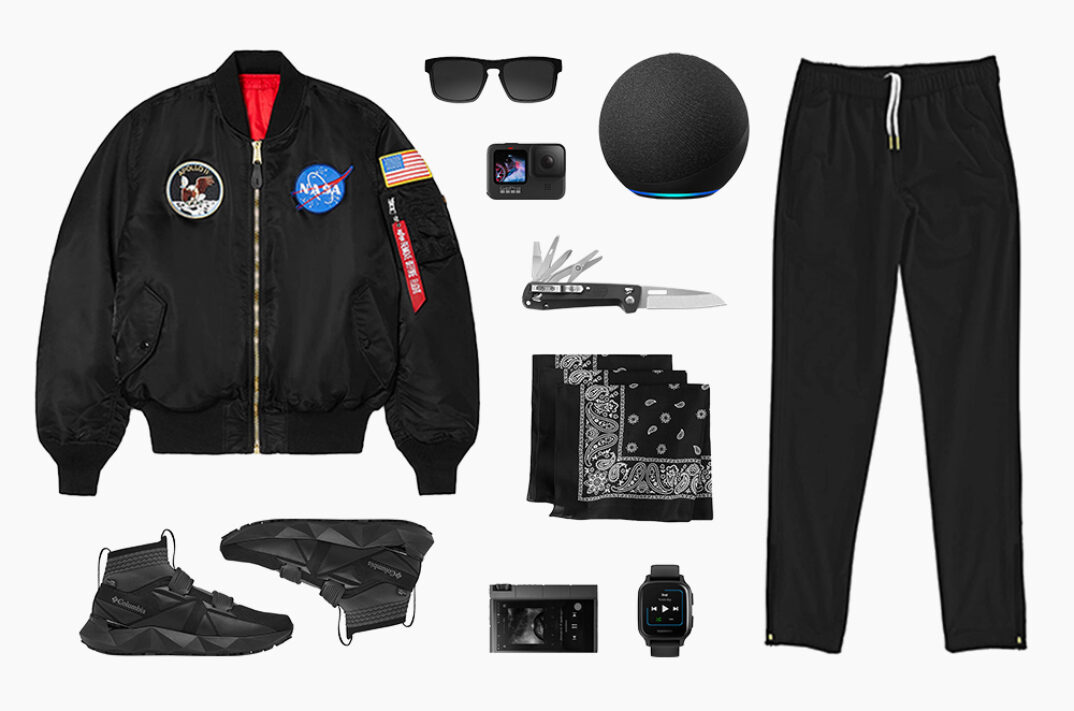 Fall is officially upon us, and that means we have to face three inextricable truths: the days are going to get shorter, the weather is going to get colder, and a ton of new gear releases are upon us for the holiday season. While those first two could certainly be looked at as autumn's downsides, the latter is undoubtedly more exciting for all us gearheads.
As is always the case, new gear releases mean we have to start making some choices. It's always a balancing act between what we want and what we need, what we can afford and what we still need to save up for, etc. Furthermore, there are always style questions — i.e. whether new gear suits your design aesthetic or is available in your colorway of choice. As you've heard us say time and time again, black always looks good. So, when we decided to scour Amazon for the best new gear of October, all-black-everything seemed like the right route to take. It's with that in mind we offer you the following collection of superb devices, apparel, and otherwise.
Levi's Bandanas
Sometimes it can be difficult to remember to bring along a face covering. However, a classic bandana — like these from Levi's — works great in a pinch as an ad-hoc mask. They're also timelessly stylish, made from durable and soft cotton, and are limited in their usage only by your own imagination.
Leatherman Free K4 Multi-Tool Knife
Leatherman has been at the forefront of multi-tool design and manufacturing for as long as they've been in business. In fact, for all intents and purposes, they invented multi-tools as we know them today. Now, they've turned their expertise to something a bit more EDC friendly in their Free lineup, including the K4 you see here. Shaped and sized like a pocket knife, this device boasts nine included tools, a pocketable silhouette, and its backed by the brand's 25-year warranty.
Amazon Echo 4th Gen
It was just revealed that Amazon's lineup of Echo AI-assistant devices went through a fairly comprehensive redesign — and this is it. Now with a spherical exterior and a much faster processor, this multi-purpose, Alexa-backed speaker can help you keep your calendar organized, play music or the news with simple voice controls, and it can even be used as a smart hub connecting and controlling the rest of your home's high-tech gear all in one place.
Olivers Bradbury Jogger
Suitable for exercise but also stylish and subtle enough that you could feasibly wear them out for a night on the town, the Olivers Bradbury Jogger is crafted from a tough and comfortable combination of nylon and spandex. That means they're also naturally water-repellant, offer 4-way stretch, and they're plenty breathable. Last but not least, they're made in the USA.
Columbia Facet 45 Outdry Hiking Sneakers
A new cutting-edge, streetwear-inspired hiking sneakerboot from the folks at Columbia, the unique and geometrically-styled Facet 45 Outdry boasts a grippy rubber outsole, waterproof ballistic nylon upper with welded overlays, cushy Techlite insole, an HGS heel stabilizing system, and the brand's Kinetic Lacing System that adjusts as you move to keep your feet secure.
Alpha Industries Apollo MA-1 Flight Jacket
Alpha Industries makes some of the best bomber jackets around, but this one is a bit more special thanks to its NASA connection — comprised of numerous included patches on the front and back. It's also incredibly lightweight thanks to its nylon shell, and the whole jacket is reversible, which gives it a bit of stylistic versatility not found in similar jackets. Not to mention, the polyester insulation makes this a perfect fall style inclusion.
Bose Frames Tenor Sunglasses
Bose is well known for their high-end audio devices, so it should come as no surprise that, when they decided to take a stab at eyewear, they incorporated that same tech. You see, these aren't simply polarized, UV-blocking wayfarers — they're also Bluetooth headphones capable of piping in your favorite tunes or podcasts for up to 5.5 hours of continuous playback per charge. If you're all about minimalism and paring down your EDC and tech as much as possible, these hybrid headphone-sunglasses might just be the ticket.
Garmin Venu Sq Smartwatch
Many of Garmin's smartwatches are a bit gaudy — likely due in part to their extremely durable construction and their outdoor-focused styling. However, the brand has recently unveiled a more urban-friendly, pared-down smartwatch called the Venu Sq that looks poised to eat into Apple's clientele. On top of a more subtle external design, this smart device also has onboard GPS, a slew of fitness-focused sensors and apps, and it can stream music.
GoPro HERO9 Black Action Camera
GoPro truly shaped the action camera industry with their series of Hero cameras and they still sit atop the throne therein. In fact, their dominance was just confirmed yet again with the release of the HERO9 Black you see here. The next evolution of the series, this camera is waterproof, boasts 5K UHD capabilities, can take 20MP still shots, and so much more. Truly, nothing else even comes close.
Astell & Kern KANN Cube Music Player
Most audiophiles relegate their hi-fi hopes and dreams to an in-home audio setup. However, you can take that fidelity on the go if you invest in the Astell & Kern KANN Cube Music Player you see here. This pocketable powerhouse is unrivaled in its performance — boasting bit-to-bit playback up to 32bit/384kHz and Native DSD (DSD256), a trio of audio output modes, 8 hours of playback per charge, and 128GB of storage that's expandable via microSD.
Scoured: The Best Gear On Amazon - September 2020
If you like black, but you also want a pop of color to go with your otherwise monochromatic look, last month's black-and-gold guide to the best gear on Amazon offers just that.