Oct 15, 2019
Category: Style
There are few menswear staples as iconic as the aviator's jacket, and thanks to the constant reinterpretation of the style, it's only gotten better with age. While the original garment was mean for pilots and airborne military to show off their unit's demarcations, the versatile style quickly became a fashionable piece of outerwear for the common, everyday guy, thanks to its minimalistic silhouette, historical significance, and awesome affiliation.
These days, the bomber is revered as a must-have for nearly every guy, with essentials companies like Uniqlo, Everlane, and H&M taking the initiative. The lightweight garment exudes an aura of true style and poise, while retaining an err of nostalgic taste — something that a handful of today's steadfast styles can't seem to do. Below, we've created an extensive list of our favorite bomber variants, bringing established companies like Levi's, Buck Mason, Alpha Industries, and Aether in-line with the marketplace's more affordable offerings.
Uniqlo MA-1 Blouson
When it comes to the acquisition of menswear's most prominent styles, Uniqlo's got your back. The company's MA-1 Blouson bomber is definitive proof of this, bringing the well-rounded stylings of the original flight jacket into the modern-day. Each example has been faithfully recreated by the brand and features the iconic leather-look zipper tab, cropped neck, liner, and additional padding for exceptional warmth. Since the Blouson is made from a heavy nylon twill, the jacket is also ultra-dependable, as well as water-repellent, making it a great choice for a variety of purposes.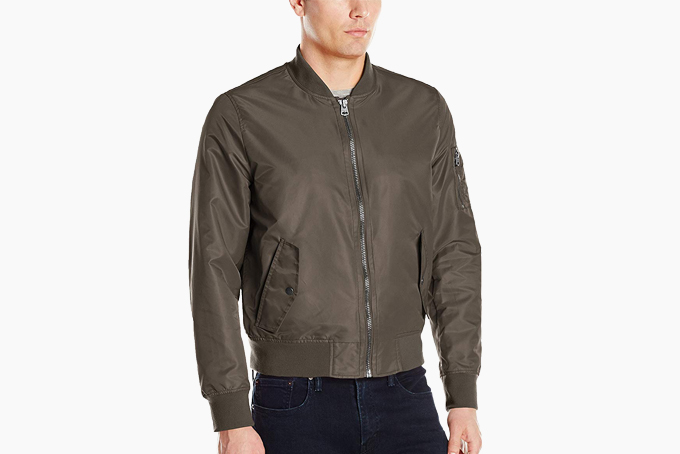 Levi's Ma-1 Unfilled
Levis prides itself on the creation of men's classics, and thanks to the company's Ma-1 Unfilled bomber, it's easier than ever to add the aviator's stylish attire to your wardrobe. Each handsome variant boasts a 100% nylon construction, complete with low, dual-entry snap-flap pocketing, rib-knit cuffs, and a single zipper pocket on the arm. Aside from the Ma-1's classic inspiration, it's one of the most affordable options on the market today, giving buyers a valuable centerpiece for nearly any outfit, at an attractive price point.
Topman Stone
Topman is a one-stop-shop for a menagerie of men's wardrobe essentials, and when it comes to militaristic outerwear, they know exactly what it takes to keep you around. The company's Stone bomber is a classic variant that boasts one of the most traditional fits around, alongside an attractive stand collar, 100% polyester construction, and comfortable sleeves to keep the jacket lightweight, warm, and durable.
Everlane Uniform
Everlane's Uniform bomber is another reimagination of the lauded MA-1 flight jacket, bringing the company's refined tastes to the forefront. As such, minimalistic design principles dominate the low-key style staple, which has been constructed with an environmentally-conscious, water-resistant polyester fabric. The addition of a smooth two-way zipper and magnetic closure pockets keep this durable cotton/polyester garment in the upper echelon of stylish wear.
Alpha Industries MA-1 Flight Jacket
Alpha Industries' MA-1 Flight Jacket is one of the most committed bombers on the market, offering buyers a quintessential example that doesn't stray far from the style, and poise of the original. What makes this variant so special is its attention to detail, bringing a mid-weight, water-resistant nylon silhouette, MA-1 sleeve utility pocket, and Ottoman knit cuffs to the forefront. Alpha has tried to keep the jacket as close as possible to its predecessor, meaning that the style's signature flight flag, flap pockets, and rib-knit collar, cuffs, and waist have been reimplemented.
Taylor Stitch The Bomber Jacket
Taylor Stitch's "The Bomber" Jacket is an iconic example that pays homage to the original's timeless nature. With a close kinship to its militaristic sibling, the garment has been produced with extreme respect for the craft, while adding Halley Stevensons' revered weatherproofing into the mix. Like most of Stitch's nostalgic garments, it features a nine-ounce organic cotton fabric, an antique brass YKK 2-way separating zipper, and a bespoke storm flap outfitted with custom TS brass YKK snaps for an unwavering example of heritage outerwear.
J.Crew Wallace & Barnes Flight
J.Crew's Wallace & Barnes Flight bomber doesn't reinvent the traditional flight jacket, and that's completely alright. Aside from the exclusion of the original's cumbersome bulkiness, the Wallace & Barnes stays undeniably true, offering a thin nylon/cotton composition, rib-trimmed cuffs, and the garment's iconic slant pockets in one great-looking package.
Aether Fuse
Aether's Fuse bomber departs from the original composition of cotton/nylon and instead opts for the utilization of durable bonded fleece. The result? A light, everyday layer that can be utilized in warmer weather, without any regard for uncomfortably. Aesthetically, it remains relatively the same; traditional rib detailing on the collar, cuffs, and hem bring an undeniable err of vintage taste, while the company's branded logo snaps, interior zippered pockets, and simplistic silhouette make it an attractive proposition for prospective buyers.
All Saints Mower
All Saints is dedicated to bringing guys the most versatile styles available, and when it comes to outerwear, they've created some of the most memorable items in the industry. But without an iteration of the iconic bomber, they might be at a disadvantage. Luckily, the company's Mower is a quintessential offering that blends the world of militaristic attire with that of collegiate athletics. This handsome iteration features a soft leather construction, complemented by a ribbed jersey collar, hemline, and cuffs, helping it to stand out among its counterparts.
The Workers Club Cotton-Shell
The Workers Club Cotton-Shell bomber is an exercise in exceptional craftsmanship, transcending the realm of traditional construction to bring buyers something a bit more elaborative. In the case of Adam and Charlotte Cameron's unparalleled bomber, the inclusion of a unique, lightweight cotton-shell and unlined interior brings an entirely new meaning to the term "spring coat." Thanks to its lightweight nature, this great-looking jacket is perfect for those months where the weather isn't quite cold enough for a heavy-set variant.
Reiss Blossum
Reiss' Blossum bomber is the ideal garment for those in-between seasons, offering wearers a lightweight composition that's as handsome as they come. While capability is an obvious factor when building one of the industry's most revered bomber jackets, the company wanted to give equal attention to its aesthetic, adorning it with center-front zip fastening, a tasteful zip pocket at each hip, and ribbed closures to keep it as timeless as possible.
Canada Goose Faber
Canada Goose is a household name when it comes to expeditionary outerwear, but that doesn't mean they can't create one of the best bombers around. Don't worry, the Faber is still one of the best-performing jackets we've seen, and thanks to its lightweight Dura-Force fabric, rib-knit collar, cuffs, and hem, and reinforcements in the garment's key areas, this purposeful staple has been made all-the-more attractive to utilitarian wearers. Whether you're donning it in the snow, the sun, or the rain, the Faber was built to keep you operating, and looking your best.
Buck Mason Bruiser
Buck Mason specializes in the creation of modern-day styles that have firm ties to the past, making the original aviator's jacket a prime candidate for their expertise. The company's Bruiser bomber is one such example, bringing the iconic military silhouette to life via premium lambskin fabric, heavyweight ribbed cuffs, and front slash pockets, alongside a comfortable quilted lining.
Mission Workshop Bomber WX
For 85+ years, the bomber jacket has been a men's style staple — but now Mission Workshop has taken it in a fresh, new angle with their Mission Bomber WX. Combining multiple advanced technologies — including a Halley Stevensons waterproof Silkwax exterior (which is just as durable and weather-resistant as its counterparts but softer to the touch), Polartec Alpha insulation (which was developed for the Special Forces for all-season, lightweight warmth), and an intricate paneled construction. And while its good looks and superb build are enough to earn it a spot, that spot is solidified by the brand's forever guarantee.
A.P.C. Shearling-Trimmed Wool-Blend Twill Blouson
A.P.C.'s Shearling-Trimmed Wool-Blend Twill Blouson is a testament to the Parisian label's attitude toward menswear, offering wearers a transcendental jacket that looks as good as it performs. This cozy coat is comprised of a heavy-duty wool-blend twill, an off-white shearling collar, and the traditional ribbed hem and cuffs that caused fans of the original to fall so deeply in love.
Stone Island Shadow Project
Stone Island's Shadow Project bomber pulls heavy inspiration from the militaristic poise of the original, focusing on utilitarian nature over everything else. This durable variant is constructed from 100% cotton and boasts a unique gauzed fleece exterior to battle inclement inhibitors. Each example comes straight from Italy and features the brand's iconic compass patch, utility pocket, and comfortable Raglan sleeves.
Rag & Bone Manston Bomber
Rag & Bone has been in the spotlight for a number of reasons this year, but when it comes to exposure, the company's Manston Bomber is hard to beat. This great-looking jacket features a traditional Japanese military nylon construction, a two-way zipper, high-visibility orange lining, and the garment's recognizable front pockets, complete with a snap closure on each. High-end Riri zippers have been implemented throughout, working alongside the jacket's premium components to make it one of the most lauded garments around.
Headwind MFG Co USAAC A-1
Headwind MFG Co's USAAC A-1 bomber is firmly rooted within the history of its predecessor, calling upon the original US Army Air Corps/Air Force's first leather flight jacket for immense inspiration. It's been lauded as a direct reproduction of the Gordon & Ferguson 31-800P, and as such, it's one of the most authentic garments you can get your hands on today. It features two-piece sleeves, a two-panel black, topstitched pockets, and scalloped flaps, giving it an aesthetically-pleasing look that's decidedly vintage. When it comes to construction, wearers are gifted with high-end Chestnut Capeskin leather, wool medium brown knits, and a 100% cotton sateen liner.
Golden Bear The Jackson Leather-Trimmed Wool
Golden Bear's "The Jackson" Leather-Trimmed Wool bomber is a testament to the company's outerwear expertise, offering a perfect blend of the timeless military garment and its collegiate counterpart. It draws heavily from the varsity styles of old, pairing a mid-weight wool cloth, rib-knitted cuffs, and tan leather trim for an all-encompassing coat that can be worn at any time of the year.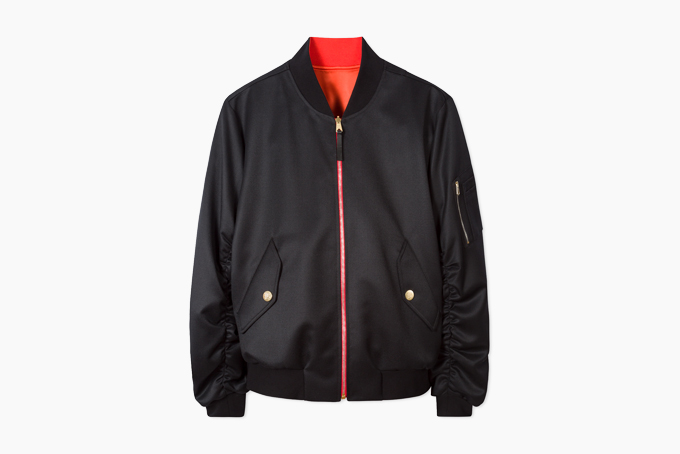 Paul Smith Men's Cavalry Twill
Paul Smith's Men's Cavalry Twill bomber is an Italian icon, bringing a unique, reversible style to the original military garment. One one side, you'll find a sleek black wool cavalry twill, spotlighting the jacket's minimalist roots. On the other, an attention-grabbing orange cupro places an emphasis on contemporary wear, working alongside the jacket's one-of-a-kind sleeve detailing, ribbed cuff/hem/collar, gold buttons, and PS branding to give it a substantial leg-up on its competition.
The 20 Best Pilot Watches
An aviator's wardrobe is never complete. Now that you've found the perfect bomber for your everyday getup, head over to our guide on the best pilot watches to take your airborne style the next level.
HiConsumption is reader-supported. When you buy through links on our site, we may earn an affiliate commission. Learn more