Unless you have a strong proclivity for exploring the globe or frequently have to hop flights for work, chances are you've never spent much time thinking about travel pants, as our luggage, electronics, and other gadgets tend to receive the lion's share of the attention when purchasing travel gear. The reality is, however, that travel pants are an incredibly important piece of one's travel kit and can make an enormous difference in one's overall travel experience. So, with this in mind, we've thoroughly scoured the sector, bringing you the best the segment has to offer in this handpicked guide to the best travel pants for men.
Best Travel Pants
Roark Layover 2.0 Travel Pant

Mack Weldon Radius Flex Pant

Topo Designs Global Pants

lululemon Commission Classic-Fit Pant

Mission Workshop The Signal Pants
What To Look For
Comfort: It goes without saying, but when buying travel pants, one wants something that's immensely comfortable while still being dignified and presentable. Fidgeting and knee bouncing come with the territory of any airport or train station, but you don't need to be extra antsy because your trousers are bothering you. Opt for pairs that are loose-fitting in the areas that matter (thighs, crotch), elastic around the waist, and built with a stretch.
Storage: Ample and well-thought-out storage is another pivotal must-have for any decent pair of travel pants, as one needs to be able to securely accommodate the wearer's passport, wallet, and other essentials that one can't afford to lose.
Durability: While you don't need something that's incredibly over-engineered, durability is another key trait for a quality pair of travel pants to possess, as the last place you want to have your pants suffer a tear or rip is when you're hundreds, if not thousands, of miles from home. Look for sturdy materials that, perhaps with abrasion-resistance and moisture-wicking properties.
Roark Layover 2.0 Travel Pant
Pros
Budget-friendly
Drawstring waistband make these more flexible
Features laser-cut vents
Cons
Should be a bit stretchier elsewhere
Roark's second-generation Layover Travel Pants may be the most affordable pair on our list, but they're far from a budget or entry-level option, boasting an unmistakably premium construction and fit and finish. Alongside the addition of a multi-way stretch fabric, the second generation of these already popular travel pants has also been bestowed with a straight leg cut, a zippered fly closure that's supplemented via a drawstring-secured waistband, and laser-cut vents that bolster ventilation. These pants also sport a long zippered pocket equipped with an internal stash sleeve as well as a second, smaller, rear quick-stash pocket found at the back yoke.
Primary Construction: Elastane-Infused Cotton-Nylon Blend
Stretch: Yes
Water-Resistant/Proof: No
Waist/Closure: Drawstring Zip Fly
KÜHL Revolvr Rogue
Pros
Lightweight
Dedicated phone pocket
A lot of color options
Cons
Snap button can get tight
Combining the immense durability and adventure-readiness of hiking and workwear pants with the comfort of travel trousers, KÜHL's Revolvr Rogue pants are crafted from the SLC outfit's ÜberKÜHL STRETCH fabric — a lightweight and quick-drying 5.2oz spandex-infused cotton-nylon blend that's heavily resistant to abrasions and tearing. Boasting a tapered fit, these pants also sport a vintage patina dye that's available in eight different earth tone color options, as well as a rivet-reinforced five-pocket configuration with a dedicated 3D cell phone pocket and a peached waistband that improves comfort, quick-drying, and moisture-wicking performance.
Primary Construction: Spandex-Infused Cotton-Nylon Blend
Stretch: Yes
Water-Resistant/Proof: No
Waist/Closure: Zip Fly & Snap-Button
Mack Weldon Radius Flex Pant
Pros
Versatile applications
Stretchy but also business-looking
Water-, wind-, and stain-resistant
Cons
Rear pocket should have a zipper
The Mack Weldon Radius Flex Pant is a stellar option for those looking for a comfortable pair of travel pants with a slightly more formal appearance that looks equally at home whether boarding a plane or in a board room. Produced in seven color options, the Radius Flex Pant is made from the renowned basics brand's water, wind, and stain-resistant Performance Stretch fabric. These thoroughly calculated travel pants also feature a flexible stretch waist and belt loops, back-ribbed ankle cuffs, and regular hand pockets that are supplemented with back welt zip pockets and hidden zipper-secured stealth pockets.
Primary Construction: Spandex-Infused Polyester
Stretch: Yes
Water-Resistant/Proof: Yes
Waist/Closure: Zip Fly & Button
Topo Designs Global Pants
Pros
Great pocket construction
Stretchy cotton blend make these some of the most comfortable
Cons
Style and fit are less suited for workplace settings
Made in a WRAP-certified manufacturing facility that meets fair labor standards for the safety, health, and wellness of its workers, Topo Design's aptly-named Global Pants were designed with a major focus on comfort and versatility. Crafted from a stretch cotton-nylon blend, these pants sport a minimalistic aesthetic design with squared front hand pockets, a zipper-secured internal mesh pocket, a hidden zipper-secured back pocket, and a side patch pocket with a clever side seam entry. Part of the Colorado company's ultra-versatile Global Collection, these pants also feature a straight fit, a static waistband with belt loops, and a classic zip and button fly closure.
Primary Construction: Spandex-Infused Cotton-Nylon Blend
Stretch: Yes
Water-Resistant/Proof: No
Waist/Closure: Zip Fly & Button
Proof Rover Pant
Pros
Very durable
Comfortable for a range of activities
Cons
Sizing is somewhat inconsistent
Known for its 72 Hour models, Proof is no stranger to making durable clothing that can stand up to a few days of work, play, sitting, and sweating. Recently updated to have more room in the leg areas, the brand's Rover Pant are classic straight-cut work trousers made for mobility and durability. The gusseted crotch gives you plenty of space when walking or biking, and the REPREVE TruTemp365 offers breathability for either stuffy airports or long treks on public transportation in a city you've never been to before.
Primary Construction: Cotton and Repreve TruTemp365 polyester
Stretch: Yes
Water-Resistant/Proof: Yes
Waist/Closure: Zip Fly & Button
lululemon Commission Classic-Fit Pant
Pros
Four-way stretch
Features shape retention
Stylish with a lot of color options
Cons
Sizing is a bit inconsistent
In typical lululemon fashion, the athleisure brand's Commission Classic-Fit Pant boasts an understated and unassuming appearance while packing an advanced technical construction and a host of hidden details. Offered in over a dozen color choices, these pants are crafted from lululemon's Everyday Performance Warpstreme material, which is a technical fabric comprised of an elastomultiester and recycled poly blend that boasts quick-drying, moisture-wicking, shape retention, and four-way stretch properties while also being incredibly breathable and resistant to wrinkles. Thanks to lulu's ABC technology — which utilizes an ergonomic gusset to remove tension from the crotch – and a streamlined fit that affords space and breathing room around the glutes and thighs, these pants are markedly more comfortable than your average pair of business slacks.
Primary Construction: Elastomultiester & Recycled Polyester Blend
Stretch: Yes
Water-Resistant/Proof: No
Waist/Closure: Zip Fly & Button
Western Rise AT Pant
Pros
Highly water-, stain-, and abrasion-resistant
Backed by lifetime warranty
Sports a dedicated smartphone pocket
A modern take on 1873 rivet-style pants, this cult-favorite model from Western Rise admittedly wasn't engineered to be a pair of travel pants, though nonetheless boasts just about every trait one could ask for when shopping for this type of trouser. Backed by a lifetime warranty, these Bluesign-approved pants sport a primary construction comprised of a 280 gsm spandex-infused nylon woven canvas that's been air-textured (hence the "AT" in the monicker) and treated to a nano-scale C6 DWR finish. Breathable, equipped with two-way stretch properties, and highly resistant to water, stains, and abrasions, this main material is some five times more durable than traditional denim while weighing half as much. Made in five colors, the AT Pant also features 2" extendable seams, a 6" gusset, a dedicated smartphone pocket, and a zippered security pocket.
Primary Construction: Air-Texturized Spandex-Infused Nylon Woven Canvas
Stretch: Yes
Water-Resistant/Proof: Yes
Waist/Closure: Zip Fly & Button
Arc'Teryx Levon Pant
Pros
Relaxed fit will be favorable for many
Gusseted crotch and articulated knees
Outdoor-friendly
Another objectively premium pair of travel pants that are equally ready for airlines or off-grid adventure, Arc'teryx's Levon Pant was meticulously designed to optimize performance and durability without sacrificing comfort. Bestowed with clean lines and a semi-relaxed fit that moves with the wearer's body, the Levon Pant is constructed from a midweight cotton-nylon stretch canvas that's fortified via an eco-friendly DWR finish and made entirely from natural fibers that are gentle on skin. A gusseted crotch and articulated knees also make these pants an excellent choice for hiking or backpacking.
Primary Construction: Cotton-Nylon Canvas
Stretch: Yes
Water-Resistant/Proof: Yes
Waist/Closure: Zip Fly & Button
Mission Workshop The Signal Pants
Pros
Will last you a lifetime
Built with mil-spec 520E nylon and spandex
Six pockets in total
Cons
The glossy finish might be a turn-off for some
Mission Workshop's The Signal Pants are quite possibly the perfect pair of everyday-wear trousers, with their only real downside being that the rest of the slacks and pants in your wardrobe will quickly start to feel fairly lackluster and disappointing by comparison. Made in America and built to legitimately withstand a lifetime of regular use, this pair of jeans-style pants features an incredibly rugged military-spec 520E nylon construction that's infused with spandex for four-way stretch properties and is protected by a DWR finish. YKK zippers and a five-pocket setup supplemented by a single side-zip utility pocket complete this seriously impressive package.
Primary Construction: Mil-Spec Spandex-Nylon Blend
Stretch: Yes
Water-Resistant/Proof: Yes
Waist/Closure: Zip Fly & Button
Vollebak Mars Pants
Pros
Most rugged option here
Stretchy and windproof
Tons of pockets, including fleece-lined hand-warmer pockets
While thus far every pair of pants on our list was designed exclusively for travel on our home planet, the same can't be said for Vollebak's Mars Pants. The toughest and most rugged pants the envelope-pushing outfit has ever produced — which speaks volumes considering how high of a bar Vollebak has already set — the Mars Pants are made from an insanely durable stretch ballistic nylon and lined with highly-elastic and windproof CORDURA fabric. Taking inspiration from flight suits, these pants — which can be paired with Vollebak's matching Mars Jacket — also sport anti-gravity pockets and a horizontal fly that's helped along by an elasticated and rope-tied waist. This pair also features eight pockets in total with a pair of fleece-lined side hand-warmer pockets flanking a set of zippered pockets layered directly beneath, an oversized zipper-secured thigh pocket, and multiple hidden zippered pockets across the rest of the leg.
Primary Construction: Stretch Ballistic Nylon
Stretch: Yes
Water-Resistant/Proof: Yes
Waist/Closure: Horizontal Zip Fly & Rope-Tied Waist
The Best Travel Gadgets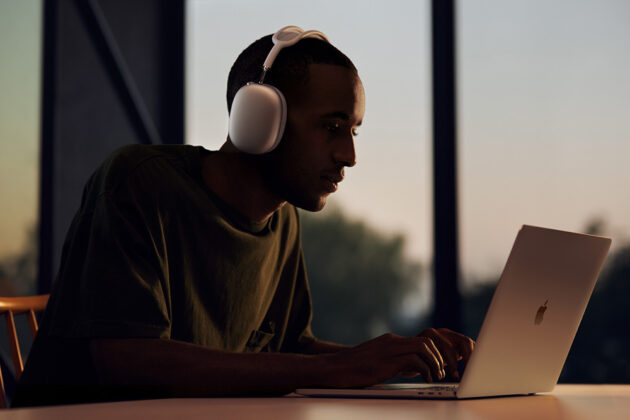 Interested in further building out your globetrotting gear? Then be sure to head over to our guide to the best travel gadgets for must-have items for today's jet-setters.