Unfortunately, the world in its current state just keeps making travel more difficult. With countless minor tasks to keep up with beforehand and countless hurdles to jump through the airport, getting on a plane nowadays has become an obstacle course unto itself. Nevertheless, your trip starts from the moment you start packing, and there is almost nothing worse than filling your suitcase to the brim only to realize the lack of space for any potential souvenirs or gifts you plan on bringing back. Scenarios like this are where the convenience behind packable jackets comes into play, as these compact pieces of outerwear can make a huge difference in your luggage.
Coming in a variety of styles, shapes, and sizes, the packable travel jacket is quintessential for any vacation. The ability to go from providing lush warmth to folding into itself and becoming an inconspicuous accessory is practically the epitome of convenience. However, with so many options on the market, it's difficult to find one that checks all the boxes: a lightweight carry, seamless storability, and, most importantly, optimized warmth and protection from the elements. In an attempt to track down the best around, we've compiled a guide to packable jackets that will adhere to any destination in which you find yourself. If you already thought traveling was a multi-layered process, then you might as well add one more layer that could change your whole trip for the better.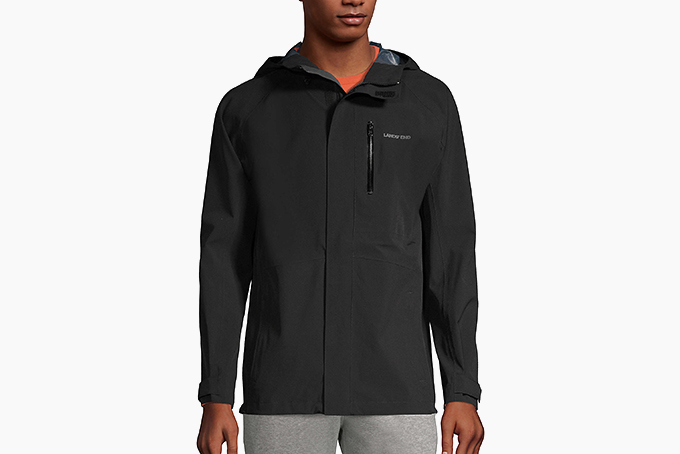 Land's End 2.5 Layer Rain Jacket
Land's End has been doing things the right way for years, and their 2.5 Layer Rain Jacket allows you to carry that tradition on the go. This sleek option from the brand is subtle, breathable, and entirely waterproof. All of these adjectives would deem any piece of outerwear worthy of being included here, and then you check out the price on what Land's End is offering and realize that you have no choice but to pick one up for yourself.
TAION Quilted Down Jacket
In Japanese, "taion" translates directly to "body temperature," which serves as a fitting gateway for the brand. Finding an affordable down jacket that offers some trustworthy warmth is a trek unto itself. Thankfully, TAION delivers high-fashion elements at an incredibly reasonable price. Don't let the latter fool you with this piece, because it is as sturdy a portable jacket you will find, and surely one of the warmest on the market for a humble price of $95.
The North Face Venture 2 Jacket
There are few brands more emblematic of Americans venturing outdoors than The North Face. While many of their high-end collaboration efforts have been the major talking point around the brand in recent months, their long-abiding mission to provide nothing short of the best outerwear across all price points is ongoing, and they're still pulling it off from every angle. Their Venture 2 Jacket is ideal in all scenarios thanks to its breathable composition, but its easy-going packability makes it a must for this list, with a very reasonable price point to boot. Available in a wide array of colors, tailor accordingly based on your next adventure.
Lululemon Warp Lite Packable Jacket
lululemon's two-way stretch jacket is hard to go wrong with and makes a solid home for itself as yet another garment in their expansive On the Move catalog. Crafted from lulu's trademark DiamondStretch fabric, this water-resistant, windproof jacket is RDS-certified and filled with 85/15 down that is stabilized by their ThermoChannel construction to lock in warmth no matter what the weather report calls for. The Warp Lite is then finished off with its outer nylon shell, allowing for lightweight transportability.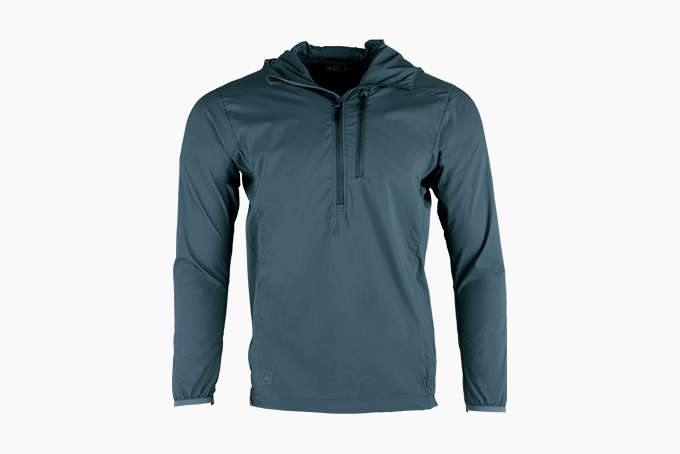 Triple Aught Design Aerie SX Anorak
Built with the intent of ensuring simple, lightweight, weather-resistant outerwear, the American-bred brand's anorak is as practical as they come. Thanks to its DWR finish, this jacket sheds water like nobody's business, and throwing it on and off is a breeze, even if you find yourself in heavy winds. While the jacket does not offer a slot to pack into itself, it folds into a rather non-existent makeup that could fit in your back pocket — or one of Triple Aught Design's own small-scale pouches.
L.L.Bean Primaloft Packaway Hooded Jacket
In case the rest of your travel gear is already weighing you down, L.L.Bean decided to develop their sleek Packaway Jacket from the world's lightest material – literally. While this particular jacket lacks a down lining, the American heritage brand makes up for it with plush layers of lightweight, NASA-developed Aerogel and its 60-gram PrimaLoft Gold insulation that is highly capable of keeping you warm should you find yourself snowed in near Bean's Maine headquarters. Finished off with a trio of handy pockets, its most convenient one will prove to be the easily accessible stowaway pocket.
Marmot Minimalist Component Jacket
With a GORE-TEX makeup and the capability to carry along through the great outdoors, this 3-in-1 Marmot jacket is an ideal fit for the outdoorsman. Thanks to its adaptability, you may not even need to take another jacket with you on your trip, as the Minimalist Component is a multi-layered piece of wear that is only minimal on the eyes and surely maximized in all other aspects. Taking a rather unorthodox approach, this DWR-treated garment is capable of rolling up into its hood with no qualms, making for a supremely easygoing traveling companion.
Patagonia Storm Racer
If you tend to overheat in jackets, then Patagonia's got you covered with the Storm Racer's unique ventilation system. The jacket's dual-zippered closure allows you to vent as needed, and Patagonia assures nothing short of an ideal 3-in-1 jacket for when you simply don't know what the weather report has planned for your week out of the office. Impeccably light with a waterproof shell and a cool name to boot, this sleek piece from the SoCal-based heritage brand is Fair-Trade Certified and is solely available in an eye-popping blue.
Fjallraven Expedition Pack Down Jacket
Built for the outdoorsman, Fjallraven's packable down jacket is ethically produced and serves as a brand essential. Lined with recycled polyamide and filled with 90/10 down, the brand ensures nothing short of a great piece to take on a frigid winter, no matter where you find yourself. Available in a quartet of bright colors, rest assured that no one will be missing you if you find yourself out on the slopes while wearing this on your next ski vacation.
Houdini Up Packable PrimaLoft Ripstop Jacket
Houdini excels at crafting minimalist skiwear, and this PrimaLoft-insulated jacket falls right in line with the rest of the brand's catalog. Crafted from 70% recycled polyester, this sleek ripstop jacket is fully prepared to take on anything from a light drizzle to harsh rainfall thanks to its water-repellent finish. Bolstered with PrimaLoft's trademark Gold Active+ filling, the 'Up' jacket remains lightweight and compact enough to be tossed into any bag and get taken along on the trails.
Madewell Battenwear Packable Anorak
Madewell, like a handful of other similar American-made names in fashion, ensures nothing short of pure craftsmanship in everything they do. The same applies to their packable anorak. Here, they offer a garment that serves as a convenient and compact piece to always have with you should the weather take a turn for the worse. Manufactured in the heart of Manhattan, this sleek pullover is made from water-repellent nylon and serves as a great addition to any potential vacation or even commute.
Arc'Teryx Cerium SL Hoodie
Like all other Arc'Teryx pieces, the Cerium SL is a minimalistic piece of technologically-advanced outerwear that lives up to the Canadian brand's world-class standard. Equipped with 850 fill power goose down, the hoodie remains lightweight and willing to tackle the outdoors thanks to its insulated StormHood. With the ability to pack itself up into a carryable pouch, its easy-going composition boasts no flaws. At the end of the day, this is a portable hoodie that's impossible not to love.
Acne Studios Packable Jacket
While this jump in price is a bit steep, that's the price you've got to pay for high fashion. Acne Studios has consistently delivered on a wide array of garments since its humble beginnings with a couple of dozen pairs of jeans. Here, the brand insists that you take a chic look with you wherever you roam. Crafted from cotton and nylon and then finished off with a bungee drawstring, this packable jacket from the Swedish fashion house may be the most voguish offering on this list, and whoever catches you toting it around is sure to notice.
Paul Stuart Packable Trench Coat
A night on the town can be treacherous this time of year, as trying to stay warm and stylish in one swift motion can be difficult. So leave it up to the most fashionable town in the states to birth a packable trench coat that pulls off both feats swimmingly. Paul Stuart is a relatively low-key luxury brand out of New York that delivers on a sharp-looking garment that can be stowed away in an even cooler-looking carrying case. Crafted from 100% polyester, its lightweight makeup is still cozy enough to get you through all but the very coldest evenings out.
Canada Goose Armstrong Packable Quilted Down Jacket
While their story starts up north, Canada Goose has practically become a staple brand within the States, as well. Thanks to their East Coast prominence and dominance on Hollywood film sets, the brand has managed to deliver impeccable garments across the continent, and their Armstrong is a shining example of what Canada Goose is capable of. This puffy piece of outerwear has exquisite insulation thanks to a 90/10 down fill, and the exterior boasts Cordura panels in the most vital places, ensuring that your pricey investment will last a good, long time. Equipped with a drawstring hood, a pair of internal pockets, and the brand's patented Recessed Power Stretch cuffs, the comfort that this jacket gives off is harmoniously portable, as it's able to zip directly up into its hood.
The Best Sling Bags for Everyday Carry
While having a packable jacket is ultra-convenient when out and about, it is just as handy to have a sling bag when the scenario calls for it. Luckily, our guide to the best sling bags on the market is here to help you accessorize even further.