Today's outdoor and hiking GPS trackers are more accurate and cutting-edge than ever before, benefiting from the perfect storm of advancements in other segments. Battery life has massively improved thanks to the continued proliferation of smartphones and true wireless earbuds, tracking and location accuracy and timing has experienced leaps and bounds thanks to the business sector more heavily relying on GPS tech, and mil-spec electronics like ultra-rugged laptops and military smartphones have allowed for wildly-hardwearing and incredibly waterproof housings and shatterproof displays.
Collectively, the simultaneous evolution of these other product spaces has trickled down to hiking GPS trackers, giving way to an increasingly capable, durable, and high-tech array of hiking-specific GPS units. And it's this very group of products that we'll be highlighting today in our guide to the best hiking GPS trackers. In addition to counting down our picks for the best devices currently on the market, we'll also be exploring how to determine which style of GPS tracker is best for you along with what factors to take into account before making your purchase.
Device-Guided Day-Hiking
The Qualities To Consider When Buying A Hiking GPS Device
To those who haven't spent much time using GPS services outside of loading up Google Maps on their smartphone or tablet, buying a hiking GPS unit can be a little intimidating. To help simplify things, we've compiled this list of the eight most crucial factors to take into account before pulling the trigger on your purchase.
Device Style: Hiking GPS units come in two main varieties, hand-held items and watch-style units. While featuring a smaller, and at times limiting display compared to hand-held devices, hiking GPS watches are markedly more convenient, always on your wrist and at the ready, though don't offer the same level of functionality as their larger hand-held counterparts. Hand-held units generally make for more competent devices when out on the trails, though GPS smartwatches are typically much more versatile, offering utility during the workweek as well as your time off of the grid.
Mapping Capabilities: The entire purpose of a hiking GPS unit is to put thousands of instantly accessible maps on a screen in the palm of your hand (or on your wrist), so unsurprisingly mapping capabilities are arguably the most important area to take into consideration when shopping. The main questions you want to ask are whether a GPS unit offers topographical maps or satellite maps? Does it require an active satellite connection to read maps? Does it connect to just GPS, or GLONASS and/or Galileo as well? What maps does the device come preloaded with (and how many)? And does the GPS unit offer live tracking and other metric recordings?
Durability & Construction: Because hiking GPS units are intended for use in the backwoods and off-grid, they need to be able to withstand the abuses and rigors that come with spending time out on the trail. This means possessing enough durability to stand up to the impacts, abrasions, dirt, and weather that one might encounter while out on a trek. How rugged a device is tends to boil down to the type of construction used for the main body, as well as the display — or the display's protective screen.
Battery Life: Hiking GPS devices are designed and intended for use on and off trails while off the grid, far away from a power source (assuming you aren't carrying a power bank and/or solar charger). For this reason, battery life is immensely important on these mobile gadgets, plus the longer multi-day treks are the ones that where GPS units are most helpful. Thanks to a ridiculously competitive and rapidly evolving smartphone sector the batteries in mobile gadgets are more potent now than ever before, yielding up to several days of uninterrupted use on a single charge. When shopping it's also important to note both battery use time and total standby time.
Displays: Color displays have become the new standard on hiking GPS units — and most other mobile gadgets for that matter — though there are still a variety of screen types being employed by today's manufacturers such as TFT and LCD displays. On top of display type, it's also worth looking into the level of definition/resolution, whether it can be clearly viewed while in direct sunlight, and even more importantly, the size and dimensions of the display.
Secondary Functionality: The main purpose of a hiking GPS unit is to keep you headed in the right direction and informed of your location while out pounding the paths, though some manufacturers opt to inject additional functionality into their GPS devices by adding integrated cameras, keyboards and messaging abilities, emergency spot beacons, and access to realtime weather reports, just to name a few. If you're considering dropping a few hundred dollars on a premium GPS device, you very well may want to think about paying a bit more for some additional amenities, though if you're trying to save on cash, these are great features to forgo.
Accessories & Support: While typically only available on the ore popular high-end models and on outdoor smart GPS watches, there is a wide range of accessories, cases, straps, and other add-ons for hiking GPS devices, such as handlebar mounts that allow the unit to double as a cycling GPS unit. There are also several hiking GPS devices that are equipped with Bluetooth connectivity allowing them to pair with dedicated smartphone apps.
Service: Depending on the device you opt for, you may be required to pay a subscription fee for accessing the satellite services of the provider— not unlike you would with a cellphone contract. Some of these services can be attained through a one-time fee, while others bill monthly or annually. There are a few that are completely free, too.
Handheld Navigators
Purpose-Driven Devices You Can Stash In Your Pack
Now armed with a myriad of supplementary features, hand-held GPS trackers are increasingly becoming must-have essentials when spending more than a day off of the grid. On top of giving you instant access to hundreds of thousands of maps in the palm of your hand, these game-changing gadgets can act as messengers, emergency spot beacons, cameras, geocachers, and even remotes for other devices. A great many of the more high-end hiking-specific GPS trackers on the market can also double as automotive GPS units with maps of urban areas, lists of hotels, restaurants, other landmarks and attractions, and turn-by-turn directions.
Magellan eXplorist 310
Magellan's eXplorist 310 is a fantastic little entry-level hiking GPS unit that offers pretty impressive performance, specs, and mapping accuracy in an ultra-compact package. Boasting an IPX7-rating, this rugged gadget has a 3 to 5-meter GPS accuracy range and packs a 2.2" color LCD display that can be read while in direct sunlight and comes preloaded with a detailed map set of road networks, urban maps, water features, and of course hiking trails. Powered by a pair of AA batteries, this item also offers 18 hours of use.
Display: 2.2" LCD
IP Rating: IPX7
Battery Life: 18 Hours
TwoNav GPS Cross
While only a hundred or so dollars more than the eXplorist 310, the TwoNav GPS Cross represents a major technological step up, boasting GPS, Galileo, and GLONASS mapping capabilities. Weighing less than 0.4lbs, this item features a 3.2" Blanview TFT display with an integrated light sensor and optical bonding, 32GB of internal memory, ANT+ wireless tech, a USB-C-rechargeable 3,300mAh battery pack with 20 hours of use, and a built-in barometer, digital compass, and accelerometer.
Display: 3.2" TFT
IP Rating: IP67
Battery Life: 20 Hours
Garmin eTrex Touch 35
Though the eTrex Touch 35 does sit towards the bottom-end of Garmin's GPS offerings, it's nonetheless an incredibly capable little device. Alongside its 2.6" color-capacitive TFT touchscreen, the eTrex Touch 35 also gets a tri-axis tilt-compensated compass and barometric altimeter, 4GB of internal memory, a cool quarter-million preloaded geocaches (courtesy of Geocaching.com), and dual GPS and GLONASS satellite positioning. Powered by a pair of AA batteries, the eTrex Touch 35 can also support BirdsEye Satellite Imagery or act as a remote for one of Garmin's VIRB action cameras.
Display: 2.6" TFT
IP Rating: IPX7
Battery Life: 16 Hours
Garmin inReach Explorer+
Next up is Garmin's inReach Explorer+, which carries over almost all the features of the brand's eTrex Touch 35, while bringing a host of additional functionality to the table. The GPS unit is equipped with a 2.31" transflective color TFT, preloaded DeLorme TOPO maps, a built-in digital compass, barometric altimeter, and accelerometer, and two-way messaging abilities. This device can also pair with smartphones and tablets via the free Earthmate hiking app to download color aerial imagery, NOAA charts, downloadable maps, and a host of other amenities, plus it is able to access the global Iridium satellite network, allowing you to send and receive messages even when you can't access cell service.
Display: 2.31" TFT
IP Rating: IPX7
Battery Life: 100 Hours
Garmin Oregon 750t
Despite being released back in 2016, Garmin's Oregon 750t remains a stellar option for hiking GPS units, with its ample durability, immense GPS and GLONASS mapping capabilities, and a built-in 8MP camera. Powered by two easily-swappable AA batteries, the Oregon 750t sports a dual-orientation 3" transflective color TFT touchscreen that can be viewed in direct sunlight, Wifi and Bluetooth connectivity, live tracking and geocaching, and the same tri-axis tilt-compensated compass and barometric altimeter found in the previous two Garmin GPS units above. The Oregon 750t also affords a decent amount of versatility and value, as it can also be utilized as a bicycle, car, or motorcycle GPS, boasting detailed road maps and offering turn-to-turn navigation.
Display: 3" TFT
IP Rating: IPX7
Battery Life: 16 Hours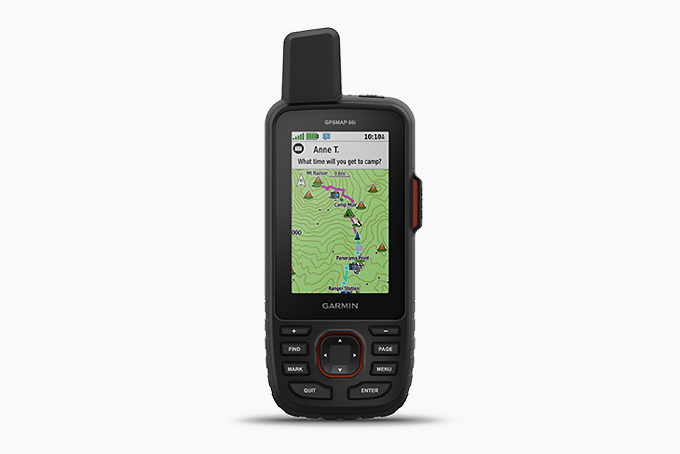 Garmin PSMAP 66i
Part satellite communicator and part GPS unit, the Garmin GPSMAP 66i is a cutting-edge button-operated GPS device absolutely brimming with features. IPX7-rated, this item features a built-in LED flashlight, a 3" transflective color TFT display, SOS emergency spot beacon button with interactive alerts, two-way messaging and location sharing, live weather reports, birds-eye view satellite imaging, 35 Hours (or up to 200 hours in "Expedition Mode") of battery life, and both GPS and GLONASS mapping. This high-end tracker also pairs with the Garmin Explore App, is connected to the global Iridium satellite network, and comes preloaded with the Wikiloc app and its network of trail info as well as topographical maps.
Display: 3" TFT
IP Rating: IPX7
Battery Life: 35 Hours
GPS-Enabled Smartwatches
Wearables Designed For Hiking & The Outdoors
Priced similarly to handheld units, watch-style hiking GPS trackers don't possess displays as large as their hand-held counterparts, though they are easier to access, smaller and lighter, and no less rugged (in fact, quite the opposite). With several models also offering the features of modern smartwatches such as texting, contact-free payment, music streaming and playback control, as well as the abilities of a health tracker like heart rate monitoring, integrated pedometers, and sleep tracking — giving them markedly more versatility, allowing for a much wider range of uses and applications and, therefore, giving you significantly better bang-for-your-buck.
SUUNTO Traverse Graphite
Developed, tested, and manufactured by hand in Finland, SUUNTO's Traverse Graphite outdoor smartwatch puts a host of features and functionality on your wrist. This includes barometric sensors that can predict changing weather and alert you of an incoming storm, GPS timekeeping, distance and altitude metrics and recordings, GPS and GLONASS mapping, an integrated digital compass, up to 100 hours of battery life, plus a wealth of fitness tracking features. Water-resistant down to 330', this smartwatch also boasts a ceramic case paired with a silicone strap and a stainless steel bezel that protects the Traverse Graphite's recessed, LED-backlit display.
Case Material: Composite
Display Type: Matrix
IP Rating: IPX8
Battery Life: 15 Hours (Using GPS, 100 Hours W/O GPS)
SUUNTO 7
Not just one of the best hiking GPS watches, but one of the most capable and state-of-the-art outdoor smartwatches, period, the mighty SUUNTO 7 is one of the most rugged and feature-laden GPS units on the market. The Vantaa-based brand has bestowed the sub-2.5oz SUUNTO 7 with a lithium-polymer battery that offers two days of life (or 12 hours when using GPS), text, email, calendars, and calling abilities, and a water resistance rating down to 164'. On top of GPS mapping and free offline outdoor maps, the watch offers Google Wear OS compatibility, heart-rate detection, and over 70 sport modes. Also incredibly resistant to shocks and impacts and highly impervious to dirt and mud, this cutting-edge Finnish smartwatch is constructed around an insanely hardwearing fiber-reinforced polyamide case with a stainless steel bezel and physical buttons, and a 1,000 nit, AMOLED display fortified beneath scratch-resistant Gorilla Glass.
Case Material: Polyamide (or Titanium)
Display Type: AMOLED
IP Rating: IPX8
Battery Life: 12 Hours (Using GPS, 48 Hours W/O GPS)
The 10 Best Cycling Watches
Spend more time riding on the trails than you do hiking? Then consider cruising over to our guide to the best cycling GPS watches for ten two-wheel-specific smart-watches to take your time in the saddle to the next level.