Over the last dozen or so years, the contemporary (or "new wave") custom motorcycle scene has experienced an enormous influx in popularity, giving rise to an ever-growing number of bespoke bike building outfits and creating what are minor celebrities within the subculture. And while just about every make and model of production motorcycle from the last half-century has been transformed into a one-off work many times over, there is a handful that set themselves apart for their ability to lend themselves to customization.
Be it a cafe-racer, tracker, scrambler, or bobber, regardless of what style of custom bike you're interested in piecing together, certain motorcycle models possess a variety of traits that enable them to be substantially more conducive to customization than your average mount. Below, we'll break down what those qualities are, why they make for better projects, and even show you photographic examples of what the stock bikes look like alongside just one of the tremendous possibilities when customizing these motorcycles.
Classic Customs
Vintage Blank Canvases
Donor motorcycles provide the foundation for a custom build, essentially serving as blank canvases that can be built back up however you see fit. Certain designs have a simplicity that makes them easier to work with, especially older models, built in the days before faux tank covers and modern electronics systems. More primitive frame designs make it easier to (if need be, modify and then) install a new tank, plus older bikes are almost always easier to work on, lacking the computer-controlled elements found on today's crop of scoots, and the endless yards of wiring and an unsightly bevy of sensors that come with it—both of which became enormous obstacles to overcome when dealing with on a custom build.
On top of being cheaper and easier to wrench on than modern bikes, older motorcycles also have the benefit of a much more abundant availability of parts. Customs shops also produce a wide array of time- (and headache)-saving, items for classic bikes such as prefabricated hooped subframes and conversion kits for installing modern upside-down forks off of Gixxers and CBRs onto vintage models like the Honda CB750 and old BMW airheads. Furthermore, there's no shortage of information, tips, and hacks pertaining to building out older bikes on motorcycle forums and video streaming sites. No matter what issue you're facing, chances are someone else has already been there, figured it out, documented their process, and then shared it online with the rest of the moto community.
Contemporary Customs
The Merits Of Modern Motorcycle Donors
The rise of the new wave customs scene has increasingly shaped many of the genres and trends emerging from the production motorcycle sector, with major manufacturers routinely emulating the latest styles from the bespoke bike world. This phenomenon was also responsible for sparking a number of modern production models that not only draw inspiration from one-off two-wheelers but were purpose-engineered from the ground up to lend themselves to customization, such as the Ducati Scrambler or BMW R nineT ranges.
These intentionally-modular machines feature elements such as headlights and subframes that can quickly and effortlessly be removed by simply removing a few bolts and wiring harnesses separated into distinct units for the engine and chassis, just to name a few. What's more, the manufacturers that sell these bikes also produce massive collections of bolt-on parts and accessories for quick and easy personalization (though these parts admittedly do typically come at a fairly steep price). On top of that, quite a few customs shops produce plug-and-play parts and bolt-on kits for these late-model donors.
In addition to also possessing the obvious benefit of cleaner emissions, increased fuel efficiency, bolstered reliability, and significantly longer service intervals than their moto-predecessors, modern motorcycles most importantly afford markedly better performance, with today's chassis, suspension, and braking systems having caught up with the immense power of the latest and greatest engine platforms—something that definitely couldn't be said of motorcycles in the 1970s.
Over the years performance standards evolve, and what we might view as a mid-tier roadster or commuter bike today almost certainly performs better than many of the sportbikes from yesteryear, with mono-shocks, inverted forks, ABS-linked disc brakes, and twin-spar (and other contemporary styles of) frames have all increasingly become standard fare. There are also plenty of fantastic, high-performance naked bikes that come straight from the factory with most, if not all of their wiring, sensors, and other unsightly ancillaries all neatly hidden out of view.
General Bike Building Tips
Five Guidelines That Apply To All Custom Motorcycles
No matter what style of project or which type of donor model you choose, there are a few fundamental guidelines that apply across the board. It really is hard to overstate just how crucial each of these five rules is.
Test Ride The Donor: Even if the donor you buy isn't running (or consists of an engine and a few crates of parts), it's still advised that you be familiar with the stock model's performance and rideability prior to making your purchase. While modifications that you make may alter performance, the stocker should nonetheless give you a good sense of what the ride will be like. You almost certainly wouldn't ever buy a car without getting behind the wheel and motorcycles are really no different.
Draw Up A Plan: In addition to sketching or Photoshopping your design, you're going to want to figure out what work will be required, what work you can do yourself—or learn to do yourself through a friend, community college, or local DIY garage—and what will need to be outsourced (and what the latter will cost). If you're unfamiliar with motorcycle mechanics, wiring, welding, metal fabrication, and other aspects involved in the complete process of churning out a custom build, there are plenty of blogs and Youtube videos
Set A Budget: This may seem obvious, but to the uninitiated, it can be staggering just how quickly the cost of a custom project can snowball into a figure well beyond one's initial estimate. Having a thorough understanding of the entire build process from start to finish will make it much easier to calculate a custom bike's total cost.
Start Small: When first bit by the bespoke bike bug, it can be easy to start planning elaborate, wildly-involved builds—especially after spending hours poring over images of professional builds on custom motorcycle blogs—but the reality is if you've never built a one-off machine, you're almost always better off starting small with a less ambitious, more manageable project to cut your teeth on. If you find everything goes well and the hobby still resonates with you, you can always move on to bigger and better builds.
Start Safe: Just because a particular model lends itself to customization doesn't necessarily mean that it will be a good custom for you personally. Custom or not, it's crucial to select an appropriate motorcycle in terms of size and power relative to your riding ability (or lack thereof).
Custom Moto Missteps
Traits To Avoid When Shopping For A Donor Bike
Whether dealing with a retro model or a mount fresh off the showroom floor, there are a few common elements that should be avoided when seeking out a donor bike for a customs project.
Bizarre Frames: Idiosyncratic frame designs invite untold amounts of additional work, not to mention creativity (and bravery). There's a good reason that the classic tubular double cradle structures on bikes like the CB750 and KZ650 are so commonly utilized for one-off projects, as modifications and upgrades are more straight forward, plus the more simplistic design jives better with a much larger range of styles and subframes than the more unique chassis configurations.
Electronics & Wiring: We've already touched on this one above, but seeing as it's of pretty extreme importance it's probably worth mentioning a second time. So, in short, the more wiring and electronics there are on a bike, the more work you'll have to do rerouting or otherwise concealing it all—a task much easier said than done.
Other "Weird" Components: Though less troublesome than an unusual frame, certain components can be difficult to either work with or hide, such as the Telelever suspension setups employed by a host of BMW models. Strange and/or rare wheel and tire sizes can also be asking for trouble as you'll be pretty limited in terms of aftermarket options without some pretty involved custom fabrication work.
Model Rarity: This is only really applicable to older models, but utilizing a seldom-seen donor can easily lead to problems further down the road. Even if the rare bike in question is cheap, it may be exceedingly difficult—and quite possibly cost an exorbitant amount—to source basic parts to keep it on the road.
Fairings & Body Panels: Choosing a donor bike that comes dressed in bodywork in its stock form isn't necessarily a bad idea, though it's important to keep in mind that often times fairings and body panels hide wiring and electronics, fluid reservoirs, radiators, and other unprepossessing componentry. Unless you plan on retaining (or modifying) some or all of a donor's plastics, you'll want to have a very clear picture of what the bike looks like sans bodywork before considering it as the basis for your build.
BMW R80 / R100
BMW airheads have increasingly become a go-to platform for amateur and custom builders, alike. Despite limiting lean angle, the Beemer's protruding cylinder heads afford it a distinctive and readily-identifiable appearance.
Backed by the reliability and engineering that Germany is famous for, R80s and R100s can easily survive past the 100,000-mile mark on the odometer (with proper maintenance), are powerful enough for touring and freeway travel, and can be had in good shape for well under $5,000.
Engine: Air-cooled 797.5cc / 980cc Boxer twin
Used Price: $3,000 – $5,000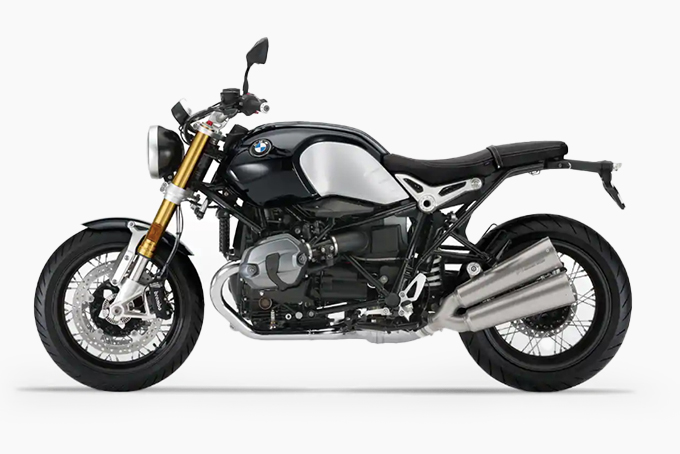 BMW R nineT
Designed by Ola Stenegärd, BMW's R nineT was the German brand's first Heritage model, first released in 2014 and quickly becoming one of, if not the most commonly-customized motorcycle in production.
The 110hp retro Boxer's modular design was thoroughly calculated to make modification easier, with a simplified (and divided) wiring harness, and an easily removable subframe that reveals mounting points that are ideal for a bespoke framework.
Engine: Air-cooled 1,170cc Boxer twin
Used Price: $9,000 – $13,000
Ducati 900SS
Though it's admittedly grown a little long in the tooth since leaving the factory a few decades back, the 900SS still boasts all the Ducati hallmarks, with its signature L-Twin engine wrapped in a trellis frame and paired with performance-focused running gear.
Strip it of its awkward and bulbous bodywork, chop the subframe, and you're well on your way to a rad Ducati cafe racer. Though, as El Solitario so brilliantly demonstrates with the build seen directly above; the 900SS can be transformed into all manner of builds.
Engine: Air-cooled 904cc 90° L-Twin
Used Price: $3,000 – $5,500
Ducati Monster
Interestingly, the Ducati Monster started out as something of a custom motorcycle, with Miguel Galluzzi being tasked with designing a headlight, tank, and tail around and an existing surplus of engines and frames.
Like the 900SS, the Monster sports all of Ducati's modern signature elements, though already comes in a naked package in its stock form. Having been in production for over a quarter-century, the Monster is available in a wide variety of model years and engine sizes to fit almost any aspiring builder's budget or riding skills.
Engine: Air or liquid-cooled 398cc – 1,198cc 90° L-Twin
Used Price: $3,000 – $9,000
Ducati Scrambler
Accounting for more than a quarter of all Ducati sales, the Italian marque's Scrambler range is a retro-inspired lineup that was designed to cater to the customs crowd. Like BMW's R9T, the Scrambler Ducati family was engineered to be custom-friendly, and as such its manufacturer offers a massive catalog of bolt-on goodies and accessories, along with a variety of pre-styled turn-key variants including a cafe racer and a desert sled.
And, in addition to the regular 803cc version and the beginner-friendly 399cc Sixty2-spec, Ducati now also produces a larger 1,079cc variant.
Engine: Air-cooled 803cc 90° L-Twin
Used Price: $7,000 – $9,000
Harley Iron 883
As one of Harley-Davidson's smallest displacement models, the Iron 883 is not only an affordable American V-Twin donor bike, but it's decidedly spartan and minimalistic nature make it an ideal candidate for going up on the bench.
The popularity and sheer abundance of the 883—especially in North America—also means there's an enormous aftermarket sector for the 49hp cruiser.
Engine: Air-cooled 833cc V-Twin
Used Price: $6,000 – $7,500
Honda CB750
First hitting American roads in 1969, Honda's CB750 was a game-changing watershed model upon its release, and today holds the honor of unequivocally being the most popular platform for motorcycle customization.
Almost everything about this machine lends itself to customization, it's inline four-banger still offers solid performance even by today's standards, and there's a wealth of plug-and-play parts and accessories for the "City Bike" that's unmatched by any other model in existence. If we had to condense this list down to a single model, it would be the CB750.
Engine: Air-cooled 736cc inline-four
Used Price: $3,000 – $6,000
Honda NX650 Dominator
With 45hp and 39ft-lbs of torque on tap from a punchy dual-exhaust-port single, and a svelte sub-360lb dry weight (even less once stripped of its unsightly '90s era bodywork), the Dominator (or "NX650") unequivocally makes for one of the best donor bikes for street tracker and street scrambler builds.
Though with properly-sized spoked wheels, almost nine inches of suspension travel, and roughly 10" of ground clearance, (plus a stock skid plate), the Japanese thumper is also incredibly competent in the dirt.
Engine: Air-cooled 644cc single-cylinder
Used Price: $1,500 – $2,500
Honda Grom
While the Grom admittedly isn't what normally comes to mind when discussing motorcycles that are conducive to customization, the MSX125 is perfect for those interested in building out a custom bike only using plug-and-play pieces that bolt directly onto stock mounting points.
On top of being wildly affordable even brand-new, there's an enormous industry that's sprung up to meet the massive demand for Grom upgrades and parts.
Engine: Air-cooled 124.9cc single-cylinder
Used Price: $2,000 – $3,000
Kawasaki W650
The Kawasaki W-650 is essentially a contemporary Japanese-made clone of a classic British parallel twin (a la the Triumph Bonneville).
As such, it boasts an unmistakably retro-inspired appearance—drawing on Brit bikes of the 1960s, as well as Team Green's own W Series lineup of the same era—while still offering modern-day reliability. These factors make the W650 ideal for McQueen-style desert sleds, resto-mods, and period cafe racers alike.
Engine: Air-cooled 676cc parallel-twin
Used Price: $3,500 – $5,000
Moto Guzzi V7 III
Another European machine with a highly-distinctive and instantly-recognizable powertrain, the Moto Guzzi V7 III is a modern-retro model, available in a variety of styles and kicked along by the brand's trademark longitudinally-mounted V-twin.
While not a high-performance machine, the V7 nonetheless has more than enough power for thrills on canyon roads, plus as a donor, this bike is brimming with character. Late-model, low mile examples can be had for a fair price, too.
Engine: Air-cooled 744cc transverse 90° V-twin
Used Price: $4,500 – $6,000
Moto Guzzi LeMans
First entering production in the mid-1970s, Moto Guzzi's Le Mans started out as a race machine prototype based on the Italian firm's original V7 from the beginning of that decade.
Like its modern V7 III counterpart, the Le Mans—which takes its name from the iconic French endurance race event—offers a more authentic vintage donor option, retaining the previous entry's transverse 90° V-twin and instinctive character and appearance.
Engine: Air-cooled 844cc transverse 90° V-twin
Used Price: $4,500 – $7,000
Royal Enfield INT650
Inspired by Royal Enfield's motorcycles of the '60s and '70s, this 650cc machine is a relatively new production model that offers solid performance and the decidedly retro appearance of a classic British parallel-twin, while being priced at a more accessible MSRP than its Hinckley-built competition.
And with several aspects of this bike's design clearly being influenced by the modern customs scene, the 650 makes for a great entry-level build, aa even a few fairly minor changes will yield a thoroughly-custom-looking machine.
Engine: Air & oil-cooled 648cc parallel-twin
Used Price: $4,500 – $5,500
Royal Enfield Himalayan
As a modern-day, lightweight adventure bike, the Royal Enfield Himalayan lends itself incredibly well to off-road-oriented builds like scramblers, rally raiders, and enduros.
Available brand-new for just $5,000, the 24.5hp single has around 8" of suspension travel and ground clearance, and despite being a new bike that was just released in 2016, its fuel-injected, SOHC mill is uncomplicated and easy to wrench on. It also offers the appearance of a larger bike while being new rider-friendly.
Engine: Air-cooled 411cc single-cylinder
Used Price: $3,000 – $4,500
Suzuki GSX-R750 / GSX-R1100
Like the CB750 that came before it, Suzuki's GSX-R750 was an utterly game-changing model upon its debut in the mid-1980s, with the race replica completely redefining the contemporary sportbike class. And while early models carry steep price tags, the 1990s and early 2000s specimens boast powerful inline-four engines, modern aluminum twin-spar frames and running gear.
Gixxer 750 and 1100 donors admittedly don't lend themselves to a great variety of build types, though if you want a vintage sportbike resto-mod, an endurance racer build, a retro street fighter, or a superbike-based cafe racer, the mighty GSX-R is a fantastic choice.
Engine: Air & oil-cooled / liquid-cooled 748cc / 1,127cc inline-four
Used Price: $2,000 – $3,500
Triumph Bonneville
Released in 1959 and still in production today, Triumph's Bonneville is considered by many to be the archetypal donor for cafe racer and scrambler builds, as the legendary Brit bike played a pivotal role in the rise of both genres.
The Bonnie's iconic engine and tank make for stellar centerpieces to construct a custom build around, and the model's longevity and popularity have given way to a massive selection of aftermarket parts. With 46 different production model years to pick from, this machine can provide both modern and vintage donor platforms, too.
Engine: Air-cooled or liquid-cooled 650cc to 1,198cc parellel-twin
Used Price: $3,000 – $7,000
Yamaha SR400 / SR500
A terrific example of not trying to fix what isn't broken, Yamaha's SR400 and SR500 were released at the latter end of the '70s and remain in production today, having changed very little over the four decades since its launch.
The decidedly pared-down nature of the half-duplex cradle chassis and the simplicity of the air-cooled single it houses allow the SR to provide the perfect blank canvas for lightweight builds.
Engine: Air-cooled 399cc / 499cc single-cylinder
Used Price: $2,000 – $4,500
Yamaha Virago
A more-affordable, Japanese-engineered alternative to American-made cruiser platforms, the Virago has become an increasingly popular platform in the custom realm, especially for brat and bobber projects.
And, despite its age, the Virago—which has been produced in a wide variety of displacements—is actually a pretty advanced machine, built around a surprisingly sporty frame and being an early adopter of the mono-shock. There's also a wide array of plug-and-play conversion kits, custom-fabricated exhausts, and subframes offered for the Virago.
Engine: Air-cooled 249cc – 1,063cc 70° V-twin
Used Price: $1,500 – $2,500
Yamaha XS650
The Yamaha XS650 is a mid-sized vintage classic, with enough power for freeway riding, while still being lightweight enough to be conducive to the majority of build genres.
The design provides a vintage foundation with an attractive tank, side-covers, and exhausts in its stock form, plus the widespread availability of parts (and available knowledge on forums and the like) help to solve gremlins and simplify the build process.
Engine: Air-cooled 654cc parellel-twin
Used Price: $2,000 – $3,500
Yamaha XSR700/ XSR900
Loosely modeled after the XS650 and penned by custom motorcycle building legend, Shinja Kimura, Yamaha's XSR700 and XSR900 are modern-retro bikes based on the MT-07 and MT-09 platforms, respectively.
Just like with the Scrambler Ducati and BMW R9T ranges, the XSR bikes were engineered to be modular and conducive to easy customization. There are also more complete bolt-on kits for the XSR than there are for any other current production motorcycle.
Engine: Liquid-cooled 689cc parallel-twin / 847cc inline-three
Used Price: $6,000 – $7,000
The 15 Best Bolt-On Motorcycle Kits
Interested in owning a unique custom bike without all the hassle? Our guide to the best bolt-on motorcycle kits features more than a dozen plug-and-play offerings capable of transforming stock bikes into distinctive and personalized rides without requiring any metal-working or permanent modifications.